Weight for me

I've been shooting for a long time, almost thirty years now, and along the way many things have changed; I think that comes with experience and is probably common to most hobbies.
Over the years my skills have improved and the knowledge behind them also. I went from a simple firearms owner and basic shooter to a very accomplished rifleman and sharpshooter. Not immodesty, just the facts. Many things changed for me however the more I learned the more I realised how integral each element of shooting was to the other. It seemed that each small thing was inexorably linked to the next and only in combining them all would a person reach a high standard. Considering I have high standards when it comes to myself, learning and developing was the natural order of it.
One of these elements is the trigger pull; Critical to every shot of course; With no trigger pull shooter can't send the bullet to the target.
You can see a trigger mechanism in this image below; This is a standard factory trigger I have removed and replaced with a much higher-quality aftermarket trigger. One by Timney Triggers, just about the best money can buy in my opinion. I've replaced it for it's smoother operation, more crisp and precise (predictable) break, which is the moment it actually fires the gun, and for it's ability to be fine-tuned.
I'll not go into the details of a correct trigger-pull as it there are so many variations; I could only do that over multiple posts. Today I wanted to introduce the trigger pull-weight though, something that I feel is one of the most critical aspects of accurate shooting at long range.
Trigger pull-weight
This is simply how much weight goes into pulling the trigger of a gun before it breaks, and fires the round. It is typically measured in pounds. The greater the weight the more difficult to pull the trigger, and vice versa.
But how heavy should it be?
Unfortunately there is no easy answer for this, no definitive answer at all really; It depends on so many different variables, and is very personal to the shooter also. If I'm asked this question I say, the weight you're happy or most comfortable using. Not a definitive response at all is it?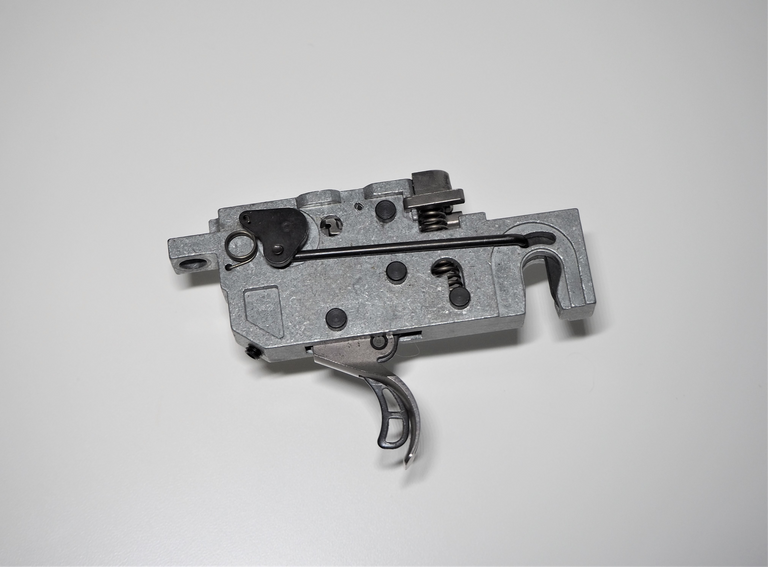 Here's how I've worked it out for myself
I've always simply begun with a trigger pull-weight of half the weight of the rifle. So, an eight pound rifle would mean a four pound pull as a maximum weight.
With this in mind some consideration needs to be taken into what the rifle is being used for. If I was setting up a dedicated hunting rifle I'd set the trigger a little higher on the scale (but below that half-the-gun-weight figure as above.) So it might be 3 pounds for instance. If it was a competition rifle it would be much lower and would need to be tested prior to setting. Determining the fine-tuning of the weight can only be done in one way; By shooting it.
Having the trigger too light could result in an accidental discharge and that could prove fatal, so generally in the field triggers are a little heavier than they would be in a bench-rest situation at a range. This is problematic for me because I don't bench-rest shoot. I'm a practical shooter, even when shooting at long range, and am often shooting in pressured time-poor competition-situations rather than under no duress at all. So, considering that, and the fact I shoot in the field also, I should have heavier-set triggers, but don't. I have to find a balance.
G-dog's trigger pull-weight
For me, I find a balance at 2.2 pounds which has been tested in the field extensively, over many rifles and different types of triggers.
It is light enough for smooth and precise trigger-pulls on very long range targets and heavy enough that in the field, culling and hunting, or running around in a competition at the range, an inadvertent touch will not set it off. Of course, my trigger-discipline is at ninja-level so at no stage does my finger go near the trigger unless it's about to pull it.Safety is never compromised though naturally.
I have heard over and over that the shooter is supposed to be surprised when the trigger breaks and the gun fires, but I've never subscribed to it. The premise is that if the shooter anticipates the shot they may account for it in some way, brace for the recoil for instance, and pull the shot. I don't like to be surprised when my guns go off though - Indeed, I know exactly when the trigger is going to break, learned by thousands of trigger-pulls and a finely-tuned trigger action. When learning to shoot the first surprise condition may work, but an experienced shooter should know what's up.
I have fired guns where the lightest touch of the trigger will set it off and it unnerves me. Firstly because landing a bullet somewhere that I have not aimed at is dangerous and irresponsible and secondly because I'm a control freak and likely a little OCD also. One of my friends has his set at 10 ounces which is quite low, (16 ounces in a pound), although they can go much lower.
Factory triggers are not manufactured to hold a weight of much lower than three pounds as there may not be sufficient sear-engagement to hold the firing pin. This is why we go to after market ones and I have seen them as low as two ounces!
My magic number is 2.2 pounds, although I'll be honest, I have one set at 1.9 pounds just because it feels right on that rifle; That's the thing about it though, feel. It all comes down to what is right for the shooter, and safety of course. There's so many factors, even how fat and meaty a person's trigger finger pad is, and what part on their finger they actually pull the trigger, (some use the very tip, some the pad a little further back, some the first joint area and so on.)
Anyone can pull a trigger, but not just anyone can make accurate shots at long range, or short for that matter. So many people have the misconception it's a simply matter of aiming and pulling the trigger, and in some cases that may work; It'll certainly get a round away. However to do it with the accuracy required to shoot targets of any type at long range it goes a lot deeper. This is what I love about shooting; The challenge of learning then mastering the skills to do the job properly and with precision.
Thanks for looking at this post. (One designed not to be technical in nature on purpose.)
---
Design and create your ideal life, don't live it by default - Tomorrow isn't promised.
Be well
Discord: galenkp#9209
Join the Engagement League
---
---