Good evening to everyone , this has been a very busy and very exciting week for me . Last week on Monday I announced my Engagement Project . Basically what it does is it ranks top 25 engagers in 4 tribes - LEO , CTP , SPORTS and STEM and upvotes their comment to show that their engagement matters and rewards them for the time and effort they have put in.
10 Million delegation from @sports-gov community account .
For those who don't know yet , SPORTS has implemented ARCHON style proposal system in which any member can make a proposal and the community members vote for it or against it .
My proposal was to delegate 10 Million SPORTS from @sports-gov to @amr008.sports .
Today was the 7th day ( payout day ) and the proposal was passed with 93% favoring the proposal.
What does this mean to the SPORTS engagement project ?
Well there are two points I want to mention
This has obviously increased the voting value of @amr008.sports . With all the delegations from other users + my own delegation , we are currently at 15 Million SPORTS powered up .

The value of 100% upvote is
- A good 4337 SPORTS + since @toni.sports is trailing our account the upvote is a massive 12k SPORTS upvote .

Remember this is just for engaging from https://sportstalksocial.com frontend . All you have to do is engage with others and leave quality comments from that frontend.

12k SPORTS = 4.8 HIVE at the moment which is around 1$ .

Delegators will get good amount of returns + account growth ( organic ) will also be high .

How ?

Although @sports-gov and @amr008 has delegated around 11 Million to the @amr008.sports they won't take the weekly dividends . All this is given to the delegators itself ( liquid payout ) and the staked payout ( because SPORTS gives 50% in liquid and 50% in staked ) is not powered down which will help the account grow organically .
The activity is raising already from SportsTalkSocial frontend.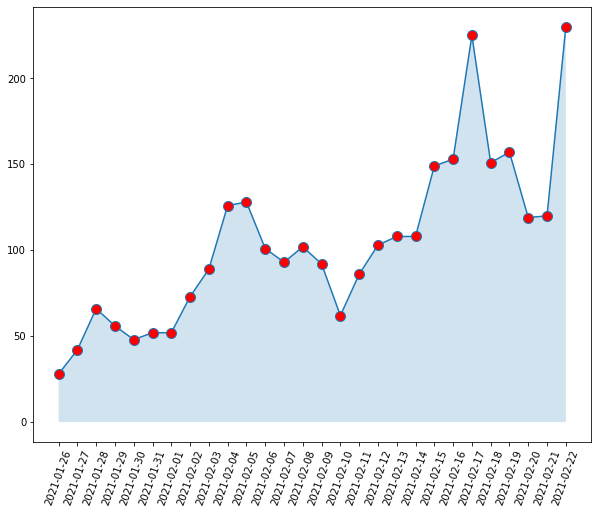 This has data for past 30 days - till 22nd Feb . On 22nd Feb the number of posts and comments made solely from SportsTalkSocial frontend is 230 . It is 10x higher when compared to previous month same date.
This will most likely increase the ad revenue of the SPORTS tribe .
SPORTS TODAY initiative
Everyday @amr008.sports will make a post in which anybody who watches Sports can hop on and chat about any sports . It is to spur engagement and many are already being active over there discussing their favorite sport while it is happening .
So hop on and discuss over there to increase your chances of getting that massive upvote .
HLS tool update
Update 1 -
I would also like to take chance to inform you that TAN also pays weekly dividends in VAULT and BEE for top 25 TAN stakers which I didn't know and hence hadn't implemented yesterday . Today it has been added .
Update 2 -
Today's Engagement data has been uploaded .
If you want to delegate to the Engagement Project
LEO - @amr008.leo
CTP - @amr008.ctp
SPORTS - @amr008.sports
STEM - @amr008.stem
---
Regards,
MR.
Posted Using LeoFinance Beta