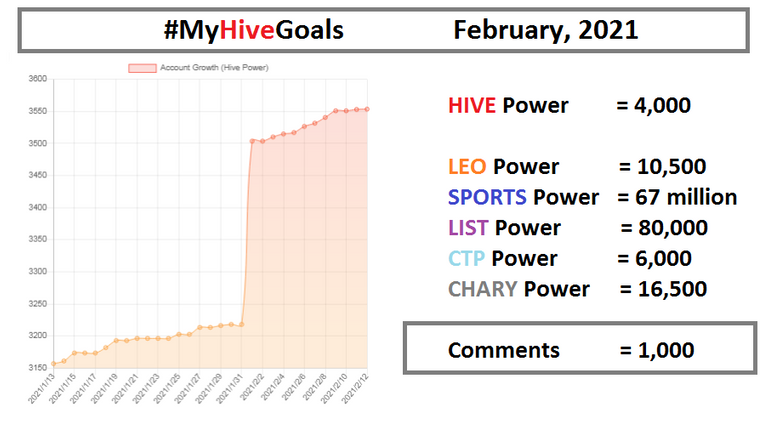 Hurrah, I finally took the motivation from @ph1102 and @Jongolson to pen #myhivegoals. Tracking the goals at regular basis would help one stay focused to reaching them. The beautiful thing about my Hive goals is that they are investment and long term minded. The goals are how I can be able to add to my stake of HIVE and Hive tokens to help improve the curation game and add more value to content creators. I see a big a future with Hive and Hive tokens especially with the drive to decentralizing Hive-engine.
We are all aware of the big airdrops to come to Hive Power holders and LEO Power holders and that in form of LARYNX and BLANKS respectively. I am sure that big ones are coming on the way and the best way to get positioned for more is to be a stakeholder. Just few weeks ago, @Hivelist had announced the creation of COM token to be distributed to HUSTLER, HUSTLERM and LIST stakeholders. So far, my share of the tokens have passed $10 in worth. I've not yet got enough of LIST stake. I wish I can gather 10k more to power up in the remaining 16 days of February.
One thing that keeps me endeared to holding tokens in stake is the forceful way it helps a stakeholder to patiently wait for the bull run that is certain in the future. About 5 months ago, SPORTS token was dumping to oblivion, the only way to keep hope with the token was to power them up and make more SPORTS from curation. Today, we see over 1000% movement from a ground price of 0.00002 HIVE to its present 0.00035. If the tokens were in liquid form, certainly, they wouldn't have remained in my account to date. With the introduction of proposals to @Sportstalksocial community and ads that would generate more revenue to burn SPORTS, SPORTS can only more valuable. Heading towards holding 67 million tokens or more by the end of the month.
The last few days has shown a dramatic price movement for the CTP token issued by @Clicktrackprofit community. This is one token with a huge potential as it focuses on entrepreneurs, online businesses and affiliate marketing. Several bounties are presently running to make the CTP community stronger. This is only in addition to a couple of collateral tokens like CTPM, INDEX and CTPSB that are adding more value to the price of CTP. Heading towards the 6k stake mark.
There's nothing that excites me like when I have to look back to LEO how it started, evolved and how grand a stand it has become on the Hive ecosystem. Being a part of the community from the inception of Hive fork is something never short of amazing. I have experienced over 50x movement in LEO price and I've received airdrops worth tens of dollars so far. The big #ProjectBlank is coming and that means more free crypto for LEO stakeholders. The role that my LEO holdings played in diversifying my crypto holdings is superb. Gearing for more LEO in stake cannot be an error.
Using my CHARY stake to reward charity and humanitarian users on Hive is satisfying. Each time I see the great work done by @Dfacademy, It tells how far we can achieve with Hive. More CHARY to my power to help projects give smiles to humanity. I hope to reach the 16.5k stake level by the month end.
When I joined Steem in 2018, I didn't understand how useful STEEM Power could be until I started holding Hive tokens in stake. With the recent announcement by 3Speak, we'll see how valuable our Hive can be. I started the month with a 350 HIVE power up which placed me at the 3.5k mark. I'm pushing hard to get to the Dolphin level. However, let's make it in steps of 500 each month.
The main essence of building these stakes is the future. Reading @taskmaster4450le's latest post would make more sense.


gif by @doze
Posted Using LeoFinance Beta