The Hive blockchain is the people's blockchain where every stakeholder is an owner per share of the system. Thus, every owner has the right to choose from the several investment options that are available to his greatest advantage. In 2019, Aggroed and his team introduced the Steem-engine protocol as a side-chain of the the Steem blockchain. This side chain protocol allowed for dapps to be built on the second layer of Steem but interacts with the main chain through JSON commands.
The metamorphosis of Steem to Hive led to the emergence of Hive-engine with several of the tribes created on Steem moving to Hive. One of the several communities that earned my attention was @Sportstalksocial with specifics on sports content. The tribe rewards members with SPORTS token which is tradeable foe HIVE.
I was endeared to SPORTS since it was one of the cheapest Hive-engine tokens yet with a huge potential for the future. Since then, growing with my stake of SPORTS has been an interesting and awesome journey even at times when others lost trust in the token, the token dipped to the lows of 0.00002 HIVE per SPORTS and even less.
I continued in my regular marketing of the community which recaptured the trust of some investors. Thanks to @Cryptoandcoffee who pushed to earn @ocd curation to #sportstalk posts in the last few weeks which has drastically motivated users to create more quality sports contents, thereby earning more rewards. Recently, there have been a spike in SPORTS and this is an indication of increased purchase of the token against the numbers dumping.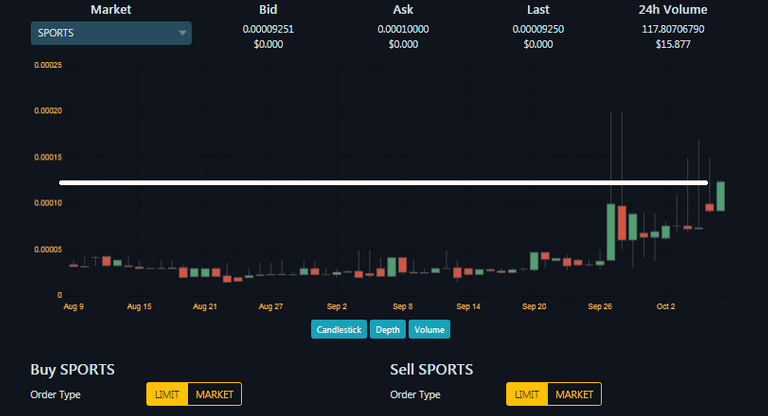 Some days ago, I mentioned how I earn $20 monthly from curating SPORTS contents with my staked SPORTS. This has not been the case in the last months when the token dipped. Serving as a curator ion this community and sharing SPORTS token to quality posts has never been a less merrier activity.

My stake of SPORTS allows me to give as much as 16,500 tokens in a full upvote. At today's exchange rate, that amount of tokens in an upvote is worth 1.95 HIVE ($0.27). That's much that can be achieved on the second layer of Hive blockchain. This is just the beginnings as the future look more beautiful when sports teams and organizations join Hive blockchain.
No one should wait to be told that there is a possibility for SPORTS to be traded at 0.01 HIVE sooner that expected especailly now that new investors are coming in to Hive the @Leofinance community. Besides, the growth of the LEO token and its cross chain movement to the ETH blcokchain is showing a potent value in all Hive tokens, including SPORTS.
I wan't to be remembered as the user that marketed SPORTS to its highs from a seeming dying spot. I'm not relenting and I hope I can reach the 100 million stake mark before the bull season hits the token. Head unto LeoDex and Hive-engine now that it's still cheap. Here is a post you must read.
You may join my SPORTS Curation Trail to maximize your SPORTS stake. With the trail, your stake of SPORTS would yield profits without your active involvement.
I'm already feeling like the BTC whales who got BTC at less than USD 1 in 2009. As such, I want to share some love in SPORTS upvote to content creators. If you have made a recent "quality" (at least 300 words) #sportstalk post, drop the link in the comments section of this post and reblog the post for a huge upvote from my over 30 million stake.
I'm the Hive token Curapreneur, I believe in Hive's second layer and I prefer to stake my tokens for curation so I can stay into the future when mass adoption shall hit here. I'm still aiming for more SPORTS while the bear season lasts.