Second Layer Curation, Still my Best Investment Option on Hive: I gave out $150 and earned $123 in form of LEO & SPORTS in November
By this time, I'm sure that 50% of Hive users would have known me to be the very "optimistic" person when it comes to Hive-Engine tokens. I've given my very energy, time, dedication, research skills to marketing the Hive-engine tribes that I'm interested in and also invested my cash to fill my purse with these tokens. I don't seek anyone's opinion to believe that these tokens would accumulate some great value in the near future.
My interest in the tokens were heightened during the covid-19 induced lockdown period which caused me to stay indoors and then, Hive was my only source of income. I devoted my time into researching into the prospects of these tokens and started engaging myself in the various communities that captured my interest. By then, most of these tokens were almost valueless but that didn't deter me. We were still trading LEO at less than 1 cent then.
LEO and SPORTS were the first two tokens. ALong the line, CTP, LIST, CHARY, NEOXIAN, CCC were added. I didn't just earn/buy the tokens into my wallet, I powered them up to give value to other users of the respective communities who create quality content. To the common socialmedia user, it's called "liking" but to Hivers, its called "curation". Curation has become my most favourable investment model of all options available on the Hive blockchain.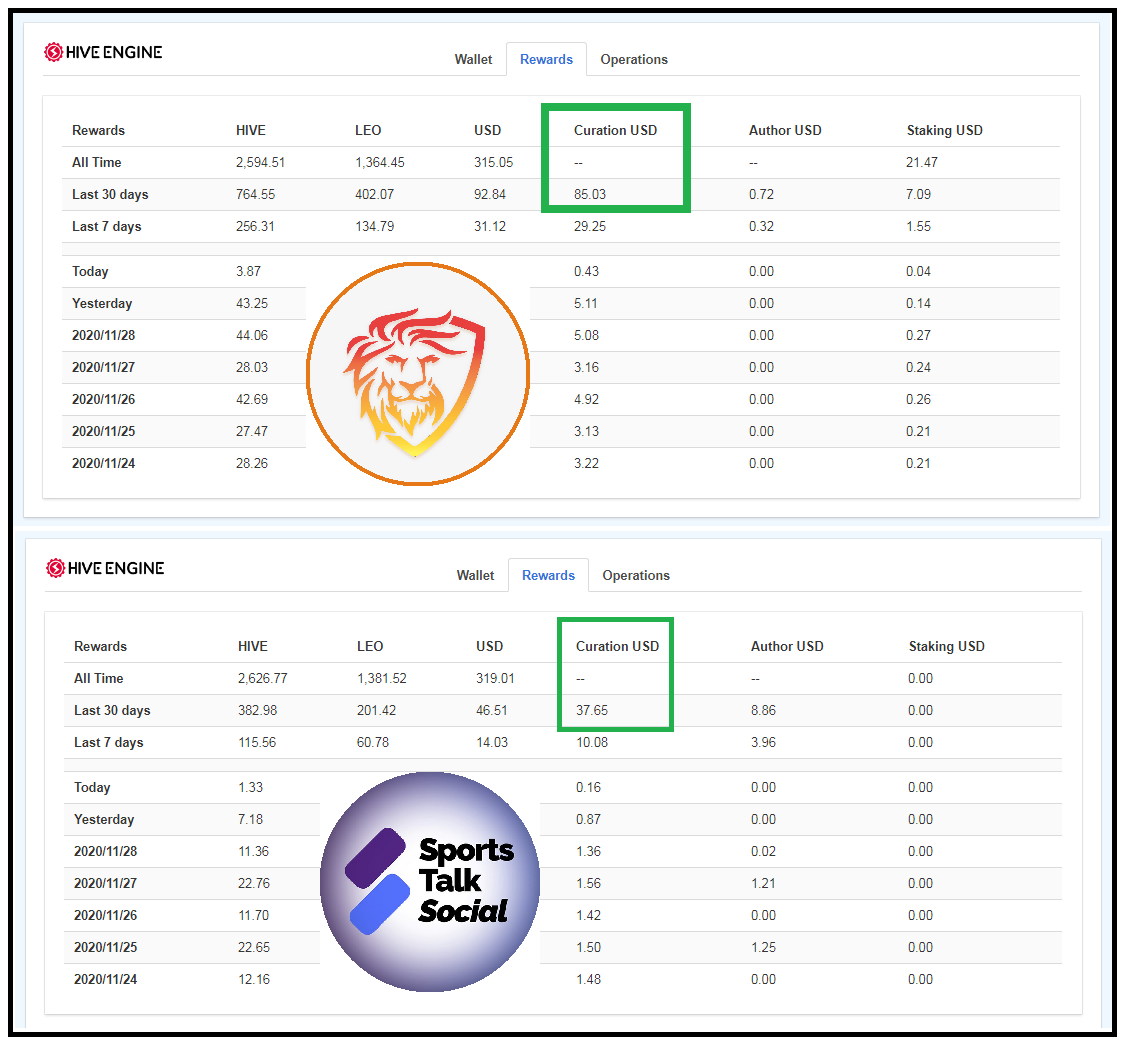 I've been aware for a few days due to some family commitments which has really captured my attention and would still do so until December 11. Login in my account this morning, I first had to look-up my curation earnings on Hivestats.io and the stats were quite encouraging. The statistics makes more sense as today is the last day for November 2020.
LEO and SPORTS token curation has been the most easily tracked since the two tokens have dedicated accounts holding stakes/delegation of the tokens. Curation earnings for other tokens couldn't be substantiated, but all add up to a decent $15 (CTP, LIST, CCC, and others). Amazingly, LEO and SPORTS curation pooled as much as $123 USD as curation earnings over the last 30 days. LEO curation earnings was $86 while SPORTS recorded $38 USD.
I'm excited that I've been able to generate that much of value for "linking" the posts and comments of other users. More happier is the fact that I also gave out an equivalent $123 or more to other Hive users in form of LEO and SPORTS tokens over the last 30 days. In fact, I should have been able to give out close to $150 since SPORTS presently uses the non-linear curation curve and also gives out 55% of post earnings to the author.
This is the power of cryptocurrency powered social media 2.0 as obtainable in the Hive blockchain. Token value on Hive do not just change in value by speculations but by the value they give to humanity. We share our resources and receive a part in return.
I would make bold to say that this is a form of charity and a more organized form of giveaway in terms of crypto. All a user is required to do is to create an appropriate content of quality to be able to earn weighted likes that carry economic value. This can only happen on Hive.
In the last two weeks of December I'll again up my curation game as more stakes would be added to the existing. I hope I'm able to do that before the next bull run for the Hive-engine tokens sets in. Hive-engine tokens are the business layer options for investing in Hive. Do your research and adopt a community to start up an Curation investment journey.
I'll again "break" the internet space when I release how much I earned in 2020 through curation and contenting on Hive blockchain in the year 2020 despite the covid-19 outbreak and economic downturns we experienced world-over.
To earn LEO token, create a finance or cryptocurrency related content via https://leofinance.io/ and ensure it's original and at least 250 words. feel free to drop your links in the comment section. I'll also give pout solid upvotes to quality comments beneath.

To earn SPORTS token, create a sports related content (football, volleyball, team news, sporting memories, match analysis, etc) via https://www.sportstalksocial.com/ and ensure it's original and at least 500 words. Feel free to drop your links in the comment section. I'll also give pout solid upvotes to quality comments beneath
I'm your favourite Hive Curapreneur!
Posted Using LeoFinance Beta
---
---