Hello everyone ,
In order to reach my millionaire STARBITS , i have list some of my strategy to gain more STARBITS . Even the STARBITS Millionaire NFT only can be use at level 50 , this new challenge has totally change my approach in this game . Previously , i concern about leveling up my character by scarified my STARBITS profits by doin MUSIC LEARNING , where i can use 100 Energy for 3 mission and for each mission i can get about 360 + xp and some skill point but no STARBITS income . I think this is the effective way to gain more XP .
But , since this STARBITS MILLIONAIRE has become my new targets , i spend more energy to get more STARBITS but , it reduces my level XP gains. Today alone , i have do about 29 mix types of mission in this 12 hours game plays.
This is some job list that i execute for STARBITS gaining
. Do more mission with more STARBITS reward


. Do more music related curation to gain more VIBES for STARBIT purchase.
(Personally i have plan to stacking more VIBES , but gameplay has change my approach . I ll do the stacking after reach this target )
. Double or nothing in STARPRO as a music promoter . If you lucky enough , you ll get STARPRO with small n good amount of STARBITS . What i mean , if the market value of STARPRO is good you can double your STARBITS value , if not you ll lost STARBITS value . I know many of you know about this , but some still blur like my new friend @tawadak24 . The good thing about STARPRO , its another token that you can hold and sell it at high value . Today profit for 8000 STARBITS in current pool :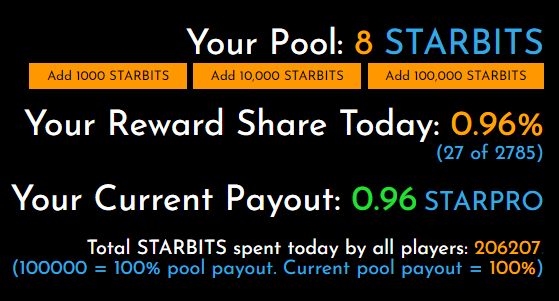 . Last one is Record Stacking . So far , this is some of my STARBITS earning for my RECORD STACKING. The number is quite good for me .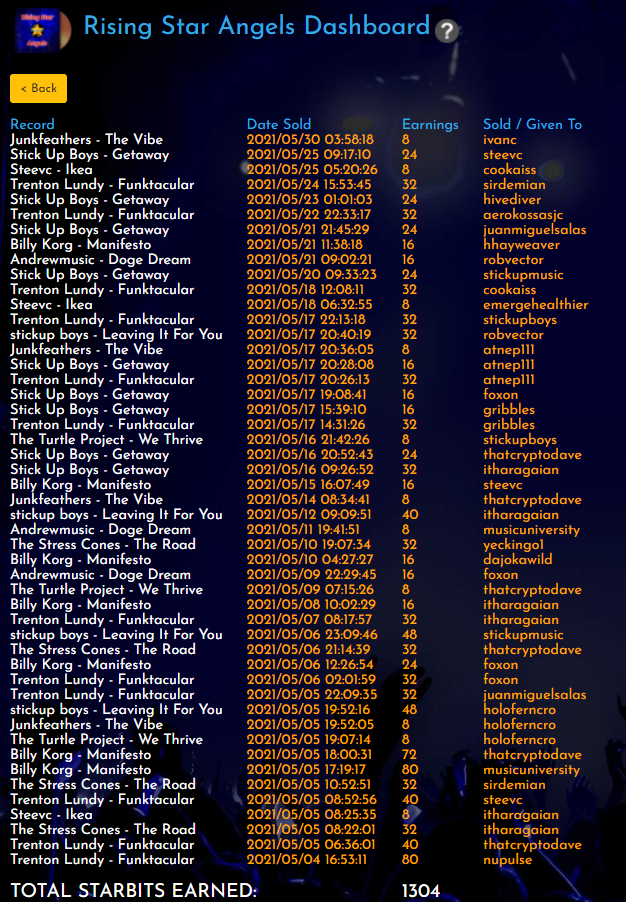 THIS IS TODAY REPORT ON MY DAILY PERSONAL STARBITS STACKING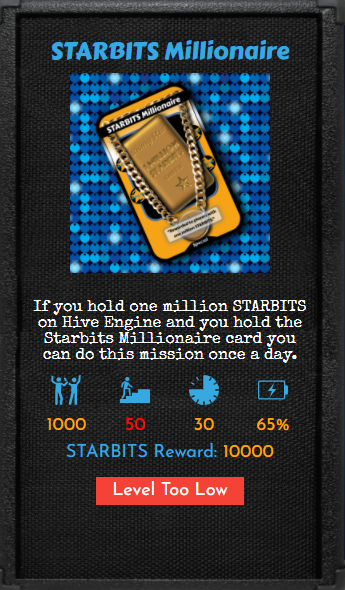 RACE TO STARBITS MILLIONAIRE DAY 2
Update on 2111 3/6/2021.
STARBITS in Hive-Engine : 69,269
STARBITS in game : 8499
Total own STARBITS : 77, 768
Road To STARSBIT MILLIONAIRE : 922,232
VIBES from #risingstar curation : 6.04289 VIBES
938,346 STARBITS to go .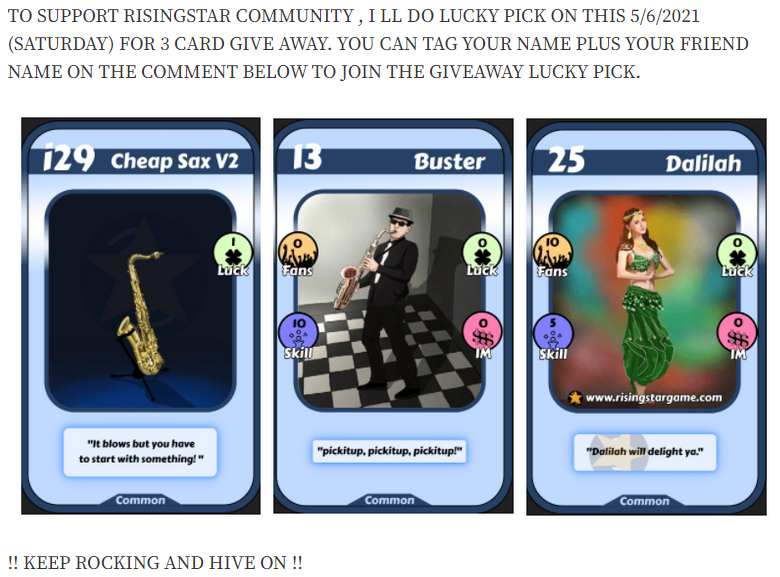 Comment your name here or in my previous post on :
https://www.musicforlife.io/hive-175836/@tommyl33/rising-star-day-10-journey-to-country-tour-3-nft-card-to-give-away-starbits-millionaire-roadmap
I ll make complete list in my next post .
STAY HOME & STAY SAVE EVERYONE !!
---
Posted via MusicForLife.io