I just finished a 24.014km running that lasted about 2hh:19mm:49ss !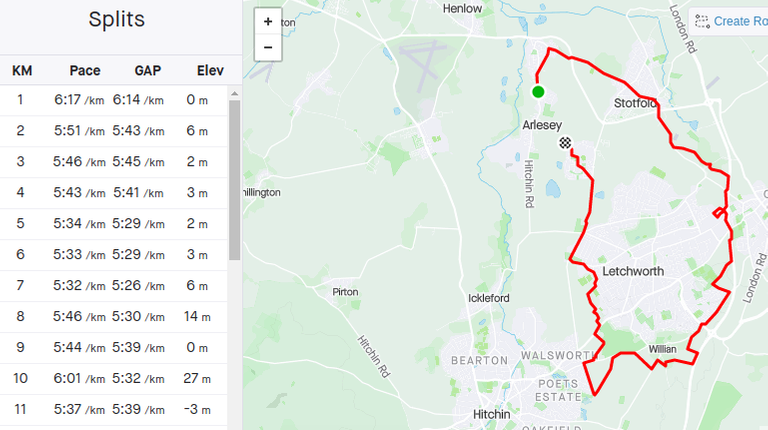 Since May I have set myself a goal of running a half marathon each month. It is almost exactly a monbth since the last one. I was not sure if I would be up to is as my back has not been quite right this week. It is not painful, but just felt like I had been lying wrong in bed. I thought I would give it a go and turn back if it hurt. It was a good morning for it, cool, but dry. I opted to run the Letchworth Greenway again. This does mean going a little further, but I thought I could handle that.
I went clockwise this time, so it was out through Stotfold to pick up the track. As I did that there were a couple of ladies out for a gentle cycle ride. I overtook them and left them behind. Then I caught up with a couple of lady runners and went past them too. I do not aim to race anyone, but I will go with my comfortable pace and do not want to be stuck behind anyone. The pace was nothing special today, but that is okay. Anything around two hours is fine by me.
The Greenway was fairly busy with runners, cyclists and walkers. It is a nice resource for those activities as you can mostly avoid roads. I wonder how many go all the way around. I noticed one section had been resurfaced since I was last there. I think it was there that I had the first of two close encounters with a squirrel. Both ran out right in front of me and I felt like I almost trod on one.
The paths were not really muddy apart from a few patches. There are a few hills to climb, but I kept going up those.
By about 18km my legs were really feeling it, but I pushed on. Eventually I left the Greenway to head home. That is a long stretch by a road that seemed to go on forever. Along there a guy came storming past me and I was not going to chase him. Coming through Fairfield I was flagging and on the way down West Drive I decided to walk and stop the watch as I passed 24km. That seems to be about my limit. I did manage a gently job for some of the rest of the way home. I feel shattered now, but better after a shower and some coffee. I will need a couple of days to recover before I run again.
Run free and stay well.
Check out some detailed info at my EXHAUST page
Join me in testing out EXHAUST!