I just finished a 6.593km running that lasted about 0hh:37mm:54ss !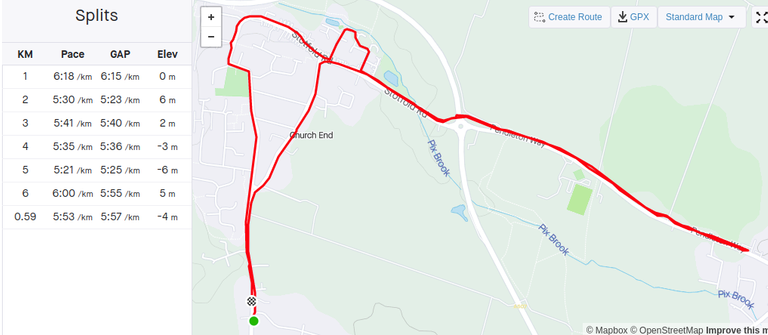 I did my best to get out of bed after the alarm went off this morning and I was out of the house within half an hour. I had heard it was windy, but that proved not to be too bad overall. It was significantly warmer than it has been lately.
I opted for 30-20-10 intervals on my usual route to Stotfold. On the warmup down House Lane I encountered the electric scooter rider again, but nearly did not see them due to their lack of lights. We avoided contact.
The sprints felt like hard work today, but I got down to 4:40/km at times. I am not sure how I can go much faster for now. I took it very easy on the rest period. I may have had a bit of help from the wind on the way back and hit it a bit coming back. It was not too bad though, apart from one short stretch where I struggled to get any speed. I lost track a bit of how many sprints I had done and found I had one more than expected to do at the end. It was around then I had a few drops of rain.
I need to keep doing these workouts as well as the long runs if I am to get better speed. I need to get my legs used to moving quicker as well as developing my fitness.
My podcasts listening was mostly No Guitar Is Safe talking to Bumblefoot. A very interesting guy with his own style.
Run free and stay well.
Check out some detailed info at my EXHAUST page
Join me in testing out EXHAUST!