Morning Run - Nice weather for...?
I just finished a 5.918km running that lasted about 0hh:34mm:37ss !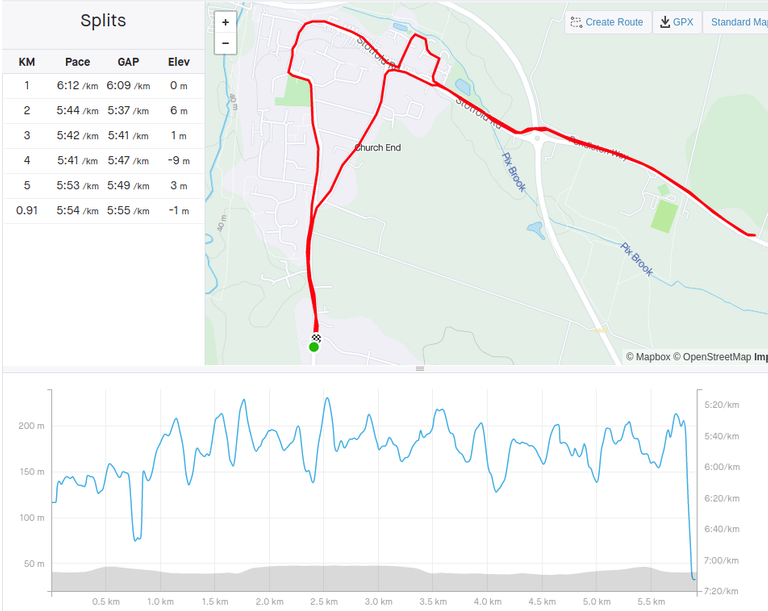 The weather has changed again. Yesterday and today it has been really windy with some rain. I think I can feel our timber frame house shift a little in the stronger gusts. When I got out it was not too cold and not really raining. I had a quick look around the garden and could not see any damage to the fence or greenhouse. There is just some debris from trees around.
My legs were feeling sluggish today. At first I was not even sure I could run, but I managed to keep going. The first kilometre was fairly sedate even though the wind was mostly behind me.
I went towards Stotfold, but turned back before I got there. Then I had the wind in my face. It is gusting and at times it really slowed me down. Looking at the chart there is not a huge difference between out and back. I usually get quicker after I warm up, so it must have balanced out.
It was nothing special as a run, but I am glad I got out as I think I need to keep reminding my body that it needs to cope with exercise. I would like to be doing more intervals, but have just not felt like it this week.
I will remind you that we have a Hive 'club' on Strava. There are nineteen of us for now and you can see how you compare to others, if that matters. I know others will be quicker and run further than me. @bingbabe has been topping the weekly distance chart with 100km+, but she rarely posts.
I hope things are good wherever you are. Run free and stay well.
Check out some detailed info at my EXHAUST page
Join me in testing out EXHAUST!
---
---