I just finished a 6.932km running that lasted about 0hh:40mm:58ss !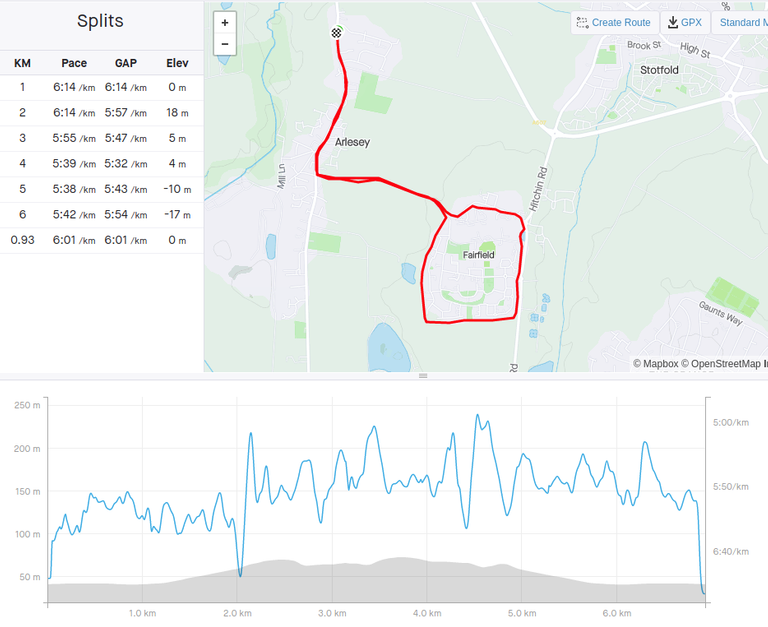 Sometimes I do feel I am getting too old for this running lark. My body can take a while to recover. I did two runs at the weekend and I still felt a bit stiff from those. Bending over seems like hard work, but I managed to get my shoes on for a run before breakfast.
I was another lap of Fairfield. I have about a kilometre of flat road before starting up the long hill. I saw the two guys on electric scooters again. One was on the road and the other on the path, but I think both count as illegal. Not that we see any police around here generally.
The West Drive hill was a bit of a slog and then I went clockwise around the estate. It is quite up and down with about 44m of climbing over the run. I saw a fair few runners out today, including one mother and young boy.
Coming back down the hill is a bit easier and Strava shows I was fairly consistent on 'grade adjusted pace'. I will try for some intervals on my next run to see if I can find some speed.
It was cool this morning, but has really warmed up now. It looks like it may be nice tomorrow, but then cool down again for the easter weekend. I expect lots of people will be out and about anyway as we are allowed to meet limited numbers of others outdoors in England now. I think it is still worth being cautious if we want to avoid more outbreaks.
Run free and stay well.
Check out some detailed info at my EXHAUST page
Join me in testing out EXHAUST!