Morning Run - Frosty
I just finished a 6.727km running that lasted about 0hh:38mm:30ss !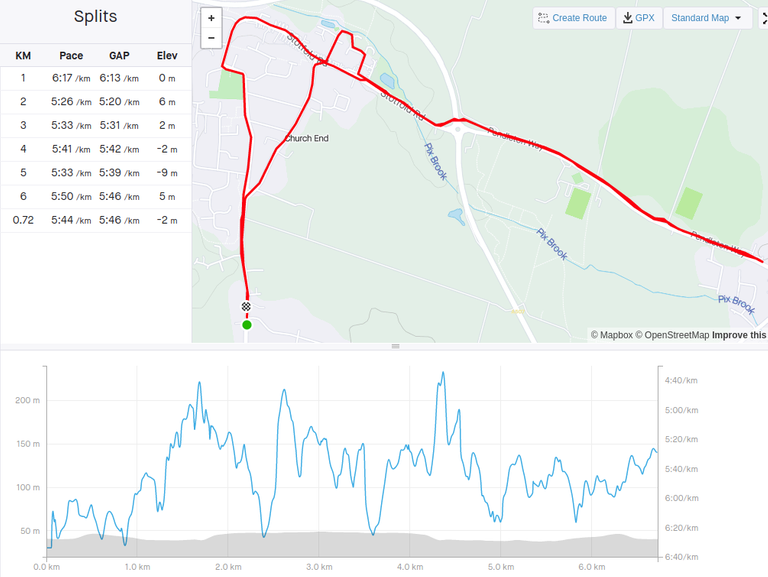 The weather has been quite variable over the last few days. On Sunday it got warm enough for people to be out in shorts, but yesterday morning it snowed a bit. This morning it was around freezing when I got up and there were some frosty patches on the grass. I needed my gloves today.
I did my 30-20-10 intervals workout, but sprinting was hard. I went out towards Stotfold as the schools are still off for Easter and so it was quiet along there. On the cycle path I was catching up with a guy who seemed to be doing intervals of running and walking. Eventually I passed him, but then I was not doing any walking.
Heading east I had the sun in my eyes and needed to be careful of trip hazards. Coming back was easier. I took the long way back at a gentle pace to stretch out the distance a little. Looking at the graph I had some fairly fast sprints, but did not really feel I was doing as well as I would hope generally. That is partly down to recovering from Sunday. It is not a big deal really as I just want to maintain my fitness.
When I got back I noticed my Garmin watch was stuck on 'saving'. The run had been uploaded, so eventually I just reset the watch. As of now it has yet to synchronise to the actual time, but I will look up how to fix that.
Have a good week. Run free and stay well.
Check out some detailed info at my EXHAUST page
Join me in testing out EXHAUST!
---
---