Morning Run - Going longer
I just finished a 16.003km running that lasted about 1hh:35mm:1ss !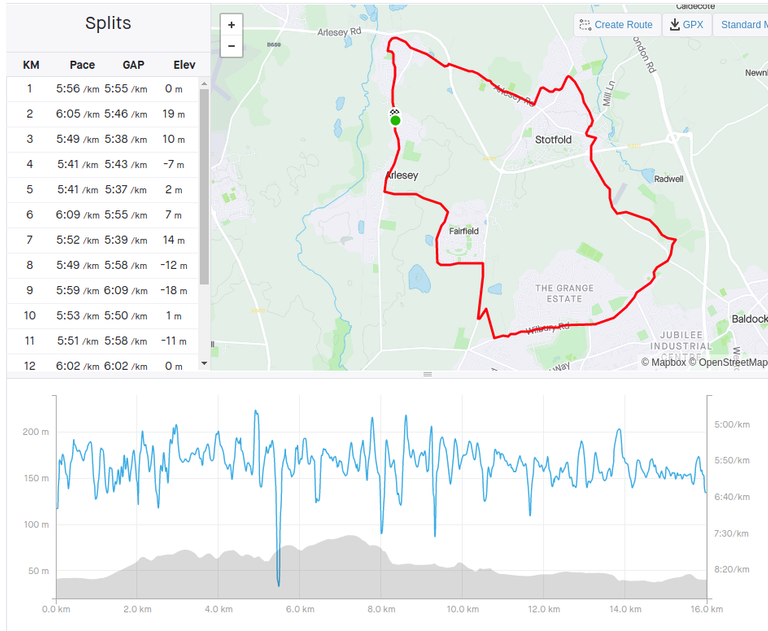 I am conscious that I have a half marathon event in two weeks and so I needed to test myself on a longer run as I have cut down a bit lately. Mind you, the relaxation of COVID restrictions may get pushed back a few weeks, so I will have to see if that affects the race.
It is going to be warm today, so I tried to get out fairly early, but it still warmed up. I did the usual route up to Fairfield and had a couple of options from there, but decided to head up to Standalone Farm, where the race starts. Wilbury Road from there is quite up and down and I flagged a bit there. I went through Norton to pick up the Greenway through Radwell Meadows. On the race I shall be doing that in the opposite direction. I came back through Stotfold.
As I got near home I stopped the watch right on 16km. It was a hard run, if not particularly quick. I feel fairly confident I can do the extra bit for the half.
I had breakfast before the run to get some energy. I needed a while to cool down afterwards. I have a gig with my band at lunchtime, so I need to get ready for that. It will be hot out, so I shall need to cream up. There is an England match on later, so lots of people will be out at pubs to watch that. I hope some of them will enjoy our music.
Run free and stay well.
Check out some detailed info at my EXHAUST page
Join me in testing out EXHAUST!
---
---