Morning Run - Up and down
I just finished a 6.962km running that lasted about 0hh:40mm:19ss !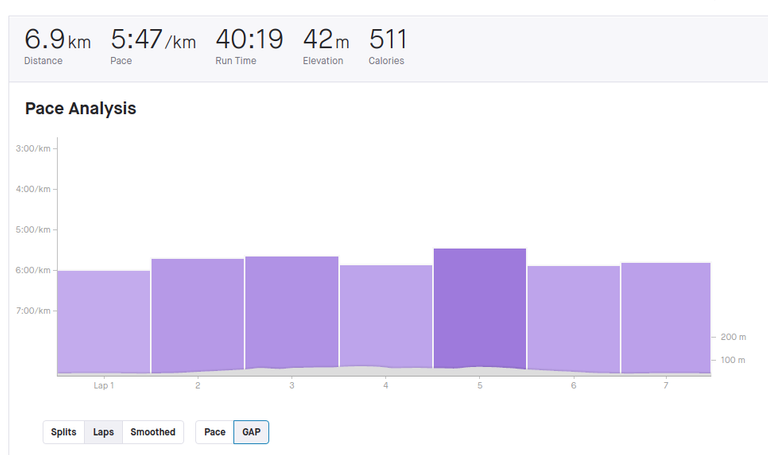 The weather was not too bad for a run this morning, but I was feeling a few assorted aches. I went out anyway. As usual it took a while to really get going. I am including the chart of 'pace analysis' from Strava that shows GAP (grade adjusted pace). The 5th kilometre was the quickest by any measure at around 5:25 and included a small climb that I tried to power up. I was doing the anti-clockwise loop of Fairfield which involves a long climb.
I did a few short sprints to get the heart pumping a bit more. I was getting some slight twinges from my left foot on the way back, but nothing serious. Previously I have had some feelings that my hips were suffering, but not had that lately. I do listen to what my body is telling me and will take it easy if it seems serious. Running can be stressful on the joints, but I am not doing massive distances and I think overall the effects are positive.
As usual I saw a few other runners. On the far side of Fairfield I took a track that I think is meant for horses through the trees alongside the footpath to avoid a pedestrian, but someone was walking through there too. There are some wooden planks on edge that I assume are meant to deter cyclists, but they act as little jumps for me.
I was pretty warm by the end of the run, so cooled down whilst having breakfast before my shower. My son just got a foam roller. I keep seeing them mentioned on running sites, but have not looked into the benefits. I do not read up too much on training, but I am open to advice.
Run free and stay well.
Check out some detailed info at my EXHAUST page
Join me in testing out EXHAUST!
---
---