Morning Run - Drip drop

I just finished a 13.352km running that lasted about 1hh:18mm:59ss !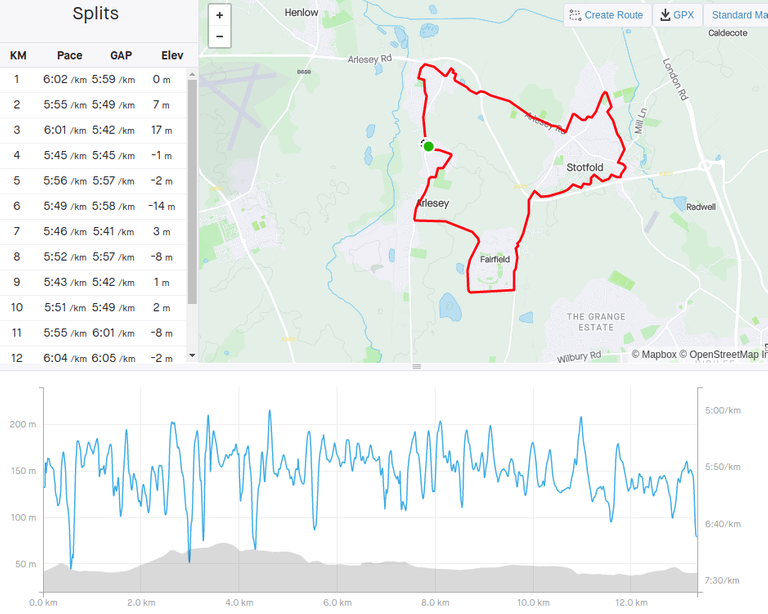 parkrun restarted yesterday, but I did not get to run it as we had some other stuff to do. I hope it went well for everyone. I know they are having to make a few changes to minimise the COVID risks. It looks like 111 people did my local parkrun. I might have expected more, but the weather was not ideal.
We have had a bit of rain lately and this morning it was generally damp out. There was a bit of misty rain, but not enough to really soak me. I set off on a variation of my usual Sunday loop. The shortest version is almost a square, but I added a few diversions to extend it. The first was to head around the houses behind mine, which means a bit of a climb straight away. That got my legs working.Then it was mostly a matter of taking the long way around everywhere.
There were a few other runners out, but it was generally pretty quiet. I am very used to running on my own with just podcasts through my bone conduction headphones.
I looped around Fairfield and then did the same with Stotfold. I could have tripped at one point as a black skateboard ramp had been left out that was not so visible on the asphalt path. My wet glasses hamper my vision a little Although it was damp it was not too cold and so I had sweat as well as rain on me.
I was tiring a bit as I headed back towards Arlesey, but kept running and took more diversions. Around 13km is a nice distance for me on a Sunday. If I do get back into regular parkrun then I will have to see how my legs hold out.
Run free and stay well.
Check out some detailed info at my EXHAUST page
Join me in testing out EXHAUST!
---
---