Morning Run: 8 mile
I just finished a 13.186km running that lasted about 1hh:16mm:36ss !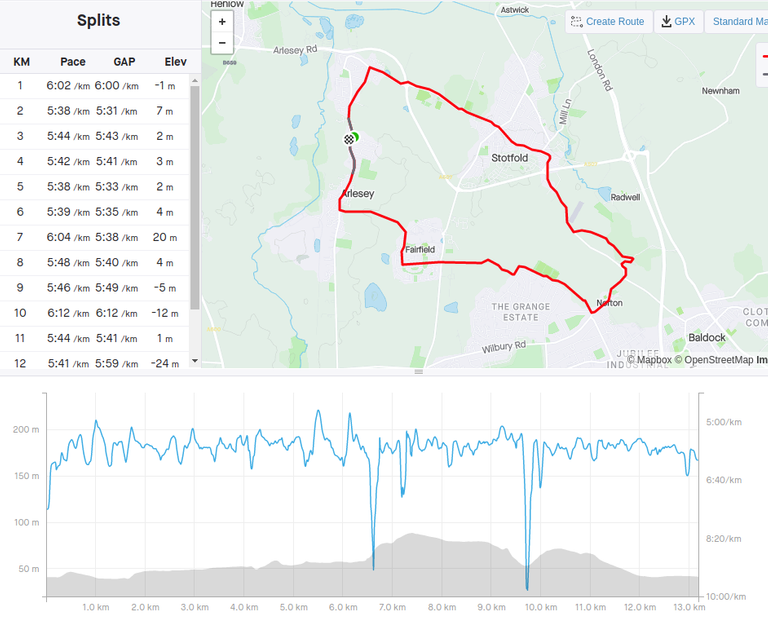 I could hear the rain as I lie in bed. I decided to have breakfast and see how it looked. It had stopped by the time I got out, but it was cool. I decided to to a big loop, but clockwise for a change. There were a fair few puddles around.
I went straight through Stotfold and then took the Greenway. That was a bit squelchy in places. I struggled on the last uphill part before getting back to the road. I came back across the the fields from Norton to the Grange. There was a strong headwind along that open stretch. When I got to the playing fields the soccer players were coming out the play.
Coming down the big hill was not too bad, but then had to navigate a very muddy stretch. I walked that as there were nettles to avoid. The rest of it through Fairfield and Arlesey was not too bad. I am happy enough if I keep under 6min/km on a long run.
As I got close to home it started raining again, but I did not get too wet. I checked on the chickens. The rats are tunnelling all over the place and eating their food. May need to set more traps. Apparently they are in the shed too. I need to do some tidying in the garden.
I did have a fun music session at the pub yesterday. Lots of us there and the fire kept us warm.
Run free and stay well.
Check out some detailed info at my EXHAUST page
Join me in testing out EXHAUST!
---
---