¿Puede un fanático corriente como yo, escribir algo desapasionado y objetivo luego de la derrota de anoche? Lo dudamos. Quizás, por ello no habría servido como periodista deportivo, quienes muchas veces, tienen que dejar sus pasiones a un lado para referirse al equipo de sus preferencias. Digamos que están obligados por las reglas éticas que regulan su profesión. Pero ese no es el caso de éste cristiano, quien apoyado en la Web 3.0 descentralizada, puede volcar su frustración acá.
Can an ordinary fanatic like me write something dispassionate and objective after last night's defeat? We doubt it. Perhaps that is why I would not have served as a sports journalist, who often has to put his passions aside to refer to the team of his preference. Let's say they are bound by the ethical rules that regulate their profession. But that is not the case of this writer, who supported by the decentralized Web 3.0, can turn his frustration here.
     Quienes siguieron el juego de anoche, pudieron ver el último clavo del ataúd que arropará la temporada 2020-2021 de los Leones del Caracas BBC, en la Liga Venezolana Profesional de Béisbol. El equipo mostró en un solo juego el resumen de lo que fue su comportamiento errático en TODA la temporada y jugando de la manera como lo hicieron, bien podrían haber renunciado a la clasificación a la postemporada, desde antes y de ese modo, ahorrarnos la cantidad de epítetos y groserías que escupimos al ver aquello.
Those who followed last night's game could see the last nail in the coffin that will tuck in the 2020-2021 season of the Leones del Caracas BBC, in the Venezuelan Professional Baseball League. The team showed in just one game the summary of what was their erratic behavior in ALL the season and playing the way they did, they could well have given up on the postseason classification, from before and thus save us the amount of epithets and rudeness that we spit when we saw that.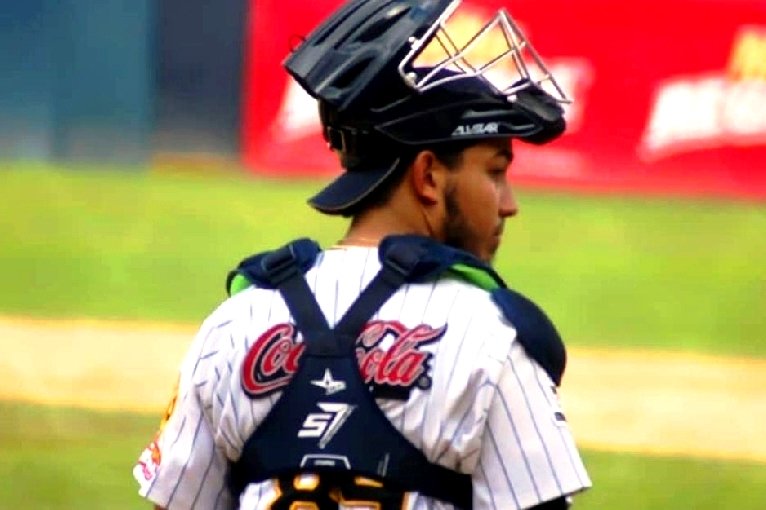 Y es que el drama comenzó mal desde ANTES de jugar: el equipo venía de perder dos (2) vitales partidos ante Caribes de Anzoátegui y Navegantes del Magallanes, de los cuales era necesario ganar ante Caribes, para poder llegar con chance a los dos enfrentamientos contra el otro rival directo de la división: los Tigres de Aragua. Pero, además de ello, el Caracas debía haber ganado el de anoche. En lugar de esto, Leones queda con récord de 15 Ganados y 22 Perdidos mientras los Tigres quedan con 15 G y 19 P.
The drama started badly BEFORE the game: the team had just lost two (2) vital matches against Caribes de Anzoátegui and Navegantes del Magallanes, of which it was necessary to win against Caribes, in order to have a chance to play against the other direct rival of the division: the Tigres de Aragua. But, besides that, Caracas should have won the one last night. Instead, Leones is left with a record of 15 Wins and 22 Losses while the Tigres are left with 15 W and 19 L.
     El primer tercio del juego fue un resumen de lo que hizo el pitcheo abridor durante la temporada, el segundo tercio del partido resumió lo que hizo el bateo del equipo y el tercer tercio capturó la escencia de la defensa, la cual cometió ¡cinco (5) errores! Durante el partido, pero los más costosos cuando se cerraban los dos últimos innings. Estos propiciaron las carreras ganadoras del rival.
The first third of the game was a summary of what the pitching opener did during the season, the second third of the game summarized what the batting team did, and the third third third captured the essence of the defense, which made five (5) mistakes! During the game, but the most costly ones when the last two innings were closed. These led to the winning runs of the rival.
     Los equipos pueden darse el lujo de perder partidos y, aún así, caer en gracia del público ¿por qué? Pues, queda la sensación sobre haber hecho lo necesario para ganar y, sin embargo, no se pudo ¡no hay problema! Pero cuando se pierde del modo como lo hizo Leones anoche, alguien tiene que pagar los platos rotos y creemos que son los jugadores los culpables. Víctor Gárate y Lino Urdaneta (Mánager y Pitching Coach, respectivamente) hicieron el trabajo encomendado. El equipo falló como un todo.
Teams can afford to lose games and still fall in love with the public. Why? Well, there is still the feeling of having done what was necessary to win and yet it was not possible, no problem! But when you lose the way Lions did last night, someone has to pay the price and we think the players are to blame. Victor Garate and Lino Urdaneta (Manager and Pitching Coach, respectively) did the job. The team failed as a whole.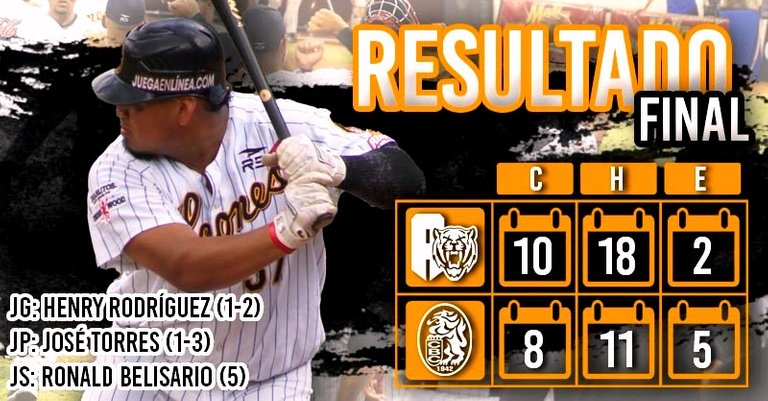 Imagen a partir de un Tweet de @leones_cbbc

     ¿Y por qué decimos que es un réquiem? Porque Leones pasó al último lugar en la clasificación a falta de tres partidos por jugar y a Tigres (con Caribes ya clasificado) le restan todavía seis juegos por delante, incluyendo el de hoy frente al Caracas. Así Caracas gane los tres que le restan, Tigres solo le será necesario ganar dos más, para asegurar un puesto en los Playoff ¡Hasta la próxima temporada!
And why do we say it is a requiem? Because Leones passed to the last place in the classification with three games left to play and Tigres (with Caribes already classified) still has six games left to play, including today's game against Caracas. If Caracas wins the three remaining games, Tigres will only need to win two more to ensure a place in the Playoffs. See you next season!
     Para mí ha sido un sufrimiento muy duro llevar las incidencias del equipo durante ésta temporada que culmina, por ello, volveremos a escribir sobre béisbol en la primavera del hemisferio norte, cuando los equipos de Grandes Ligas abran sus respectivos campos de entrenamiento. Hasta entonces y gracias por haber sido consecuentes.
For me it has been a very hard suffering to carry the incidents of the team during this season that is culminating, so we will write again about baseball in the spring of the northern hemisphere, when the major league teams open their respective training camps. Until then and thanks for being consistent.
P.S. English is not my native language, apologize for that. I used a web translator
for english text (DeepL), the fonts are embedded in the images
     ¡Gracias por leer..! // Thanks for read..!
Las fuentes están incrustadas en las imágenes

¿Quieres tener tu propio blog y la libertad financiera que significa
el mundo cripto? ¡Haz clic en la firma!
---
My social networks