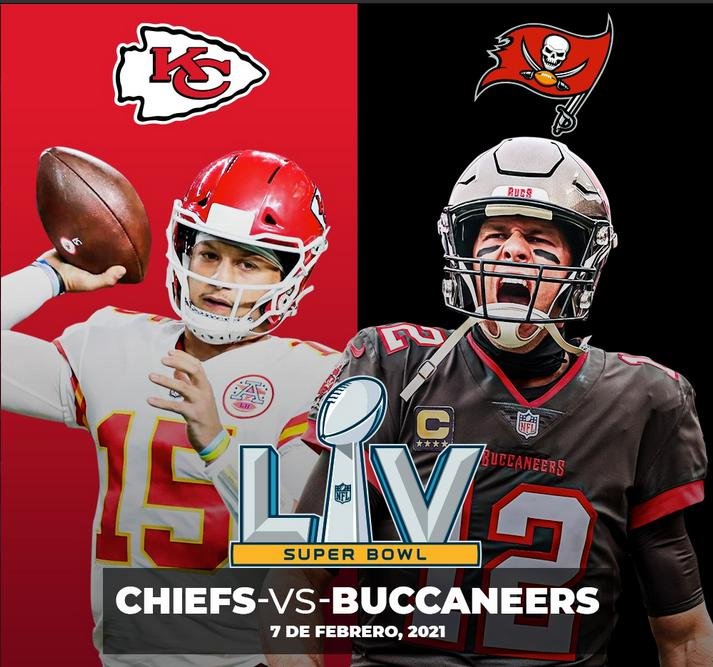 🏈Fuente | Source: Super Bowl 55 |Tom Brady Vs Patrick Mahomes
---
       Saludos a toda la comunidad deportiva de Hispanoamérica, el post que comparto con ustedes tiene que ver con las expectativas de la final de la
NFL
, entre
Bucaneros de Tampa Bay
y Los
Jefes de Kansas City
, el Super Bowl 55, el cual se llevará a cabo el próximo domingo 7 de febrero de 2021, en el estadio de los Bucaneros de Tampa Bay |
Raymond James Stadium
, donde veremos un duelo entre la madurez de un jugador como
Tom Brady
,
Bucaneros de Tampa Bay
, poseedor de 6 anillos de campeón, quien ha dominado el deporte de los emparrillados en los últimos 20, y por otro lado veremos a quien los entendidos piensan dominará con su estilo de juego los próximos 20 años,
Patrick Mahomes
,
Jefes de Kansas City
, el cual viene de ser campeón del Super Bowl 54 y el jugador más valioso (MVP).
Greetings to the entire Hispanic American sports community, the post that I share with you has to do with the expectations of the final of the

NFL

, between

Tampa Bay Buccaneers

and the

Kansas City Chiefs

, Super Bowl 55, which will be held next Sunday, February 7, 2021, at Tampa Bay Buccaneers Stadium |

Raymond James Stadium

, where we will see a duel between the maturity of a player like

Tom Brady

,

Tampa Bay Buccaneers

, holder of 6 championship rings, who has dominated the sport of gridiron for the last 20 years, and on the other side we will see who the pundits think will dominate with his style of play for the next 20 years,

Patrick Mahomes

,

Kansas City Chiefs

, who is coming off a Super Bowl 54 championship and MVP.
---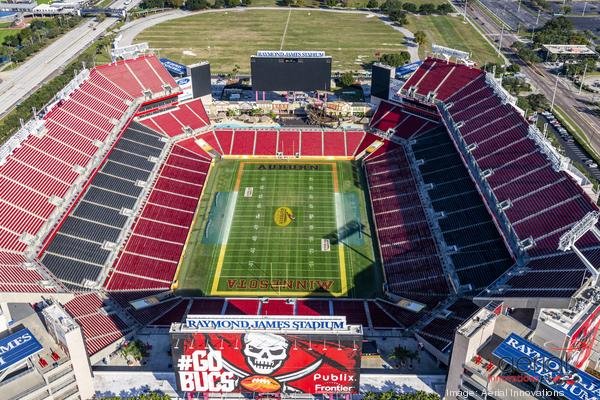 🏈 Fuente | Source: Estadio Raymond James | Raymond James Stadium
---
       Sin duda alguna estimados lectores de
@fulldeportes
, el
Super Bowl 55
será según los entendidos un espectáculo, deportivo histórico, (solo podrán entrar 22.000 aficionados, entraran gratis 7.500 por ser médicos, esto debido a la pandemia por Covid-19, por tanto será el Super Bowl con menor asistencia de aficionados en la historia) , ya que reúne en esta edición a la elite de los
Mariscales de Campo
|
Quarterback
de este deporte, por un lado tenemos al mayor ganador de anillos de campeón con 6, el mítico
Tom Brady
de 43 años, quien buscará conseguir el numero 7, y por el otro al jugador más valioso del
Super Bowl 54
, y mejor pagado en la historia de los deportes,
Patrick Mahomes
de 25 años, buscando su segundo anillo de campeón, por lo que se espera un juego con muchas anotaciones, las casas de apuestan dan como favorito al equipo de Kansas City, el ganador será en mi opinión , aquel equipo que administre mejor la posesión del balón, realice la menor cantidad de errores, y profundice las
estrategias ofensivas, defensivas y de equipos especiales
.
Undoubtedly dear readers of

@fulldeportes

, the

Super Bowl 55

will be according to experts a show, historic sports, (only 22,000 fans will be able to enter, 7,500 will enter free for being doctors, this due to the pandemic by Covid-19, therefore it will be the Super Bowl with lower attendance of fans in history) , as it brings together in this edition to the elite of the

Quarterbacks

of this sport, on one side we have the biggest winner of championship rings with 6, the legendary

Tom Brady

of 43 years, who will seek to get the number 7, and on the other the most valuable player of the

Super Bowl 54

, and highest paid in the history of sports, 25-year-old

Patrick Mahomes

, looking for his second championship ring, so a game with many touchdowns is expected, the betting houses give the Kansas City team as favorite, the winner will be in my opinion, the team that manages better the possession of the ball, makes the least amount of mistakes, and deepens the

offensive, defensive and special teams strategies .
      Este Super Bowl 55, será diferente a los 54 que lo han precedido, ya que es la primera vez que el equipo anfitrión es uno de los protagonistas, tal es el caso de los Bucaneros de Tampa Bay. Con respecto a lo que muchos lectores podrían preguntarse comparar a los Mariscales de Campo de este Super Bowl es una tarea algo arriesgada, debido a que Tom Brady tiene 21 años ejerciendo la hegemonía como el mejor Mariscal de los últimos 20 años, y Patrick Mahomes , tan solo 4, tres como mariscal titular. A continuación podrán visualizar las veces que Brady y Mahomes se han enfrentado.
This Super Bowl 55 will be different from the 54 that have preceded it, since it is the first time that the host team is one of the protagonists, such is the case of the Tampa Bay Buccaneers. With respect to what many readers might ask, comparing the quarterbacks of this Super Bowl is a somewhat risky task, since Tom Brady has 21 years of hegemony as the best quarterback of the last 20 years, and Patrick Mahomes, only 4, three as the starting quarterback. Below you can see how many times Brady and Mahomes have faced each other.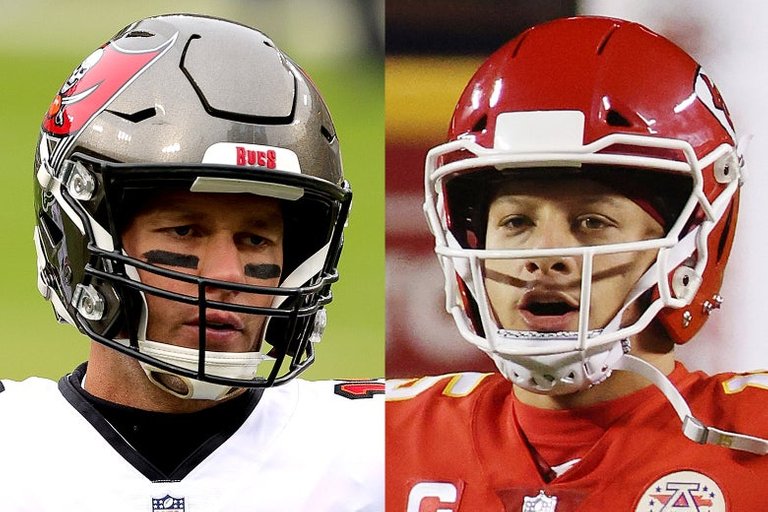 🏈Fuente | Source: Tom Brady | TB , Patrick Mahomes KC
---
Enfrentamientos Brady Vs Mahomes 🏈 Brady vs Mahomes matchups
---
| Equipo - Team | Año - Year |
| --- | --- |
| Patriots-Brady ☑️ 43 -40 Kansas-Mahomes | 2018 |
| Patriots Patriots-Brady ☑️ 37-31 Kansas-Mahomes | (tiempo extra final de conferencia) - (final conference overtime) 2018 |
| Patriots-Brady 16-23 Kansas-Mahomes ✅ | 2019 |
| Tampa-Brady 24-27 Kansas-Mahomes ✅ | 2020 |
---
       Como puede visualizarse cada uno de los mariscales se han enfrentado en 4 oportunidades , y cada uno ha ganado 2 encuentros, ahora les mostraremos las estadísticas individuales de cada uno en la temporada 2020, estos números de alguna manera servirán para que el lector pueda tener una base en que apoyar su preferencia.
As you can see, each of the quarterbacks have faced each other in 4 opportunities, and each one has won 2 games, now we will show you the individual statistics of each one in the 2020 season, these numbers will serve in some way so that the reader can have a basis on which to support their preference.
---
Estadísticas Temporada 2020 🏈 2020 Season Statistics
---
Jugador - Player
Temporada - Season 2020
Tom Brady (TB)
Yardas - Yards
4.633
3° Ranking
Patrick Mahomes (KC)
Yardas - Yards
4.740 ☑️
2° Ranking
Tom Brady (TB)
Touch Dawn - TD
40 ✅
2° Ranking
Patrick Mahomes (KC)
Touch Dawn - TD
38
4° Ranking
Tom Brady (TB)
Intercepciones - INT
12
28° Ranking
Patrick Mahomes (KC)
Intercepciones - INT
6 ☑️
5° Ranking
Tom Brady (TB)
Promedio QB- QB Rating
72.60
9° Ranking
Patrick Mahomes (KC)
Promedio QB- QB Rating
82.90 ☑️
2° Ranking
---
Fuente de las estadísticas Página Oficial de la NFL | Source of statistics Official NFL website | NFL

---
 
Translated with www.DeepL.com/Translator (free version)




---










Original Content by @jakim7

Copyright @jakim7 | All Rights Reserved

Animated Banner Created By @zord189