Rutina de Ejercicios en casa para fortalecer los brazos / Exercise routine at home to strengthen the arms
¡Hola comunidad de Hive!
Hello Hive Community!
---
---
Hola querida comunidad de
@Hive
y
@Fulldeportes
, Hoy es un dia mas para compartir con ustedes lo mejor de mi haciendo una rutina de ejercicio para fortalecer los brazos y espalda.El ejercicio es vida, por eso no debemos tener excusas para practicarlo, hoy quiero compartir con ustedes esta maravillosa rutina en casa para que nos ayudará a ganar resistencia y masa muscular en nuestras extremidades superiores y cada musculo de ellas. ejecutando de manera muy practica y sencilla esta rutina fácil de hacer desde casa . Estos ejercicios los podemos trabajar con una frecuencia de dos veces a la semana, durante nuestro ciclo de ejercicios, teniendo presente que podemos aumentar las series y repeticiones una vez hayamos ganado la fuerza y resistencia necesaria para cumplir con nuestros retos deportivos. Espero les guste y puedan hacerla con la mejor actitud posible, porque si, se puede. manos a la obra...
Hello dear community of @Hive and @Fulldeportes, Today is one more day to share with you the best of me doing an exercise routine to strengthen my arms and. I want to share with you this wonderful routine at home to help us gain strength and muscle mass in our upper extremities and every muscle in them. executing in a very practical and simple way this routine easy to do from home. We can work these exercises twice a week during our exercise cycle, keeping in mind that we can increase the series and repetitions once we have gained the strength and endurance necessary to meet our sporting challenges. I hope you like it and you can do it with the best possible attitude, because yes, you can. let's do it ...
---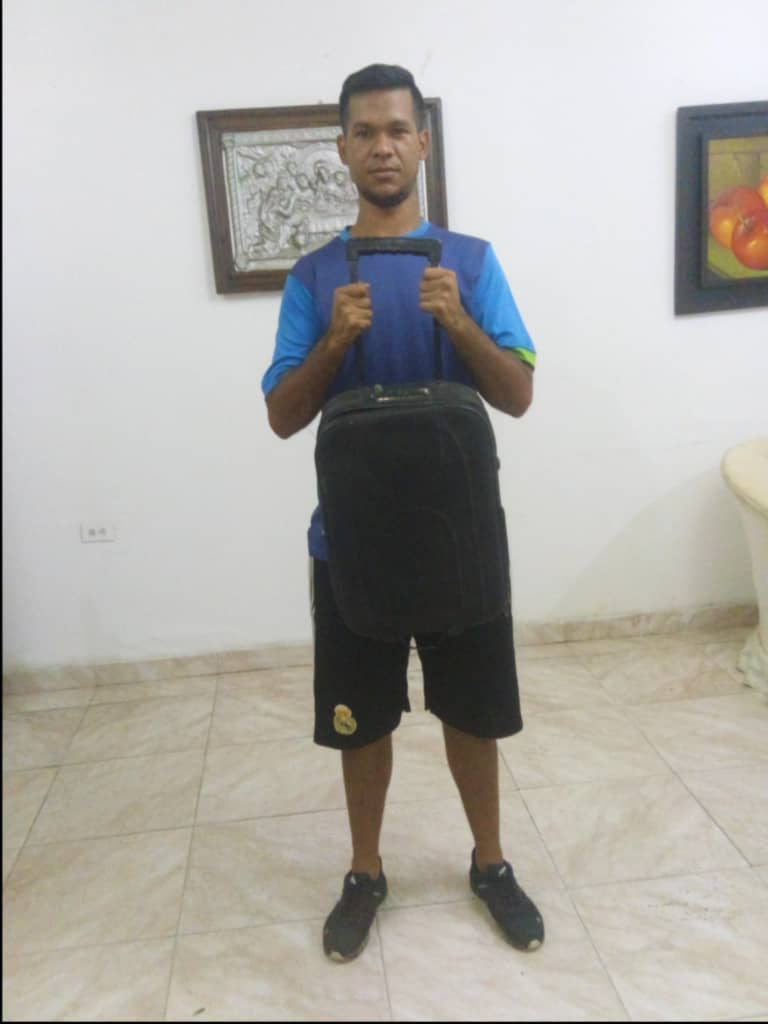 ---
Rutina de ejercicios para fortalecer los brazos y espalda / Exercise routine to strengthen the arms and back
---
🕑Estiramientos y calentamiento / Stretching and warm-up🕑
Para iniciar nuestra rutina de ejercicios, es importante que hagamos un previo calentamiento y estiramiento en todo nuestro cuerpo, buscando mantener una flexibilidad y resistencia previa para el desarrollo de nuestros ejercicios, evitando posibles lesiones que puedan afectar nuestro rendimiento..
To start our exercise routine, it is important that we warm up and stretch beforehand throughout our body, seeking to maintain flexibility and resistance prior to the development of our exercises, avoiding possible injuries that may affect our performance.
---
Flexiones inclinadas: / Incline push-ups:
---
Este ejercicio lo realizaremos utilizando un objeto donde podamos montar nuestras piernas en posición para hacer flexiones como fue en mi caso una silla, una vez tengamos nuestras piernas altas empezamos, hacer estas flexiones en esta posición ayuda a ejercer más fuerza en nuestros brazos ya que todo el peso de nuestro cuerpo esta hacia abajo, con esto lograremos fortalecer todos los músculos d nuestros brazos, hacer una serie d 3 con 10 repeticiones creo que seria lo mas conveniente para este ejercicio.
We will do this exercise using an object where we can mount our legs in a position to do push-ups, as in my case a chair, once we have our legs we start, doing these push-ups in this position helps to exert more force on our arms since all the Our body weight is down, with this we will be able to strengthen all the muscles of our arms, do a series of 3 with 10 repetitions I think it would be the most convenient for this exercise.
---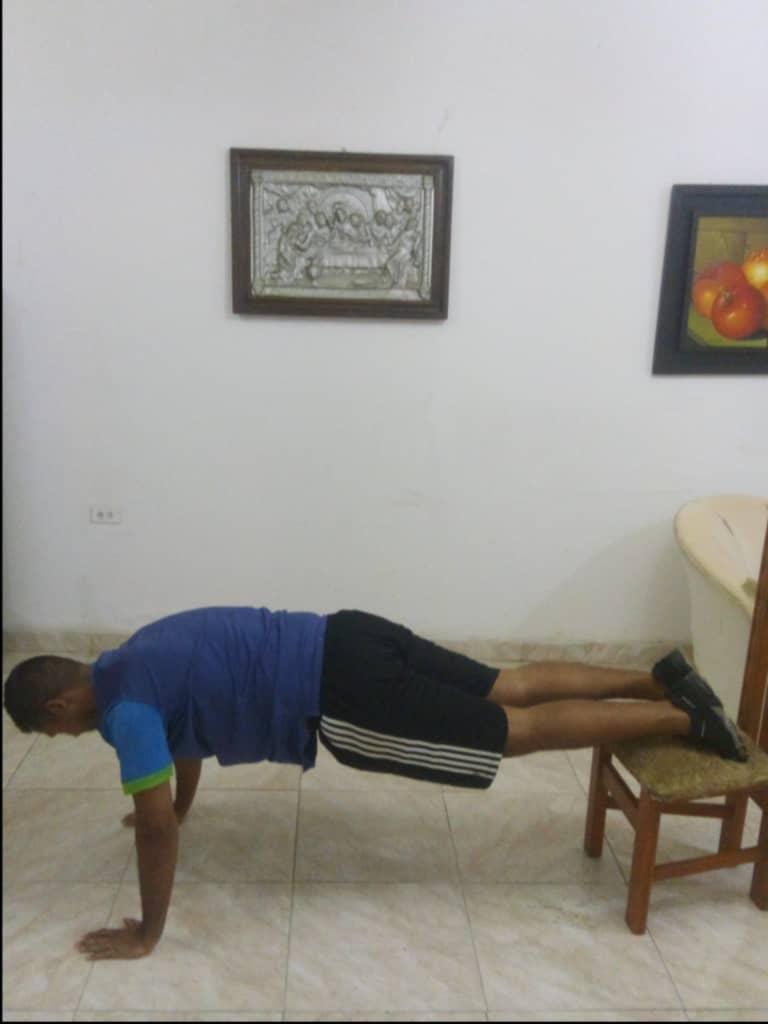 ---
Fondos para trabajar los triceps: / Dips to work the triceps:
Acá les muestro como hacer este fondo utilizando 2 sillas, con la finalidad de ejercer más fuerza en el área de los tríceps, al utilizar sillas tendremos todo el cuerpo en alto y al subir y bajar ejercemos bastante presión en el los tríceps, al realizarlos nos daremos cuenta fuerza utilizamos en esta parte de nuestros brazos como lo son los tríceps. Ayudemonos con una serie de 3 por 10 repeticiones diarias y lograremos tener buenos resultados.
Here I show you how to do this bottom using 2 chairs, in order to exert more force in the area of ​​the triceps, when using chairs we will have the whole body raised and when raising and lowering we exert a lot of pressure on the triceps, when doing them we will give ourselves We use strength in this part of our arms, such as the triceps. Let's help each other with a series of 3 for 10 repetitions daily and we will achieve good results.
---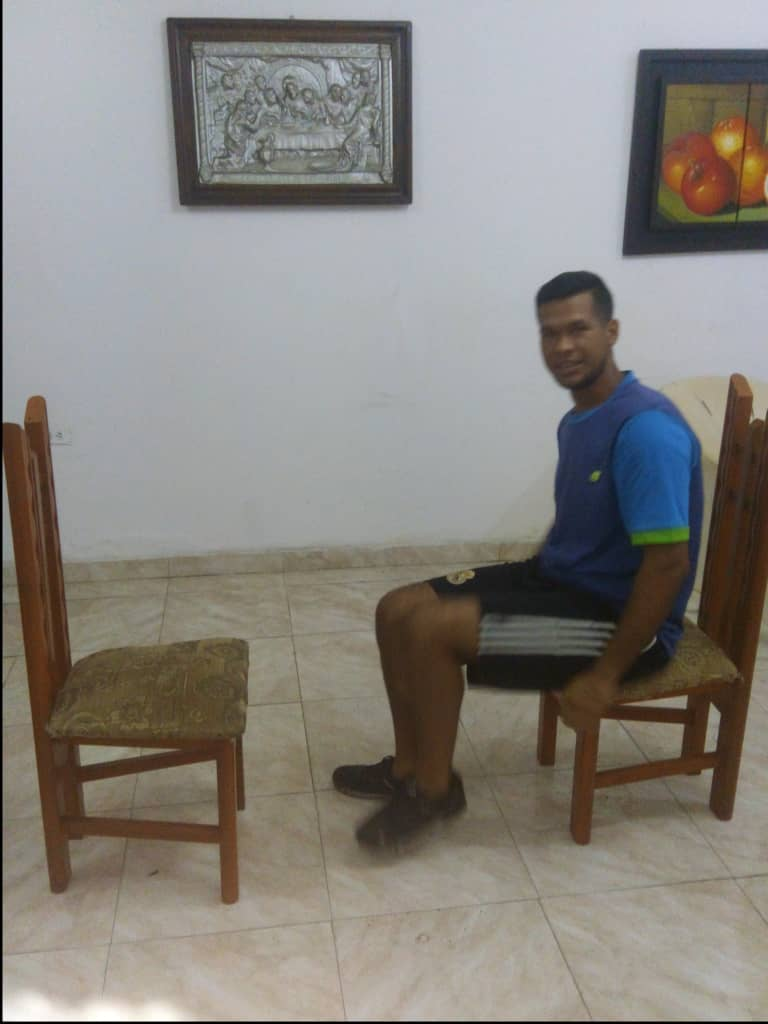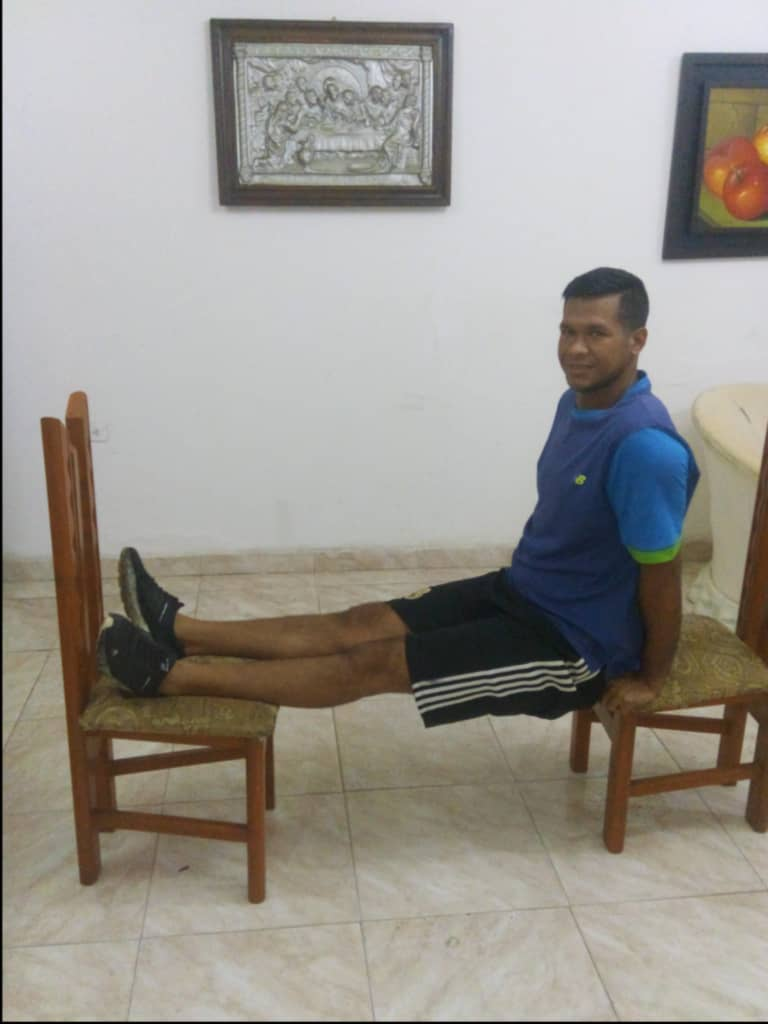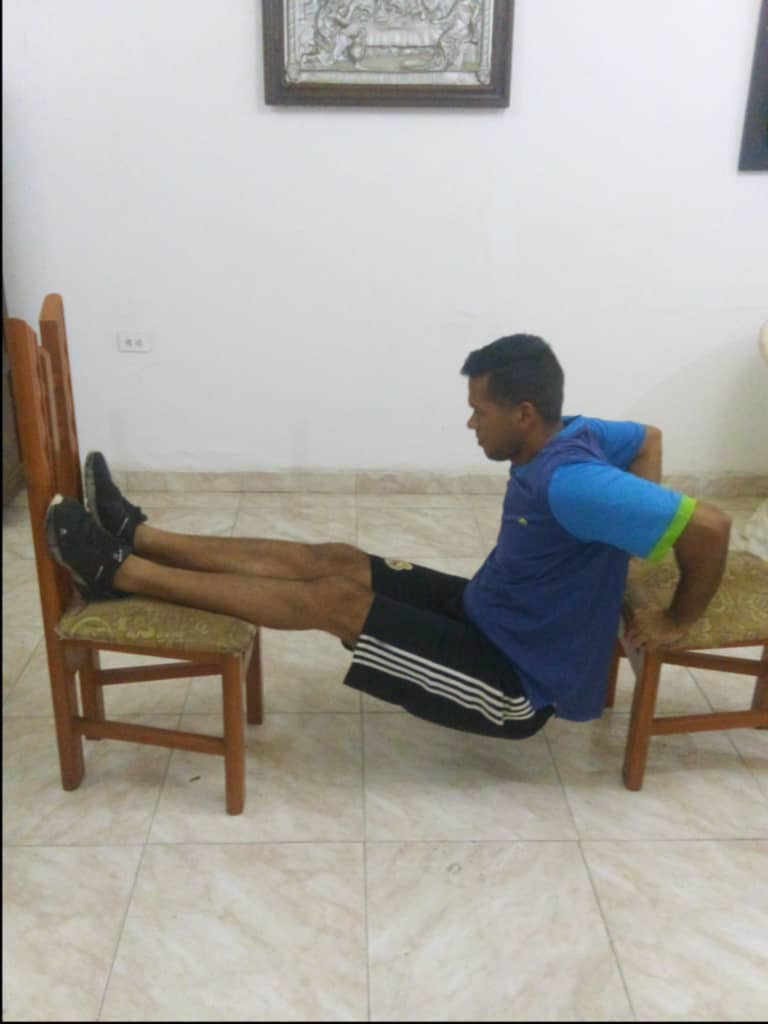 ---
Curls de bíceps: / Bicep curls:
Para este ejercicio utilizaremos cualquier objeto que pese, ya sea una pimpina de tamaño mediano con agua o como lo fue en mi caso una maleta un tanto mediana con algo de peso. A continuación tomaremos el objeto de nuestra elección y procedemos a subirlo y bajarlo por la parte frontal de nuestro cuerpo como si estuviéramos haciendo pesas, esto ayuda mucho a fortalecer el área de nuestros bíceps, haremos una serie de 3 con 10 repeticiones, una vez terminemos por la parte frontal lo haremos por la parte de la espalda igualmente subiendo y bajando, la verdad que esta combinación es muy buena y a parte de los bíceps también nos ayuda a trabajar nuestros hombros y espalda, acá igualmente haremos una serie de 3 con 10 repeticiones.
For this exercise we will use any object that weighs, be it a medium-sized pimp with water or as it was in my case a somewhat medium suitcase with some weight. Then we will take the object of our choice and proceed to raise and lower it through the front of our body as if we were doing weights, this helps a lot to strengthen the area of ​​our biceps, we will do a series of 3 with 10 repetitions, once we finish From the front we will do it on the back also going up and down, the truth is that this combination is very good and part of the biceps also helps us to work our shoulders and back, here we will also do a series of 3 with 10 repetitions .
---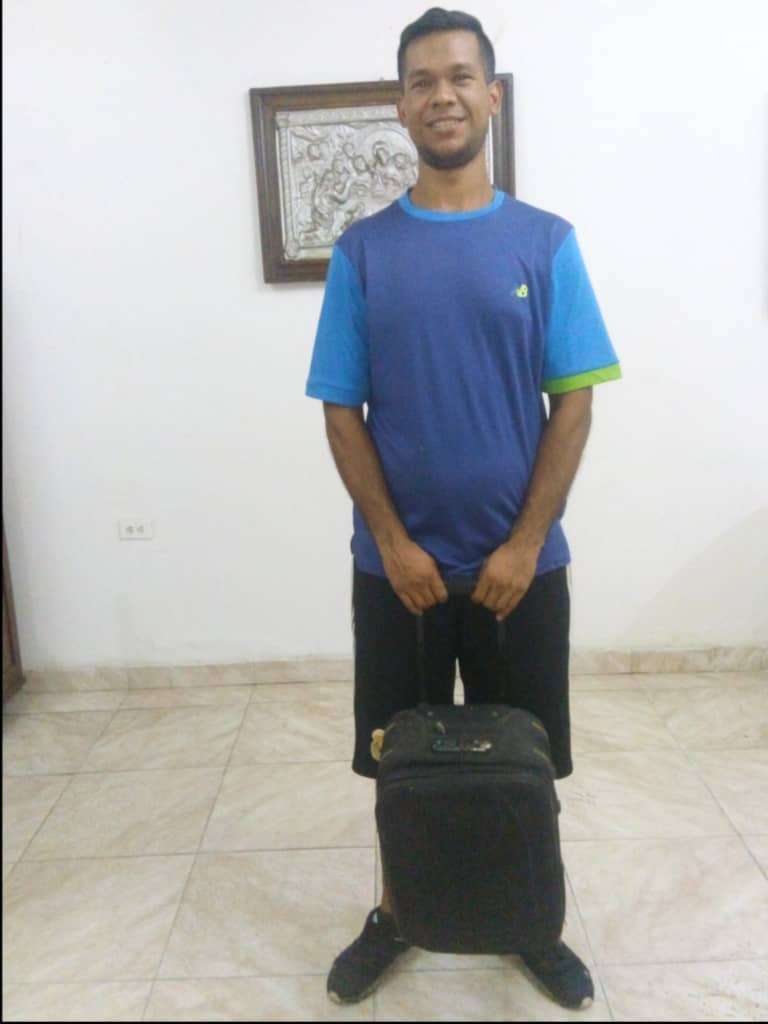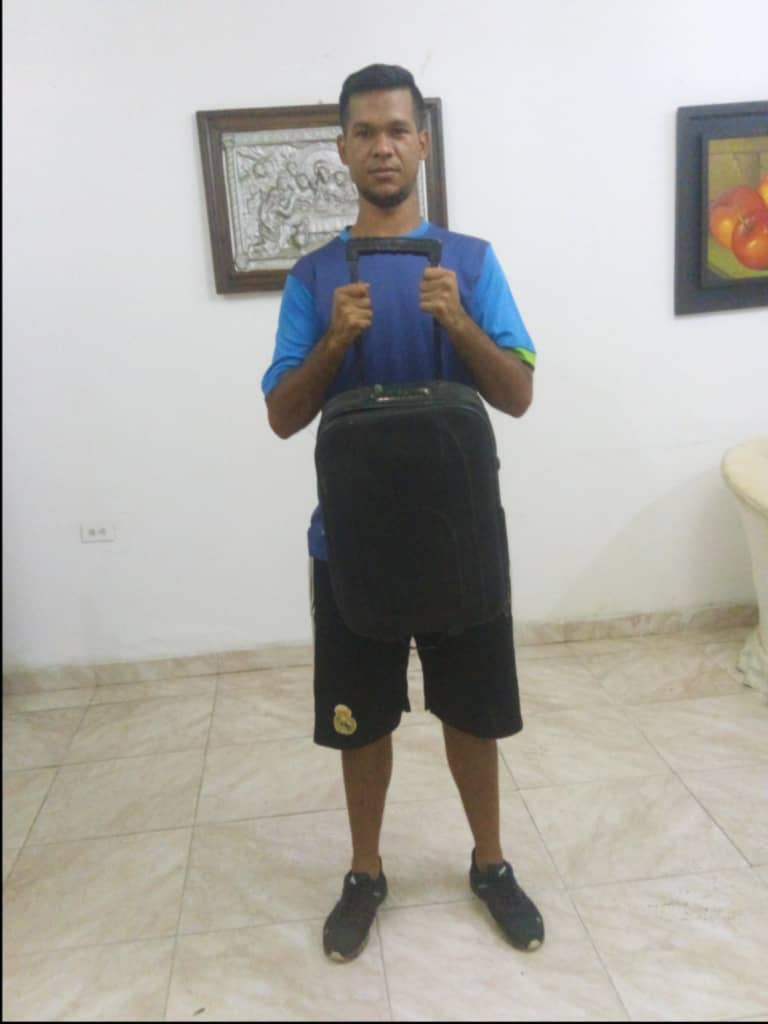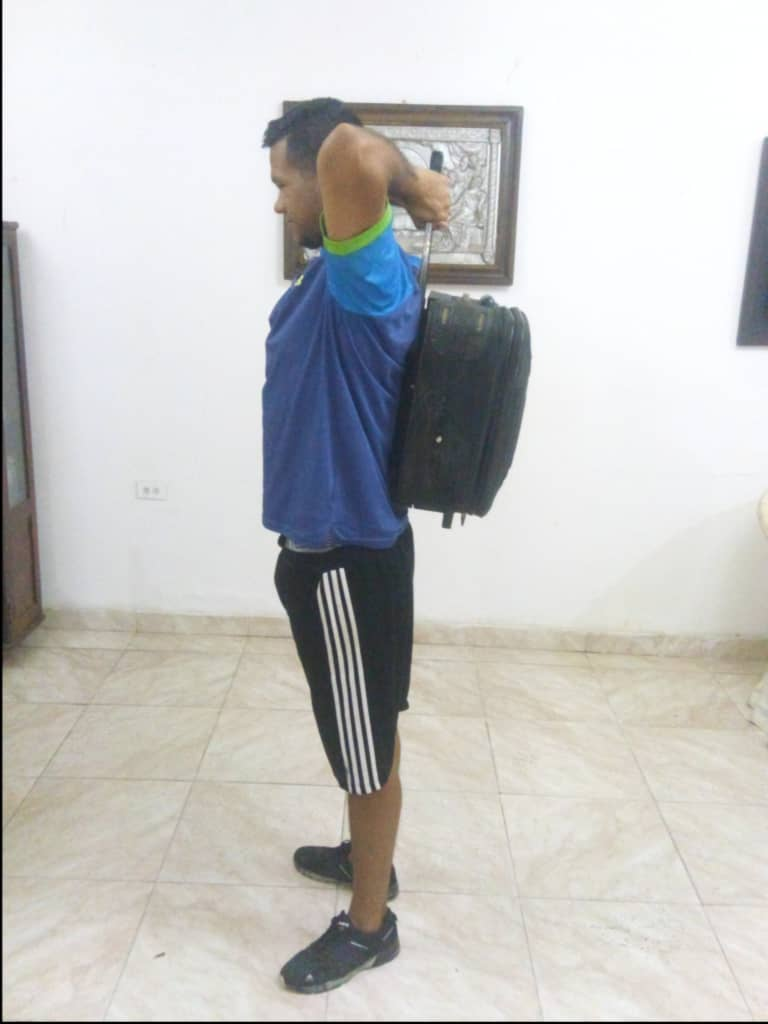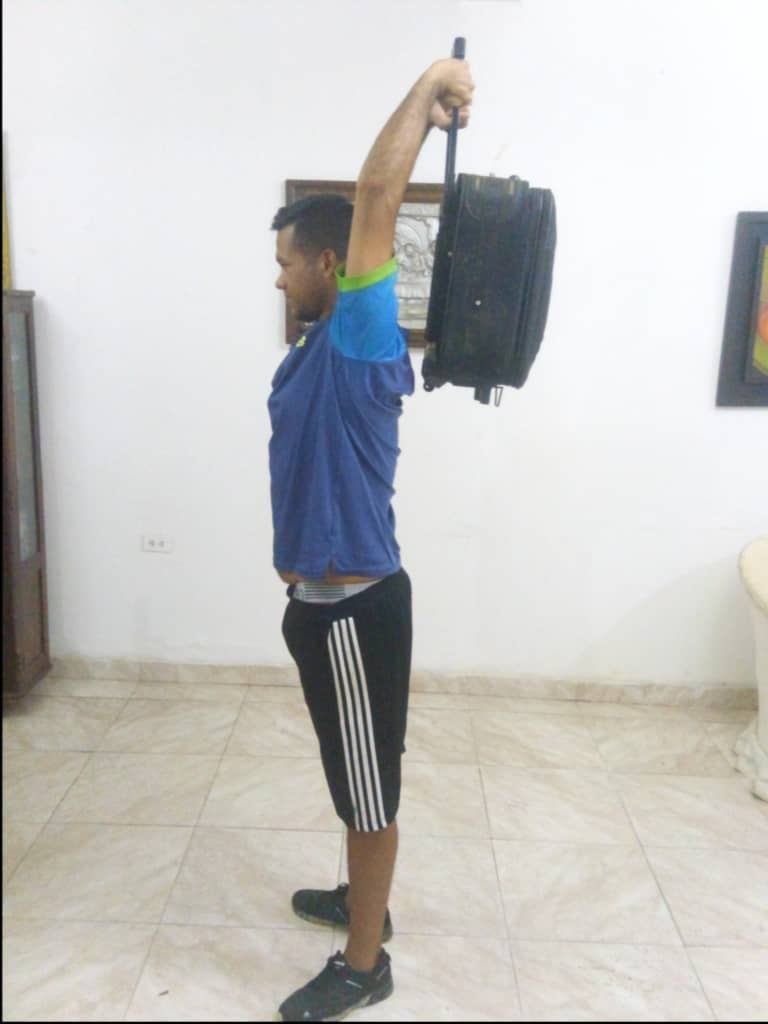 ---
Curls con toalla: / Towel curls:
Con este ejercicio que concluimos por hoy, se trata de hacer rizos con una toalla, para hacerlo tomamos una toalla y nos acostamos en el piso en una posición como si fuéramos a hacer abdominales, una vez en posición tomamos la toalla por ambos extremos y los pasamos por debajo de la planta de nuestro pie, la idea de este es tirar hacia nuestro pecho mientras con nuestro pie lo forzamos hacia adelante, esto nos ayuda a tener que hacer suficiente fuerza y ​​ponemos todos los músculos de nuestros brazos y hombros, haremos una serie de 3 para 10 repeticiones.
With this exercise that we conclude for today, it is about making curls with a towel, to do it we take a towel and lie on the floor in a position as if we were going to do sit-ups, once in position we take the towel at both ends and the we go under the sole of our foot, the idea of ​​this is to pull towards our chest while with our foot we force it forward, this helps us to have to make enough force and we put all the muscles of our arms and shoulders, We will do a series of 3 for 10 repetitions.
---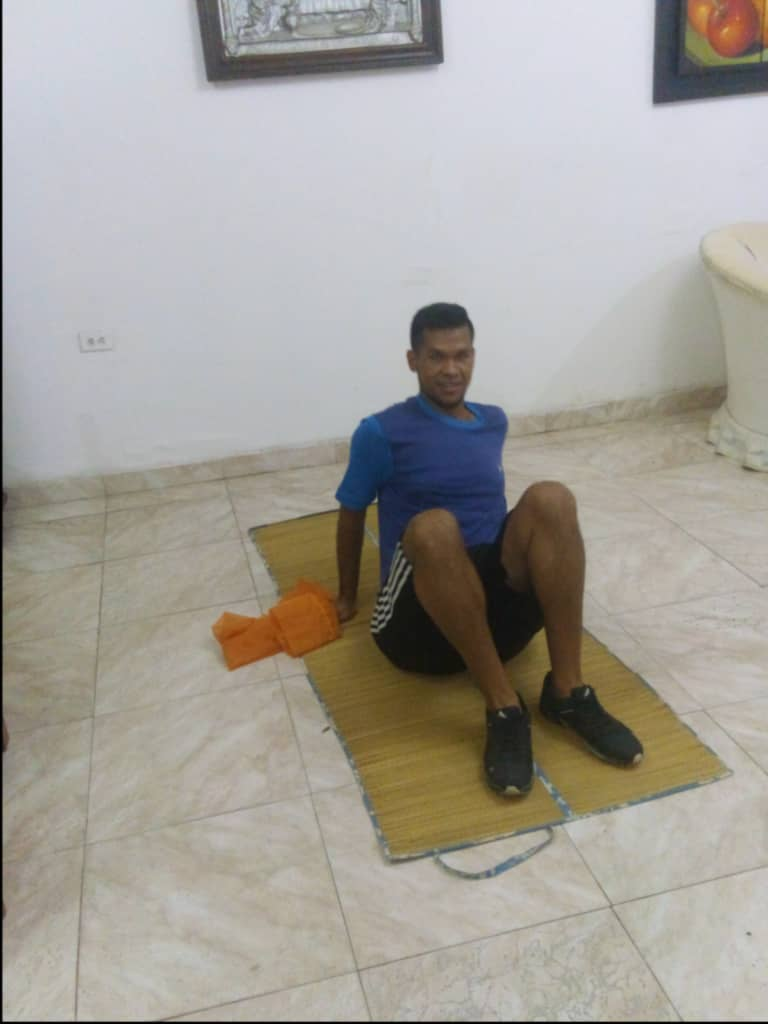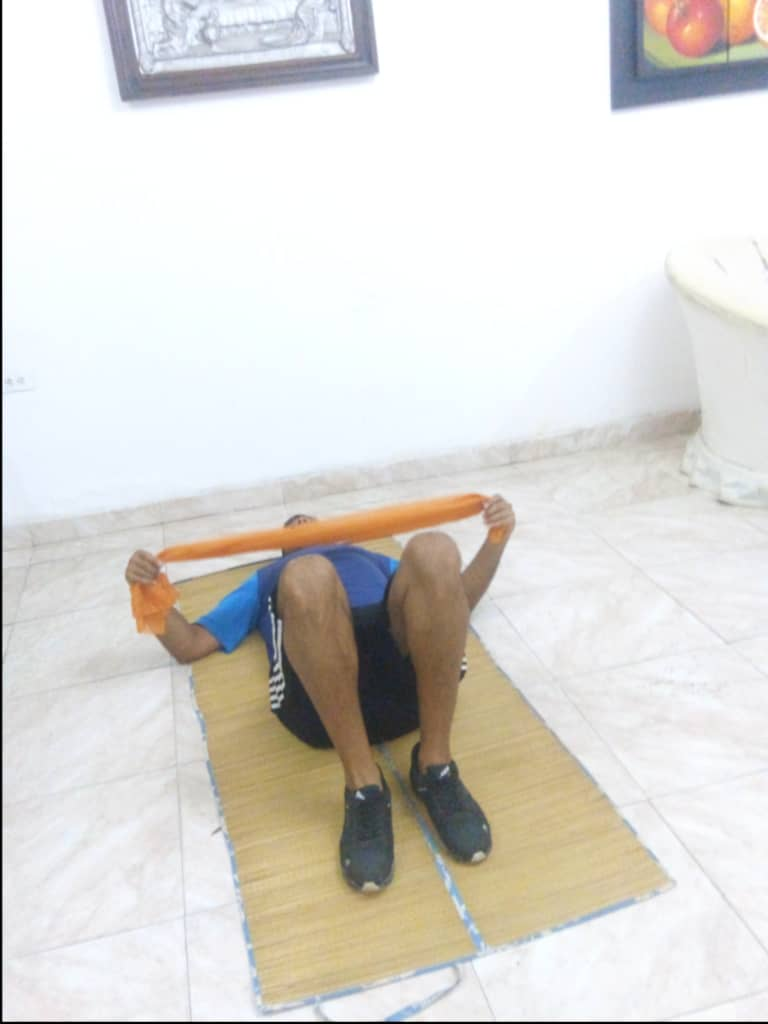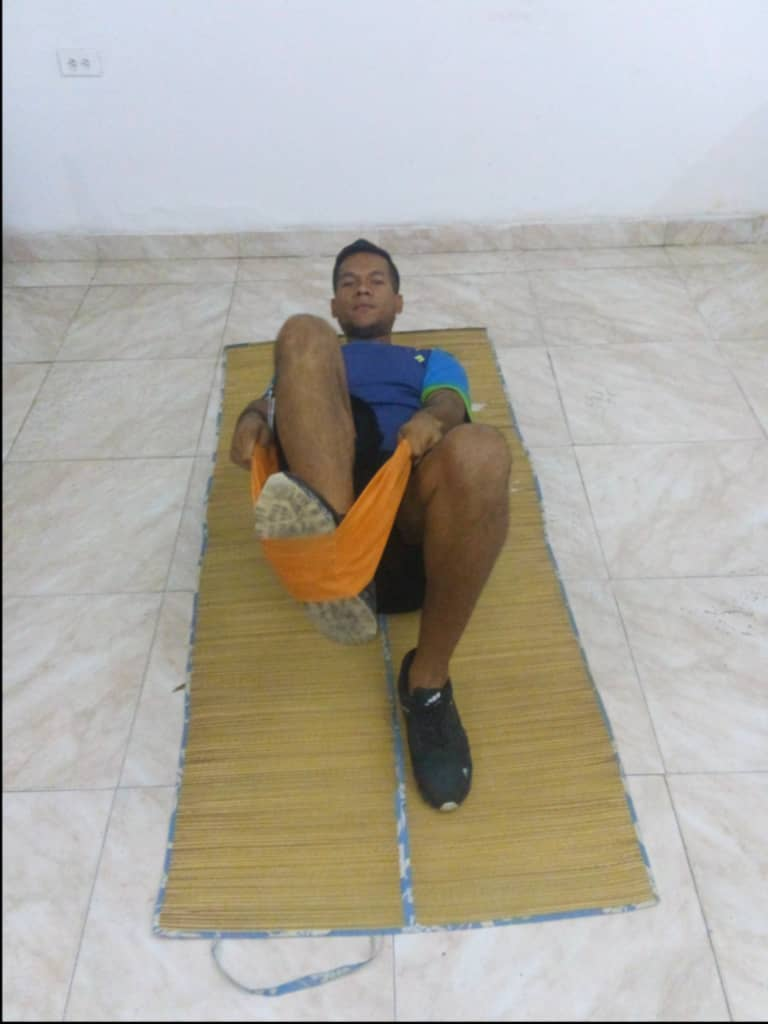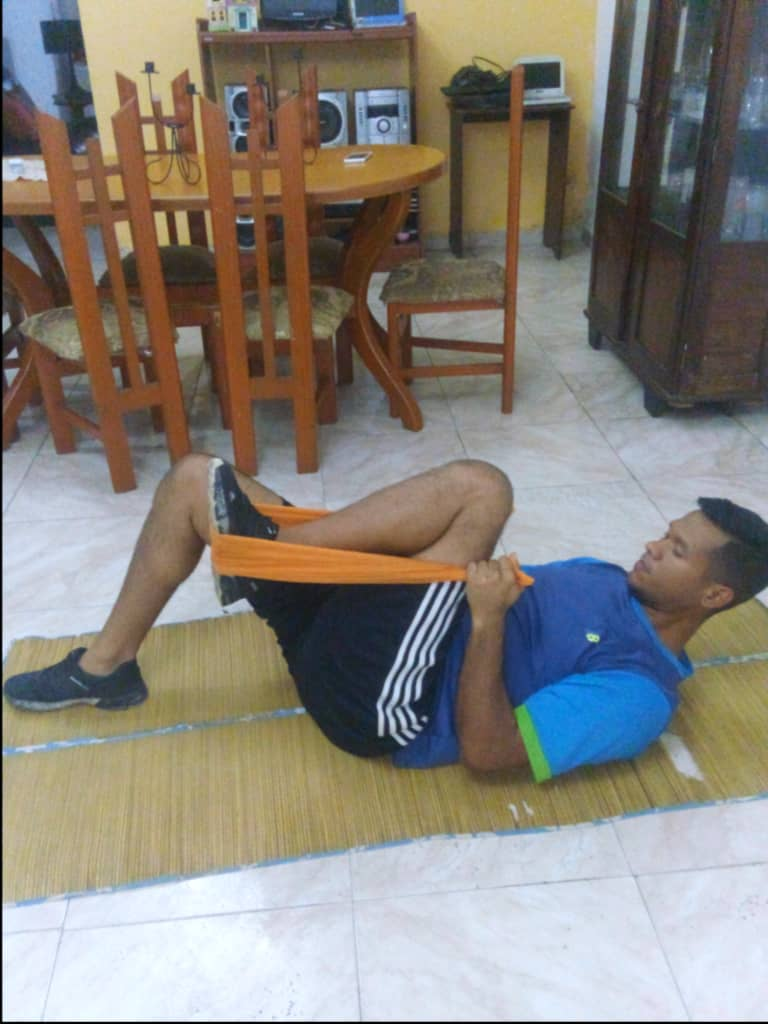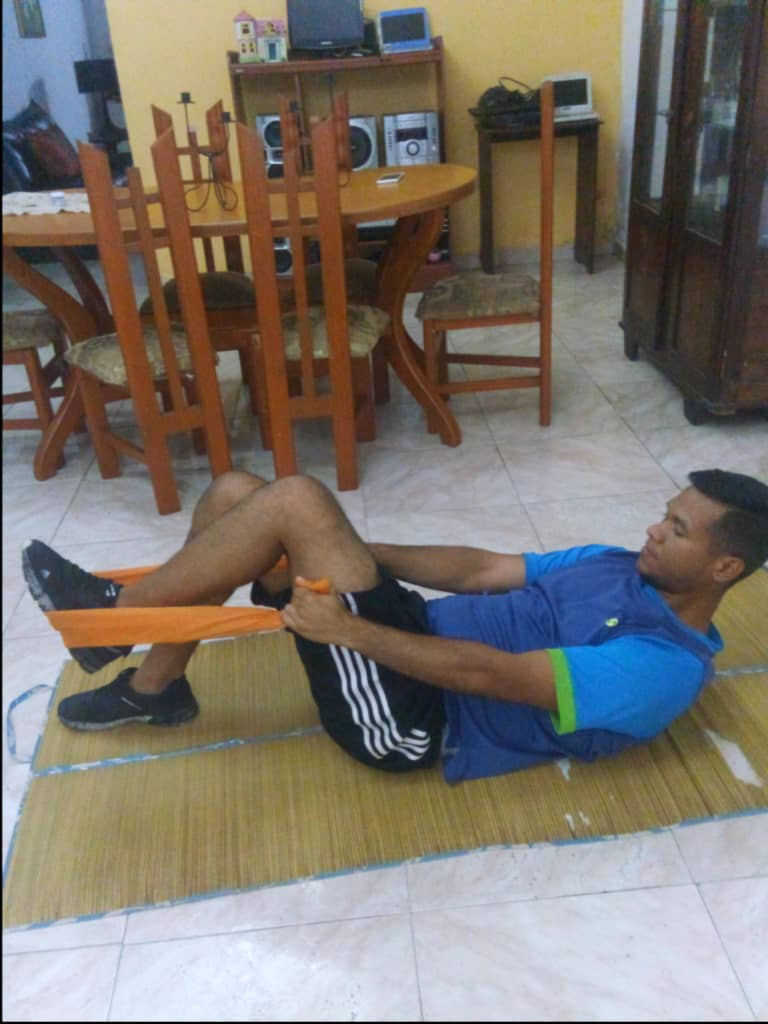 }
---
Ya con esto he finalizado mi rutina de ejercicios en casa para fortalecer nuestros brazos y espalda, espero sea de mucha ayuda para ustedes y sirva como guía para la ejecución de sus ejercicios por una vida más saludable y activa, recordando que constantemente debemos estar haciendo algo de actividad física para evitar el sedentarismo y así ayudar a nuestro organismo a una mejor evolución gozando siempre de una buena salud. Recuerden que todo es posible si trabajamos y hacemos realidad nuestros propósitos de vida. Bendiciones...
With this I have finished my exercise routine at home to strengthen our arms and back, I hope it will be very helpful for you and serve as a guide for the execution of your exercises for a healthier and more active life, remembering that we must constantly be doing Some physical activity to avoid sedentary lifestyle and thus help our body to better evolve while always enjoying good health. Remember that anything is possible if we work and make our life purposes come true. Blessings...
---
Todas las fotos son de mi autoría y propiedad / Tomadas con mi equipo celular Alcatel1 con la ayuda de mi hermosa novia @cristzullys
All photos are my authorship and property / Taken with my Alcatel1 cell phone with the help of my beautiful girlfriend @cristzullys
---

---
¡GRACIAS POR PASAR POR MI BLOG Y LEERME!
THANK YOU FOR STOPPING BY MY BLOG AND READ ME!
---
---