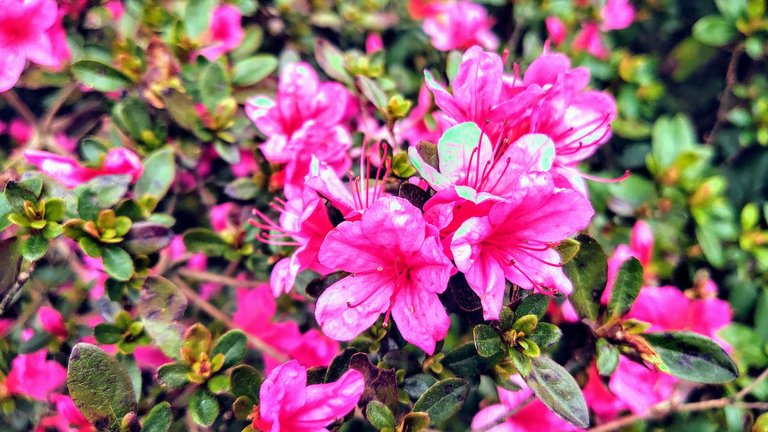 [PL] Dokładnie tak samo jak wczoraj dzień przywitał nas widokiem białego puchu za oknem. Tym razem nawet w mieście padało. Nie miałem ochoty wcześnie wstawać, szczególnie, że na noc miałem do pracy, ale musiałem zrobić badanie krwi. Wolałem to mieć dziś z głowy, bo w inne dni mi wybitnie nie pasowało, a potrzebne mi są wyniki na przyszły tydzień. Na początek odbiłem się od drzwi w laboratorium w którym przez ostatni pandemiczny rok robiłem badania, było zamknięte i żadnej informacji dlaczego. Dobrze, że nie wybrałem się tam pieszo. Nie było wyjścia musiałem jechać na badania do główego szpitala w mieście, a z racji dużej liczby ludzi chciałem tego uniknąć.
[EN] Just like yesterday, the day greeted us with the sight of white powder outside the window. This time it was raining even in the city. I didn't feel like getting up early, especially because I had to work at night, but I had to do a blood test. I preferred to get it over with today, as it was eminently unsuitable for me on other days, and I needed the results for next week. To start with I bounced through the door at the lab I've been doing tests at for the last pandemic year, it was closed and no information as to why. Good thing I didn't go there on foot. There was no way out, I had to go to the main hospital in the city for the tests, and due to the large number of people I wanted to avoid that.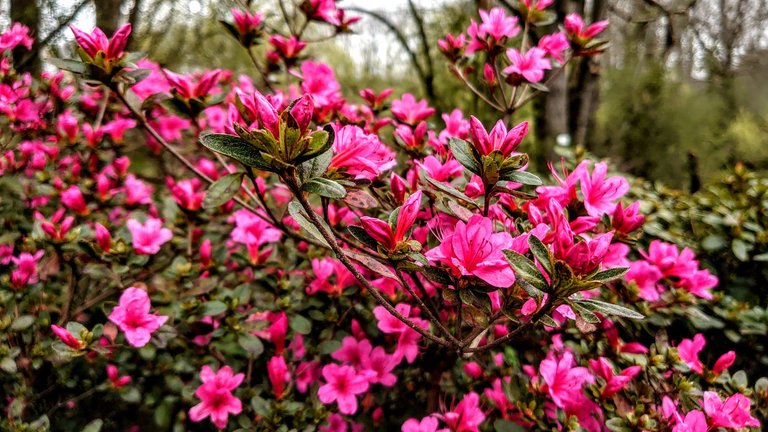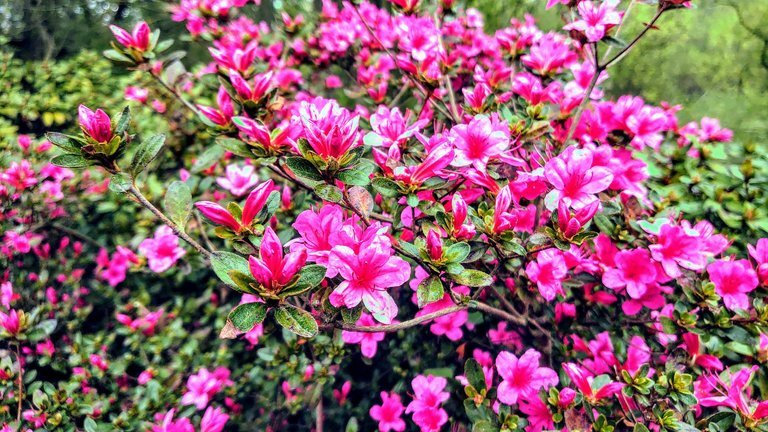 [PL] Po powrocie trudno mi się było zmobilizować do czegokolwiek, kręciłem się zmęczony po domu bez sensu, aż w końcu zrobiłem sobie krótką drzemkę. Kiedy się przebudziłem było dużo lepiej, a słońce za oknem zapraszało na zewnątrz. Tym razem córka stwierdziła, że nigdzie ze mną nie jedzie, bo po wczorajszym jeszcze jest zmęczona. Sam więc pojechałem do lasu w Havre, gdzie zrobiłem sobie dla odmiany krótki jogging, jak na razie tylko na 4 kilometry biegu mnie stać. Resztę dystansu do samochodu przespacerowałem.
[EN] When I came back, I found it difficult to mobilize myself to do anything, I wandered around the house tired and senseless until I took a short nap. When I woke up it was much better, and the sun outside the window was inviting me outside. This time my daughter said she wasn't going anywhere with me because she was still tired after yesterday. So I drove myself to the forest in Havre, where I did a short jog for a change, as I can only afford 4 kilometres of running so far. I walked the rest of the distance to the car.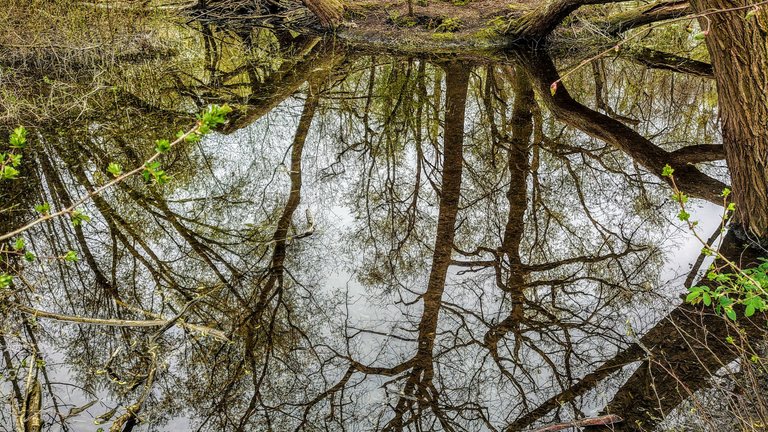 Dystans pokonany w 2021 roku: 1111,41 km - z podziałem na dyscypliny:
| Dyscyplina | Dystans |
| --- | --- |
| Spacer / Marsz / Nordic Walking | 853,56 km (+5,40 km) |
| Kolarstwo / Rower MTB | 193,13 km |
| Jogging / Bieganie | 64,72 km (+4,01 km) |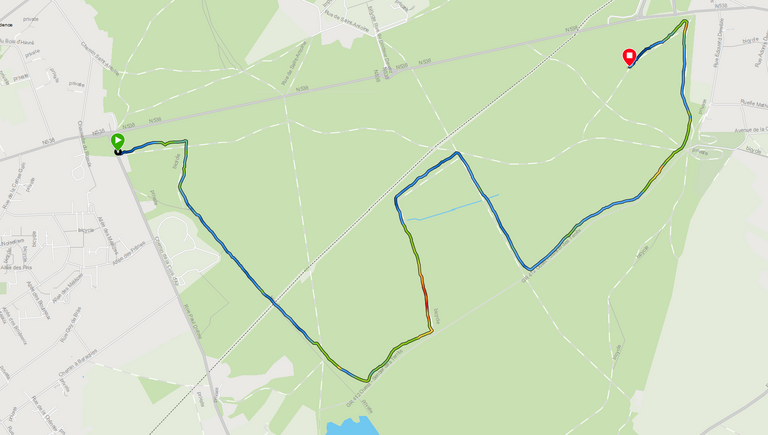 ---
International Polish Actifit League - Play-Off Round 1/8
[PL] Runda 1/8 będzie w dniach 5-7.04, po tym dzień przerwy ze względu na fakt, że niektórzy publikują raporty z jednodniowym opóźnieniem. Ćwierćfinały w których będą walczyć zwycięzcy pojedynków z rundy 1/8 odbędą się w dniach 9-11.04, półfinały w dniach 13-15.04. Pojedynki o I i III miejsce odbędą się w dniach 17-19.04. Pula nagród jaką przewidziałem na ten puchar wynosi 20 HBD (I miejsce - 10 HBD, II miejsce - 5 HBD, III miejce - 3, IV miejce - 2 HBD). Tak się przedstawia zestaw par na rundę 1/8:
[EN] The 1/8 round will be on 5-7.04, after which there will be a day break due to the fact that some people publish reports with a one-day delay. Quarterfinals in which the winners of duels from round 1/8 will fight will take place on 9-11.04, semifinals on 13-15.04. Duels for I and III place will take place on 17-19.04. The prize pool for this cup is 20 HBD (I place - 10 HBD, II place - 5 HBD, III place - 3, IV place - 2 HBD). This is the set of pairs for the 1/8 round:
[PL] Drugie pojedynki przyniosły zaskakujące roztrzygnięcia, z rozgrywek zostali już wyeliminowani: @bucipuci, @cezary-io, @krakonos i @racibo. A wszystkiemu winny jestem ja i ten nieszczęsny współczynnik, który wyliczyłem. Z perspektywy czasu myślę, że błędem było dobieranie par skrajnie 1 z 16, 2 z 15 itd według wyników marcowego turnieju, no ale trudno ktoś musi odpaść, żeby inni bawili się dalej.
[EN] The second duels brought surprising decisions, from the competition were already eliminated: @bucipuci, @cezary-io, @krakonos and @racibo. And all the blame lies with me and the unfortunate coefficient I calculated. In hindsight, I think it was a mistake to choose pairs extremely 1 out of 16, 2 out of 15 etc. according to the results of the March tournament, but it's hard to say that someone has to lose in order for others to continue having fun.
[PL] W pojedynkach premiowane są wynik ponad przecietną z ubiegłego miesiąca, jeżeli myślicie o pokonaniu swoich rywali musicie postarać się bardziej niż przeciętnie i liczyć na słabszy dzień przeciwnika. Walka trwa do dwóch wygranych.
[EN] In the duels, the bonus is the result above the average from the last month, if you think about beating the rivals you have to try harder than average and count on your opponent's weaker day. The fight lasts until two wins.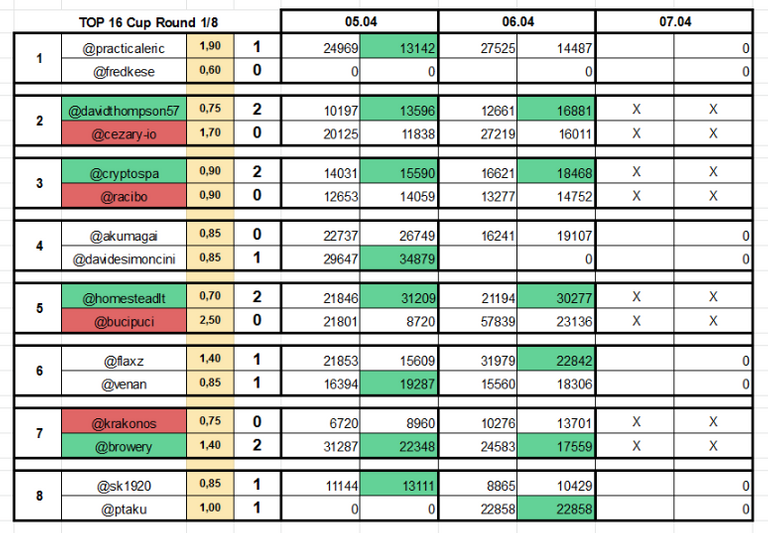 This report was published via Actifit app (Android | iOS). Check out the original version here on actifit.io




18749

Daily Activity, Jogging, Running, Walking