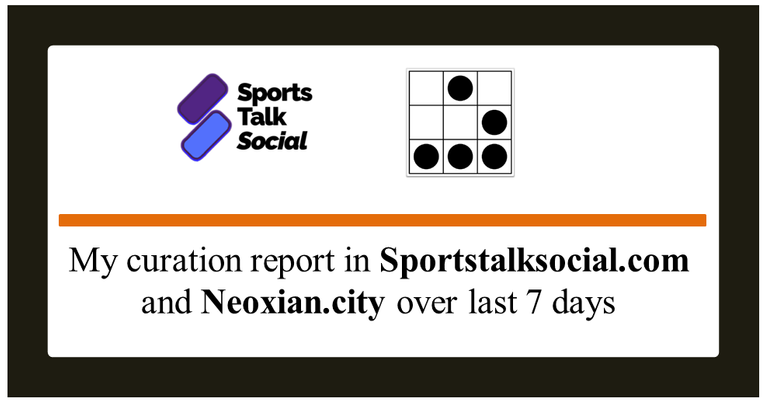 I mostly use Sportstalksocial and Neoxian.city to curate the contents on Steem blockchain. Both the tribes are my favorite at the moment. Realityhubs is also good but frankly speaking, they are doing nothing about the price of RHB tokens. On the other hand Sportstalksocial and Neoxian.city both are very focused and serious about the stability of the price of their tokens SPORTS & NEOXAG respectively. While Sportstalksocial is exclusively for sports-related content, Neoxian.city is a general category tribe.
Now coming to my report over the last seven days, as you can see I have given 103 upvotes over the last 7 days and I have not voted any self-upvotes and 44 accounts have been served over the last seven days. I usually curate some of the consistent content creators in Sports. In Neoxian I always love curating @r2cornell(he is very well known as the universal grandpaa in Steem blockchain, he is a great gentleman).

In Sportstalksocial, I have given most of the votes to @pele23, @cryptoandcoffee, and @dadapizza. I love the NFL content from @dadapizza and he is a Titans fan. @cryptoandcoffee is one of the most consistent sports content creators and most active and he really adds value to this ecosystem. He regularly posts and in my opinion, he should be made the ambassador of Sportstalksocial. In a persistent downtrend, keeping up to 2 or 3 good posts on a regular basis is really an appreciable effort. @pele23 has also received most of my votes for the week. @marcusantoniu26 & @onealfa are also quite good.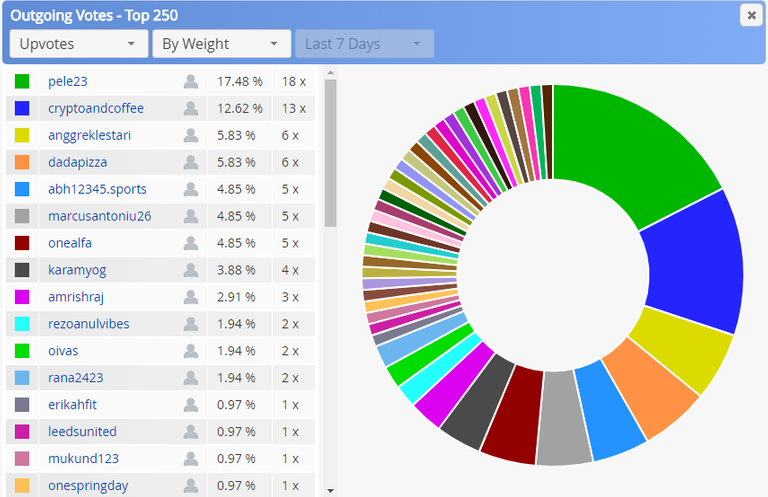 I don't have much Sports token, it is hardly around 72000 SPORTS staked and utilizing that I am earning a curation reward. How little my upvote worth is not a big thing, but how do I curate and how I keep up to it on a daily basis is really the important thing to consider.
Now I have changed my curation strategy, while I am giving the most upvotes to the consistent and good content creator in Sports, I also have started curating the new posts and the new people so that my curation shall be in tune to the best curation strategy in the context to eliminate circle voting. The curation should be as decentralized as possible and it should be widespread and should not be concentrated. So I will further try to curate a number of accounts so that it should look to address a number of accounts and the number of contents. All good quality content should be appreciated.
Before concluding this report, I must say that despite having high inflation and heavy supply of SPORTS, it has very well maintained its value and quite stable in its price. Other tribes should take a lesson form Sportstalksocial and can also ensure at least the stability of the token in terms of its value which is really a motivating factor for content creators.
Note- The curation report and stats are taken from https://steemworld.org/@milaan