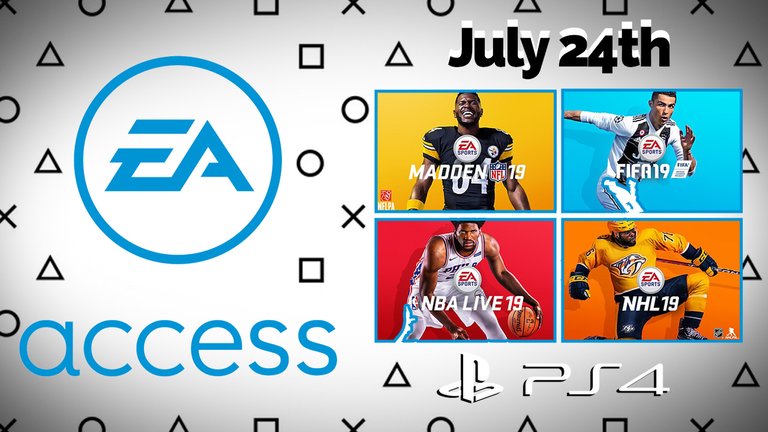 EA Access will be available on PlayStation 4 starting July 24th, 2019. For $5 a month or $30 a year, gamers will get a robust library of Electronic Arts games. The service has been available on Xbox One and PC (Origin Access) since 2014.

EA Access provides previews of new games, usually beginning the weekend before launch

This is the equivalent of renting a game before you buy, a great feature to offer. Plus you sometimes get to try before the game even releases to the general public.

Save 10% on all digital EA purchases

Ten percent may not seem like much, but it adds up. Especially if you play ultimate team and get addicted to those card packs.

Over 50 games available

You can view the entire collection of games that are currently available here

Why pay $60 for one game?


With EA Access you can pay just $30 for an entire year, and you will receive all of the latest EA releases including these upcoming games.
You can sign up by visiting : https://www.ea.com/ea-access/ps4

Do you already have EA Access, if not will you be getting it for PS4?
Leave your comments below, I respond to every meaningful reply & usually upvote it.


Join my Fanbase on SteemAuto to support my content consistently (Click Here)
Leave a comment if you do become a fan and I will give you a 100% upvote in return, plus maybe a follow. If you post some quality content then you may even catch me manually curating and upvoting you more in the future.
Best Regards,

In case you are on #steemit or another UI besides #steemace, I will leave a link to my posts that are only #videogame related : https://www.steemace.io/@daltono
AND
For my #sportstalk articles you can visit : https://www.sportstalksocial.com/@daltono