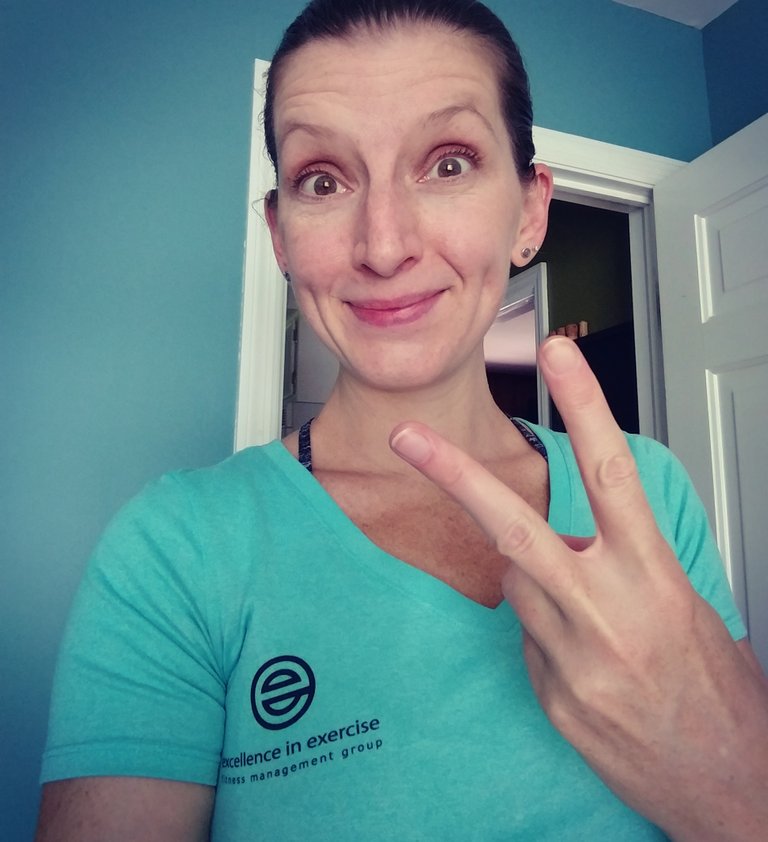 Whew! Week one of corporate 5k training is done! We managed to kick off training right at the hottest part of the year, but that can't really be helped as the race I am helping lead groups for is on September 11th. Only 4 weeks away, so time is of the essence!
I think I might have mentioned previously I am helping with two different corporate clients of ours. I lead one company on Monday and Wednesday at lunchtime, and another one on Tuesday. Lunch always seems the best time as far as participation goes, though the heat in the middle of the day does make it challenging. The photo above was after Tuesday's session on the first 100-degree heat day here in three years. Hard to tell as I had recovered a bit in the photo, but I was dripping with sweat by the time we did a few easy-paced miles. With the conditions, all three sessions I kept short and sweet. So far the participants have been sparse, but the ones who have come are all fun to work with! Though I'm going to try to get out early a few times this weekend to actually get some quality training in for myself. Fingers crossed next week it cools off even a bit to make the training a bit more bearable!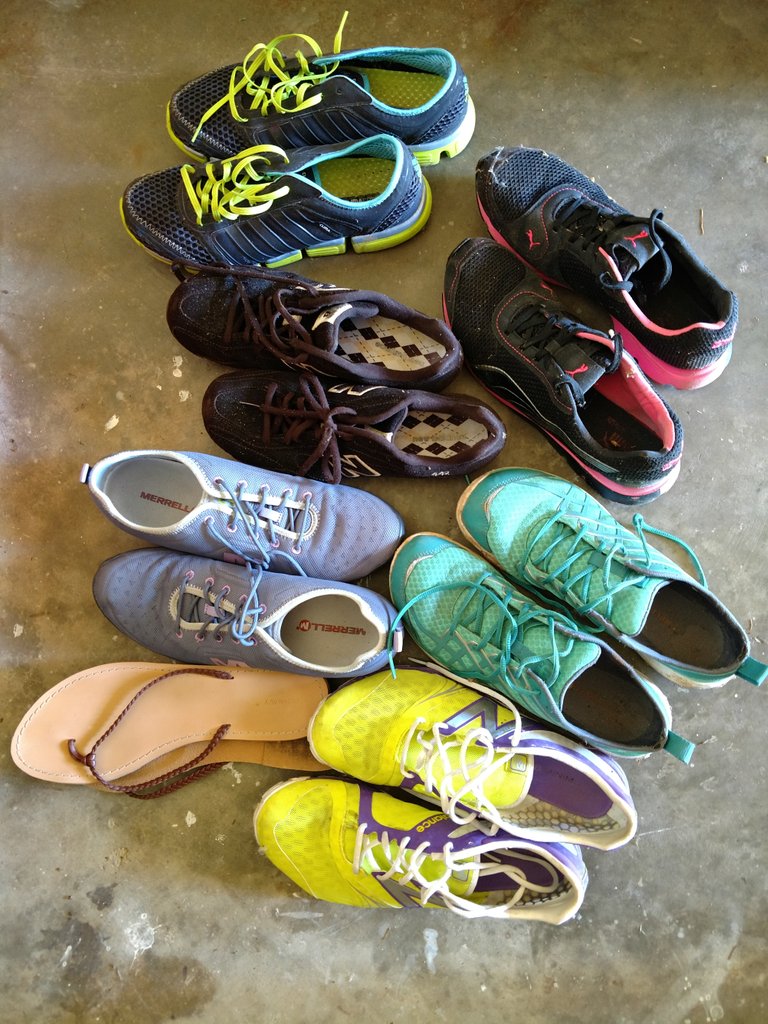 On the more quiet side of things I've been working on my mindfulness in a number of other areas. I tried to start doing a 30-day minimalist challenge where you get rid of one thing the first day, two the second, and so on all the way up to 30 days. The idea is to clear out things you don't use or need, but ultimately to make you more mindful going forward what you spend money on and bring into your space. Though I slacked off on the official challenge after the first week, I'm still taking time to clear out and donate some things and continue to improve my consumer habits in a much more sustainable manner. I have to say it feels quite awesome to let go of some things and work towards a much cleaner space in our home. I always feel much more productive with less junk around me.
I am also sooooo happy and thankful that @bewithbreath is back leading the group meditations in the @naturalmedicine discord. I've tried to cultivate the practice on my own for quite some time, but always seem to fall off the wagon at some point. Having a bit of accountability makes all the difference in the world. Plus the energy is fantastic, no matter how small of a group we have joining. I'm so very grateful for the opportunity to join!
A week ago Wednesday was the first session back. I found that 30 minutes so impactful. Like many people, I don't think I realize the daily stress that I carry sometimes. As the meditation focuses so much on the breath, as we started getting into it I realized how shallow and quick my breathing felt. By the time we completed the meditation I could tell a huge difference in how much deeper and more slowly I was breathing. My heart rate went down and I felt much calmer yet also more focused to take on the day. My mind wandered as usual during the practice, so it's not like I went into some deep healing place. It just shows you, though, meditation isn't meant to always be perfect. Just spending the time to slow down and focus on your breathing can be the most beneficial thing you do all day. I truly love the balance between this quiet time and my daily fast-paced other activities!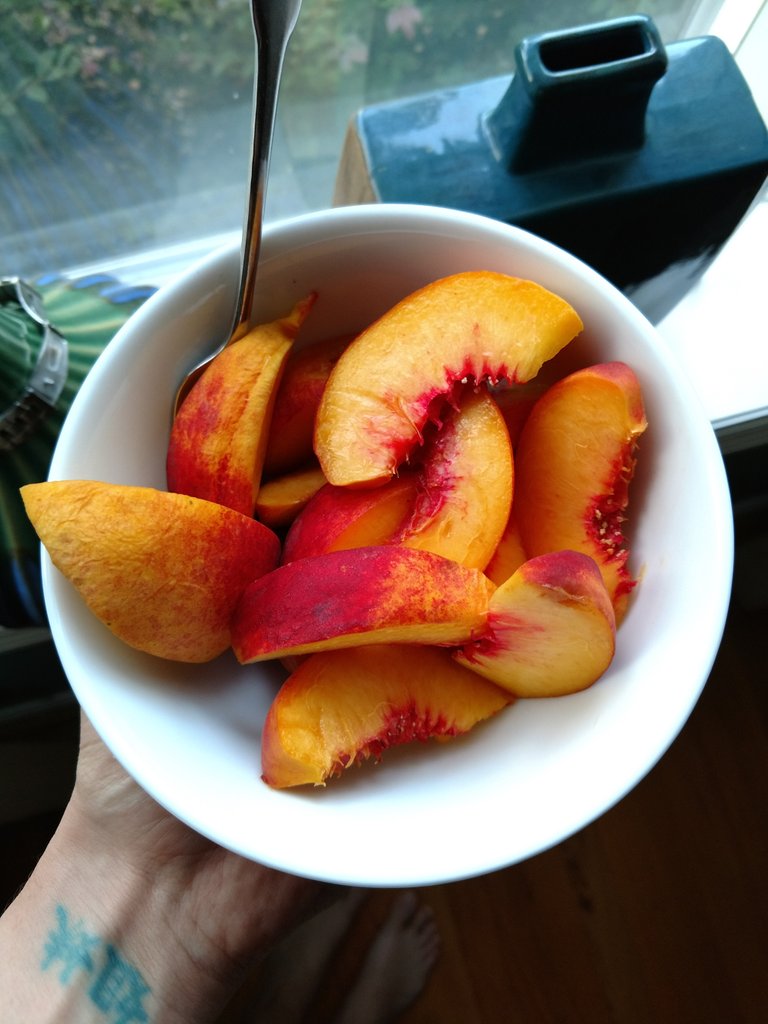 After enjoying some of the last of our seasonal peaches this morning (taking time to be very appreciative of them as @porters reminded me in one of her fantastic mindful posts), I actually took time on my own for about a 30-minute meditation again! Some days it is tough to fit in, but like anything else in life if I make it a priority I know I can work it in. I make time to move each day in a physical way to train my body, so hopefully at some point I will have the same discipline to train my mind. 😉



10361