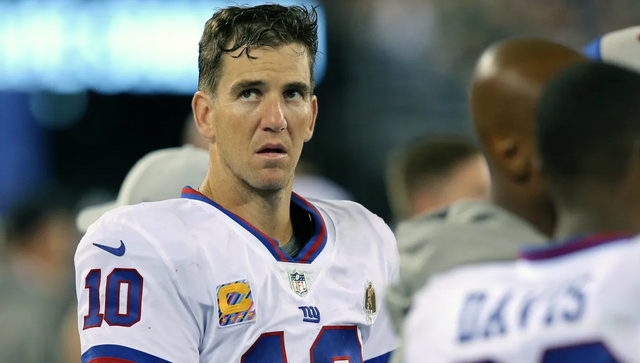 Image Source:   HERE
Last night was the preseason opener for the New York Giants. Eli Manning started the game and was taken off the field after only one drive. He didn't create any points for the Giants and he was 1 for 1 passing for 3 yards. Yes you read that right. Three yards.
Now there are only a couple people that I truly dislike that are a part of the NFL community. One of them happens to be Eli Manning (his brother Peyton however I greatly respect).
The reason I dislike Eli Manning is for one reason. He believed he was better than the entire NFL.  Literally.
Back in 2004 he made a verbal statement like none other.  He said that he would REFUSE to play for a certain team if they picked him in the NFL draft.
That to me says that he singularly believes that he is better than the entire NFL draft process. That team he refused to play for by the way was the "San Diego Chargers."
If you are not familiar with this story, here is a brief 3 minute rundown. It is definitely worth your time if you are a fan of the NFL . . .
Regardless of the great weather, awesome defense, and extremely large paycheck from the Chargers, Eli thought none of it.
So after viewing the stats last night from the Giants preseason opener, it made me smile a little bit more.
Moreover, last year Eli played so badly, that the Giants felt that it was in there best interest to draft a NEW quarterback in the first round of this year's draft. What comes around goes around I guess.
This new quarterback (picked 6th overall just a few months ago) had the lone scoring drive of the night (last night). He was a perfect 5 for 5 with one touchdown.
He was pulled from the game after throwing the touchdown but that was strictly due to the weather (lightning).
I am truly pulling for this new quarterback. His name is 'Daniel Jones' and here are some of his highlights from the night . . .