It happened again.
I've just spent the last hour making some changes to my Fantasy Premier League team before the season starts. I can't promise that this will be the final alteration, but I feel like I'm slowly landing on my ideal team.
If you're not signed up to Blanchy's Sports Talk Social league, head on over and do that now. Right now!
Anyway, let's get stuck into the alterations I've made today.
Alexander-Arnold replaced by Laporte
Jota replaced by Firmino
Aguero replaced by Vardy
Alexander-Arnold seemed like an obvious pick for me initially. He put a lot of points on the table last season with lots of clean sheets and assists. The only reason that I took him out was due to the rule that only allows you to have 3 players from each team in your squad. I had planned to add Firmino up top so either Alexander-Arnold or Robertson had to go. As Robertson amassed more points last season, he got the nod.
Laporte came in for Alexander-Arnold because he also scored a lot of points last season and, playing for Manchester City, he's likely to get a lot of clean sheets this season.
Jota was a player I really liked in my team but I couldn't help but feel that I was missing a trick by not including Firmino. He scored a total of 180, 181, and 160 points in the previous 3 seasons and this was even when he was having a slight off-season last time around. I feel that he'll push on again this season and will bag a lot of goals and assists.
Aguero had to go to free up some points for Firmino who cost 9.5 compared to 6.5 for Jota. Although I feel Aguero will score heavily, I brought in Vardy as a replacement and think he's a pretty good addition. Vardy scored 18 goals last season and, with the addition of VAR, will likely bag some more penalties this coming season, too.
Here's how my team is looking after the changes: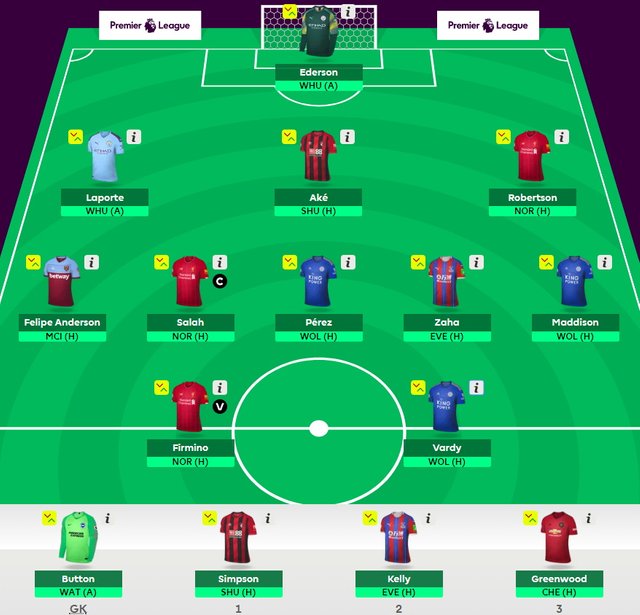 There are a few days left to make some changes, but I'm starting to feel like I'm pretty content with my team now. How are you getting on with your selections?