Back from Steemfest ¦ A chapter has ended, a new journey begins

Steemfest 4, attendees just can't stop talking about it.
Even when the SF4 official telegram starts to cool down with less chatter now, @anomadsoul kept the fire burning (especially for us who are already home facing reality and getting over SF hangover and homesick) and challenged all attendees for one last (but still more to come separately) post.
Before and after testimony (?)
I guess especially for me, as this is my first Steemfest ever it would become much more significant compared to the rest.
I would like to share with on the technical or overall conference angle much later on my other (community centred) account, but right now I'd just like to share with you my personal experience and the vibe throughout.
Pre-sets
Steem has been in the winter bear for a long time and honestly I wasn't a 100% sure whether I could make it or not even.
But I am glad I really took that step of faith and temporarily stepped out of the mundane (full of challenges) life and see what SF has to offer since so many of our previous attendees from #teammalaysia could not stop talking about it.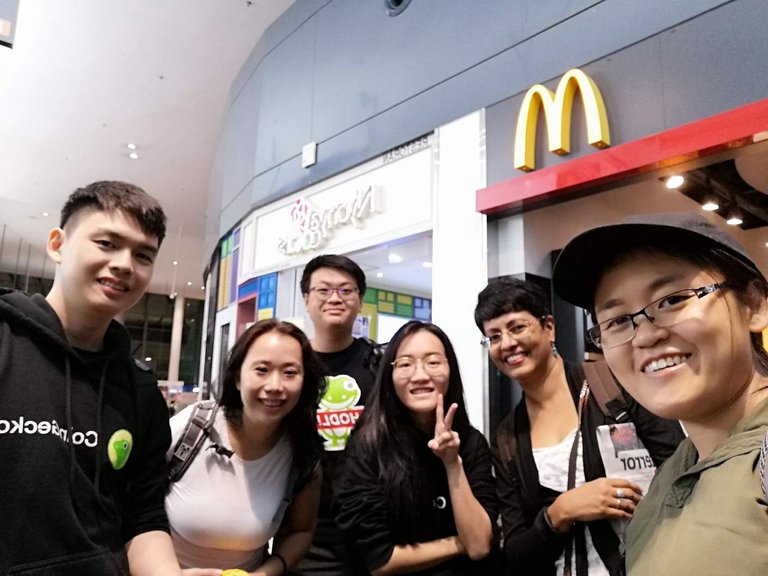 With a tiny army.
6 extra representing Malaysia region + Coingecko.... And apparently we adopted more along the way
To be honest I didn't go there with the hype of enjoying myself, especially when there were so much political chatter on the platform just because of the hard fork 21 and 22.
I truly wanted to know why the decision was made in that way, and were the top 20 witnesses truly that horrendously evil
Just so you know, I didn't think of that, but boy there was just so much poison spewing out on and off the blockchain that was sometime really unnecessary.
Even when I was watching the youtube interviews hosted by @andrarchy before SF trying to grasp their holistic view, I couldn't, not because it was too technical, I couldn't see their holistic intention on the #newsteem
As a tiny minnow who just wanted to build the best for a striving community
The journey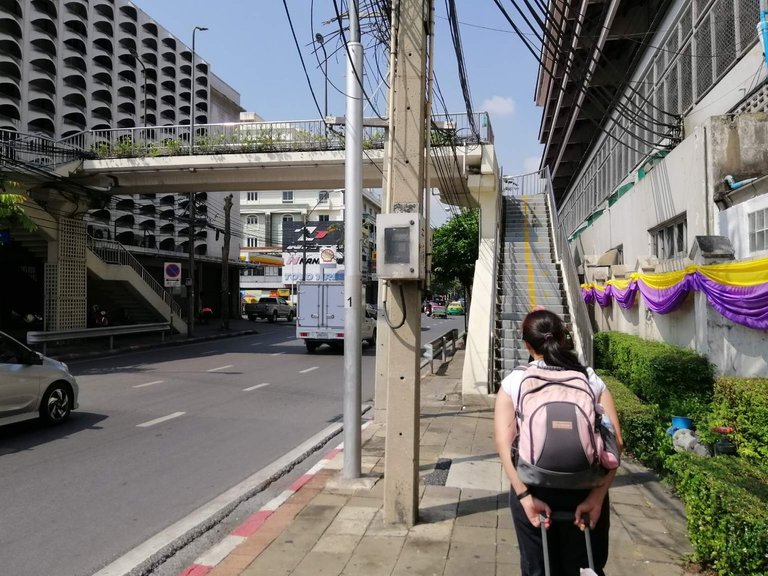 Bangkok was very different after I have not been back for more than a decade and like @kaerpediem mentioned, on Google maps though it was only 15 minutes walk, but it feels forever when we have at least 7kg on our backs.
I must say the experience wasn't the best, but understanding the environment was priceless.
And never be penny wise pound foolish when you are unfamiliar in a foreign land 😅
Yet even we were almost burnt out, we made our way to the check in point
The people: first impression
@dmitrydao, @andywong31, @arcange, @elizacheng and myself, still feeling fresh and excited
When people mentioned about dolphins, okras, whales and witnesses, somehow there will be an undeniably invisible barrier in the mind.
I personally am glad that I didn't follow the witnesses too crazily, so I had a total mindset or everyone is human, and it is true. Whatever position you are in, you are human.
@waybeyondpadthai, @jpphotography, @wanderein, @for91days
We had the same excitement when we meet for the first time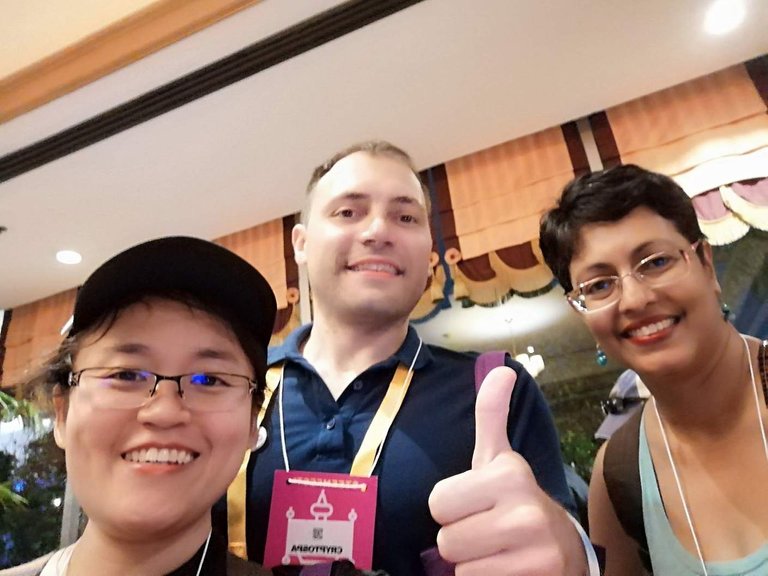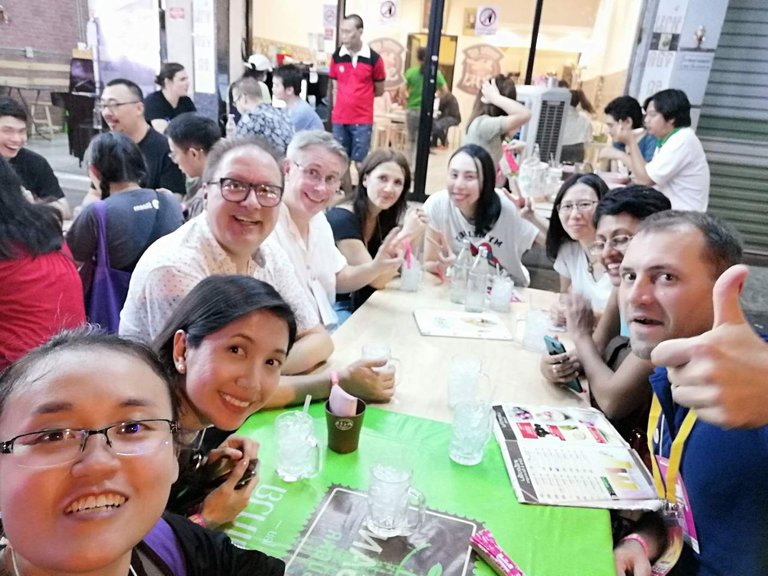 @wanderein, @detlev, @arcange, @vesytz, @travelgirl, @livinguktaiwan, @kaerpediem and @cryptospa
Understanding each other likes and dislikes in food.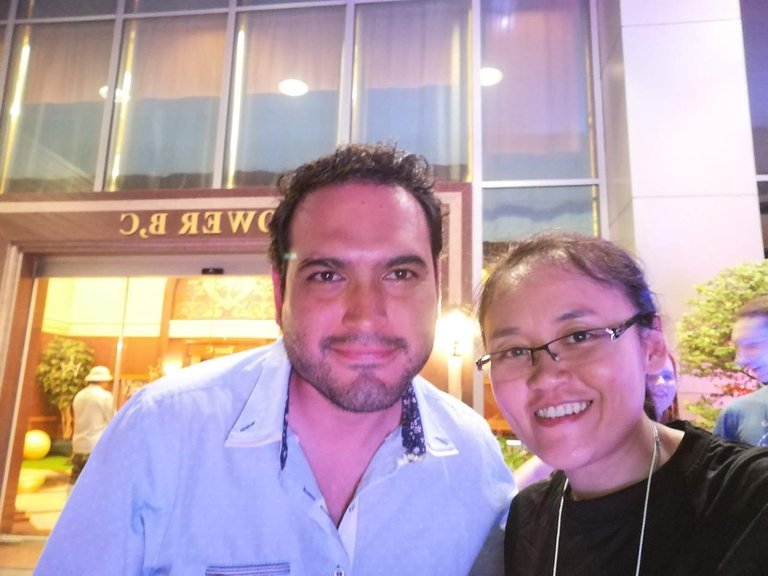 Breaking down shyness and awkwardness between the big shots and small fishes...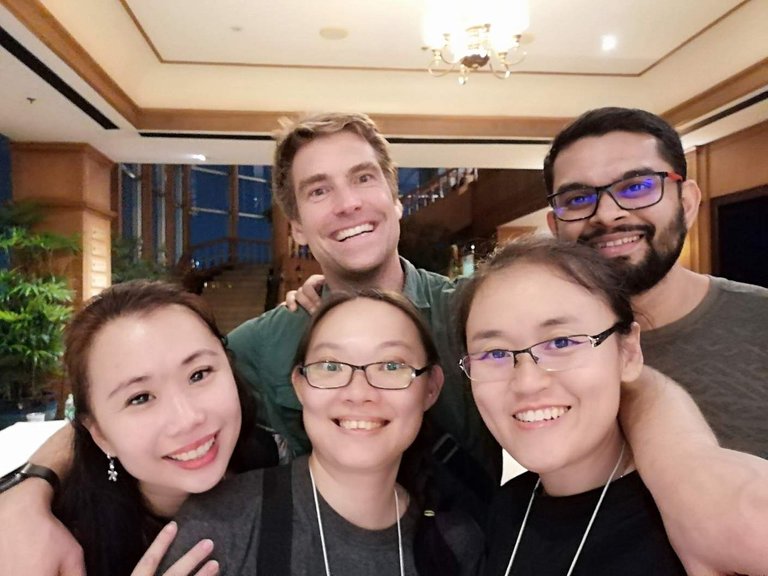 @roelandp, @firepower, @khimgoh, @elizacheng
And just be anticipating for the days ahead.
---
The one thing I learned from this experience of not putting label on anyone in Steemfest, was this eliminated awkwardness and even could spur up a conversation that only one developer could understand another developer's predicament; yet at the same time because I also stood as a community builder and for the food bank, I could able to see even a bigger picture how steem blockchain could support more than just a social media proof of brain platform.
(and not even realise I was talking to the hive main engineer until the next day's presentation 🤣)
---
The backbone of steem engine and their predicaments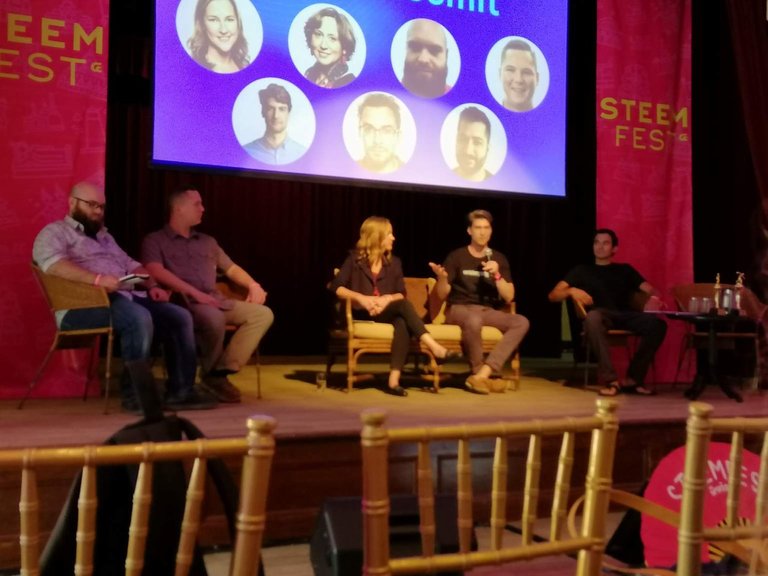 To be honest, after the last Steemfest and so much bad reviews about @steemit Inc I had much reserved thought about each and everyone of them, but I am grateful that the Steemit Inc I heard about didn't exist. All I could see was a group of very practical team (lean and mean as @elipowell mentioned) who were brave enough to tell us what is really happening.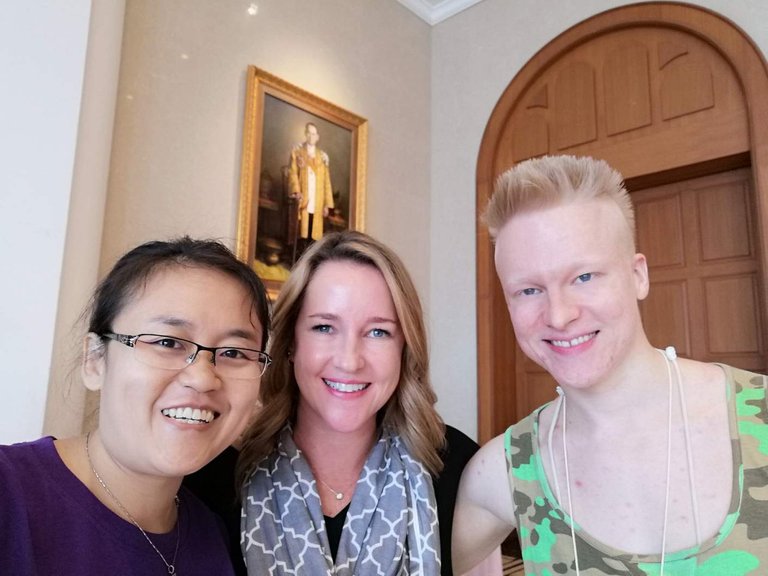 @elipowell and @celestal
I think the walls of defence started to break down when you start to see the attendees started clapping to support their decision.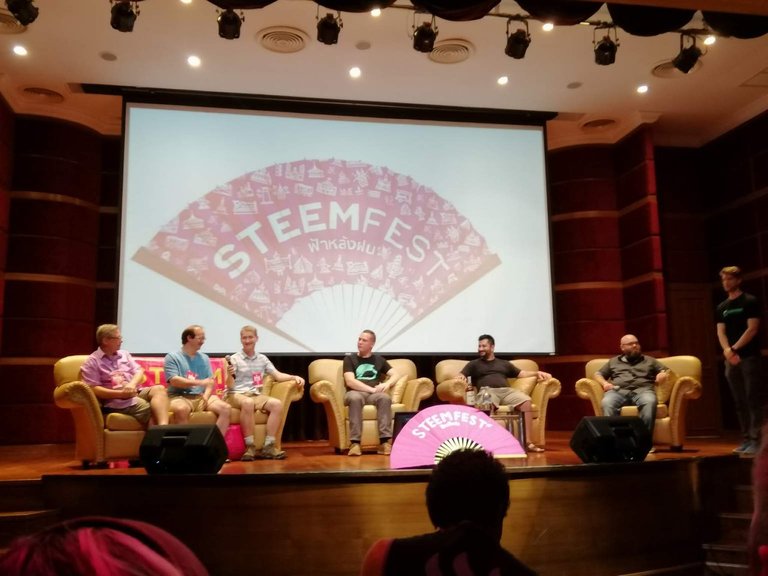 And the honesty of the top witnesses sitting down and giving an open panel for attendees to sit in talking about the importance of witness consensus and witness votes brings in a breath of fresh air and clearer understanding to minnows like me.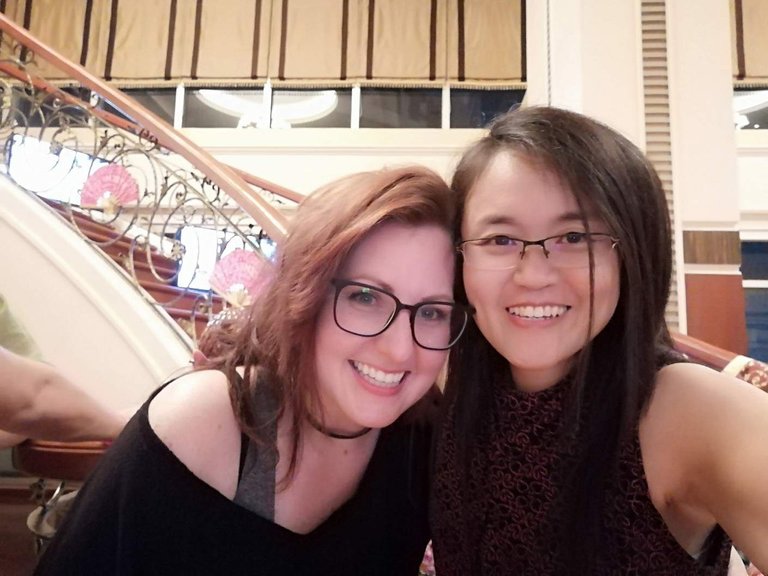 Especially when our sassy brainy beautiful witness took her time to explain to us how the steem blockchain works and how the witnesses hold the fort all the way, even during winter seasons that they are bleeding in losses.
(yes! I will make time to sit down and learn what RPC node can help me to achieve what I may need the moment the storm back at home subsides and the dust starts to settle)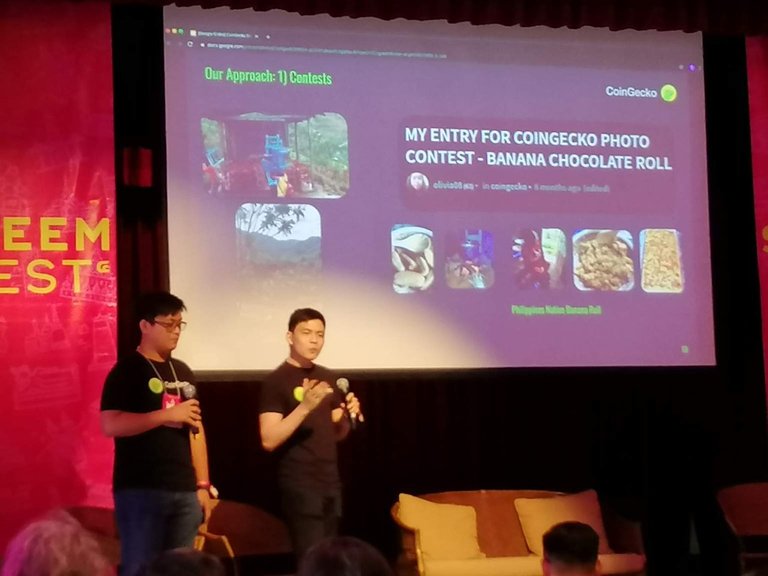 Plus further witnessing projects are persevering even when market is bear
---
And this got me realising
These hardworking folks are trying very hard to keep this idealogy going
Most of them who bothered to even turn out and connect with everyone else are truly those who are worth the time to get to know them.
And they do need that encouraging word, and a big hug just to keep pushing for the better.
@detlev, @khimgoh, @kaerpediem
This truly got everyone closer....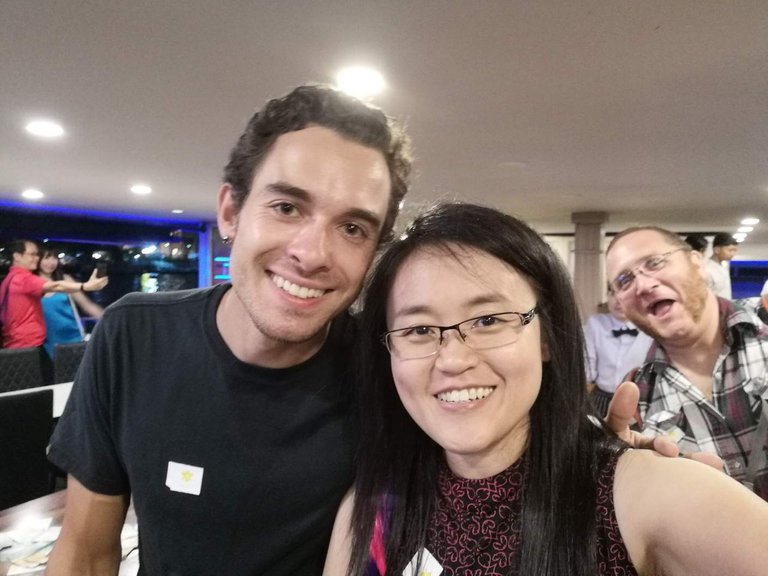 @roadscape and @aggroed photo bombing
more like a family
"I really hope there's still a Steemfest next year...
I think the statement above is good enough testimony this this Steemfest was the most unique it can ever be...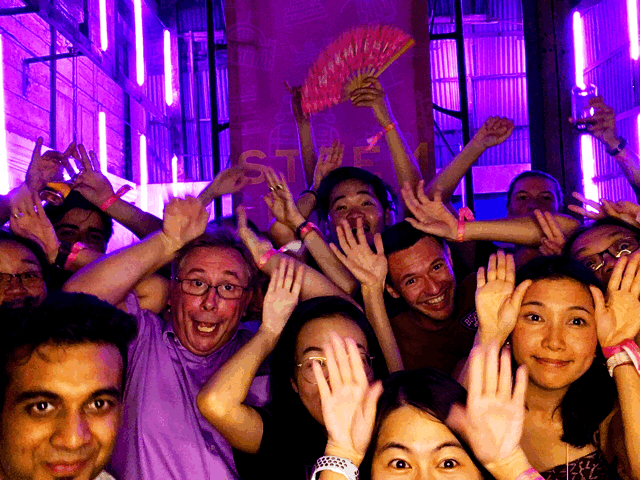 We can all be silly together...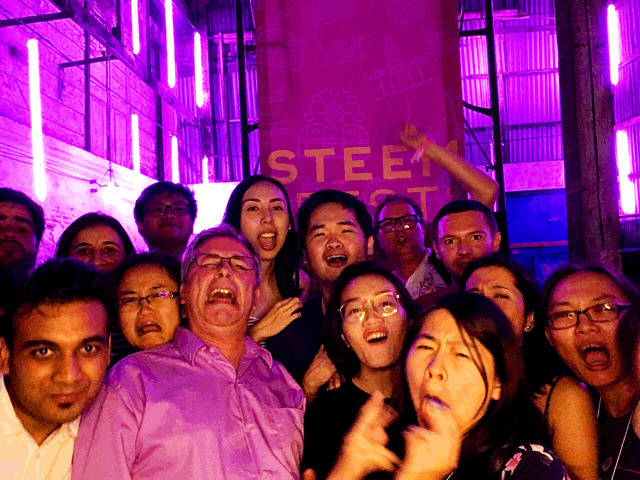 Cry together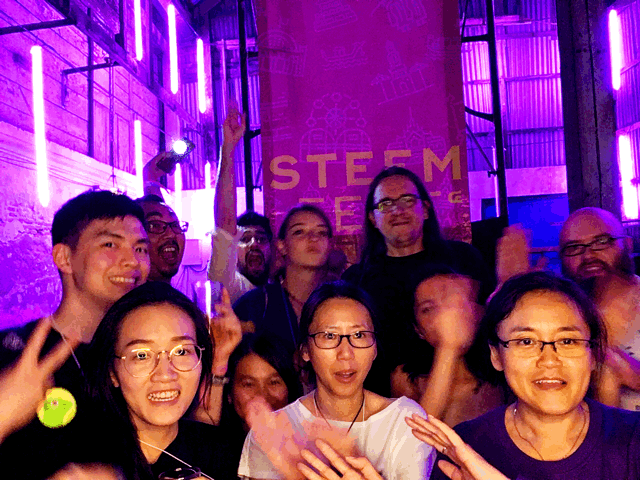 Regardless you're Steemit Inc, witnesses, whales, minnows...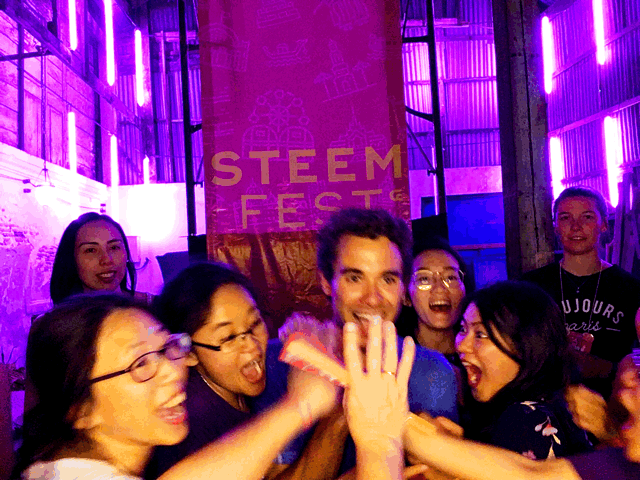 We can all be sane with a bit of a 🤪 together once a while.
Hopefully
I will see you again next year
Posted using Partiko Android
---
---