Token VS Token
STEMGEEKS VS SPORTS TALK SOCIAL
In the first edition of
#tokenversustoken
we are going to compare and contrast the tags/tribes/tokens/communities
#stem
and
#sportstalk
. These tokens were chosen because they are relatively straight forward, reasonably popular and are similar in that they attempt to foster discussion around a particular subject.
https://steem-engine.com
is the number 1 source for all Steem based tokens and this post is all about the geeks and the jocks!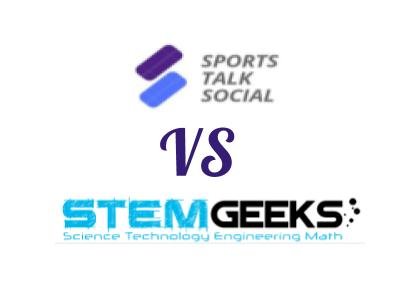 What is Sports Talk Social?
https://www.sportstalksocial.com/
was introduced 2 months ago by
@patrickulrich
. The main account is
@sportstalksocial
and it describes itself as:
SportsTalkSocial is a social media platform where everyone gets rewarded for creating and curating content.
Sounds eerily similar to Steem. I presume they want discussion focusing around sports, which is a very broad topic. Anything requiring physical exertion and skill is a sport, whether it's individual, team-based, professional, etc. If you wish to collect their token, all you have to do is tag #sportstalk and loosely connect it to sports. Anyone can talk about sports, fitness, sports teams, sports news, physical activity, use the tag and collect sports, it's that simple. They don't seem to care much about the quality of posts if you don't believe me just check out their trending page where a simple 100-word post about you taking a jog or your favorite team making a trade can net you 10's of thousands of Sport tokens (if you have whale friends.)
What is STEMGEEKS?
https://stemgeeks.net
was introduced to the Steem community about 1 month ago, the main account is
@steemgeeks
and it describes itself as:
STEMGeeks is a community focused on STEM topics rewarding engagement with STEM tokens. STEMGeeks is powered by the Steem blockchain with its own distribution model for STEM tokens in addition to the potential STEEM tokens.
Again, it's very similar to Steem, except it is a community that focuses on Science Technology Engineering and Mathematics. @themarkymark is on the STEM team and the community is very organized, in this post they describe what content is acceptable to post and they are very restrictive. You can't shoehorn in a few words and hope to get an upvote. This post probably won't qualify as they don't want you using their #stem tag unless the post directly relates to STEM topics. Naturally, STEM is not as light of a subject as sports and they seem to be a little less fun for the average poster (self-described geeks).

SPORTS VS STEM courtesy of Banjobot on Discord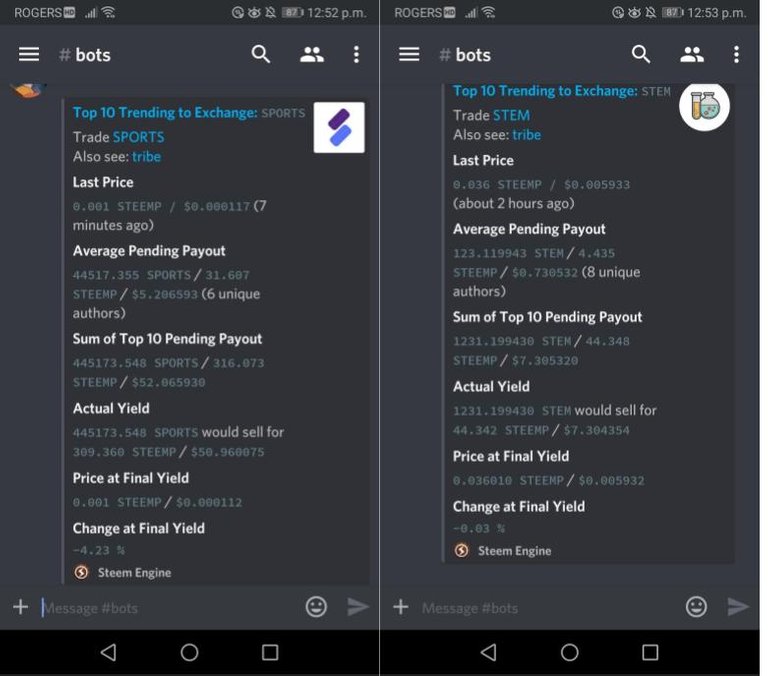 Trending to Exchange Comparison
As you can see STEM is worth considerably more than SPORTS, about 50x-67x today. The STEM bid is 0.036 and the ask is 0.059 Steem. For Sports its 0.0007 and 0.00088 respectively. The main reason for this is that there are a lot more Sports and trending sports posts payout considerably more than STEM. The average of the top 10 payouts is 44500 Sports vs 123 STEM, meaning it's a whopping 360 times easier to acquire if you are a self voting whale or quality poster. Posting in Sports is more profitable than posting in STEM, the volume is also significantly greater ($117 vs $1 in the past 24 hours on Steem-Engine.) Please don't take this as advice to buy either token, I am not suggesting anything, just stating facts.
| Token | Sports | Stem |
| --- | --- | --- |
| Supply | 100.104 Billion | 3.517 Million |
| Max Supply | 1 Trillion | 1 Billion (4B burned) |
| Dividends? | 10% to delegators | 20% to mining token holders |
| Authors/Curator% | 50-50 | 50-50 |
| Token Burns (sinks) | yes | yes |
| Contests for Tokens | yes | yes |
| Staked Tokens | 69,212,858 staked by 1411 | 1,329,421 STEM staked by 900 |
General Observations
Sports has a less egalitarian distribution than STEM, there are some posters getting hundreds of thousands of tokens a week, while others are getting hundreds. They don't seem to be doing anything to correct this.
STEM is less popular than sports and more difficult to post in. They don't accept low effort posts and moderate/downvote poor content aggressively.
Both use the standard webpage design which is similar across most Steem sites. STEM seems to be better at controlling their Tokenomics probably because of their enhanced mathematical skills.
Disclosures & Conclusion
I own both tokens and don't suggest buying either one if profit is your motive. Investing in tokens is a bad idea and you should avoid them unless you want to contribute to the conversation and post regularly. These tokens are heavily manipulated, they are not regulated and a large holder can crash the price at a moments notice. In no way am I suggesting that you purchase either STEM or Sports and I am not connected to either of the teams.
IN CONCLUSION: I think STEM is the better token. it has all-round better Tokenomics mainly due to the supply and quality of the posts. Since Sportstalk makes very little effort to regulate their conversation and distribution I fail to see the need for it at all, the trending page has very little correlation with quality.
WHAT DO YOU THINK?