Stake Your Steem-Engine Tokens & Win Prizes!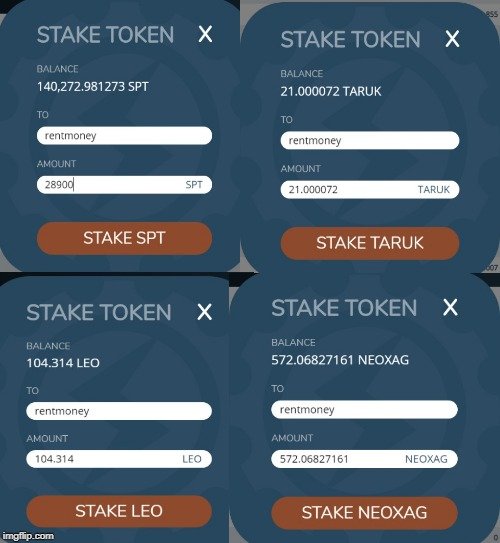 Do You Stake Your Tribe Tokens?
If not you should be .... What's that?? You don't know what a TRIBE is. Simply put Tribes are Steemit clone sites that award their own currency.
The great thing about these "Tribe" sites is that you also earn all your regular rewards (Steem/Steem Power and SBD) along side the Tribes native token when creating and curating content on Tribe sites.
Alternatively you could simply use the Tribe tags when creating your regular content from your favorite Steem Blockchain interface to earn tribe tokens. Tribe Tokens can be sold and traded on the Steem-Engine exchange.
Some examples of the tags you should be using to earn some extra rewards can be seen below. Keep in mind some tribes are niche based so make sure your content fits in with the Tribe in which you are using the tag for.
If your content is relevant to such tags then you can earn multiple Tribe tokens via using multiple Tribe tags + your regular rewards (SPT/SP & SBD). So don't miss out and start using Tribe tags today. You work hard on your amazing content and you deserve to get the maximum reward for such work.
Its likely you have already started earning on one or more of the amazing sites above. Either by using one of the previously mentioned tags or by posting directly from each specific site. If you are like the hundreds of other Steemians already earning these tokens then this giveaway is for you. If you are not earning these tokens yet .... Then what are you waiting for ... start creating/curating on the aforementioned sites to get started.
Not all Steem-Engine tokens have tribes but the good ones all have a use case or cause behind them. Some of the none Tribe tokens I hold and/or stake can be seen listed below.
| Token | Other Information |
| --- | --- |
| CK | Draws are in place for those holding the Contest Kings token. CK has an active discord in which you can join via clicking here |
| !BEER | Hold and stake 10 !BEER and you can share a portion of one with anyone via typing !BEER under their content. |
| TARUK | Official coins for the Rada Quest Trading Card Game (@radaquest) |
| RORS | @roadofrich is another game being advertised on the Steem Blockchain. To learn more about this game visit http://roadofrich.com/ |
| CC | Comment Coin allows content creators to reward those who comment on their topics. Simply stake XX amount of CC to reward each person who comments on your topic. |
Stake Your Tokens & Win Prizes
With a screen shot or transaction link show that you have recently staked some Steem-Engine tokens and you'll get a small prize that may include but are not limited to some !BEER/ UPVOTE / TROLL tokens and/or a Splinterland card.
---
Splinterlands (also known as Steemmonsters) is a digital card game created by @aggroed and @yabapmatt. Early game release has launched and prizes are already up for grabs. You can start playing or investing in Splinterlands today by clicking here.
---
---
Splinterlands Total Market Cap Report:
$4,591,127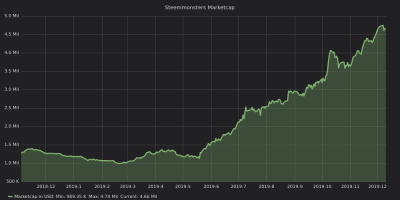 Today's market cap is $4,583,199 which is very close to what it was no less than 24 hours ago. Although it did dip slightly lowering from $4,591,127 it was yesterday (This small drop means very little). In the last 24 hours alone there has been close to $7,500 in sales between players on the Splinterlands marketplace.
Its also important to note that there's multiple ways of calculating the Splinterlands market cap and a conversation with @jarvie left me thinking its best to display many of these ways when doing these reports. Peakmonsters displays three different market cap numbers based on List prices / Market Prices and Bid Prices. Those market cap numbers can be seen below.

---
---