A un año de mi 2do instructorado de Yoga: mi recorrido y algo de las bases del Yoga [Eng - Esp]

---
Spanish
---
A un año de mi segundo instructorado de Yog: mi recorrido y algo de las bases del Yoga
---
Hola a todos mis queridos amigos de internet, en especial a mis queridos hivers y a los deportistas de esta bella comunidad de Full Deportes. Bueno, ya saben que siempre intento intercalar mis publicaciones de Yoga con alguna otra como caminatas, algún otro entrenamiento, algún consejo como fue aquel post enfocado en la respiración.
Pues hoy les traigo una publicación diferente, una vez más. Sí que toma al tema de Yoga, pero es más que nada un recuerdo, y es que no puedo obviar el cariño y agradecimiento que siento con Hive y Full Deportes por brindarme el espacio para compartir prácticas y de alguna manera transmitirles a ustedes alguna que otra cosa de esta maravillosa práctica.
Y se estarán preguntando de qué estoy hablando, y resulta que hace un año atrás estaba haciendo mi segundo instructorado de Yoga. Ayer hablé con dos de mis amigas de aquella experiencia, una de ellas de Hungría y la otra de Israel, y recordamos lo hermoso que fue estudiar durante todo aquel mes.
Como algunos habrán leído, regresé a esa escuela como voluntaria unos meses más tarde, y como tal no tuve una buena experiencia. Sin embargo, el tiempo me ha regalado la dicha de la perspectiva, y estoy muy agradecida de poder recordar con amor todo lo bello que viví como estudiante.
English
__
One year into my 2nd Yoga Teacher Training: my path and some of the bases of Yoga
---
Hello to all my dear internet friends, especially to my dear hivers and to the athletes of this beautiful community of Full Deportes. Well, you already know that I always try to intersperse my Yoga posts with some other post like walks, some other workout, some advice like that post focused on breathing.
Well today I bring you a different post, once again. Yes it takes the theme of Yoga, but it is more than anything a memory, and I can not avoid the affection and gratitude I feel with Hive and Full Deportes for giving me the space to share practices and somehow transmit to you something or other of this wonderful practice.
And you may be wondering what I'm talking about, and it turns out that a year ago I was doing my second Yoga instructor training. Yesterday I talked with two of my friends about that experience, one of them from Hungary and the other one from Israel, and we remembered how beautiful it was to study during that month.
As some of you may have read, I returned to that school as a volunteer a few months later, and as such I did not have a good experience. However, time has given me the joy of perspective, and I am very grateful to be able to remember with love all the beautiful things I experienced as a student.
---
Primer instructorado / First teacher training
---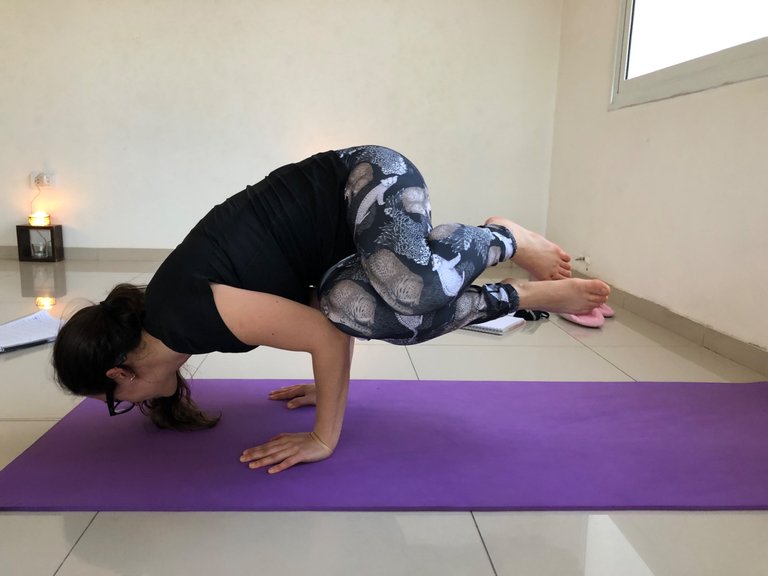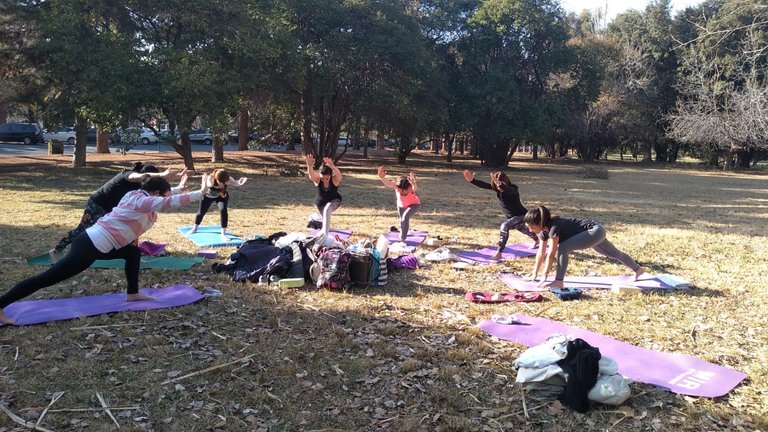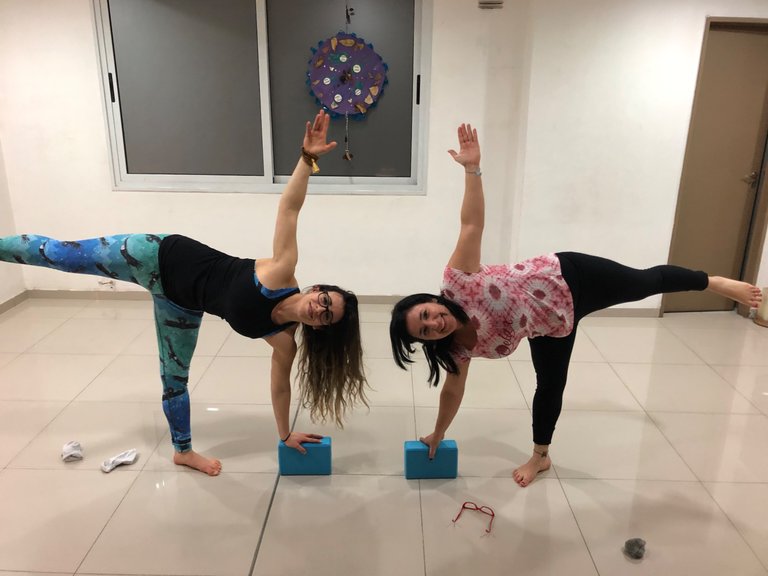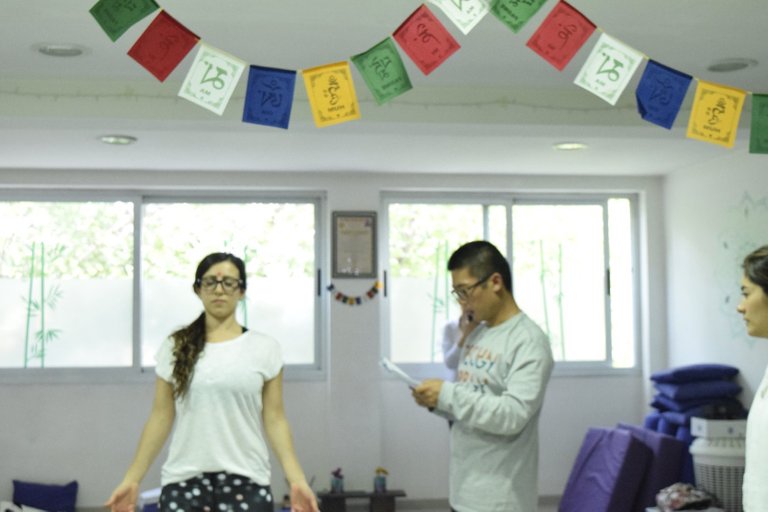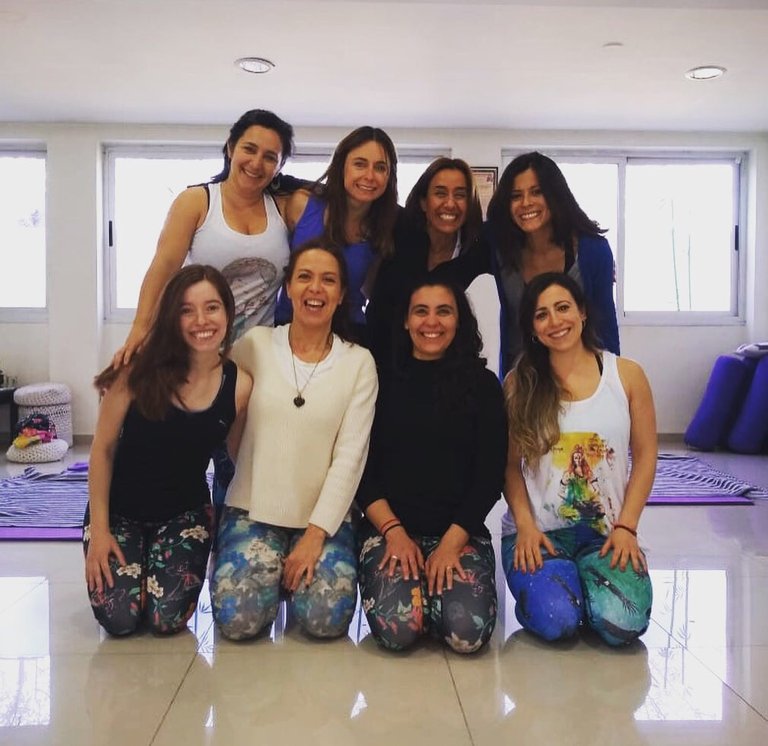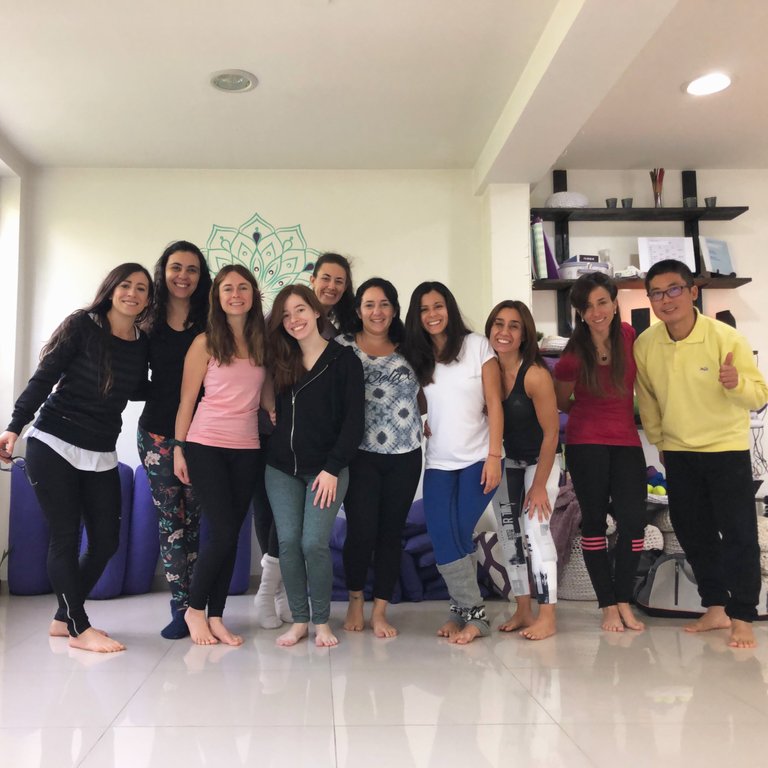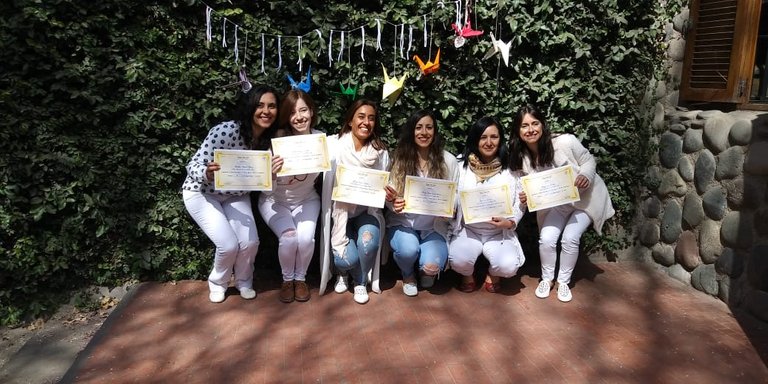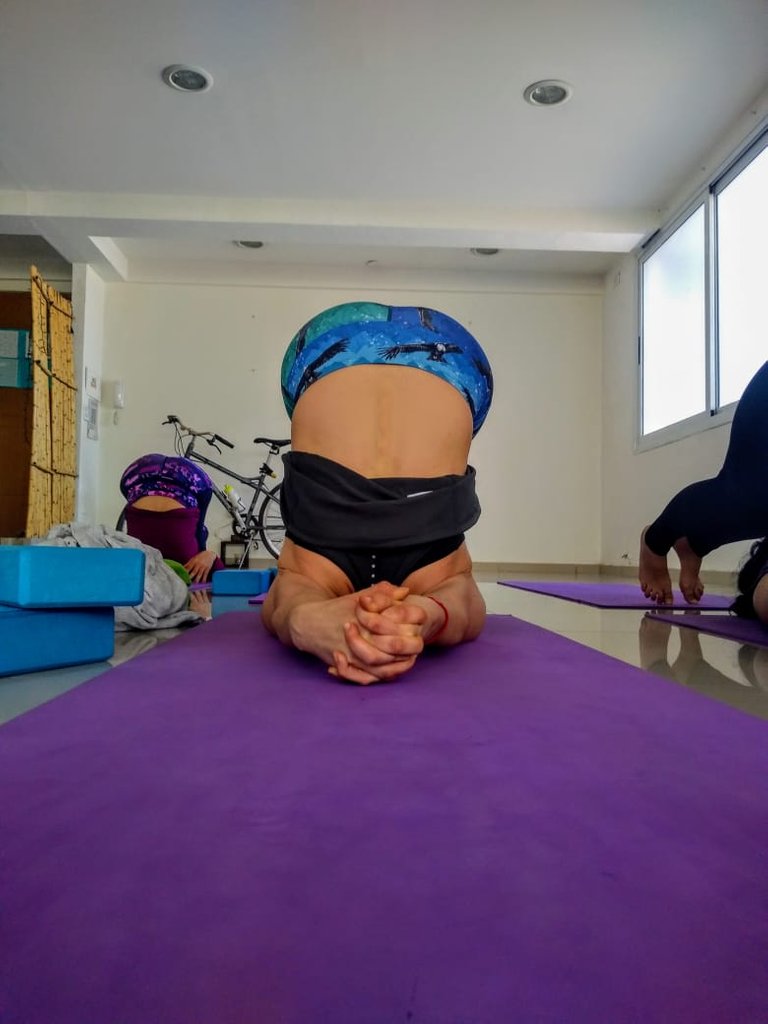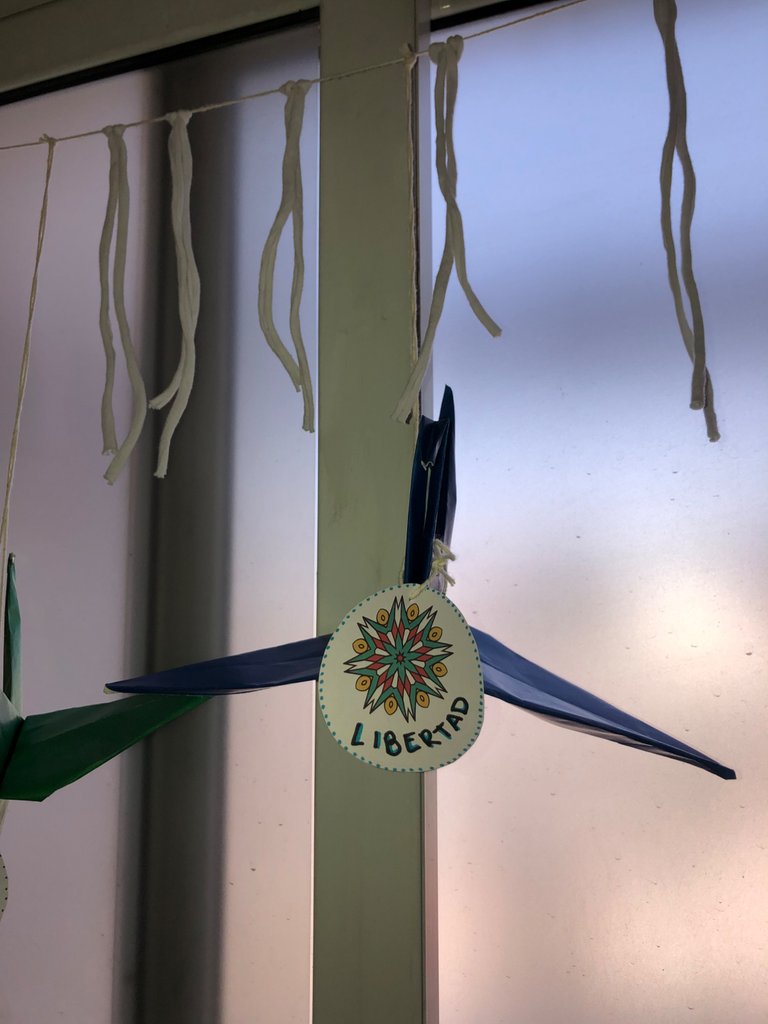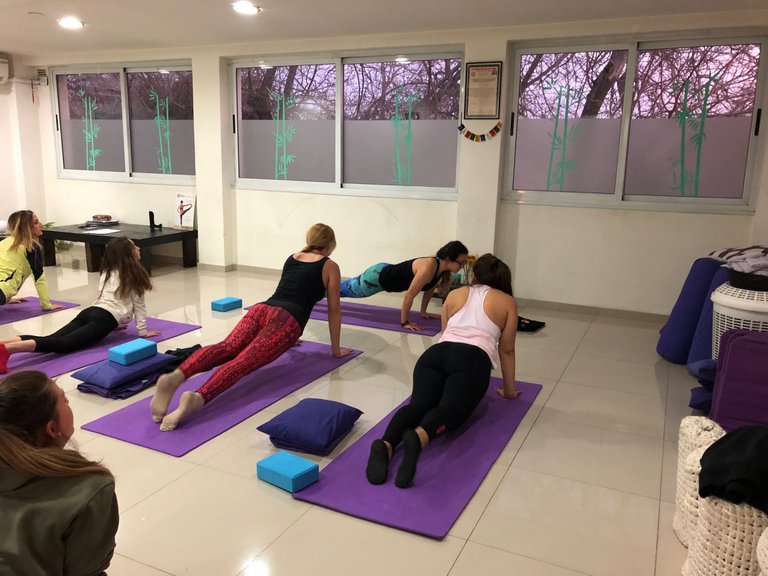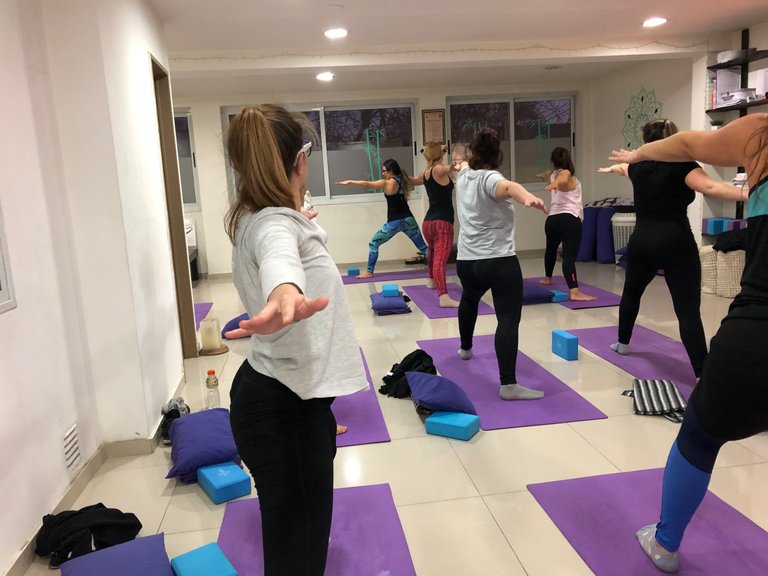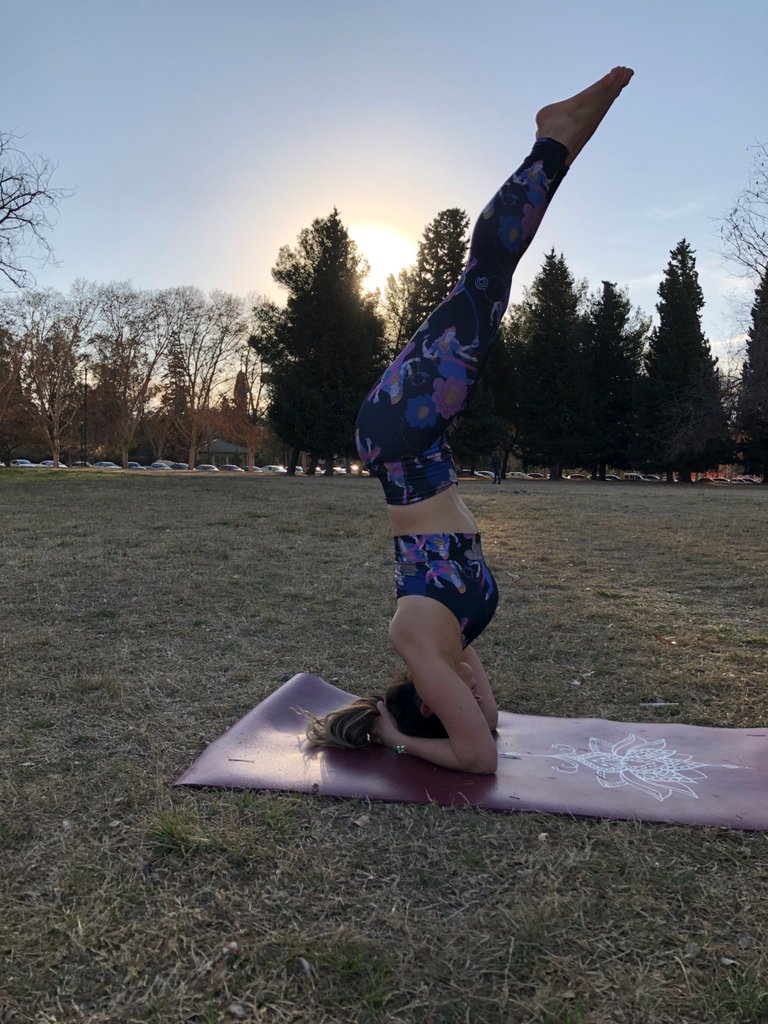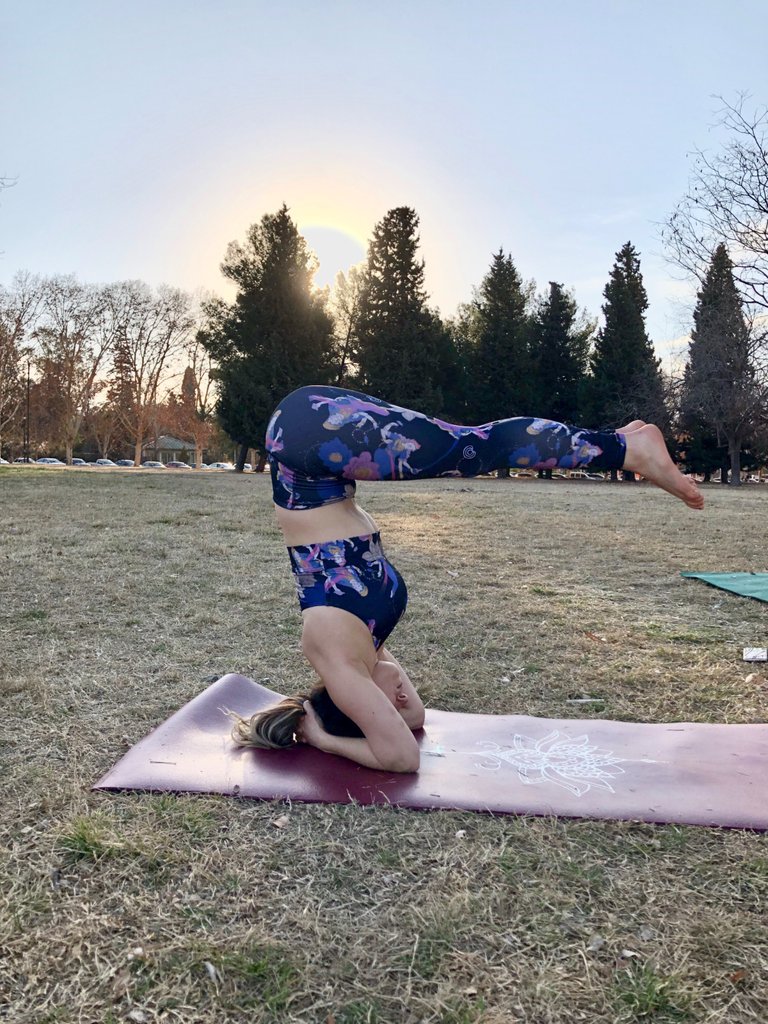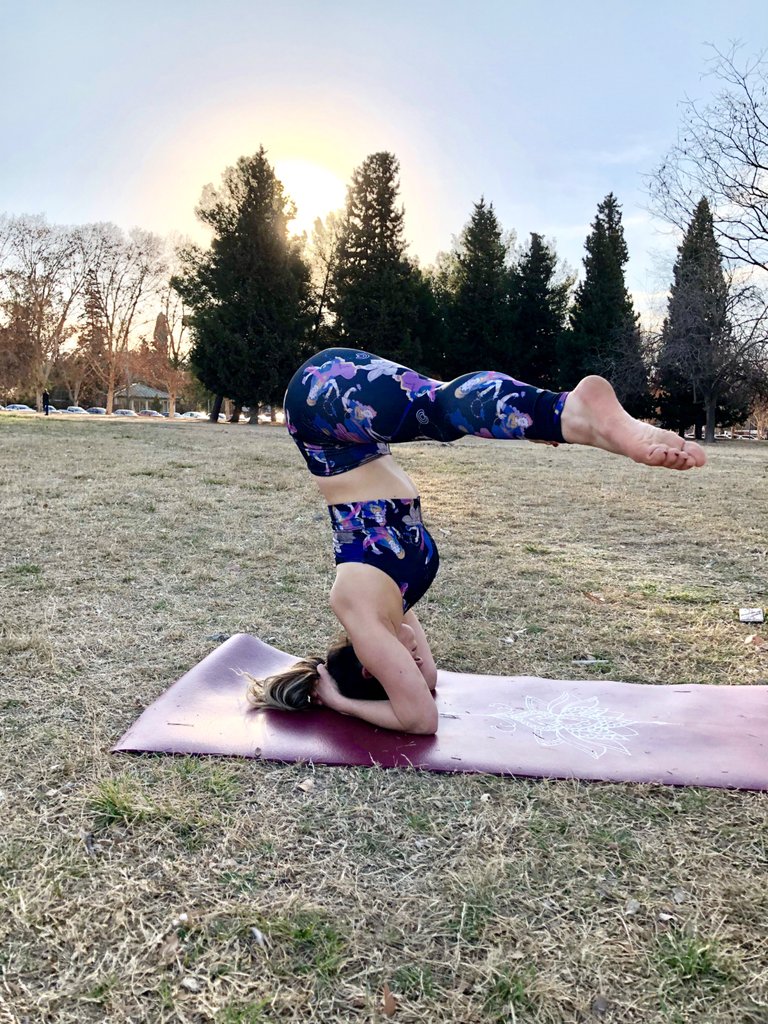 ---
Hoy la intención es compartir con ustedes fotos y fragmentos de videos de mi tiempo de estudiante, pero no solo los llevaré al Segundo voluntariado, sino también al primero.
Verán alguno de los libros que tuve que leer, las fotocopias, la manera en que se estudian las asanas (posturas), y el doble desafío que tuve al tener que estudiar y rendir todo el segundo instructorado en inglés con su Sánscrito por supuesto.
Today the intention is to share with you photos and video clips of my time as a student, but I will not only take you to the second volunteering, but also to the first.
You will see some of the books I had to read, the photocopies, the way the asanas (postures) are studied, and the double challenge I had to study and do the whole second instructorate in English with its Sanskrit of course.
---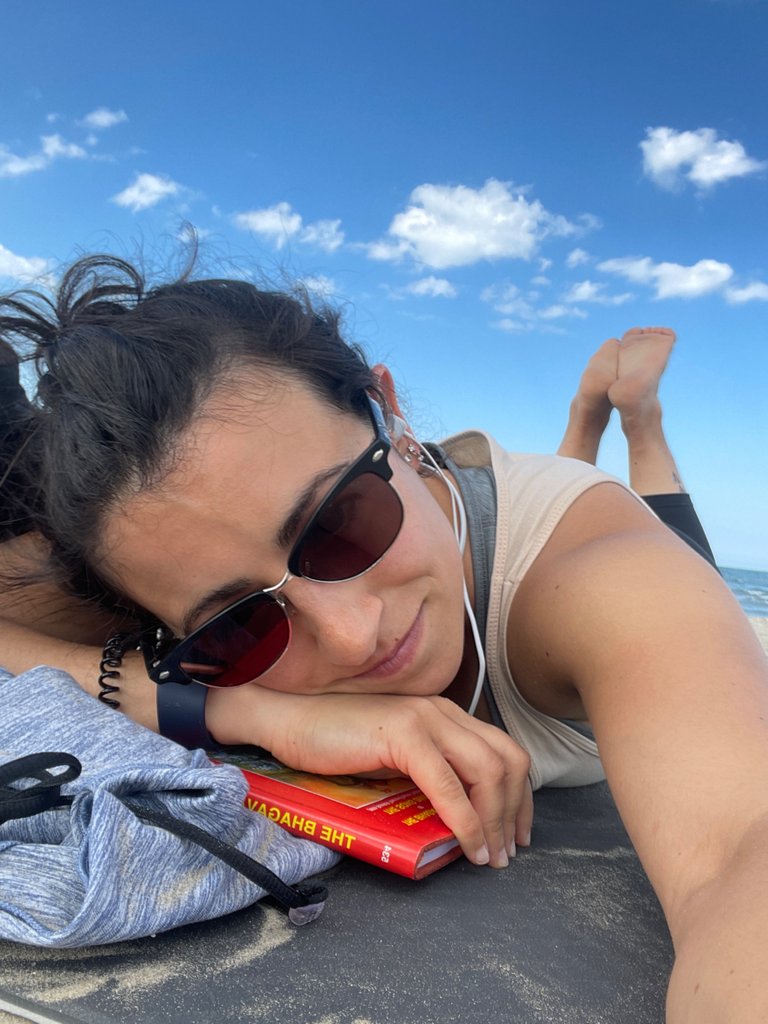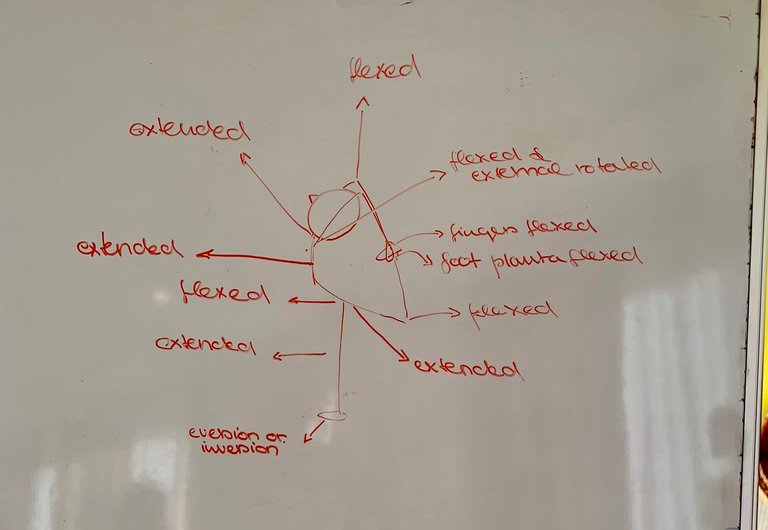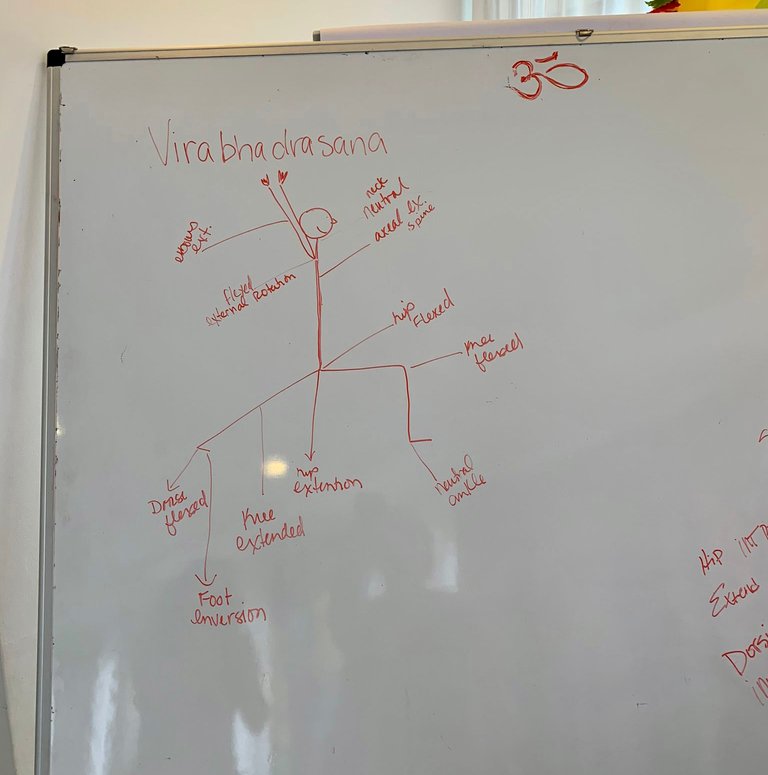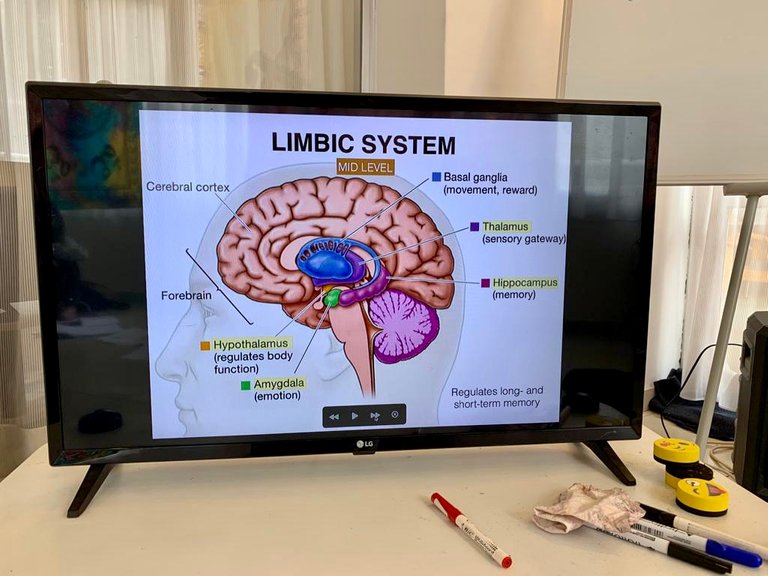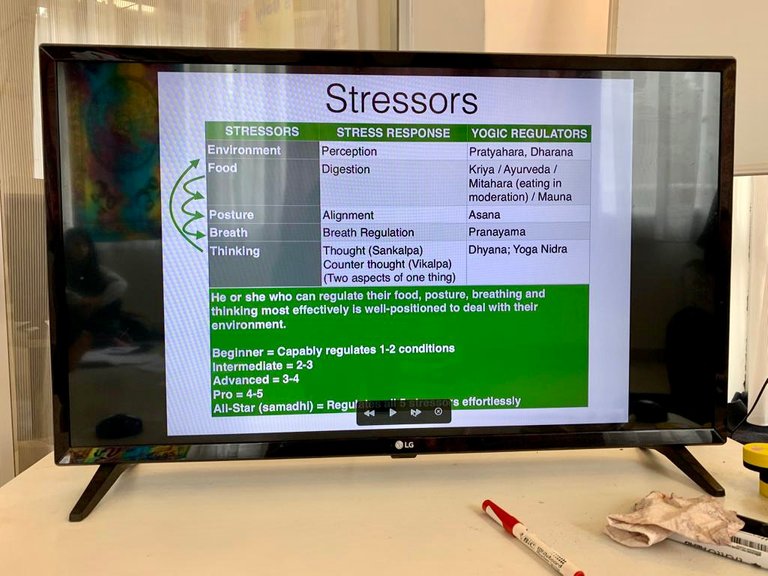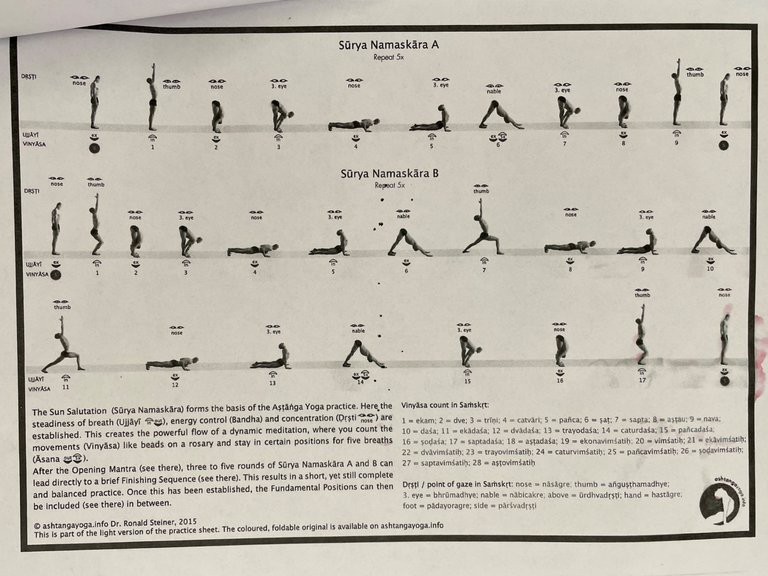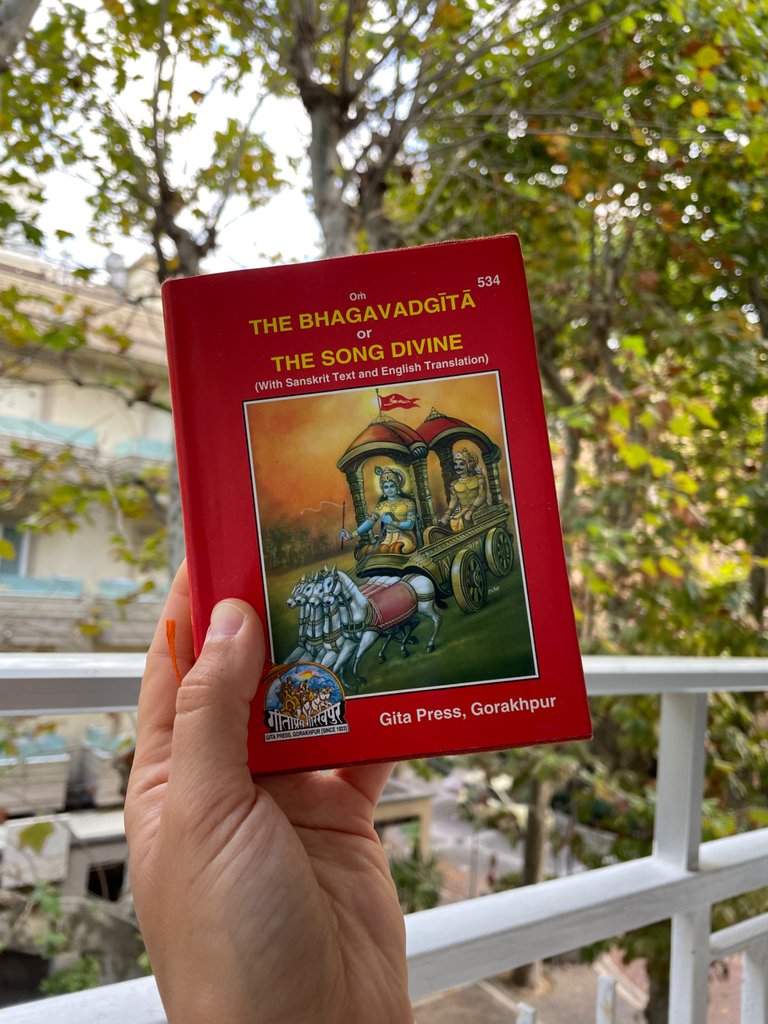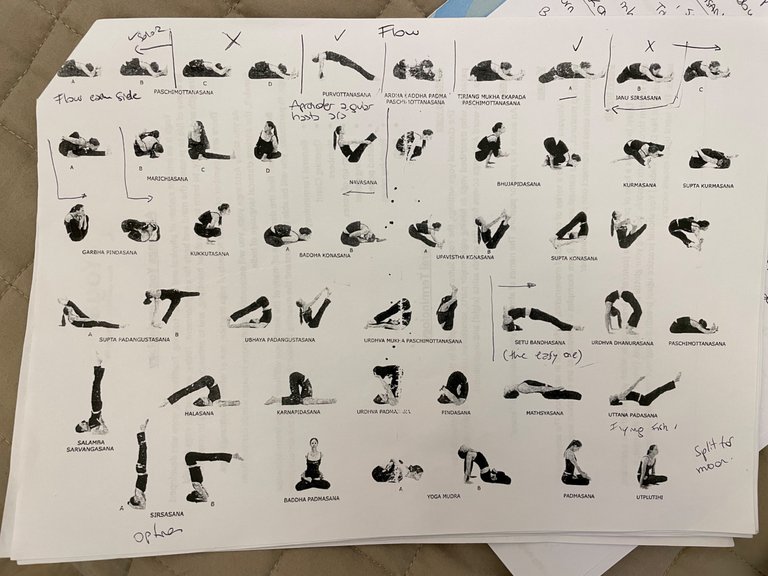 ---
Además, aprovecho esta oportunidad en que la vida me encuentra en el camino del Yoga, para mostrarles como esto realmente se trata de un proceso en el cual hay que confiar.
El Yoga es mucho más que esas bonitas posturas físicas. Lo primero que te enseñan en Yoga son los dos primeros pasos de los 8 pasos del Yoga que propone Patanjali:
1 - YAMAS (lo que hay que evitar)
2 - NIYAMAS (lo que debemos incrementar)
Cada uno de ellos tiene dentro, ciertos aspectos:
YAMAS
Ahimsa (no violencia)
Satya (es la verdad, debemos evitar la mentira)
Asteya (no robar)
Brahmacharya (moderar los sentidos)
Aparigraha (no apegarse a nada ni nadie)
NIYAMAS
Saucha (pureza)
Santosha (contentamiento)
Tapas (disciplina y sencillez)
Svadhyaya (auto conocimiento)
Ishvara Pranidhana (devoción a lo divino)
Also, I take this opportunity that life finds me on the path of Yoga, to show you how this really is a process that you have to trust.
Yoga is much more than those beautiful physical postures. The first thing they teach you in Yoga are the first two steps of the 8 steps of Yoga proposed by Patanjali:
1 - YAMAS (what is to be avoided).
2 - NIYAMAS (what we should increase)
Each of them has within it, certain aspects:
YAMAS
Ahimsa (non-violence)
Satya (it is the truth, we should avoid lying)
Asteya (not to steal)
Brahmacharya (to moderate the senses)
Aparigraha (not to be attached to anything or anyone)
NIYAMAS
Saucha (purity)
Santosha (contentment)
Tapas (discipline and simplicity)
Svadhyaya (self-knowledge)
Ishvara Pranidhana (Devotion to the Divine)
---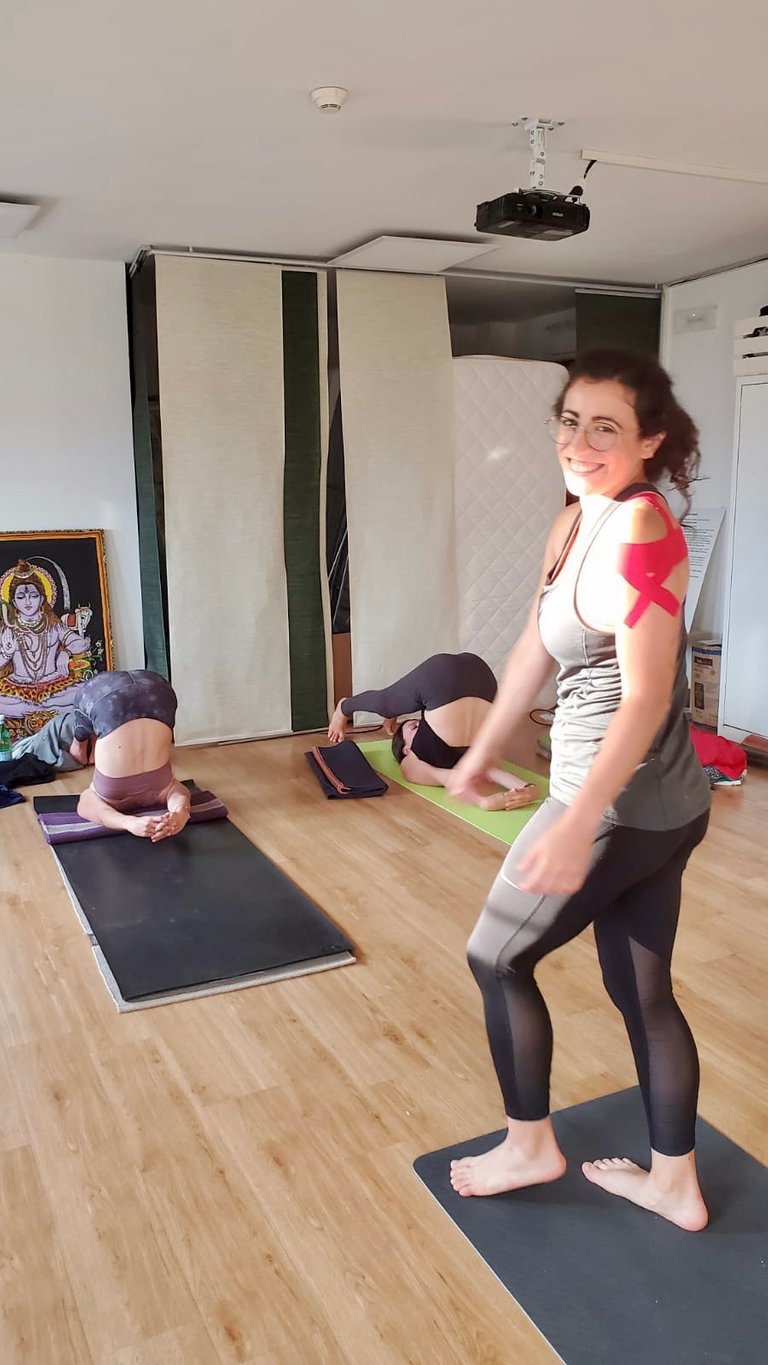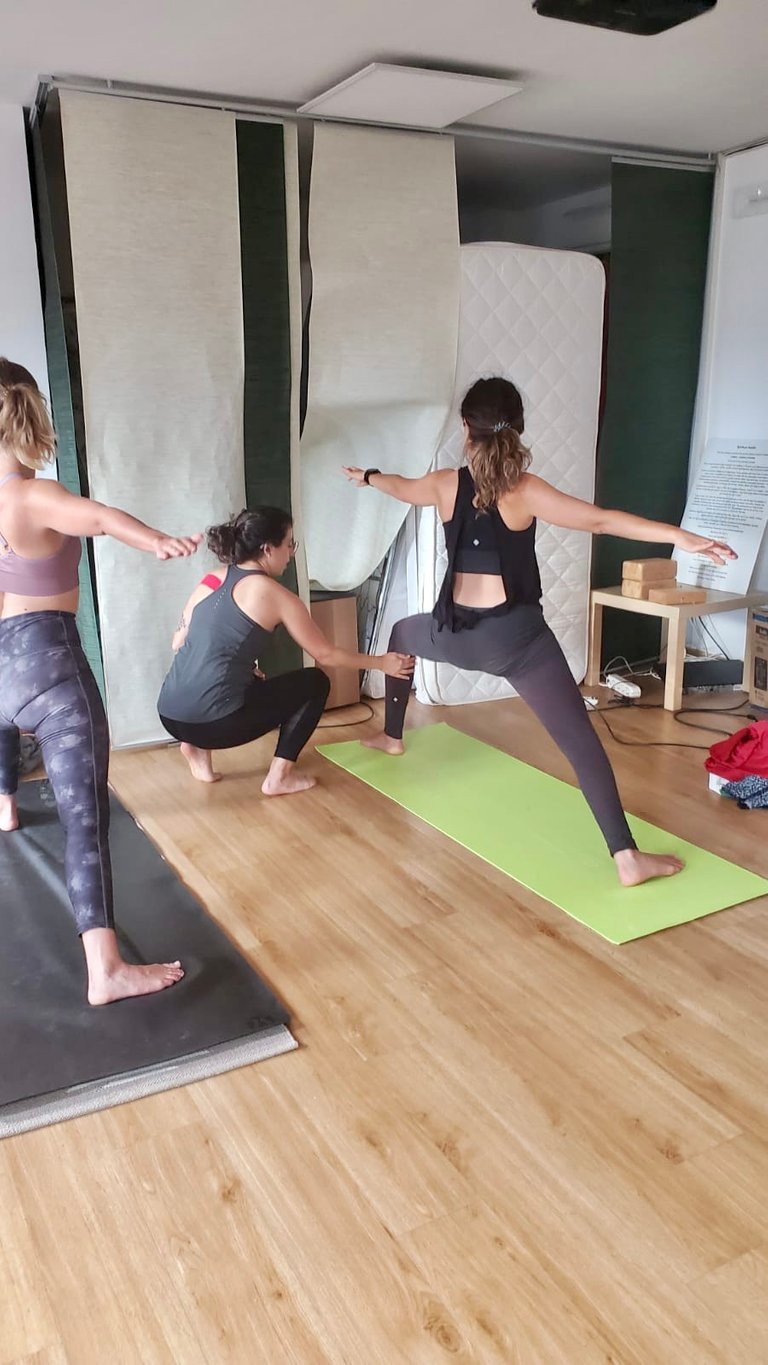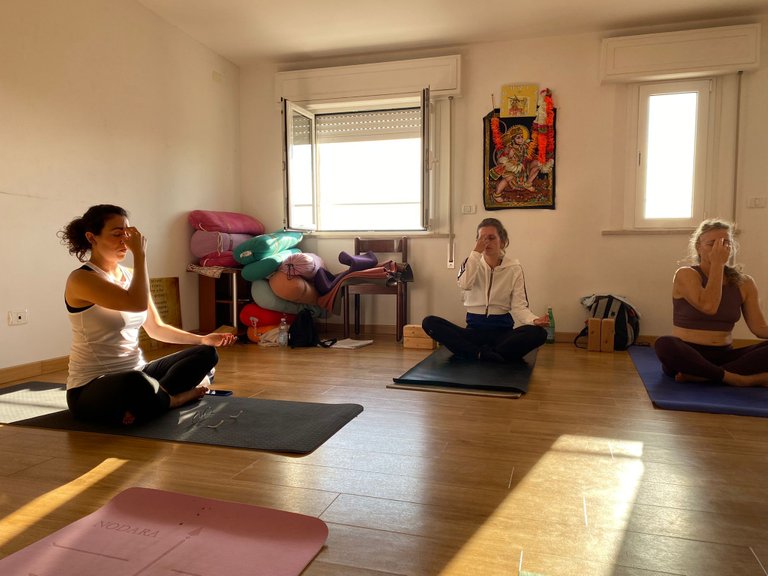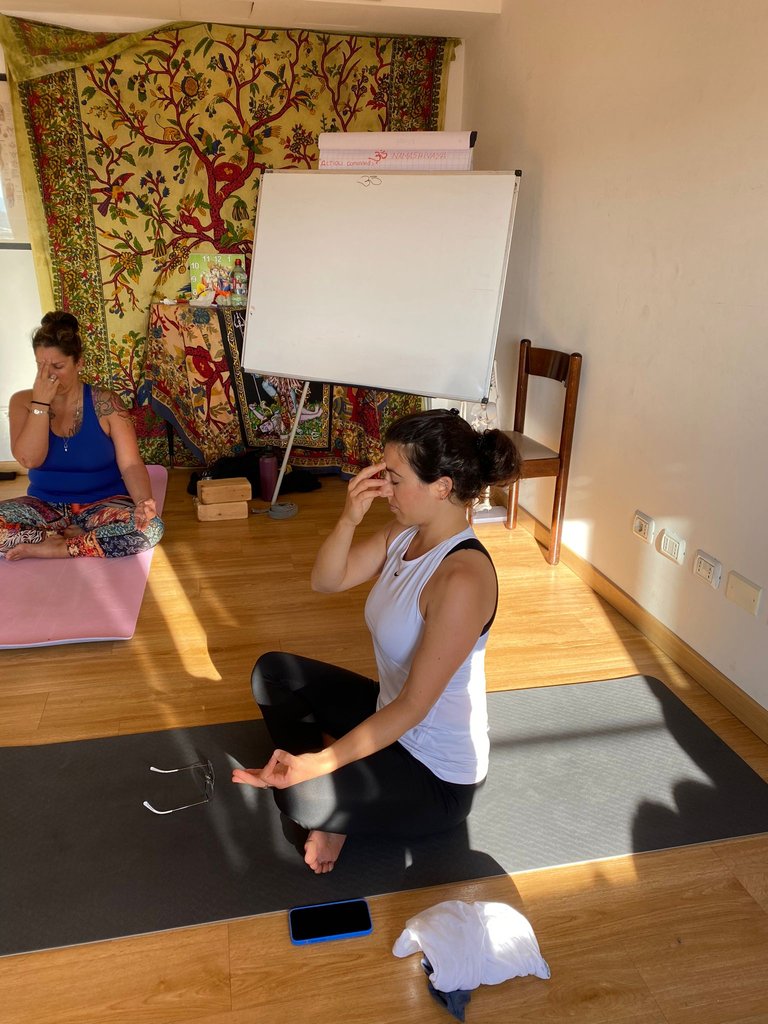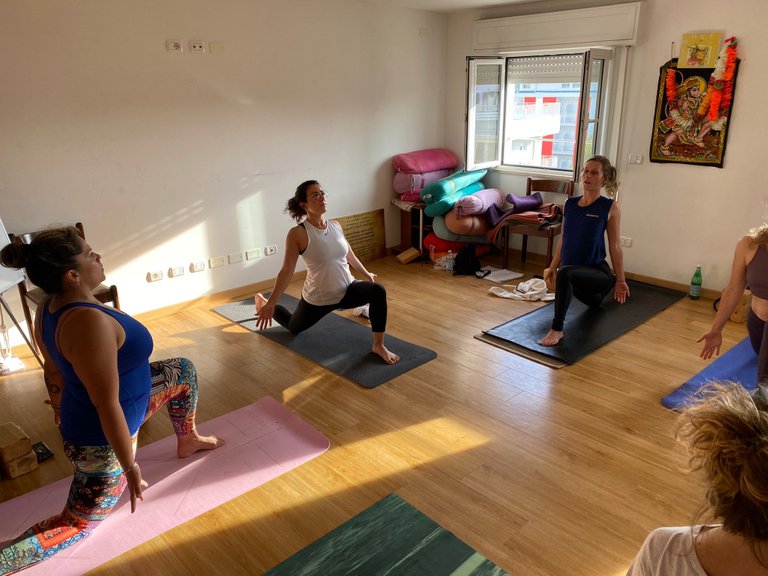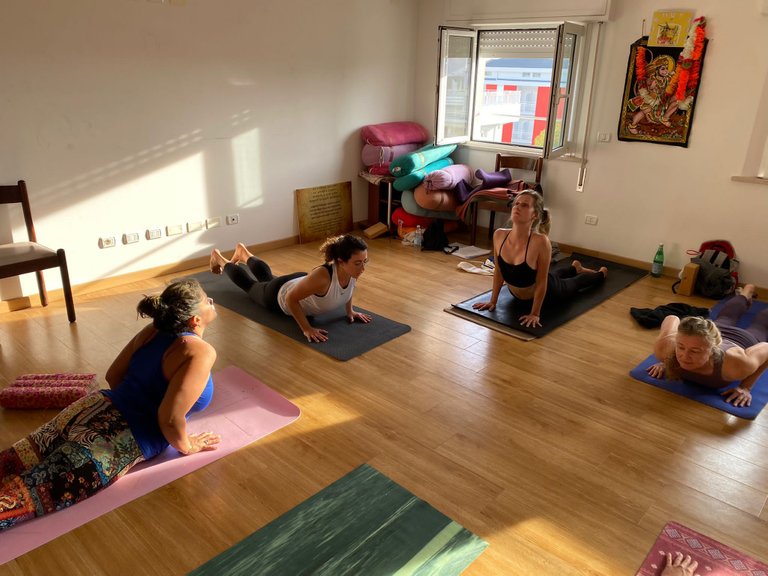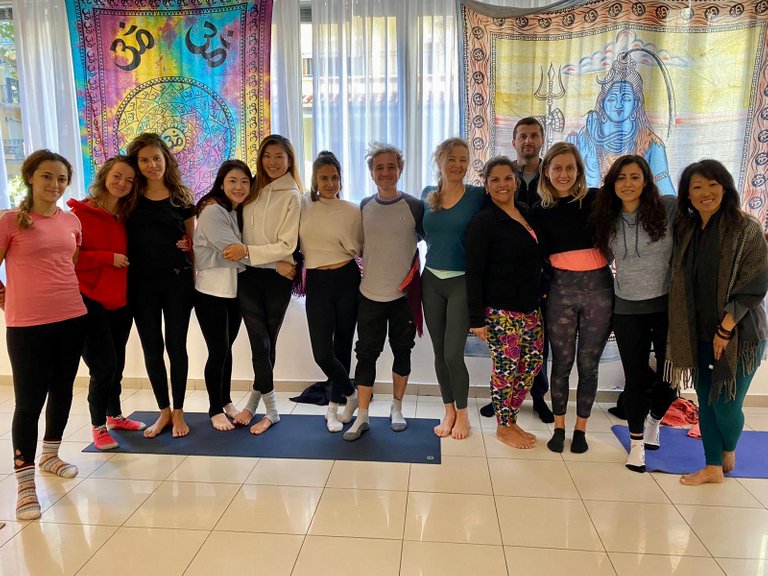 ---
Si prestan atención a esos pasos y han leído dos o tres publicaciones mías, o me han escuchado, podrán cómo estas 10 palabras se van filtrando en mi discurso. Y esto es algo que he detectado ahora, haciendo cierta observación a este sendero que llevo transitando hace ya más de 4 años.
Esto me hace ver cómo el Yoga está cada vez más en mi, en mi día a día, en mi manera de vivir, y esto es algo mágico. Siempre he sentido que el Yoga llegó a mi vida y yo llegué a su encuentro, y a partir de ese momento se encendió una luz que cada día se hace más intensa.
Hace tiempo que quería compartir estos dos primeros pasos del Yoga con la comunidad de Full Deportes, porque siento que les muestro solo un pequeño fragmento del Yoga cuando presento mis videos, sabiendo que es mucho más.
Por eso, hoy que de alguna manera quiero hacer honor a la vida que me condujo hacia el Yoga y mediante esta publicación presento mi agradecimiento, nuevamente a la vida, al Universo por mostrarme cual era el camino que debía comenzar, tomo también la oportunidad para introducirles esto y contarles que esos Yamas y Niyamas , guían la práctica y se espera que la vida fuera de la colchoneta, de un practicante de Yoga.
Aprendí esto en los instructorado, pero la información se encuentra en uno de los libros sagrados del Yoga: los Yoga Sutras de Patanjali.
If you pay attention to these steps and have read two or three of my publications, or have listened to me, you will be able to see how these 10 words are filtering into my discourse. And this is something that I have detected now, doing some observation to this path that I have been walking for more than 4 years now.
This makes me see how Yoga is more and more in me, in my daily life, in my way of living, and this is something magical. I have always felt that Yoga came into my life and I came to meet it, and from that moment on a light was lit that every day becomes more intense.
For a long time I wanted to share these first two steps of Yoga with the Full Deportes community, because I feel that I show you only a small fragment of Yoga when I present my videos, knowing that it is much more.
So, today that somehow I want to honor the life that led me to Yoga and through this publication I present my gratitude, again to life, to the Universe for showing me which was the path I had to start, I also take the opportunity to introduce this and tell you that those Yamas and Niyamas, guide the practice and hopefully the life off the mat, of a Yoga practitioner.
**I learned this in the instructor's classes, but the information is found in one of the sacred books of Yoga: the Yoga Sutras of Patanjali.
---
---
Espero que la publicación les haya gustado!!
Les envío cariños y un fuerte abrazo!
Que terminen hermoso el sábado,
I hope you liked the publication!
**I send you love and a big hug!
I hope you have a beautiful Saturday,
---
Datos de edición
Dispositivo: iPhone 12 Pro
Banner: Canva y PicsArt
Aplicación de edición: InShot (version Pro)
Traducción: DeepL
Musica: Push It Baby!
Músico: Push It Baby!
Edition data
Device: iPhone 12 Pro
Banner: Canva and PicsArt
App for video edition: InShot (version Pro)
Translation: DeepL
Music: Push It Baby!
Musician: Push It Baby!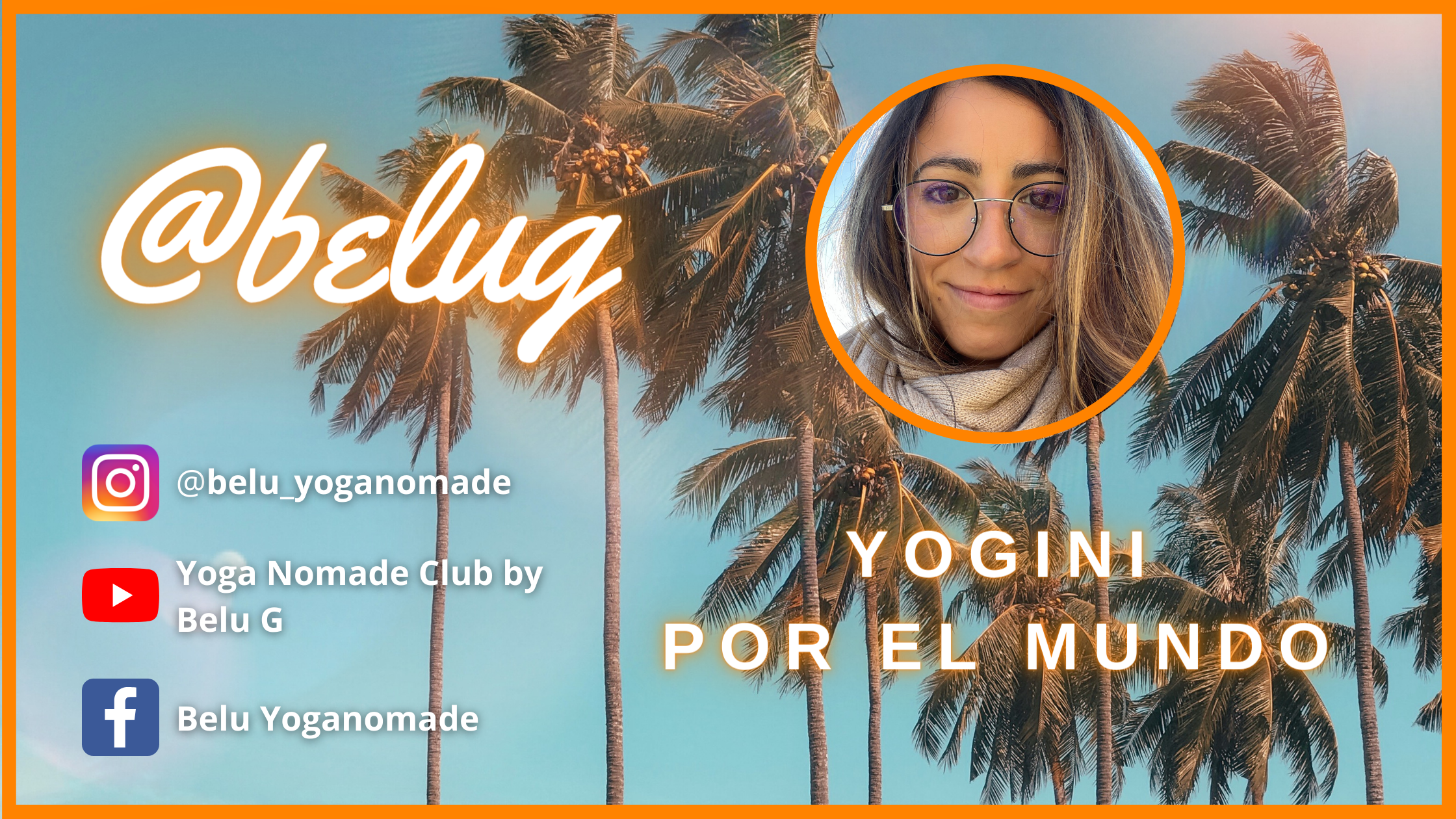 ---
▶️ 3Speak
---
---