REMINDER - Chess Brothers League Season 4 "Play chess and stay fit" - Announcement of Round 9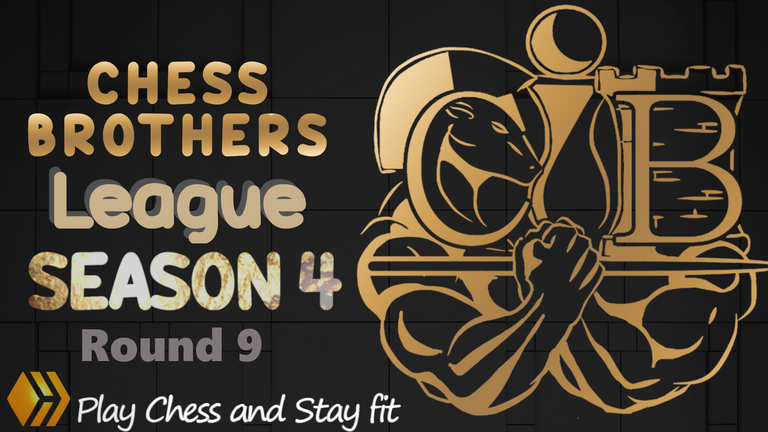 Hello chess fans!
Round eighthas been played and we had an interesting swiss blitz tournament. To go over the leaderboard and some interesting positions, please visit our weekly report.
All the information of this new season can be found here.
As we explained in the season rules, the account @playchess has been created to keep track of the rewards. We greatly appreciate your support by setting this account as a beneficiary in the posts related to the league.
Announcement and Rules of Round 9
This Sunday July 03 we will start round seven at the usual time!

1. It will take place on Lichess.org.
Join the Chess Brothers team.
Date and time: Sunday, July 03 at 19 GMT.
Format and time control: Arena 4+1
The scoring system is the Lighteye system. Please take a look at this post to see all the details about it.
Join the tournament now!
As always, we extend our invitation to the following players:
@aakrist, @abimbola753, @agreste, @alan8a, @alberto0607, @alexmag1988, @almightymelon, @ambarvegas, @amirl, @anli, @anomadsoul, @apy, @arsenal49, @behiver, @bitsignal, @burnoutawesome, @cerati, @chacald.dcymt, @chesthetica, @cocacolaron, @cryptoniusraptor, @cryptoph0823, @darruiz, @diegofitness92, @digitalis, @ebingo, @eenriquerivas, @eliaschess333, @elprofe62, @emic, @eniolw, @evgsk, @fjcr, @flaws, @foxconnmars, @franciscomarval, @gabotask, @giacomone, @gingerbyna, @heimindanger, @hierro21, @hirohurl, @hive-129589, @iceblue, @iobates, @jaki01, @jkms, @johannesboldt, @juanmi96, @kintokris, @kreur, @lighteye, @lucianosky, @maciejficek, @manncpt, @manuel6, @marcusantoniu26, @masterswatch, @maverieux000, @meedo, @mrsarri, @mstafford, @nerdvana, @nftland1989, @orlanzavala, @oshiokhenhoya, @pamboy27, @parung76, @perpz, @petreius, @rafaelaquino, @renerondon, @rexplanet, @rodrook, @ropavejero, @rosmarly, @samostically, @sawko, @schamangerbert, @soluce07, @spacetoon, @stranger27, @stayoutoftherz, @the01crow, @tony1294, @tungphong, @uliseshb, @vasigo, @vjap55, @walner, @wildthougts, @xoflox, @yazp, @zacherybinx, @ziabutt3836
⚠️ Note: If you want to be included in this list, let us know in the comments and if, on the contrary, you don't want to be mentioned, you can let us know and we will remove you from it.
If you want to learn more about the CHESS BROTHERS Project, we invite you to take a look at our blog on Hive (@chessbrotherspro), our website www.chessbrothers.com and other social media spaces. You are welcome to work collaboratively with us by joining our curation trail.

---




---
---