Intervals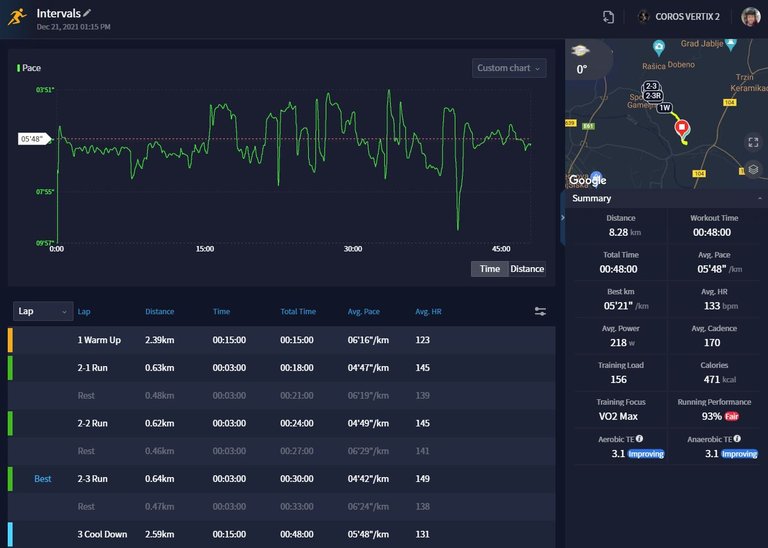 As announced in the previous report, this was my first run based on the training plan after a long long time.
It was an easy intervals session
15 minutes of warmup
3 times 3 minutes repeats with 3 minutes of jogging break
15 minutes of cooldown
It can't get any simpler.
The watch guided me on every step. It displayed the countdown timer for the current section with the last fives seconds buzzing. The data in every section was dislpeyed differently depending on the type. I'll take some screenshots in on of the following sessions to illustrate it.
COROS Training Hub now shows the completed session in green. Yesterday's one won't be green since I entered the workout for it after the session was already done.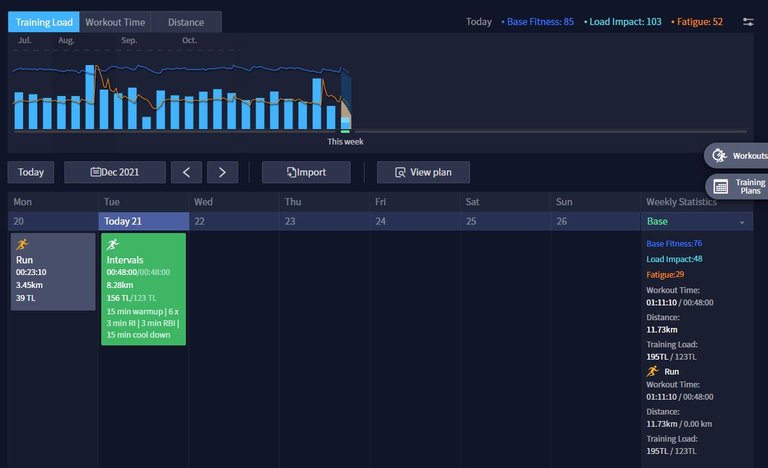 The session ended in 48 minutes exactly. I don't know if there is any way to prolong it. I wanted to run for additional 200 meters to reach our backyard and stop there.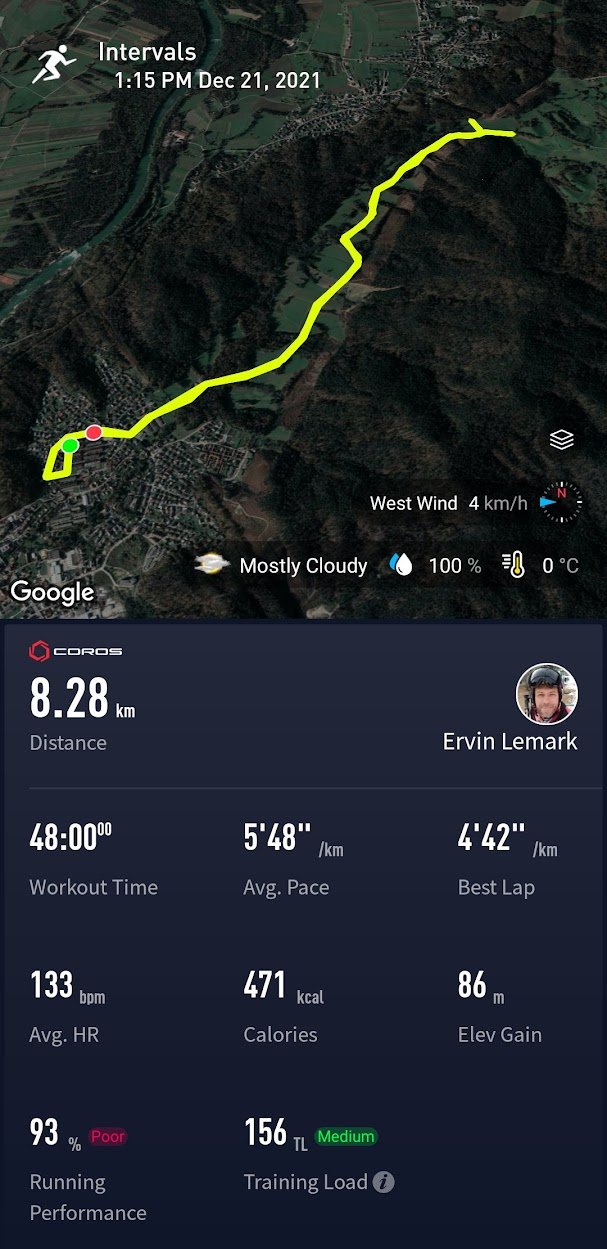 It's interesting to notice that lap times represent workout sections and not kilometer times. Good.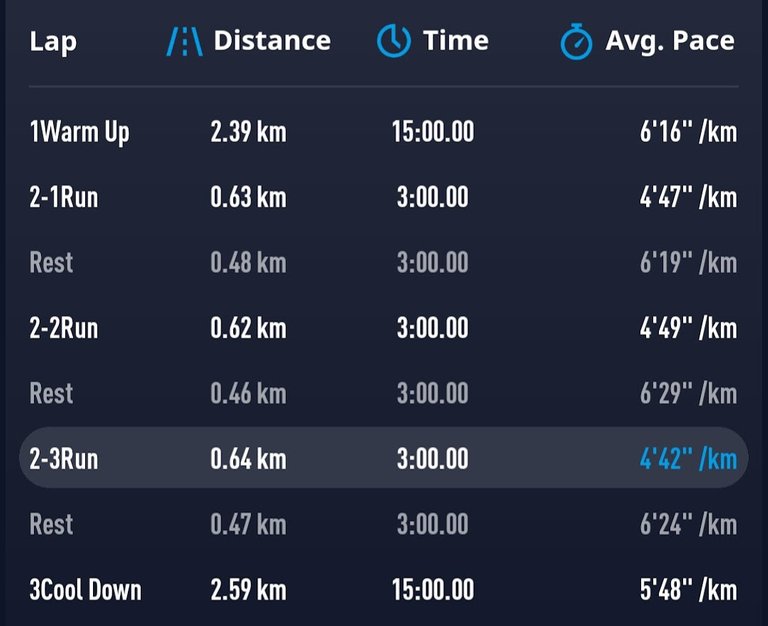 For the workout, I went into the Magpie's Valley and did some there-and-backs on the tarmac road. It was icy at places with uneven terrain. This represented an additional challenge.
The workload was evenly distributed as you can see from the Training Effect graphic.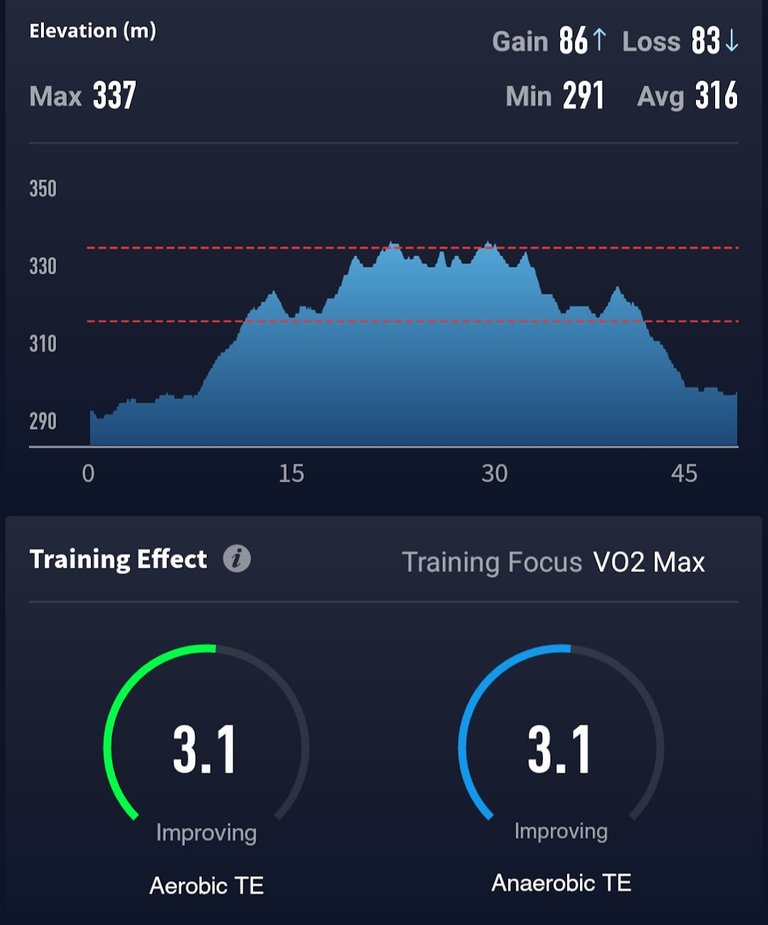 My first planned session was fun to run and successful. A great start it was. What did I learn?
I can pace warmup and cooldown parts in a higher zone
I need to find a way for the watch to continue the last section of the exercise
there were some strange pace readings in the cooldown section. Afterwards, I updated the firmware. I'll see if this fixed the issue.
---
Check out some detailed info at my EXHAUST page
Join me in testing out EXHAUST!
---
All the physical activity data that I display in my @exhaust and @actifit reports is gathered with the help of COROS Vertix 2 sports watch and displayed with COROS app.


Metrics and training plans are devised and analysed with the help of COROS Training Hub, currently in beta mode.


---
Proof of Run on Strava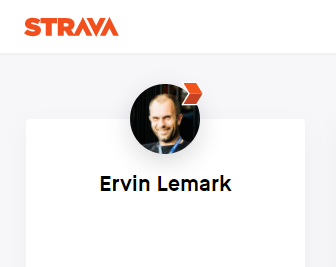 This run on Strava | Strava profile
---
Better and better
---
---
---