All Star Game 2022, Los Ángeles, CA [ESP/ENG] || OPINION

      Las estrellas ¿Cuantos no suspiran por ellas, cuando ven el cielo en una noche despejada? Pero hay otro tipo de estrellas, de carne y hueso, que viven y moran entre los mortales del planeta. Son escogidas para brillar por la admiración que provocan en sus fanáticos. Las hay de todo tipo, pero acá nos referiremos a las que brillan en los campos de las Grandes Ligas. Ellas titilarán en Dodgers Stadium, en el All Star Game 2022, en Los Ángeles, California, U.S.A.
How many do not sigh for them when they see the sky on a clear night? But there is another kind of star, flesh, and blood, who live and dwell among the mortals of the planet. They are chosen to shine for the admiration they provoke in their fans. There are all kinds, but here we will refer to those who shine on the fields of Major League Baseball. They will titillate at Dodgers Stadium, in the All-Star Game 2022, in Los Angeles, California, U.S.A.
      El día de ayer, la oficina del comisionado y la asociación de peloteros de las mayores, publicaron la boleta de selección donde incluyeron a los elegibles para votación, vía internet, de las personas que deseen participar. Los favoritos de cada quien pueden ser escogidos en el enlace de la fuente en la segunda imagen de éste escrito y la fecha máxima para la selección, de los peloteros que entrarán en la primera fase será el hasta el 30 de Junio. La segunda y última fase se extenderá desde el 5 de Julio 2022 hasta el 8 del mismo mes.
Yesterday, the commissioner's office and the Major League Baseball Players Association published the selection ballot where they included those eligible to vote, via Internet, the people who wish to participate. Everyone's favorites can be chosen in the source link in the second image of this document and the deadline for the selection of the players who will enter the first phase will be June 30. The second and last phase will run from July 5, 2022, until July 8, 2022.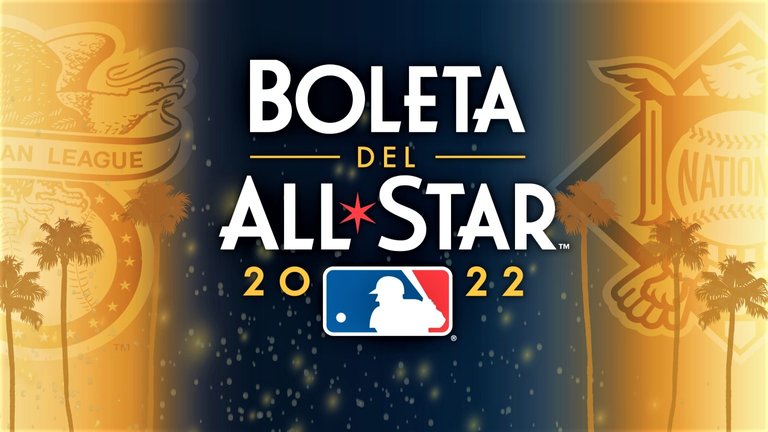 Source

      Dicho esto, en la boleta que demuestra mi selección más abajo, están los jugadores según mi opinión deberían estar en la fiesta de media temporada. Por supuesto, siempre será algo subjetivo y cada quien podrá estar o no de acuerdo con nuestra selección ¿Lo único malo? Como ha sido siempre, los managers Brian Snitker de los Bravos y Dusty Baker de los Astros (campeones de liga el año pasado) será quienes escojan al staff de pitcheo y a los jugadores de reserva.
That said, on the ballot below are the players I think should be in the mid-season party. Of course, it will always be subjective and everyone may or may not agree with our selection. The only bad thing? As has always been the case, managers Brian Snitker of the Braves and Dusty Baker of the Astros (last year's league champions) will be the ones to choose the pitching staff and the backup players.
      Así las cosas, quizás importe más lo que no se ve detrás de las selecciones que los propios elegidos, en razón de la injusticia de no poder escoger más personas en las boletas. Al aficionado deberían dejarle seleccionar todo, porque incluso para mí, ha quedado un sabor amargo de tarea pendiente por muchos peloteros que han quedado fuera. Y lidiar con eso puede ser frustrante ¿Un ejemplo? ¿Imaginan una segunda base sin Gleyber Torres? Ahora mismo es una de las piezas clave de los Yankees, quienes no esperaban tanto del segunda base venezolano.
As a result, perhaps what is not seen behind the selections matters more than the chosen players themselves, because of the injustice of not being able to choose more people on the ballot. The fan should be allowed to select everything because even for me, there has been a bitter taste of unfinished business. After all, so many players have been left out. And dealing with that can be frustrating... Imagine a second base without Gleyber Torres? Right now he's one of the key pieces for the Yankees, who didn't expect so much from the Venezuelan second baseman.
      Y cualquier persona podría refutar mi selección de José Altuve en la segunda base de la americana, tendría parte de razón. Pero dejar a José fuera de la boleta sería cometer suicidio. Es un bate comprobado en mil batallas. Es una regadera como primer bate, pero además, es un posible jonrón en su lugar ofensivo que te puede poner a ganar temprano. Y recuerden otra cosa, el equipo que gana el juego, determina el home club de la serie mundial. Así que hay un incentivo para triunfar.
And anyone could refute my selection of Jose Altuve at second base in the American, they would be partially right. But leaving Jose off the ballot would be committing suicide. He is a bat proven in a thousand battles. He's a watering can as a first baseman, but in addition, he's a possible home run in his offensive spot that can set you up for an early win. And remember another thing, the team that wins the game determines the home club in the World Series. So there is an incentive to succeed.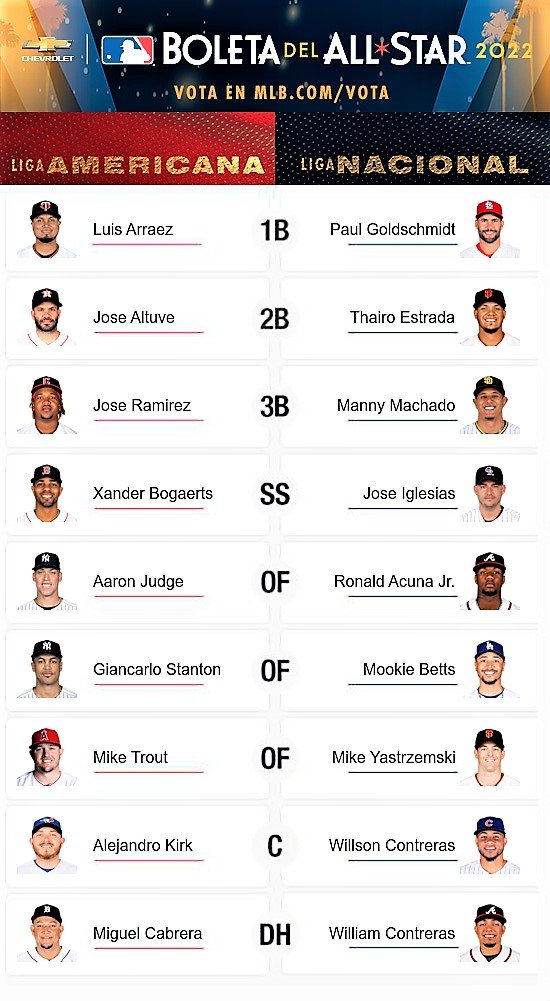 Source

      Hay otro detalles que compensan un poco la frustración. Unos cambios han sido agregados en la selección de éste año: se incluye al bateador designado para la liga nacional, en lugar de tres finalistas para la fase 2, habrán dos (por posición dentro del cuadro y seis por los jardineros) que podrán pelear el puesto en la última votación. Además, el jugador que gane su selección con la mayor cantidad de votos en la primera fase, por cada liga, no pasará por la fase dos de la selección, sino que ganará la titularidad automáticamente ¿Un ejemplo? Si Aaron Judge gana en la americana con la mayor cantidad de votos, va al juego de las estrellas y solo quedarían dos cupos en los jardines para los otros seis finalistas.
Other details offset some of the frustration. A few changes have been added to this year's selection: instead of three finalists for phase 2, there will be two (per position in the draft and six for the outfielders) who can fight for the spot in the final ballot. In addition, the player who wins his selection with the most votes in the first phase, for each league, will not go through phase two of the selection process, but will automatically win the starting job. If Aaron Judge wins in the American League with the most votes, he goes to the All-Star Game and there would only be two spots left in the outfield for the other six finalists.
      Así las cosas, mi muy querido lector, participe en la selección de las estrella. Ellas querrán estar en Los Ángeles brillando para usted. Pero si no hace una selección, jamás podrá saber si por su voto fue que tuvo la oportunidad de ir. Puede hacer un voto diario si lo desea y puede también variar su selección. En Hollywood viven las estrellas que brillan en los largometrajes, pero en Dodgers Stadium, el 19 de Julio, brillarán por un día las que nos regalan su talento en la larga temporada de las Grandes Ligas.
So, my dear reader, take part in the selection of the stars. They will want to be in Los Angeles shining for you. But if you don't make a selection, you will never know if you got the chance to go because of your vote. You can make a daily vote if you wish and you can also vary your selection. Hollywood is home to stars who shine in feature films, but at Dodgers Stadium on July 19, those who give us their talent in the long Major League Baseball season will shine for a day.
---
P.S. English is not my native language, apologize for that.
I used a web translator for English text (DeepL)

Las estadísticas usadas para el artículo son extraídas de MLB // Statistics used for the article are extracted from MLB

---
---