Results of Round 2 of Eliminations (Leg 1)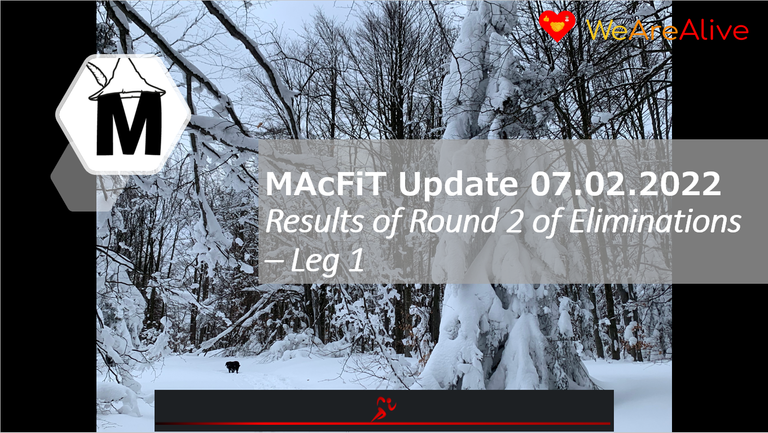 Hello,
How was your weekend? I see some great step counts in your @actifit reports. We now have complete set of results for Leg 1 of Round 2 of Season 6 Eliminations. Champions League played on Friday, Consolation Cup - on Saturday.
Latest Matches
Consolation Cup Eliminations - Round 2, Leg 1
Saturday, Feb 5
I appreciate that all players have provided their reports - not a single W/O, well done!
P1: @romualdd vs @liftslikealady 12:8 (12103-7854)
P2: @martusamak vs @notak 24:11 (23831-11262)
P3: @milabogomila vs @kiel91 8:12 (8159-12079)
P4: @homesteadlt vs @mushanov 16:25 (16213-25299)
P5: @zimnaherbata vs @stefannikolov 16:13 (15724-13191)
P6: @davidesimoncini vs @markhodge 11:13 (11423-13068)
P7: @sandraa1 vs @dontcare89 5:11 (5110-10914)
P8: @kwsnomzys vs @axel-mccornstack 17:12 (17123-11724)
The 8 winners will advance to Consolation Cup main phase. The losing sides will have to wait until Season 7 for their next chance.
Second leg: today (Monday, Feb 7)
Champions League Eliminations - Round 2, Leg 2
Sunday, Feb 6
reports still coming in, but we already have a few full results.
P1: @ptaku vs @davidthompson57 ?:15 (?-14974)
First Leg: 19:9 (18751-8634)
P2: @ilodz24hd vs @pjansen 7:11 (7068-10954)
First Leg: 10:11 (9923-10538); Winner: @pjansen (2 wins; aggregate score 17:22)
P3: @flaxz vs @asia-pl ?:9 (?-8654)
First Leg: 20:7 (19620-6695)
P4: @cezary-io vs @racibo 26:5 (26420-5411)
First Leg: 28:24 (28246-23524); Winner: @cezary-io (2 wins; aggregate score 54:29)
P5: @mariya36 vs @ykretz.sports ?:7 (?-7358)
First Leg: 6:9 (5923-9355)
P6: @venan vs @sk1920 10:13 (10275-13041)
First Leg: 11:22 (11204-21632); Winner: @sk1920 (2 wins; aggregate score 21:35)
P7: @practicaleric vs @matthew1 22:? (19999-?)
First Leg: 22:37 (21786-37097)
P8: @pagane vs @ziabutt3836 ?:20 (?-20382)
First Leg: 0:30 (???-16143)
P9: @cryptospa vs @dirkzett 19:? (19024-?)
First Leg: 30:0 (17501-???)
9 Winners + 1 Lucky Loser (highest aggregate score over the 2 matches in Round 2) will advance to the group phase of the Champions League.
The following players have qualified to Champions League, as of writing:
The aggregate score will be used for placement in the Group Phase.
Congratulations!
On the losing end, the best of the pack (aka Lucky Loser), will get the last slot in Champions League, the rest will be transferred to Consolation Cup. Again, aggregate score will be used.
So far:
Two players didn't provide reports for the first leg (Feb 4) and seem not be active:
If they fail to provide reports for Feb 6, they will be disqualified from Season 6. This would create two free slots in Consolation Cup and I'd award them to:
They have time until today midnight. Even after that, if they provide a proof of activity (screenshot of Activity History from @actifit App), I'll accept the results. They will have time till Tuesday EOD for that.
The best player eliminated in Round 2 of Consolation Cup qualifiers, will receive a special prize sponsored by @aliveprojects - 100 ALIVE. It will be decided by total score across both rounds of qualifiers.
Season 6 Schedule
Round 2 of Eliminations
Friday - Monday, Feb 4-7
Main Season Kick-off
Friday - Monday, Feb 11-14
Detailed schedule to be announced after completion of Eliminations.
---
---