cricket- under-19 women's world cup final.
Hello and welcome to all the readers.
Before we talk about the final, let's recap.
The inaugural under-19 Women's T20 World Cup started on 14th January 2023.
The tournament started with 4 groups of 4 teams each. Each team playing each other in the group.
Group A:
Bangladesh, Australia, Srilanka and United states of America
Group B:
England, Pakistan, Rwanda and Zimbabwe
Group C:
New Zealand, West Indies, Ireland and Indonesia
Group D:
India, South Africa, United Arab Emirates and Scotland
The next round was played by 3 top teams from each group divided into 6 teams in 2 groups, super six.
Super Six:
Group 1:
India, Australia, Bangladesh, South Africa, Srilanka and United Arab Emirates
India Women and Australia Women finished in top two.
Group 2
England, New Zealand, Pakistan, Rwanda, West Indies and Ireland
England Women and New Zealand Women finished in top two.
The semi finals were played on 27th January
First semi final - India Women v/s New Zealand Women
India Women won the match by 8 wickets.
India Women dominated the match in all departments.
Second semi final - England Women v/s Australia Women
England Women defended 99 runs and won the match by 3 runs
Under-19 women's world cup final:
Yes, the finals was played today - India Women v/s England Women
India Women won the toss and decided to bowl
England Women lost their first wicket in the first over itself.
The wickets fall regularly. England women were all out for 68 runs.
England batters failed for the second time.
India scored the required runs in 14 overs losing only 3 wickets
India Women won the first inaugural under-19 T20 World Cup in style.
Player of the match - Titas Sadhu, IND-W
Player of the series - Grace Scrivens, ENG-W
Match Analysis:
England Women batting let them down. The bowlers did not have enough runs on the board to defend.
India Women bowling, fielding and catching was excellent. Though they did drop few catches but took a few stunners too.
The job for the indian batters was less challenging as the bowling restricted the opposition team to a very small total.
This is the first international win for the Indian Women. The senior team has yet to win a tournament. Let's hope this inspires the senior team and they win the women's T20 world cup, starting from 10th February 2023.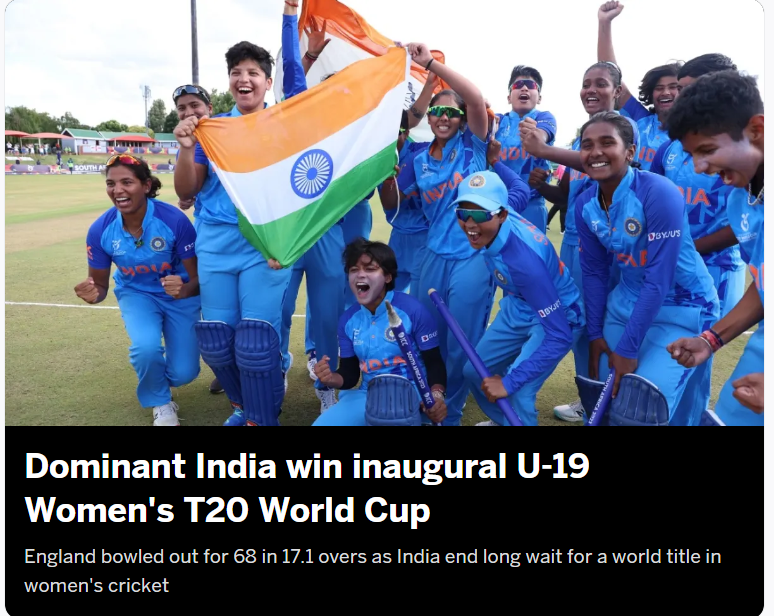 source: ESPNcricinfo Ltd
Thank you for reading my post.
Have a nice day.
Farhad
[imfarhad]
Failure is not the opposite of Success. It is part of Success.
--- William Ritter
Posted using SportsTalkSocial
---
---