IPL Tournament - Sunday Double Header - CSK v/s KKR and MI v/s RCB - Match Statistics and Analysis
Hello and welcome to all the readers.
Today we had 2 back to back matches in UAE
Match 38 - Chennai Super Kings [CSK] v/s Kolkata Knight Riders [KKR]
KKR won the toss and elected to bat first.
KKR scored 171/6 in 20 overs. A good cameo by dinesh kartik at the end helped KKR to reach a good total.
In reply, CSK started well with first wicket partnership of 74 runs. But KKR got back into the game by taking wickets and restricting the scoring.
CSK needed 26 in last 2 overs. Jadeja scored 22 runs in 19th over.
Last over CSK needed 4 runs, lost wickets but managed to win by getting the last run on the last ball. 172/8 in 20 overs
CSK won the match by 2 wickets
Player Of The Match - Ravindra Jadeja [CSK]
Analysis:
Both the teams are growing in confidence. Improving after every game. Both the teams bowled well and the batters also put on runs.
KKR have few players injury issues, which may affect the team balance.
Some of the CSK players still have to find form.
Match 39 - Royal Challengers Bangalore [RCB] v/s Mumbai Indians [MI]
MI won the toss and elected to field.
RCB scored 165/6 in 20 overs. Kohli scored 51 runs and Maxwell scored 56 runs. But the last 2 overs, they managed only 9 runs. Fantastic death bowling from Bumrah and Boult.
In reply, MI started really well. MI scored 56 runs without losing any wickets in the first 6 overs. After that they lost wickets in clusters and that made the task harder. MI only managed 111/10 in 18.1 overs. Harshal got a hat-trick.
RCB won the match by 54 runs.
Player of the match - Glenn Maxwell [RCB]
Analysis:
A good batting performance by RCB. Batters put up a score and the bowlers were magnificient, especially harshal and chahal.
Harshal took a hat-trick.
More worries for MI. This is the third loss in a row. The batting woes are getting bigger. Fielding also was not good. They dropped kohli twice, which was costly as kohli scored 51 runs.
Summary: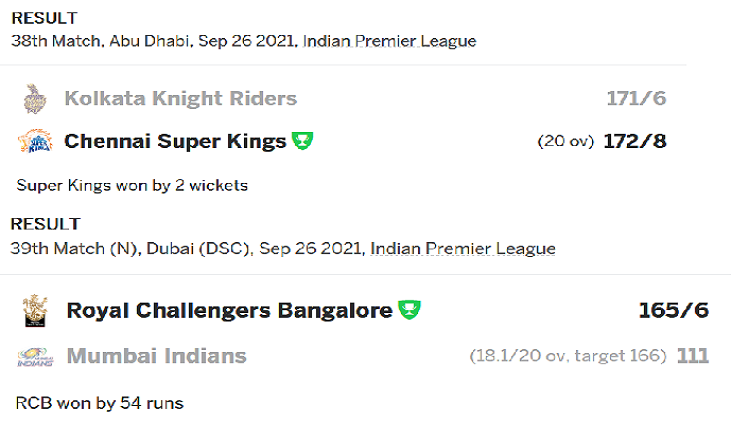 Source - cricinfo.com
Table tally:


Source - cricinfo.com
-**************-----****************-----
thanks for reading my post
see you tomorrow.
farhad
[imfarhad]
---
---