[ESP/ENG]Los bengalíes lo volvieron hacer y le bajaron lo bravo a los insulares/The Bengalíes did it again and lowered the bravo to the insulars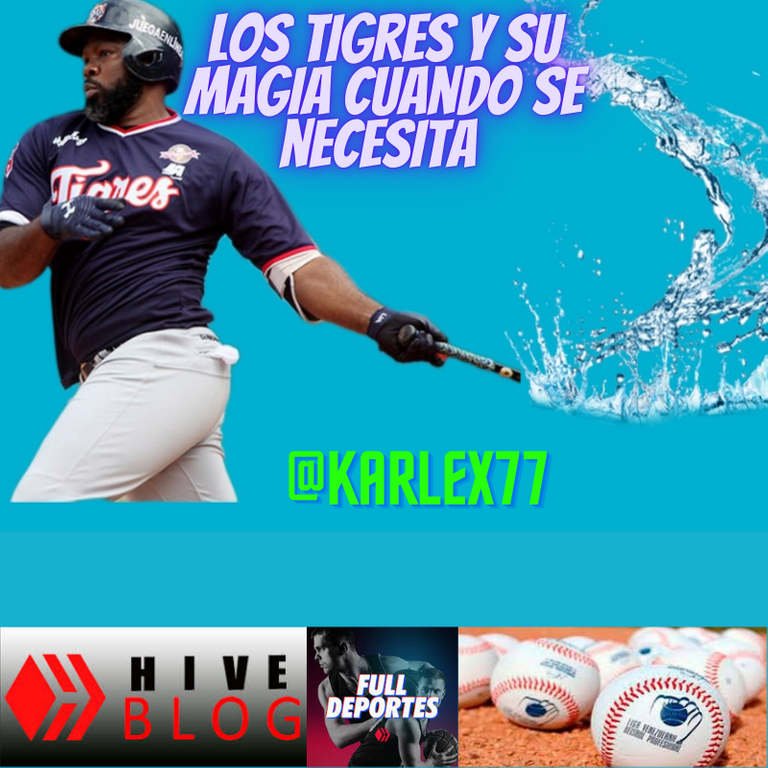 Fuente de la foto, que se uso para elaborar la portada de esta Publicación


Último día del año y en materia deportiva las noticias no se detienen, y Venezuela no escapa de esta lluvia de noticias, sobre todo en su deporte rey, como lo es el béisbol, en la LVBP se necesitó la realización de los dos juegos de la serie por el comodín o también conocido como el Play-In, de manera contundente los Tigres de Aragua derrotaron a los Bravos de Margarita, con marcador de 14 carreras por 4, consiguiendo de esta manera el quinto y último cupo para el Round Robín que dará inicio el próximo lunes 2 de enero del 2023, ya los bengalíes habían ganado el primer juego de la serie, y cumplieron con la tarea más difícil, que era ganar par de juegos como visitantes.
Por segundo año consecutivo los felinos dejan en el camino a los de Margarita, el año pasado en un juego extra y en la presente temporada en la serie anteriormente mencionada, es una especie de pesadilla, por lo que pasan los Bravos a finales de temporada, todos esperan con ansias la navidad, pero esto no parece ocurrir es las filas insulares, seguramente esto lleve a la alta gerencia a tomar las medidas necesarias para cambiar lo que ha sucedido a lo largo de las últimas 4 campañas del torneo de pelota en Venezuela.
Posiblemente en la temporada muerta, se den una serie de cambios, algo así como lo que paso con los Tiburones, que pese a las grandes críticas y hasta podemos decir que hubo incredulidad por parte de los periodistas y fanáticos, pues lo que su gerente prometió lo cumplió y con creces, además de clasificar como tercero, es uno de los grandes candidatos a llevarse el título de la actual campaña, si ellos pudieron los Bravos con mucho empeño lo podrán alcanzar también, otro equipo duramente criticado y con comentarios que no podría repetir por respeto a los lectores, son los Tigres.

Last day of the year and in sports news do not stop, and Venezuela does not escape this rain of news, especially in its king sport, such as baseball, in the LVBP it took the completion of the two games of the series for the wild card or also known as the Play-In, in a resounding manner the Tigres de Aragua defeated the Bravos de Margarita, The Tigres de Aragua defeated the Bravos de Margarita with a score of 14 runs by 4, thus obtaining the fifth and last place for the Round Robin that will begin next Monday, January 2, 2023. The Bengalis had already won the first game of the series and fulfilled the most difficult task, which was to win two games as visitors. 

For the second year in a row the felines leave Margarita on the road, last year in an extra game and this season in the series mentioned above, it is a kind of nightmare, what the Bravos go through at the end of the season, everyone looks forward to Christmas, but this does not seem to happen in the island ranks, surely this will lead the top management to take the necessary measures to change what has happened over the last 4 seasons of the Venezuelan baseball tournament.

Possibly in the dead season, there will be a series of changes, something like what happened with the Tiburones, that despite the great criticism and we can even say that disbelief by journalists and fans, because what their manager promised he fulfilled and more than fulfilled, besides qualifying as third, is one of the great candidates to take the title of the current campaign, if they could the Bravos with much effort can also reach it, another team harshly criticized and with comments that I could not repeat out of respect for the readers, are the Tigres.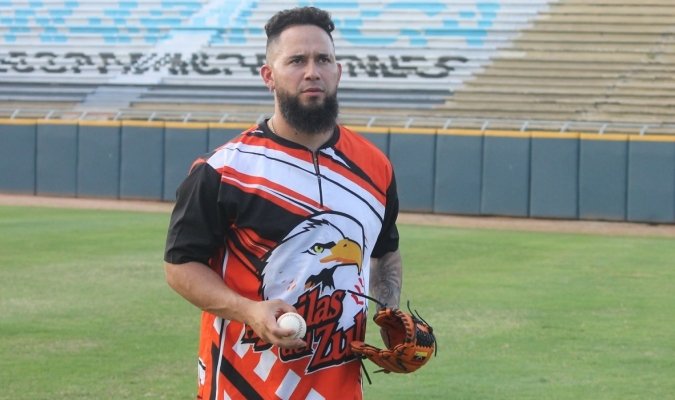 Fuente de la fotografía
Víctor Zambrano, actual presidente de los Tigres, fue atacado por especialistas de este deporte y por los fieles fanáticos de los bengalíes, todo esto por una serie de decisiones y las cosas se acrecentaron por el mal inicio del equipo en la zafra en curso, con récord de 0 victorias y 8 derrotas, lo que llevo al despido del primer estratega o el que inicio esta campaña con las riendas del equipo, el despido de Melean arrastro con él a todo su cuerpo técnico, es allí en donde Zambrano tomo una de las decisiones más importantes, que fue llamar y contratar a Wilfredo Romero, que tras su llegada transformo al conjunto del Estado Aragua.
Otra de las decisiones trascendentales por parte de su presidente, fue la de reincorporar al roster y al line up, a uno de sus importados, se trata de Denis Phipps, quien tras un comienzo realmente lento con el madero, recibió un espaldarazo por parte de la alta gerencia de los Tigres y del manager Romero, y vaya que les dio la razón, a su llegada no ha parado de batear, y junto a Jose Martínez Y Alexi Amarista, han conformado un tridente ofensivo temible, que le ha dado resultados realmente positivos.
Esos días de conflictos entre seguidores y gerente quedaron en el pasado, y desde anoche mucho más, ahora las cosas comenzarán desde cero, los cinco equipos clasificados a la hora de comenzar el todos contra todos tendrán las mismas oportunidades de conseguir el pase a la final y de ser campeones, el día de hoy 31 de diciembre a eso de las 11 de la mañana, se realizó vía on line es Draft de adiciones y sustituciones, abriendo dichas escogencias el equipo capitalino de los Leones del Caracas, y cerrando el conjunto bengalí, a mi parecer los equipos cumplieron al buscar fortalecer sus fallas, claro, todo esto en el papel, ahora tocará ver que pasa en el terreno de juego.
Víctor Zambrano, current president of the Tigres, was attacked by specialists of this sport and by the loyal fans of the Bengals, all this for a series of decisions and things got worse due to the bad start of the team in the current season, with a record of 0 wins and 8 losses, This led to the dismissal of the first coach or the one who started this season with the reins of the team, the dismissal of Melean dragged with him all his coaching staff, it is there where Zambrano took one of the most important decisions, which was to call and hire Wilfredo Romero, who after his arrival transformed the team from the State of Aragua.

Another of the transcendental decisions made by the president was to reincorporate to the roster and line up, one of the imported players, Denis Phipps, who after a really slow start with the lumber, received an endorsement from the top management of the Tigers and the manager Romero, and he proved them right, after his arrival he has not stopped hitting, and together with Jose Martinez and Alexi Amarista, they have formed a fearsome offensive trident, which has given really positive results.

Those days of conflicts between fans and manager are in the past, and since last night much more, now things will start from scratch, the five qualified teams at the time of starting the round robin will have the same opportunities to get the pass to the final and be champions, today December 31 at about 11 am, The draft of additions and substitutions was carried out online, with the Leones del Caracas team from the capital city opening the draft and the Bengali team closing the draft. In my opinion, the teams complied by seeking to strengthen their failures, of course, all this on paper, now we will have to see what happens in the field of play.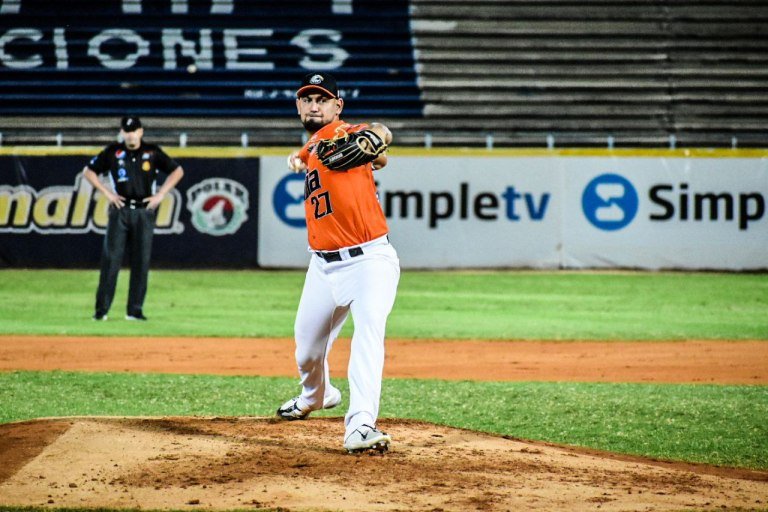 Fuente de la foto
Para cerrar esta publicación, daré mi opinión con respecto a las escogencias que hicieron los diferentes equipos, comenzando con los melenudos, ellos adicionaron a Silvino Bracho y Ali Castillo, Caracas reafirma sus intenciones campeoniles con este par de peloteros y lucen muy sólidos con vista a este todos contra todos, por su parte los pájaros rojos, tomo picheo, y vaya que lo han necesitado a lo largo de la temporada, Mario Sánchez candidato al picher del año y Andrés Sotillet unode los mejores taponeros de la temporada estarán desde el lunes defendiendo los colores de los crepusculares, aunque Lara fortaleció su picheo, a mi parecer aún necesitan un bate que traiga carreras y se ubique en el centro del line up.
Por su parte, los Tiburones de La Guaira añadió poderío ofensivo, con Ángel Reyes y Balbino Fuenmayor, ellos con Acuña y compañía harán de este equipo uno de los más temibles del torneo, pero creo que un brazo en su bulpen hubiese sido de gran utilidad, los actuales campeones, los Navegantes del Magallanes, se fueron por ofensiva, con el poderoso David Rodríguez y por el polifacético Bryan Flete, ellos con la llegada de Gota, harán de los eléctricos un nuevo equipo, creo que junto al Caracas tienen todos los flancos cubiertos, por último, los Tigres de Aragua reforzaron su cuerpo de monticulistas con David Ramos y Yender Cáramo, ambos lanzadores vienen de gran actuación con los Bravos de Margarita.
En conclusión y con mi opinión, puedo decir que Leones, Navegantes y Tigres fueron los que mejores escogieron, como claros favoritos a la final veo al Caracas, ahora su acompañante puede ser cualquiera de los 4 equipos restantes, aunque me inclino por Tiburones, y como posible sorpresa, los de Aragua, pero todo dependerá de las rachas y que los peloteros estén con sus equipos durante todo el Round Robín, los primeros 5 juegos son importantes para las aspiraciones de los equipos que buscan un pase a la gran final del torneo 2022-2023 de la LVBP. Para finalizar les quiero desear un feliz año y venturoso año nuevo a todos los miembros de esta comunidad y de Hive en general, nos leeremos el próximo año.
To close this publication, I will give my opinion regarding the picks made by the different teams, starting with the Melenudos, they added Silvino Bracho and Ali Castillo, Caracas reaffirms its championship intentions with this pair of players and look very solid in view of this all against all, for their part the Red Birds, took picheo, Mario Sanchez, candidate for pitcher of the year, and Andres Sotillet, one of the best closers of the season, will be defending the colors of the Crepusculares from Monday, although Lara strengthened its pitching, in my opinion they still need a bat that brings runs and is located in the center of the line up.

For their part, the Tiburones de La Guaira added offensive power, with Angel Reyes and Balbino Fuenmayor, they with Acuña and company will make this team one of the most fearsome of the tournament, but I think an arm in their bullpen would have been very useful, the current champions, the Navegantes del Magallanes, went for offense, with the powerful David Rodriguez and by the versatile Bryan Flete, they with the arrival of Gota, will make the electric a new team, I think that along with Caracas they have all the flanks covered, finally, the Tigres de Aragua reinforced their bullpen with David Ramos and Yender Cáramo, both pitchers come from great performance with the Bravos de Margarita.

In conclusion and with my opinion, I can say that Leones, Navegantes and Tigres were the best picks, as clear favorites to the final I see Caracas, now their companion can be any of the 4 remaining teams, although I am leaning towards Tiburones, and as a possible surprise, Aragua, but everything will depend on the streaks and that the players are with their teams throughout the  Round Robin, the first 5 games are important for the aspirations of the teams seeking a pass to the grand finale of the 2022-2023 LVBP tournament. Finally, I would like to wish a happy new year to all the members of this community and of Hive in general, we will read each other next year.


---
---