How do you handle cold runs?
For those of us that live in an area with 4 seasons there is one time of year that is more difficult than others for staying in shape. I prefer to run outdoors because I really don't enjoy treadmills. I will use them if I have to but for the most part I find them to be exceptionally dull. I also find it difficult to actually train to my full potential because I don't know if you have noticed this, but the ground doesn't tend to fly beneath you on a conveyor belt when you are on the street!
This doesn't change the fact that in certain places, it can be a horrifying prospect to go for a run in the winter.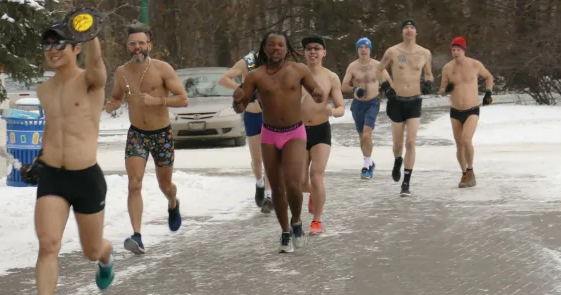 src
This crazy event is for charity, and takes place all over Canada annually
For me the toughest part about going for a run when I can hear the wind cracking at my windows is the same thing that holds me back in the summer and that is simply getting out the front door. This has always been the most difficult part of doing any exercise whether it is weights or cardio. The hardest lift of the day is lifting my ass off the sofa and putting my running shoes on.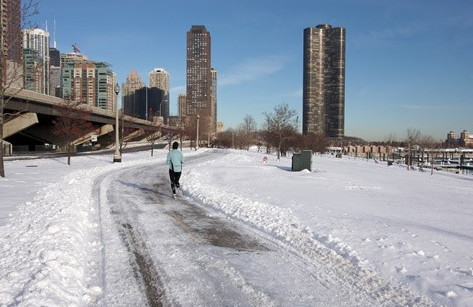 src
Fortunately the city that I live in does a pretty fantastic job of snow removal on the running trails and I am only 6 blocks away from the nearest access point. This can be a bit of a blessing and a curse though because the trail is right next to the Great Lakes and the wind that comes whipping off of that bad boy in the dead of winter feels like something that will kill you quick if you weren't prepared.
It seems as though the city has prepared for this in some regard because around the trail there are these booths that have heating "broiler" on the ceiling and also drinking water inside the glass enclosure. Stay in there for too long at your own peril though because getting warmed up like that simply makes the outdoors seem even colder than it was before.
Crazy weather aside, I actually feel like cold weather inspires me to work a lot harder than I normally would because I have to keep my body temperature up. This is in stark contrast to the rather brutal summers that we also have here where it feels as though I have to either take it easy or face heat exhaustion. Even though the cold does motivate me to move faster I would still it rather not be so cold but this is one of the downsides of living in Chicago.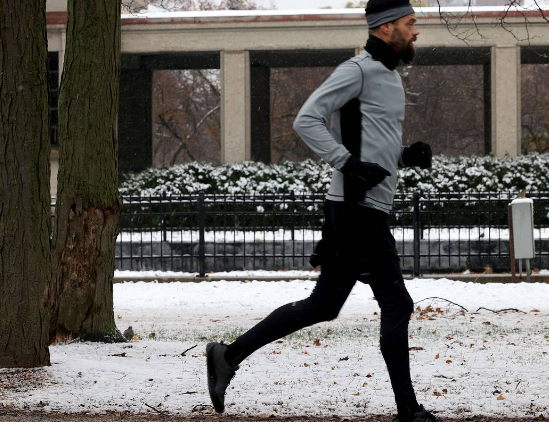 src
I've always thought that leggings looked ridiculous on me... I still do. However, a few years back i bought a pair anyway and I have to say that they make a world of difference. Running with long training pants on is too restrictive and running with shorts on is entirely too cold. So i guess we have no choice. There are various manufacturers of high end cloths that they claim are better for this and this might be true but for the most part I think it is all marketing so they can charge you $100 for something that cost them $1 to manufacture. I bought some $8 ones at a discount athletic store and they work just fine. I haven't died from frostbite yet.
I think if you were going to spend some money on any part of your cold-weather running outfit it should be the socks. Keeping the moisture off of your feet while also keeping your toes warm is a tough one to pull off but the better socks manage to do this. I don't have any specific brand or style in mind but just don't expect the 6 for a dollar ones to work as well as the ones that cost $12.99 for a pair.
I run a lot less in winter than I do other times of year but I actually go out of my way to make time for it to happen. Fitness isn't something that just happens, you have to plan for it and get out there and actually do it. Even if it is cold!
---
---