Músculos, Toalla, Mancuerna... El Tridente / Muscles, Towel, Dumbbell... The Trident
---
Orgullo #hive para toda la familia #deportiva de @fulldeportes y el mundo. Seguimos activos ofreciendo movimientos divertidos y creativos. No se pierdan la rutina de hoy porque vamos a trabajar un buen conjunto de músculos, entre ellos bíceps, triceps, antebrazos, hombros, trapecio. Además siempre con acción directa en el abdomen y piernas. Los glúteos también se ven favorecidos. ¿Y como lo vamos a hacer?, bueno amigos consigamos una toalla, si así como lo oyes, una toalla que pasaremos por la mancuerna rusa casera. La toalla servirá para mantener suspendida la pesa. No se preocupen, no van a salir corriendo a buscar mancuernas porque pueden usar carteras, bolsos, potes de agua de 5 litros, en fin ustedes pueden escoger el peso que deseen. Si sienten curiosidad en el video tendremos todo los detalles. Ejercicios novedosos solo para tí. Jamás olvidar alimentarse sanamente, hidratarse y descansar. Por otra parte durante toda la rutina, mantener abdomen y glúteos contraídos.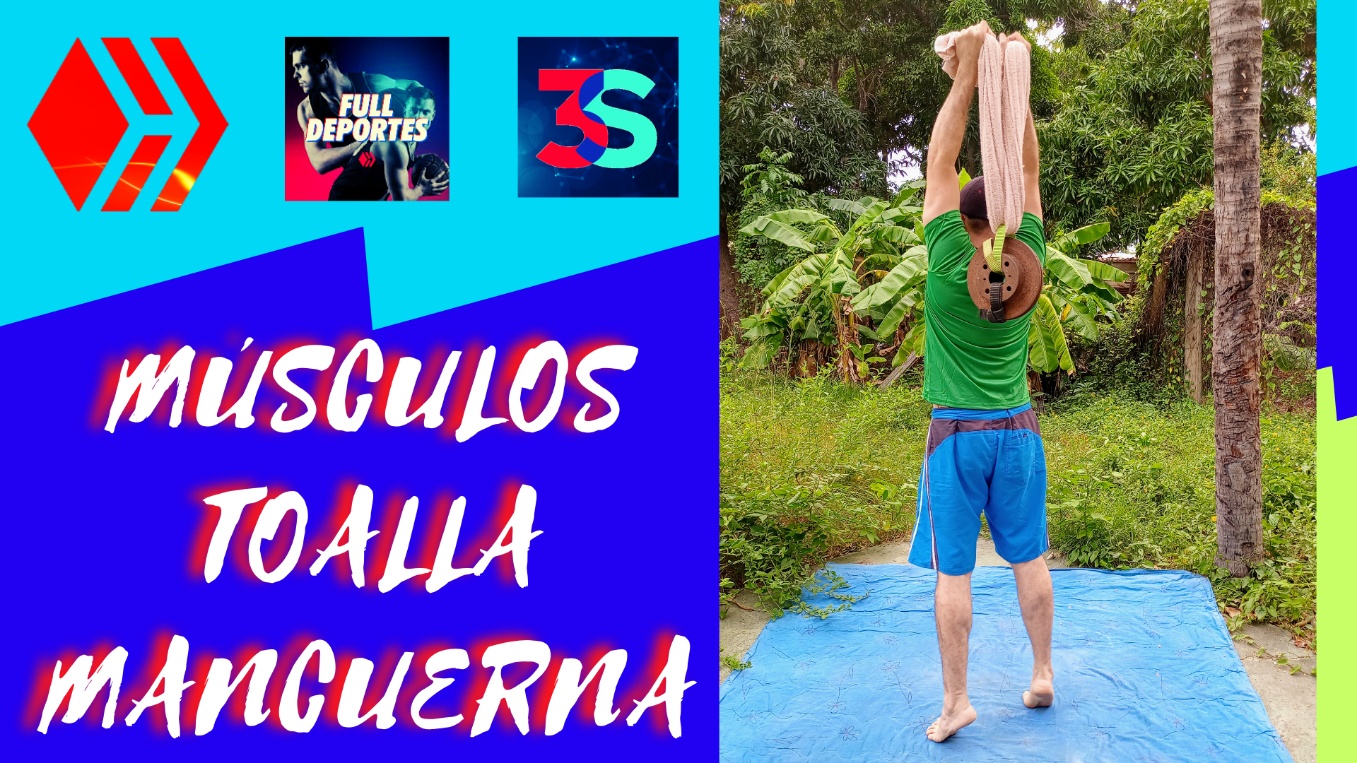 Imagen de mi Autoría Editada en/Image of my Authorship Edited in Canva
Gif creado en la aplicación/Gif created in the application HD Video To Gif Converter
Visita mi canal de/Visit my chanel 3speak
Logos propiedad de/ logos owned by @hiveio, @fulldeportes, @threespeak
Pride #hive for the whole #sporty family of @fulldeportes and the world. We are still active offering fun and creative moves. Do not miss today's routine because we are going to work a good set of muscles, including biceps, triceps, forearms, shoulders, trapezius. Also always with direct action on the abdomen and legs. The buttocks are also favored. And how are we going to do it? Well, friends, let's get a towel, if that's how you hear it, a towel that we will pass through the homemade Russian dumbbell. The towel will serve to keep the weight suspended. Don't worry, you are not going to run out looking for dumbbells because you can use purses, bags, 5-liter pots of water, in short, you can choose the weight you want. If you are curious in the video we will have all the details. New exercises just for you. Never forget to eat healthy, hydrate and rest. On the other hand, throughout the routine, keep the abdomen and buttocks contracted.

Activos con los calentamientos. Cada ejercicio tiene una duración de 3 minutos. Ojo, son movimientos referenciales, ya que ustedes pueden realizar calentamientos propios. En relación a la rutina central en cuestión, el primer ejercicio bíceps con toalla en mancuerna, consiste en tomar con las manos cada extremo de la toalla, cada quien con la distancia que deseen. Brazos extendidos al frente. Las palmas de manos miran hacia arriba. Piernas separadas. Abrimos a una distancia igual a los hombros. Ya en posición, flaxionamos los codos llevando las manos a la altura de hombros, extendemos, y ejecutamos 20 repeticiones en 4 series. Músculos trabajados, en primer lugar bíceps. En segundo plano abdomen, glúteos.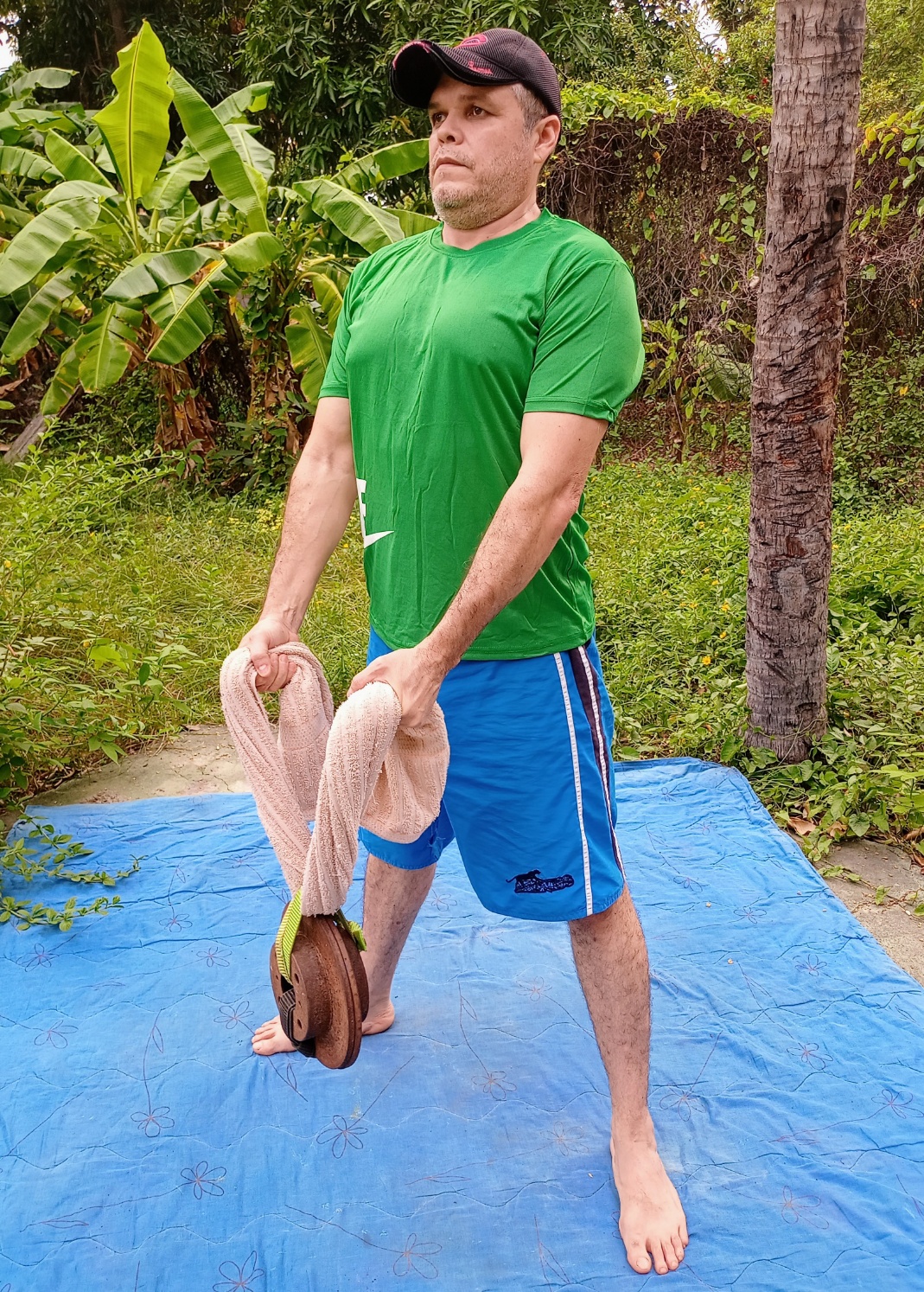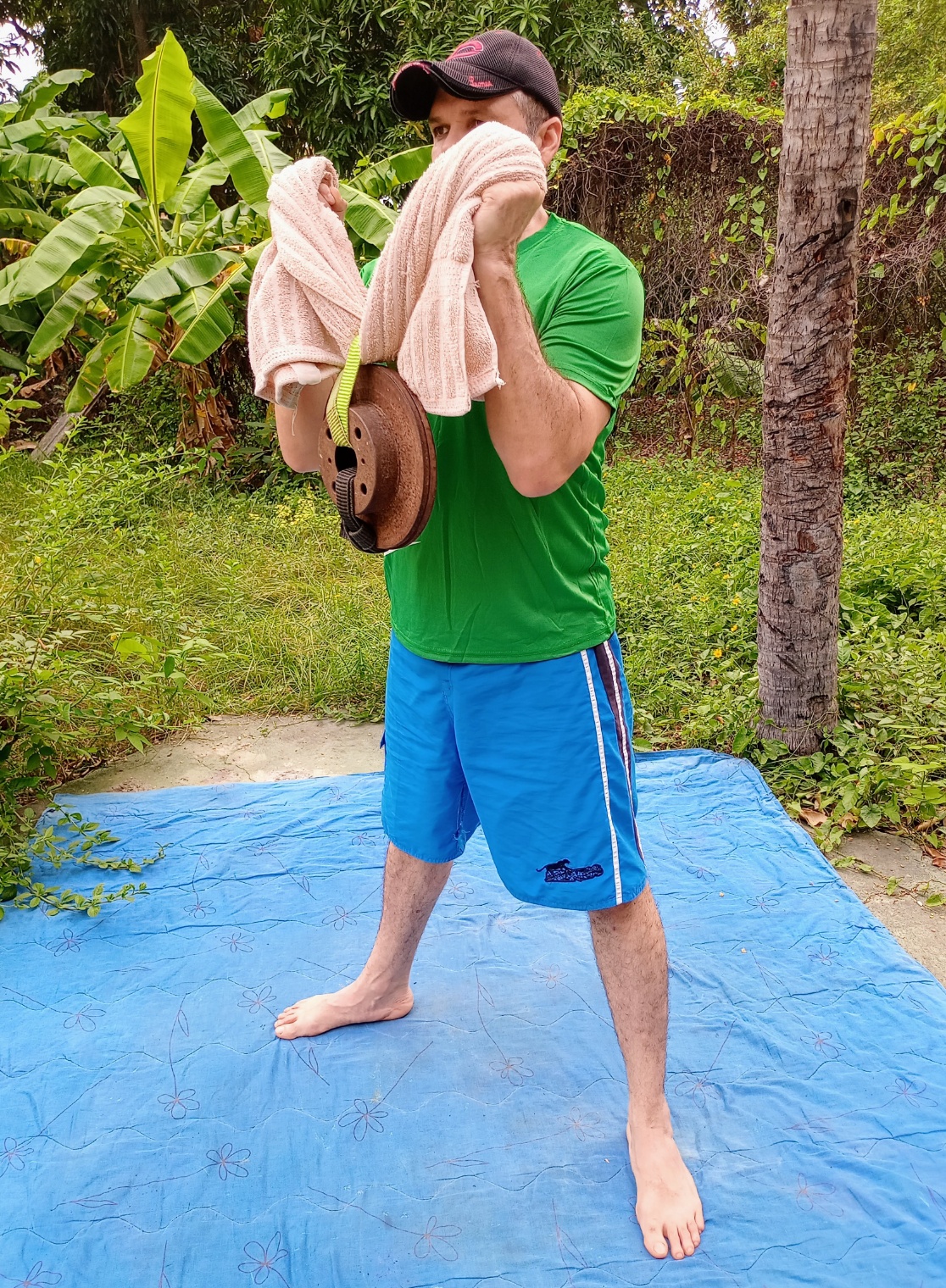 Active with the warm-ups. Each exercise lasts 3 minutes. Be careful, they are referential movements, since you can perform your own warm-ups. In relation to the core routine in question, the first exercise dumbbell towel biceps, consists of taking each end of the towel with your hands, each with the distance they want. Arms extended in front. The palms of the hands face upwards. Legs apart. We open at a distance equal to the shoulders. Once in position, we bend our elbows bringing our hands to shoulder height, we extend, and we execute 20 repetitions in 4 series. Muscles worked, first of all biceps. In the background abdomen, buttocks.

Segundo movimiento. Triceps y pantorrilas. Igualmente tomando la toalla por cada extremo, la ubicamos junto con la pesa detrás de la espalda con los codos flexionados y manos hacia abajo. Siempre con todo detrás de la espalda. Piernas un poquito separadas. Luego, extendemos los brazos hacia arriba, y al mismo tiempo elevamos ambos talones. Volvemos a posición incial y repetimos el movimiento 20 veces en 4 series. Músculos activos, triceps, abdomen, glúteos, pantorrilas.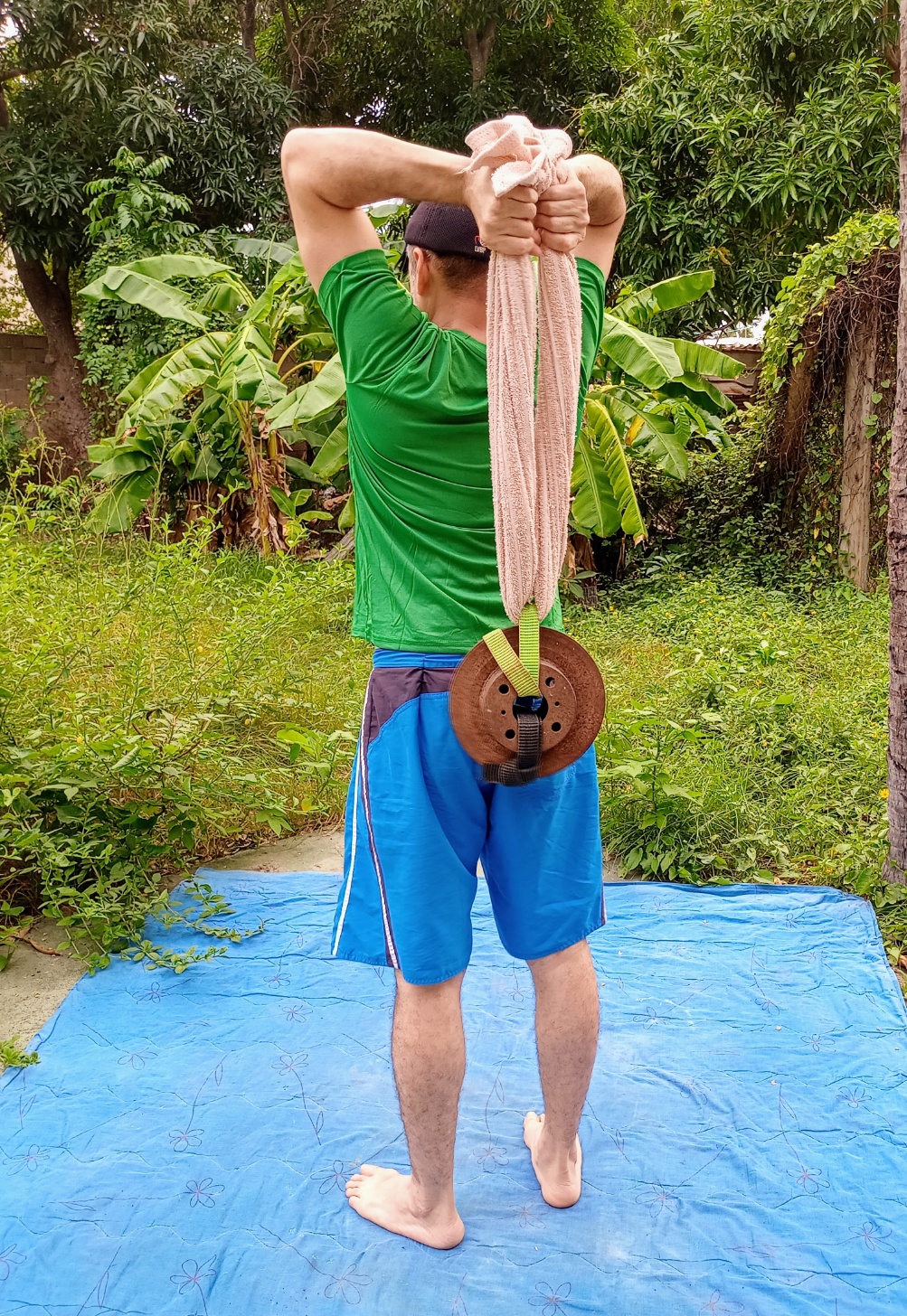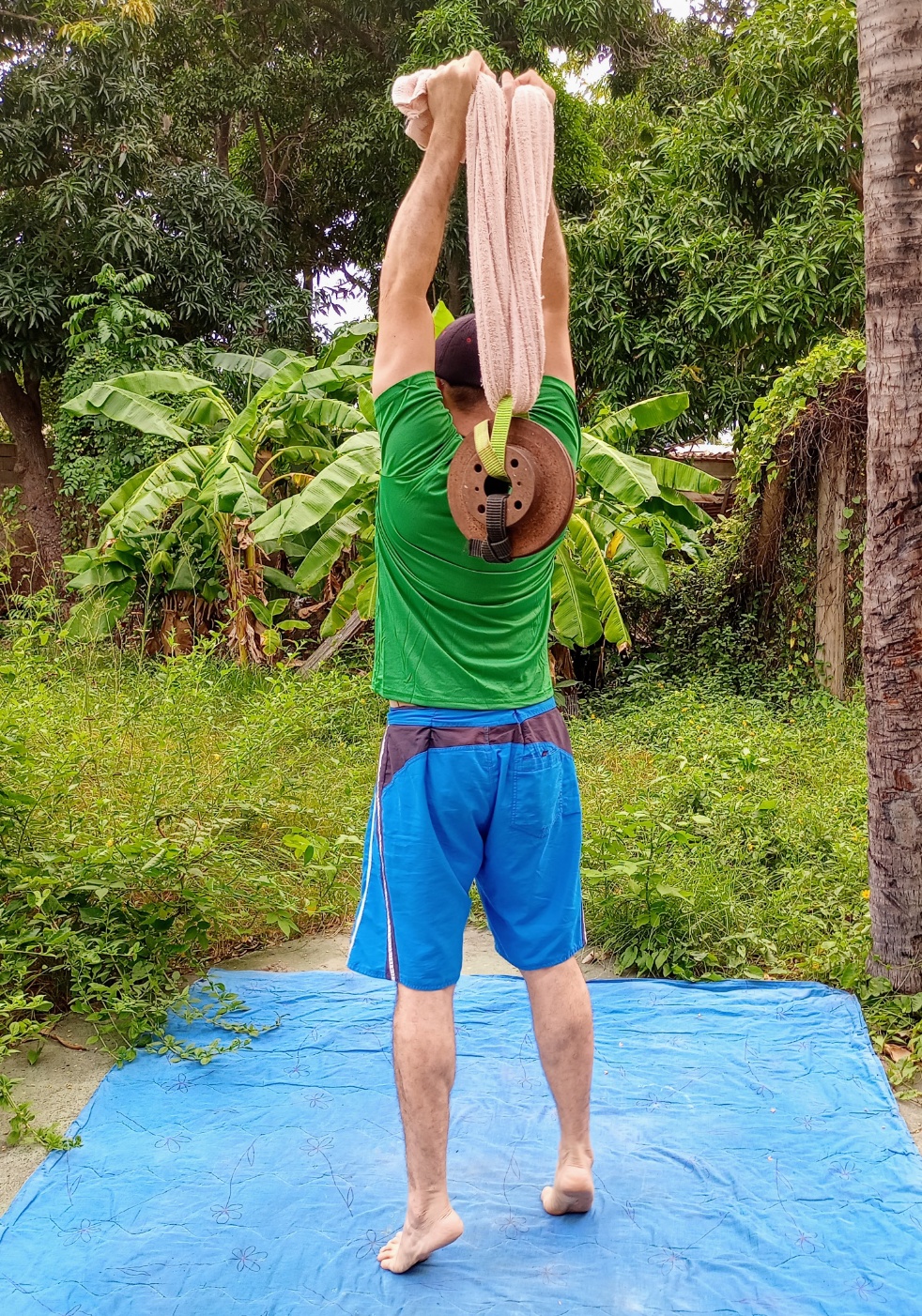 Second movement. Triceps and calves. Likewise, taking the towel at each end, we place it together with the weight behind the back with the elbows bent and hands down. Always with everything behind your back. Legs a little bit apart. Then, we extend the arms upwards, and at the same time we raise both heels. We return to the starting position and repeat the movement 20 times in 4 series. Active muscles, triceps, abdomen, glutes, calves.

Tercera estación. Bíceps invertido tipo martillo + sentadilla. Piernas separadas. Tomamos la toalla por cada uno de sus extremos con palmas de manos casi hacia adentro. Extendemos brazos al frente a distancia igual a hombros. Flexionamos codos, y con el movimiento de antebrazos, llevamos las manos a nivel de hombros. Al mismo tiempo hacemos la sentadillas. 20 repeticiones en 4 series. Músculos activos. Hombros, trapecios, bíceps, antebrazos, abdomen y tren inferior. No cambien de canal, porque si de #deportes se trata, los líderes están en @fulldeportes. Sintoniza @threespeak lo mejor en #videos.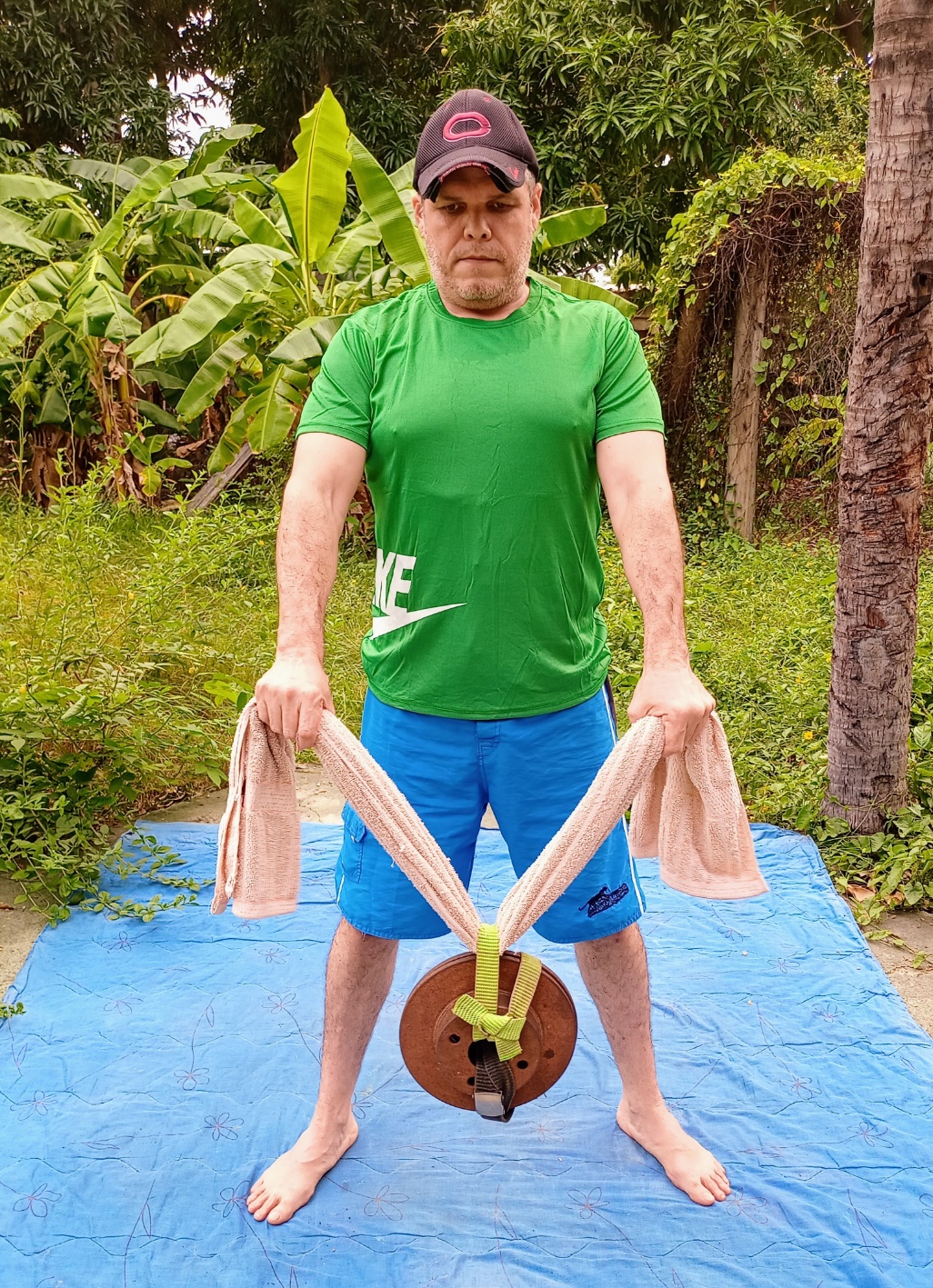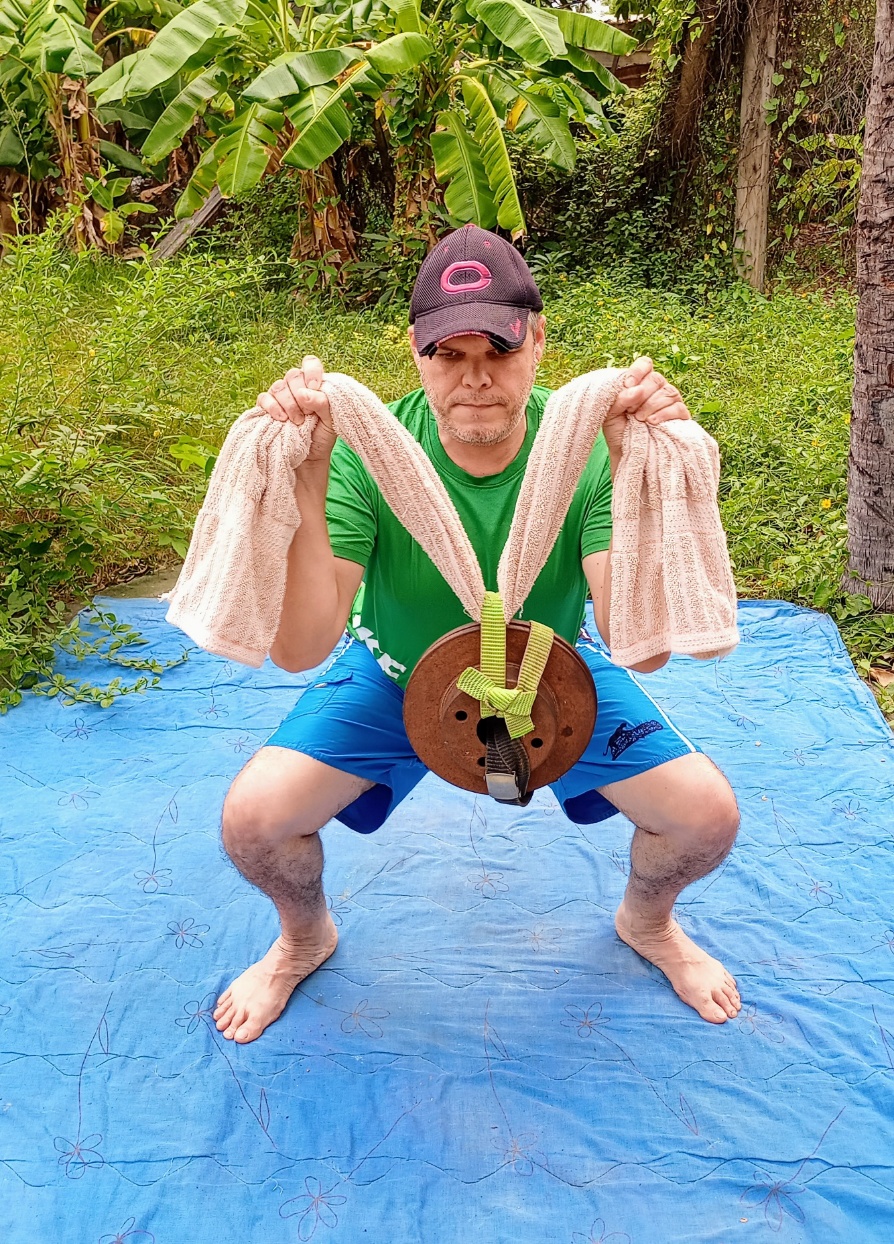 Third station. Inverted hammer biceps + squat. Legs apart. We take the towel by each of its ends with our palms almost facing inwards. We extend our arms in front at a distance equal to the shoulders. We bend elbows, and with the forearms movement, we bring our hands to shoulder level. At the same time we do the squats. 20 repetitions in 4 series. Active muscles. Shoulders, traps, biceps, forearms, abdomen and lower body. Do not change the channel, because if it is #sports, the leaders are in @fulldeportes. Tune in @threespeak for the best on #videos.

...Gracias Por Visitar...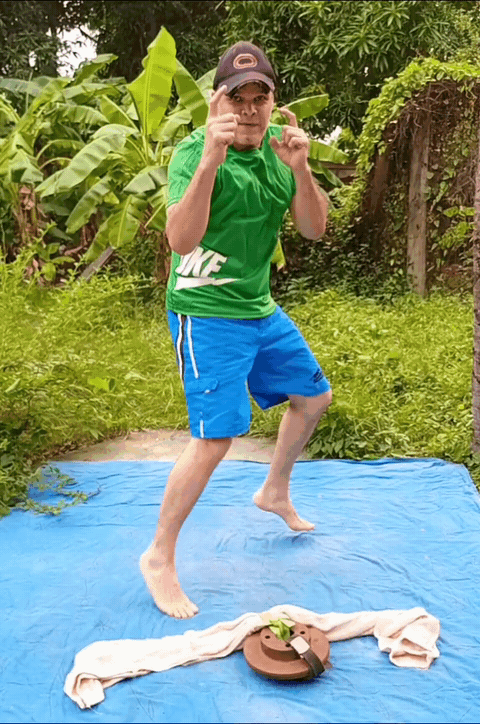 ...Thanks for visiting...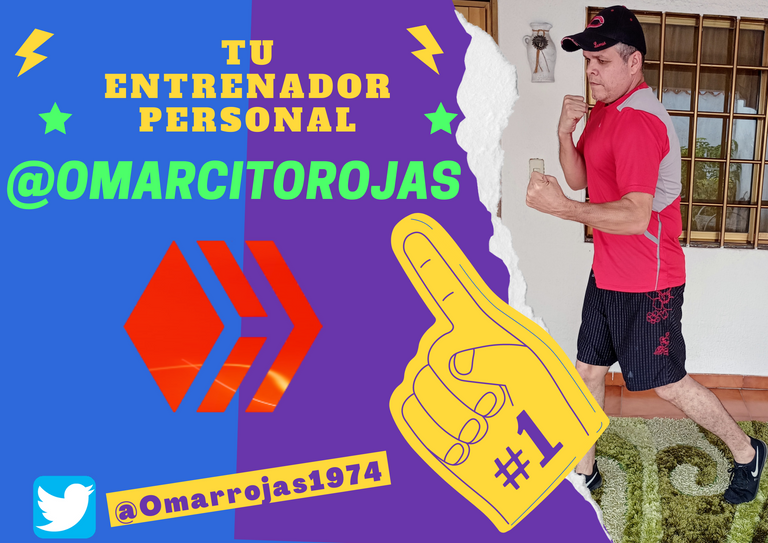 Imágenes Fotográficas y video, tomadas por mi amor Suhaill Núñez.
Photographic images and video, taken by my love Suhaill Nuñez
Fondo Musical FREE Mortal Kombat Theme Instrumental/Beat (2013) Mortal Kombat Xl
Musical Background FREE Mortal Kombat Theme Instrumental/Beat (2013) Mortal Kombat Xl
Sorry. English is not our native language. Therefore, a web translator is used for texts in English. (Spanishdict)
---
▶️ 3Speak
---
---