Actifit Stats Report = 4 May 2022 / AFIT giveaway contest!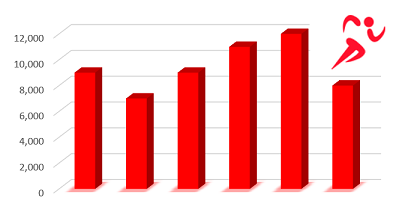 Welcome to my daily Actifit and personal statistics update. All information is taken directly from the Blockchain and Actifit database.
Today we have another AFIT giveaway contest, where you can win AFIT by predicting the total activity count for the daily Top 20 actifitters.
There are no restrictions in participating other than providing your answer within 24 hours after this report was published and you need to leave your answer in the following format:
!TOP20 XXXXXX
For example when you provide "!TOP20 600123" in the comment section, you think that the total activity count of the Top20 actifitters will be 600123.
To support you in making a reasonable prediction, you can check the chart "TOP 20 Daily Activity Count" in the stats below. This chart contains the results of the last 4 weeks.
The three lucky winners of the contest, whose predictions are the closest to the actual total number, win 250 AFIT for the best one, 150 AFIT second best and 100 AFIT for the third-best estimate.
Today's contest will be for the Top 20 activity count on 5 May. The results will be announced on 7 May.
If you have any questions, leave a comment below and good luck!
And now to the rest of my daily report.
Actifit reward cycle results
This section provides the results from 2 May. The following tables and charts contain the Top 20 leaderboard with the highest Activity Count and the Activity Count distribution.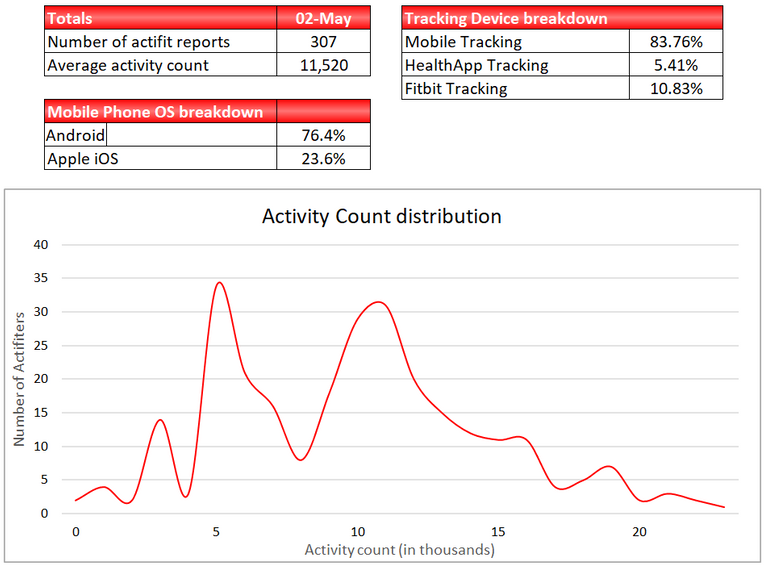 Actifit all-time results
In this section, you will find the developments since the start of
@Actifit
. The following tables and charts are included:
Actifit Users, provides the daily growth in new Actifit users.
TOP 20 Daily Activity Count, provides the combined sum of activities per day for the Top 20 users.
Actifit retention rate shows the number of accounts that have posted at least one report over a 10-days period.
Mobile Phone OS breakdown contains the breakdown in the two types of phones supported: iOS and Android.
Tracker Device breakdown contains the breakdown in approach to capture the Activity Count: mobile phone sensors, Fitbit or HealthApp.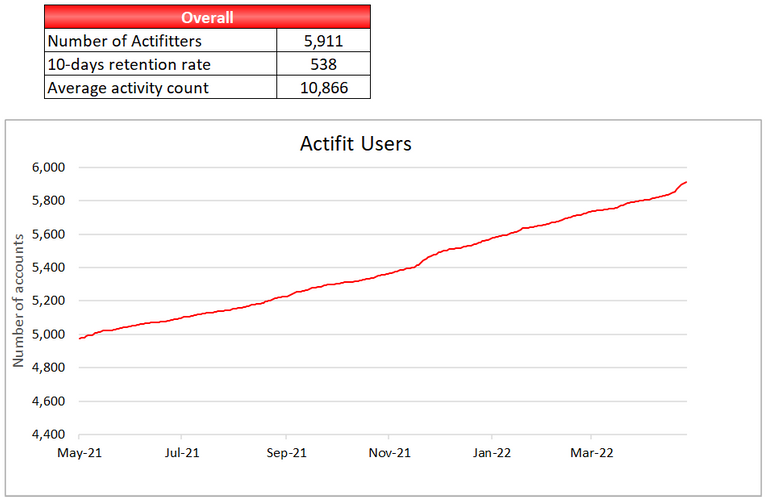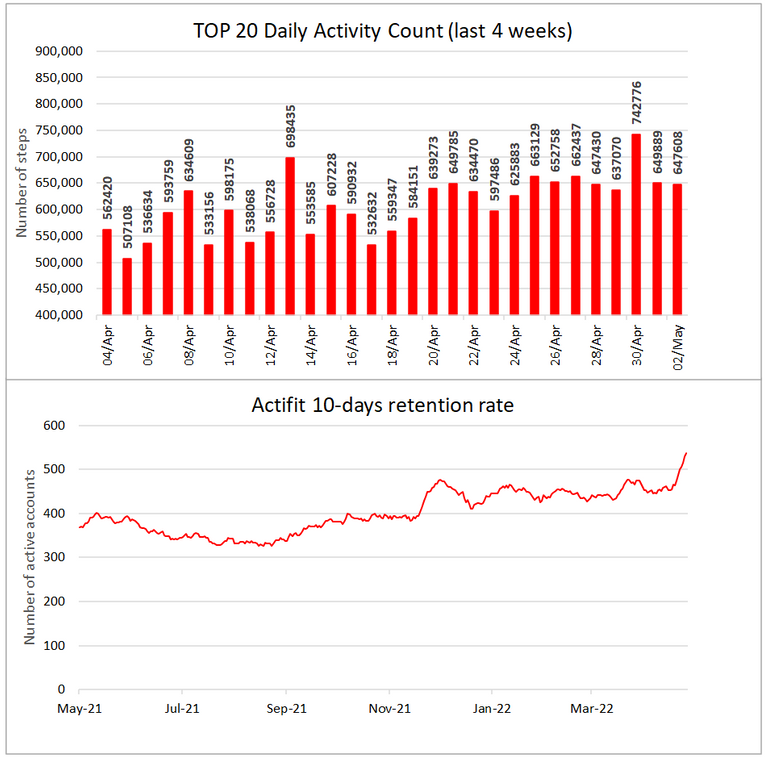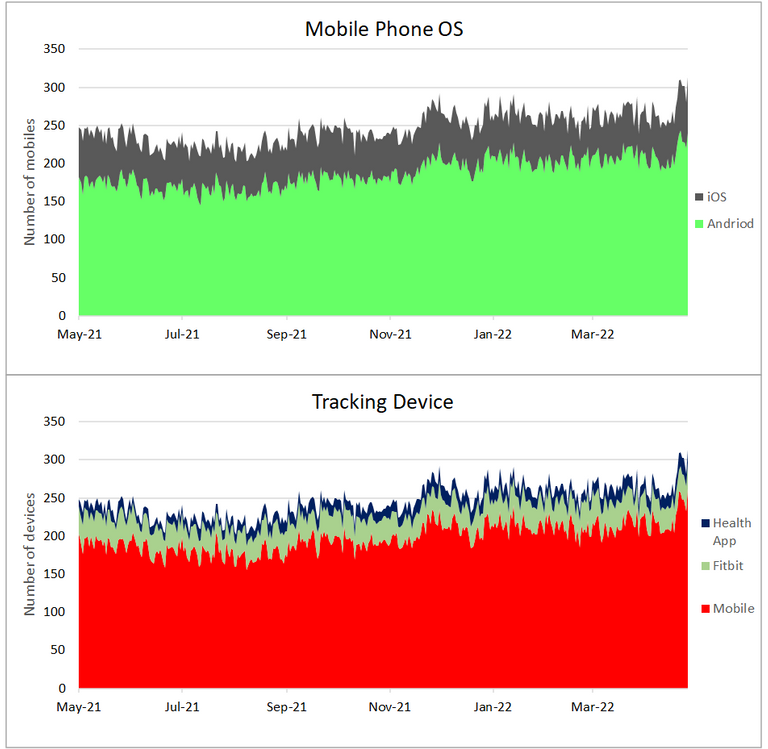 Rewards
Since the start of the project, Actifit has provided rewards to members posting their reports. In the table below you'll find the daily and overall granted rewards. The charts illustrate the number of rewards sent on a daily basis.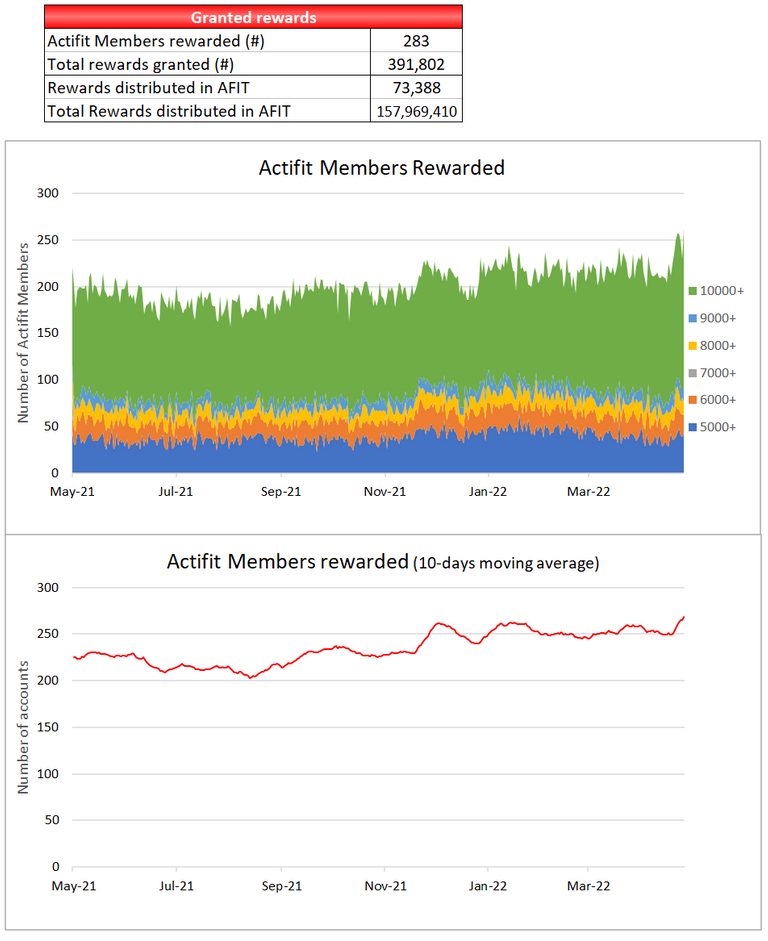 Personal results
Finally, here is the overview of my personal performance since I started with Actifit.
This concludes my daily update, until the next time and keep Actifitting! 😀

This report was published via Actifit app (Android | iOS). Check out the original version here on actifit.io




04/05/2022

10728

---
---