On Saturday I completed my first full ironman distance race (3.8k swim, 180k bike, 42.2k run).
Ten months ago as New Zealand was coming out of its first lockdown of the pandemic I decided that I was finally ready to tackle an ironman. I had done 4 half ironman races at that stage- and although I had always said I would never do an ironman until my half ironman bike leg was under 3 hours (I have since made it under the three hour mark) I had managed a 3:03 which I thought was close enough. In all honesty I hadn't really been excited to do one, but after the lockdown where I had been able to do some great training, I was finally excited about the idea of doing one. I was also one of the last of my close group of friends to be doing a full ironman!
@run.vince.run had already completed three ironman races and he was thinking about doing the ironman coach training. I knew he would support me and develop a training plan that suited me. He knows me better than anyone else so who better than to be my coach! He wasn't planning on doing another ironman distance race but seeing as he would be doing a majority of the training sessions with me he signed up a month after I did.
Because of the pandemic and not being able to travel overseas I signed up for the New Zealand Ironman which is held in Taupo in March every year. I was familiar with the course having raced a half ironman on there in 2019. I think that is both a blessing and a curse. I know just how windy the bike leg can get but I also know that there are no nasty hills on the run or ride and that I swim really well in a lake because I am not so buoyant- in the ocean my feet often come out of the water when I am in a wetsuit.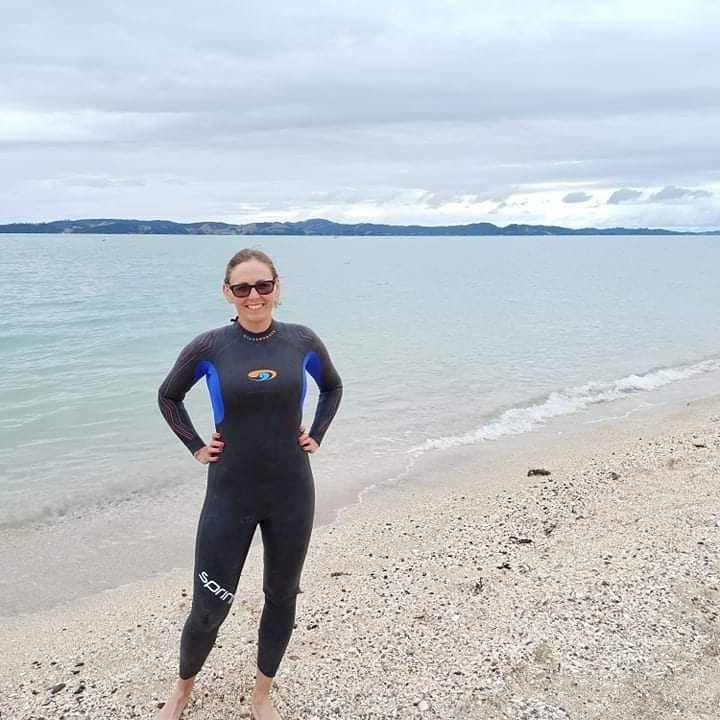 Details of my year of training is available in another post so I won't repeat it all here. I was also lucky because as a school teacher I have 6 weeks of holidays in December and January which fits in perfectly with peak training and meant that I was able to recover well after the longer and harder sessions because I was not working. I referred to those 6 weeks as my time as a 'professional triathlete' (I was getting paid and all I was doing was ironman training).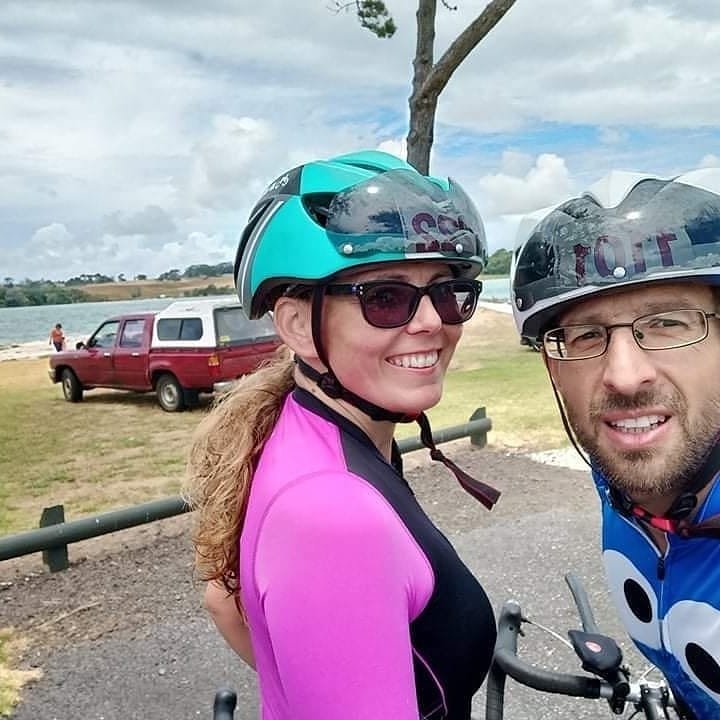 On a long training ride with Vince
In January Vince and I competed in the Mount Festival half ironman. The race was six weeks out from the ironman. I didn't really taper, and while I really wanted to do under three hours on the bike and two hours on the run (neither of which I had done during a half ironman race) I was not sure how I would go at the end of a typical week of training. I needn't have worried. I took another 18 minutes off my PB from the same race the year before (I went from 5:50 to 5:32). I finally got my sub 3 bike (2:56) and sub 2 for the run (1:54). I raced really well and it was a huge confidence builder six weeks out from Ironman New Zealand.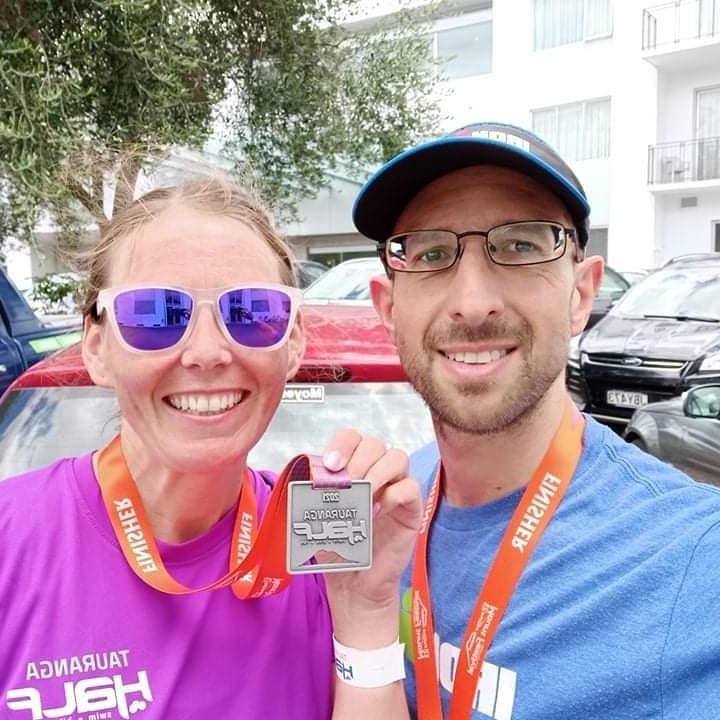 After Tauranga Half
On Valentine's day it was announced that New Zealand was going back into lockdown after some community cases (which happened to be in the suburb Vince and I live in). I was nicely distracted from the fear of the ironman being impacted by a proposal from Vince! (of course I said Yes!).
That lockdown only lasted three days, so our training didn't suffer that much. Then, 6 days before the race, we got the terrible news that we were going back into lockdown for a minimum of 7 days. The race was not going ahead. But the team at Ironman did an amazing job and reorganised the race for three weeks later. It did mean having to go back and do some longer training sessions (I didn't think having an extra long taper would have been good for my confidence going into the race).
So on the 27th of March I was at the start line of my first full ironman. To say that I was nervous was an understatement. I was lucky to have my fiancé beside me. He used EFT to calm my nerves.
The Swim:
As I said earlier I normally swim well in a lake. Because the race was three weeks later the water temperature had dropped a little and after an hour in the water I was starting to feel the cold. There were about 550 swimmers in a mass swim start. I purposely started to the left of the field so I wouldn't get overwhelmed by everyone. I swam well, and while there were always people around me I never felt like I was being crowded.
I completed the swim in 1:17. I could probably have swum faster than that (My half swim is 34/35 minutes).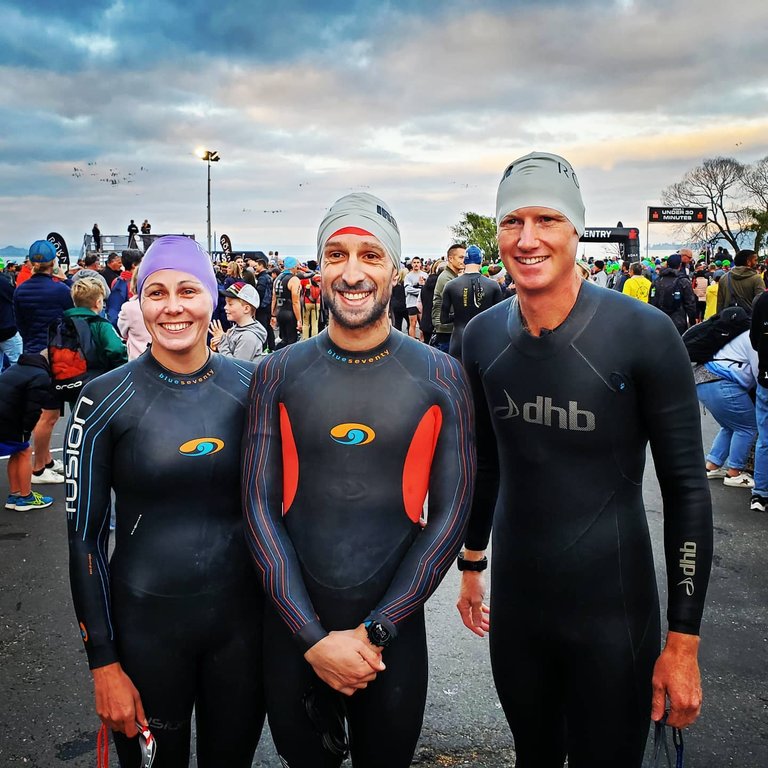 Vince and I with our friend Dan, who was also doing his first ironman.
The Bike:
The bike leg was the one I was most worried about. In training we had done a few 5 hour rides, and I had done a maximum of 130k in training. On race day there was a head wind on the way out, which meant a tail wind on the way back into transition. The winds were light on the first leg, and I was riding well until the 82k mark. We had been told to wear arm warmers on the bike and gloves to prepare for the colder weather because of the later date of the race. I think I overheated. I started to feel dizzy. I stopped my bike and unclipped. I am not sure what happened next but I ended up on the ground with my bike on top of me. The only explanation I can come up with was I fainted.
Luckily (well depending on how you view it- but I think I was lucky) no one saw me fall. I think if an official had seen that would have been the end of my race. I stood back up and was resting my head on my bike seat. An official came along to check on me. I explained that I was feeling dizzy and he very kindly reassured me that I had plenty of time to spare. Tail end Charlie (the last rider) was 40k behind me, and I had over five hours before the course cut off on the bike. After about 15 minutes I could stand up with out getting head spins and he helped me back on the bike. Because of the fright I got I took the rest of the bike a lot more cautiously. Until stopping I had been on track for a 6:30 bike leg (and was getting faster and faster). I completed the bike leg (the head winds on the second lap were definitely stronger) in 7:21. I am a little disappointed with my time, but I know I overcame a major obstacle and didn't give up when others may have.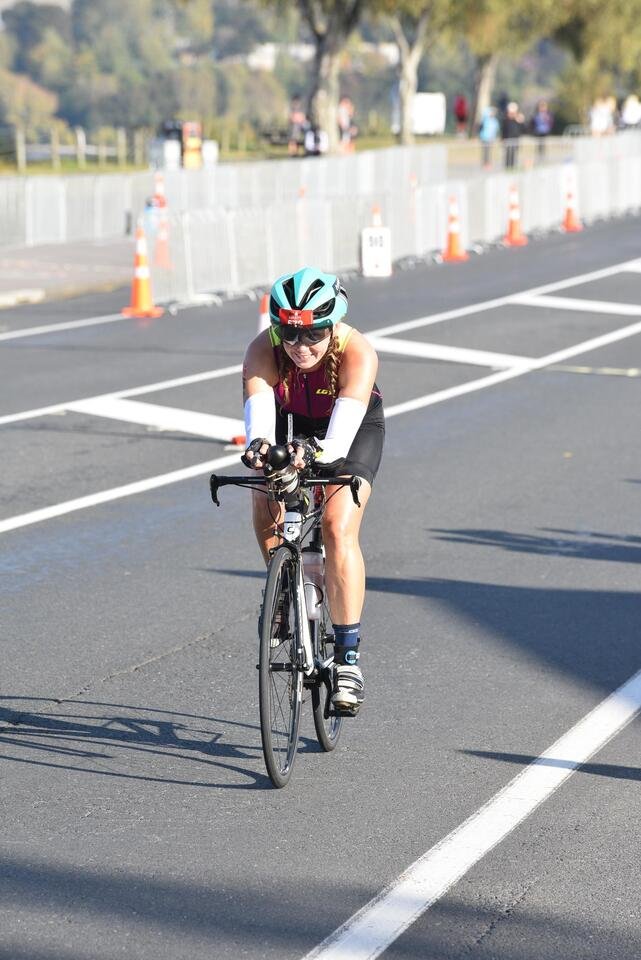 On the bike leg
The Run:
I was a runner before I was a triathlete and have completed 13 marathons so I knew I could make it round four laps of the run course. The run was a highlight for me for many reasons. As I started the run I saw Vince finishing his second lap (he is amazing and was 21k in front of me!). We stopped for a brief kiss and heard someone in the crowd say "I hope they know each other" which made me laugh. Vince responded to him with "She's my fiance" (I don't think I will get sick of hearing that!). My race plan had been to run as much as I could, walk the hills if I needed and walk through the aid stations. I didn't stick to my race plan- but in a good way…. I still walked the aid stations but managed to run the hills. I had so many spectators commenting on how well I was running and how strong I looked. I felt strong. I was passing a lot of people. I kept expecting Vince to catch me on my first lap and was looking forward to chatting to him for a bit before he went on, but after my first lap he hadn't passed me. I did see him again as I was heading out on my third lap and Vince was heading towards the finish. He was finishing strong and I got to yell at him "You've got this". At the end of my third lap I was still running strong, and only walking the aid stations. I had a colleague at work who was in Taupo for the weekend, she would come out of where she was staying for each lap of the run and run alongside me for 200m (up one of the hills on the course). Each lap she was peppering me with questions from her family, who were all there to cheer me on at the 40k mark. She told me afterwards that seeing me run and look like I was having a good time, while most of the other runners did not look as good, was inspiring and now her and her family are thinking about doing a half ironman. I am grateful that I can inspire someone else to take part in this sport. I finished the run in 4:32 which was what I was hoping to do.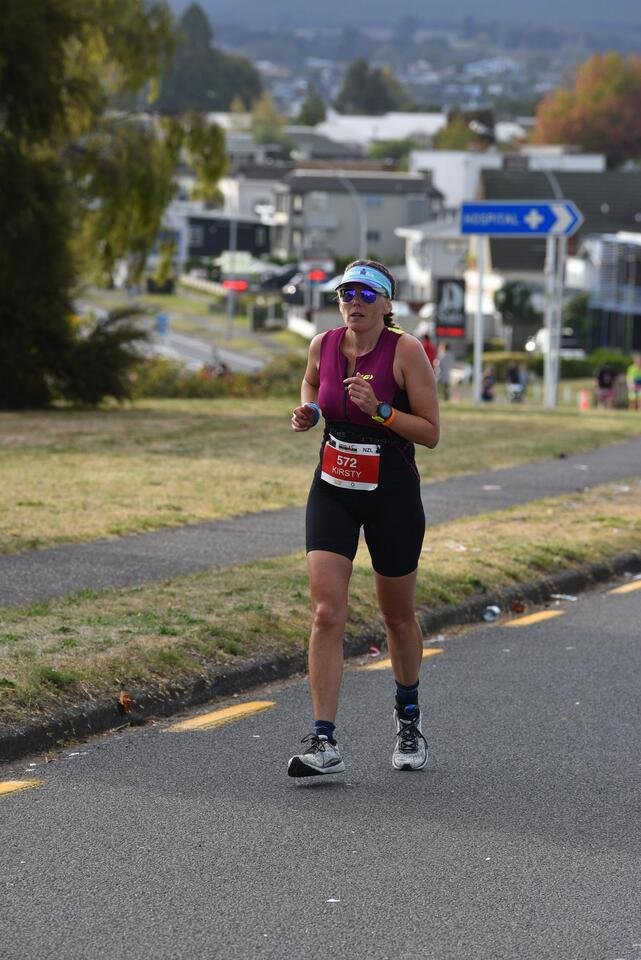 Up a hill on the run leg
The Finish:
I have been dreaming about hearing those five words "Kirsty, you are an ironman" for months, and it did not disappoint. The finish line was an amazing feeling- nothing would wipe the grin off my face. I was waving at the spectators and stopped to high five Vince. I was elated. I had overcome the mishap on the bike, I had run strong and I was able to finish with a smile on my face in 13:27.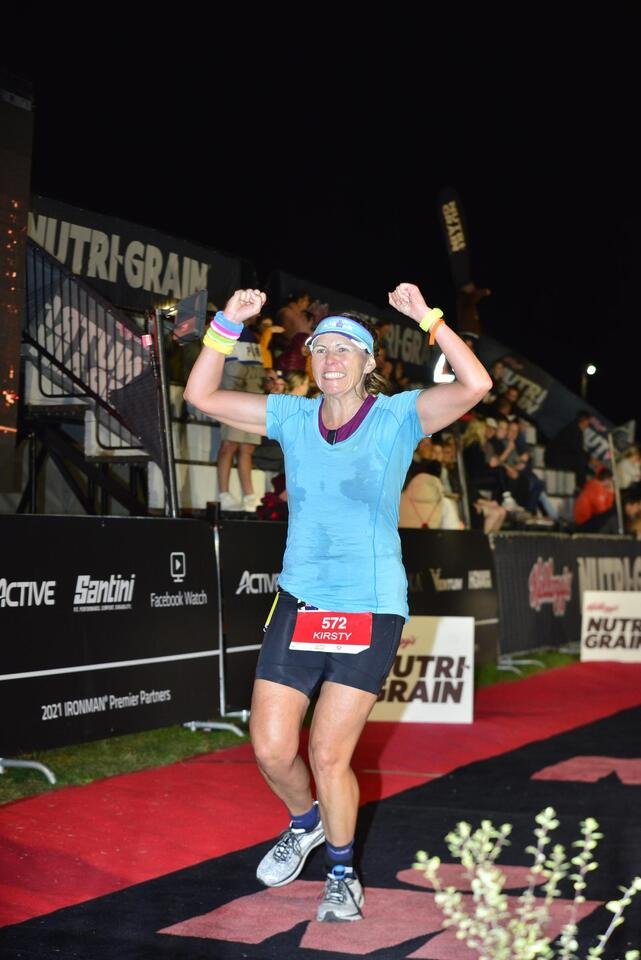 The finish line and all the smiles.
Post Race:
I felt so cared for by the volunteers after the race, they took me to talk to Vince and then made sure I was fed and sat on a chair. The ironman was the hardest thing I have ever done. Immediately after the race I was never doing another one.
Less than 48 hours after the race… I was looking for another one! I want to do better on my bike this time. I know I am capable of a faster time.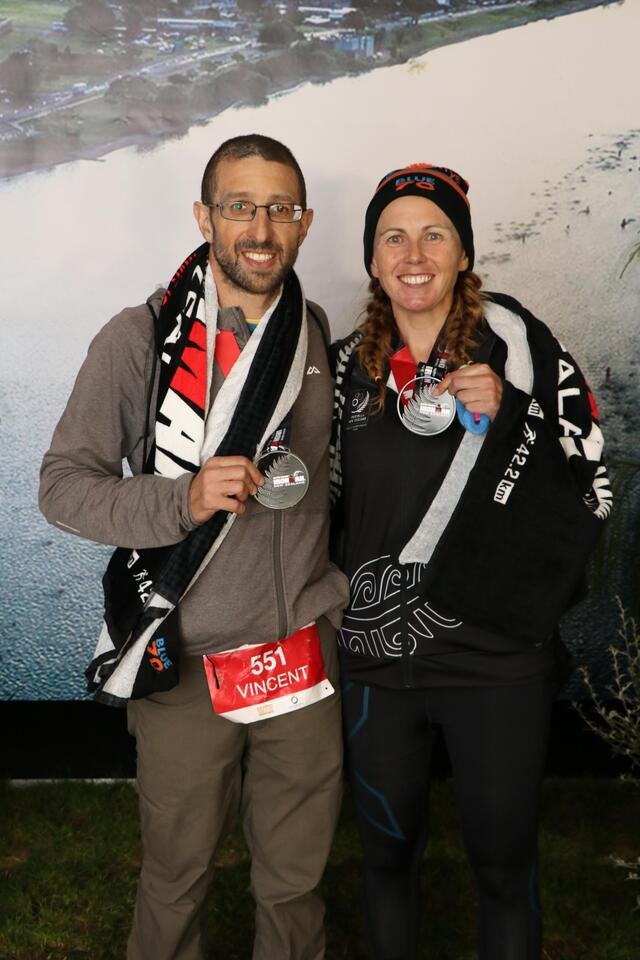 Takeaways:
I have learned that I am stronger than I thought.
My running has improved because of my cycling and I have room to improve in both of those disciplines even further.
I don't normally enjoy training but I mostly enjoyed training for an ironman.
I call myself a triathlete now, rather than just a runner and a swimmer.
I have the best fiancé, training partner and coach I could ask for, and I can't wait to marry my best friend.