Saludos nuevamente a toda la familia #hive y @sportstalksocial. A lo largo de la vida, hemos visto y homenajeado las carreras deportivas de atletas masculinos; sin embargo, el día de hoy, no será así, ya que le rendiremos tributo a la mujer, a las féminas, que sin importar el campo de acción, merecen todo nuestro respeto y admiración; todo ello, en atención a que desde los inicios del deporte, éllas han destacado en diferentes disciplinas, tanto a nivel nacional como internacional, tal vez sin enterarnos de toda su trayectoria; pero, prepárense para un hermoso recorrido, y puedan conocer estas glorias deportivas con nombre de mujer. Síganme los pasos y vamos a la acción.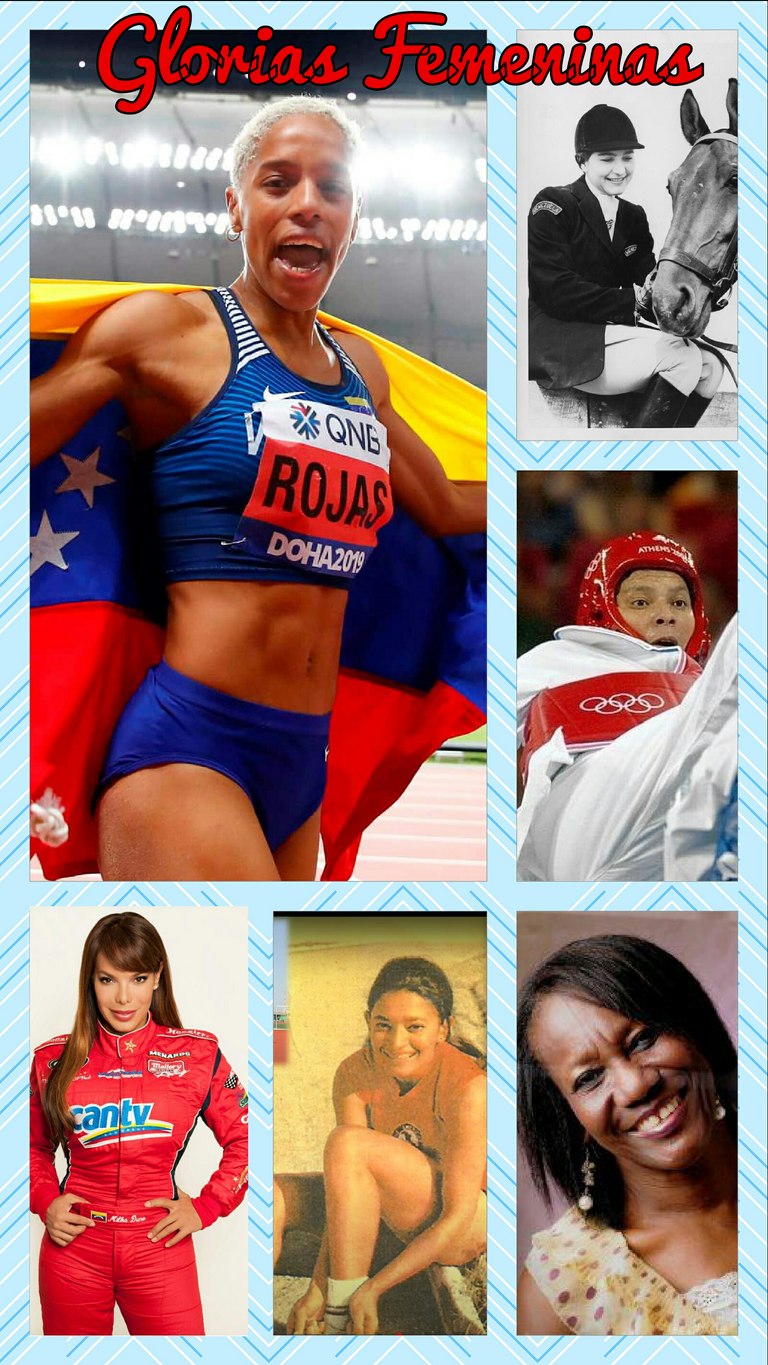 Yulimar Rojas-Flor Isava-Adriana Carmona-Elsa Antunez-Gisela Vidal-Milka Duno
Greetings again to the whole #hive family and @sportstalksocial. Throughout our lives, we have seen and honored the athletic careers of male athletes; However, today, it will not be like that, since we will pay tribute to women, to females, who, regardless of the field of action, deserve all our respect and admiration; All this, in view of the fact that since the beginning of sport, they have stood out in different disciplines, both nationally and internationally, perhaps without knowing their entire career; But, get ready for a beautiful tour, and you can meet these sporting glories with a woman's name. Follow my steps and let's take action.

Desde hace mas de 6 decadas, la actividad de la mujer en el ámbito deportivo era bastante limitada, sin embargo, ya nuestras atletas venezolanas estaban inmersas en ese mundo. En un inicio era pista y campo lo que más atraía a las criollas; luego incursionan en nuevos deportes donde han logrado ubicarse en el tope del deporte femenino mundial. Muchas de estas atletas olvidadas en todos los sentidos, otras, aun marcan la pauta y se mantienen activas. Pero sigamos adelante y disfruten de este pasaje. Fuente
For more than 6 decades, the activity of women in the sports field was quite limited, however, our Venezuelan athletes were already immersed in that world. At the beginning, it was track and field that most attracted the Creoles; then they dabble in new sports where they have managed to place themselves at the top of world women's sport. Many of these athletes forgotten in every way, others, still set the tone and remain active. But let's go ahead and enjoy this passage. Source

Flor Isava Fonseca
Esta hermosa dama, nació el 20 de mayo de 1921 en Cumaná, estado Sucre. Sus padres estaban dedicados a la filantropía, sobre todo a la Cruz Roja Venezolana, de ahí surgieron muchos viajes, por los que Flor se pasó sus primeros años en Europa. Tuvo que elegir entre el tenis y la equitación, tomando la decisión, eligió los caballos. Seguidamente, comienzan las creaciones a manos de Flor Isava Fonseca, pionera en el deporte, forma la Federación Venezolana de Deportes Ecuestres (FVDE) en 1947. Le sigue el Campeonato Confraternidad de Amazonas y se encarga del Suramericano de Salto, llevándolo a toda latinoamérica. Clasifica a las Olimpíadas de Berlín en 1956, pero una fractura de fémur le impidió competir y la condenó a 10 años de inactividad. Fuente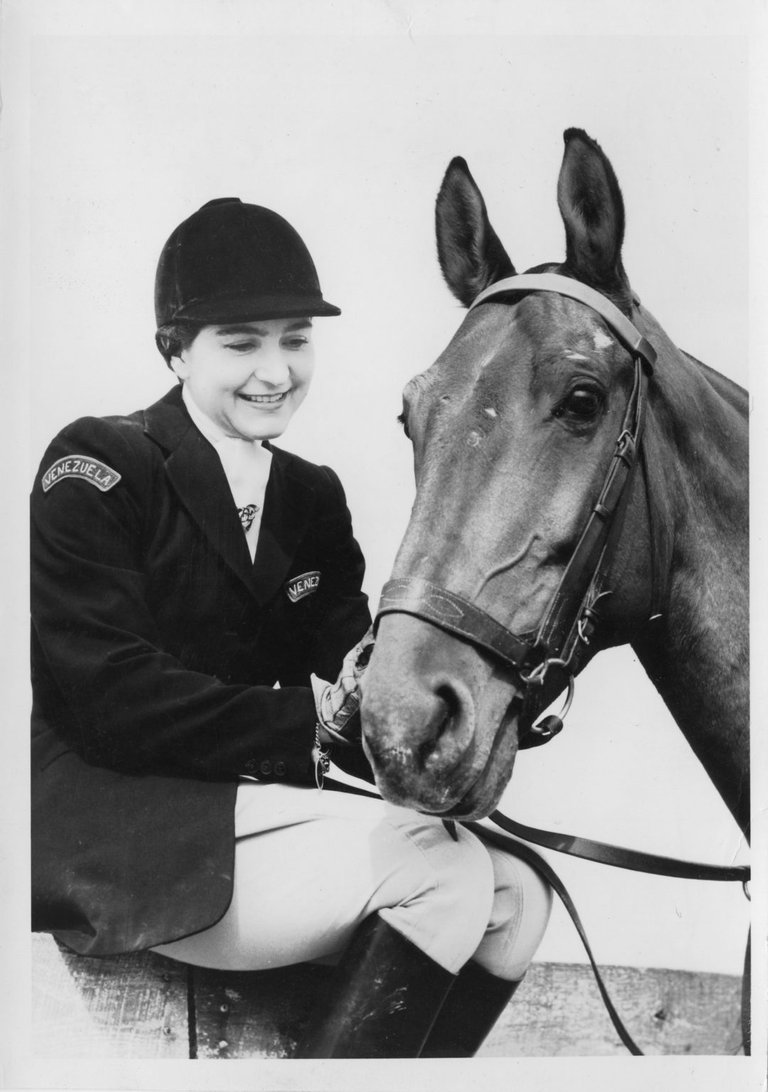 Fuente-Source
Fuente-Source
This beautiful lady was born on May 20, 1921 in Cumana, Sucre estate. Her parents were dedicated to philanthropy, especially to the Venezuelan Red Cross, from there many trips arose, through which Flor spent her first years in Europe. He had to choose between tennis and horsemanship, making the decision, he chose the horses. Then, the creations began at the hands of Flor Isava Fonseca, a pioneer in the sport, formed the Venezuelan Federation of Equestrian Sports (FVDE) in 1947. The Amazon Confraternity Championship followed and was in charge of the South American Show Jumping, taking it to all of Latin America. She qualified for the Berlin Olympics in 1956, but a broken femur prevented her from competing and sentenced her to 10 years of inactivity. Source

En 1965 toma un puesto en el Comité Olímpico Venezolano (COV); en 1969 experimenta con el golf, obteniendo el Subcampeonato Nacional de Dobles de Damas que ganó con Diana Zingg en 1975, el Subcampeonato Nacional de Dobles Mixtos con Jonatan Coles y el Campeonato Nacional de Dobles de Damas con Doris Wright 1976. En su momento de ascenso en el Comité Olímpico Internacional (COI) la acompañó la finlandesa Pirjo Häggman, como las primeras mujeres en ser parte.Fuente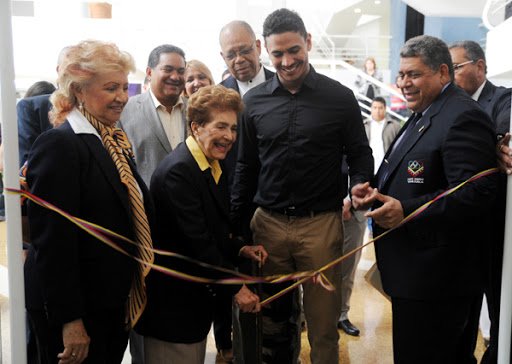 Fuente-Source
In 1965 he took a position on the Venezuelan Olympic Committee (COV); in 1969 he experimented with golf, obtaining the National Ladies Doubles Runner-up that he won with Diana Zingg in 1975, the National Mixed Doubles Runners-up with Jonatan Coles and the National Ladies Doubles Championship with Doris Wright 1976. In his moment of promotion In the International Olympic Committee (IOC) she was accompanied by the Finnish Pirjo Häggman, as the first women to be part. Source
Flor Isava Fonseca, fue incluida en el salón de la fama junto a Alfonso Carrasquel y Julio Bustamante. Recibió 37 condecoraciones, resaltan la Orden Andrés Bello, Caballero de la Legión de Honor de la República Francesa, Condecoración al Mérito Civil del Reino de España, la Orden Olímpica, Orden de Honor del Ministerio de Educación de Taiwán. Lamentablemente, el 25 de Julio del 2020, Flor Isava Fonseca, a sus 99 años, se despide del mundo. La dama del olimpismo venezolano vivió una vida de aventuras, éxitos y ayuda en completa plenitud. Fuente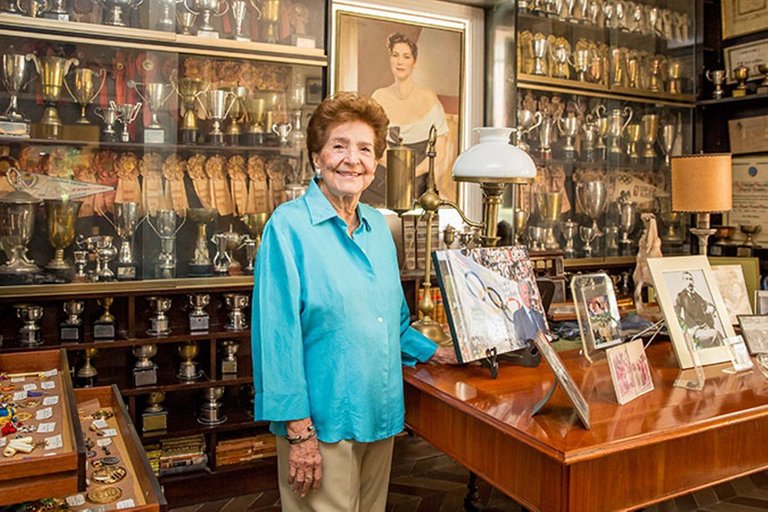 Fuente-Source
Flor Isava Fonseca, was included in the hall of fame along with Alfonso Carrasquel and Julio Bustamante. He received 37 decorations, including the Andrés Bello Order, Knight of the Legion of Honor of the French Republic, Decoration for Civil Merit of the Kingdom of Spain, the Olympic Order, Order of Honor from the Ministry of Education of Taiwan. Unfortunately, on July 25, 2020, Flor Isava Fonseca, at 99 years old, says goodbye to the world. The lady of the Venezuelan Olympism lived a life of adventure, success and help to the full. Source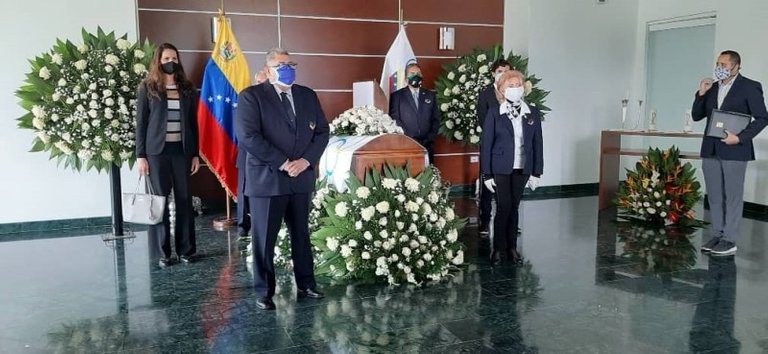 Fuente-Source

Elsa Antunez
Nacida en el estado Zulia, al occidente del país el 30 de noviembre de 1949. Se destacó en las pruebas de 100, 200 y 400mts. planos. Es conocida como la Gacela Negra, esta zuliana fue una de las mejores velocistas en la historia del atletismo venezolano, a finales de los 60, durante los 70 y hasta mediados de los 80. Representando a la Selección Nacional, impuso récord juvenil en 100mts. planos y salto alto en el año 1967. Fuente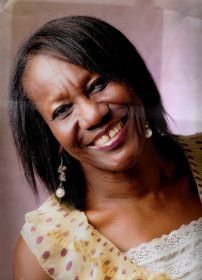 Fuente-Source
Born in the state of Zulia, in the west of the country, on November 30, 1949. She excelled in the 100, 200 and 400m tests. blueprints. Known as the Black Gazelle, this Zulian woman was one of the best sprinters in the history of Venezuelan athletics, at the end of the 60s, during the 70s and until the mid-80s. Representing the National Team, she set a youth record in 100mts. planes and high jump in 1967. Source
A nivel internacional impuso marcas en los Juegos Bolivarianos de 1970, en 100 y 200 metros; en el Santa Mónica College en California en 400 metros por 2 años consecutivos; y en los Juegos Centroamericanos y del Caribe Universitarios, realizados en México en el año 1978, en 100 metros. Actualmente, Antúnez se desempeña como entrenadora. En 2010 pasó a formar parte del Salón de la Fama del Atletismo Venezolano. Fuente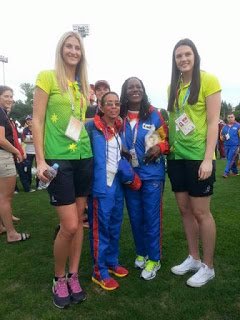 Fuente-Source
At the international level, he set marks in the Bolivarian Games of 1970, in 100 and 200 meters; at Santa Monica College in California in 400 meters for 2 consecutive years; and in the Central American and Caribbean University Games, held in Mexico in 1978, in 100 meters. Currently, Antúnez works as a coach. In 2010 he became part of the Venezuelan Athletics Hall of Fame. Source

Aura Gisela Vidal Barreto
La atleta Aura Gisela Vidal Barreto nació en Ciudad Bolívar, Edo. Bolívar el 21 de febrero de 1940. Fuente. En los Juegos Nacionales de 1961 registró su primera marca nacional: 5,20mts. en salto largo. Ese mismo año en los Juegos Bolivarianos celebrados en Colombia, se alzó con medalla de plata en esa misma especialidad, además de obtener el cuarto lugar en los 100 metros planos. Fue tres veces Atleta del Año, siendo la única mujer que participó en el II Campeonato Iberoamericano de Atletismo, realizado en España en 1962, donde la delegación venezolana resultó campeona. Fuente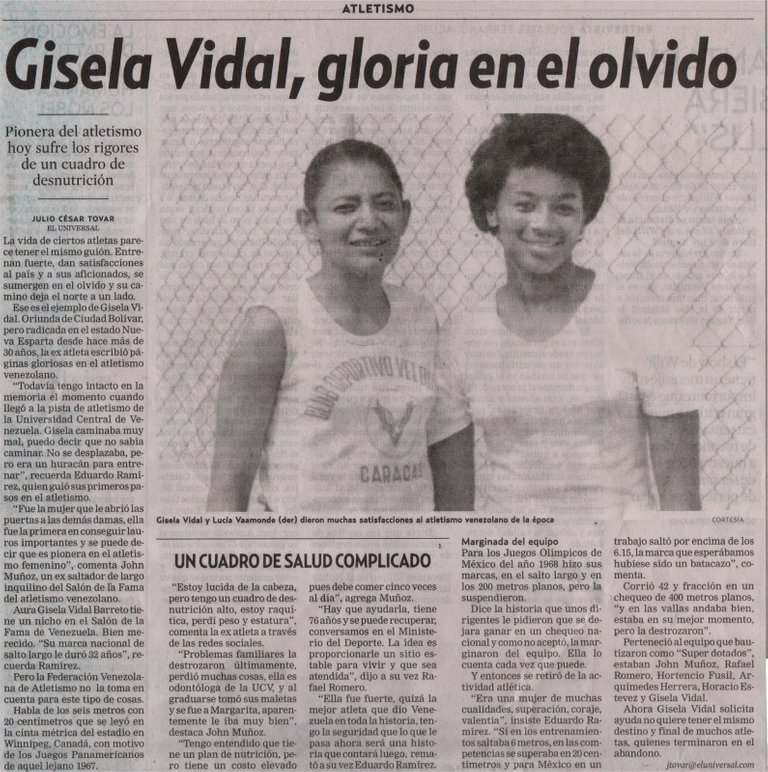 Fuente-Source
The athlete Aura Gisela Vidal Barreto was born in Ciudad Bolívar, Edo. Bolívar on February 21, 1940. Source. In the 1961 National Games he registered his first national mark: 5.20mts. in long jump. That same year in the Bolivarian Games held in Colombia, he won a silver medal in that same specialty, in addition to obtaining fourth place in the 100 meter dash. She was Athlete of the Year three times, being the only woman who participated in the II Ibero-American Athletics Championship, held in Spain in 1962, where the Venezuelan delegation was champion. Source

Ganó medallas de plata para Venezuela en los Juegos Panamericanos Sao Paulo (1963) y Winnipeg, (1967) en salto largo; y tres veces el Premio YMCA [Young Men's Christian Association, conocida en algunos países latinoamericanos como Asociación Cristiana de Jóvenes] 1964, 1965 y 1967, como Buen Deportista de Venezuela. Ademas, impuso récord nacional de 6,20 metros en salto largo en 1967, marca que estuvo vigente durante 32 años. En 1983, es exaltada al Salón de la Fama Venezolano de las prácticas deportivas. Es la pionera del atletismo femenino venezolano. Fuente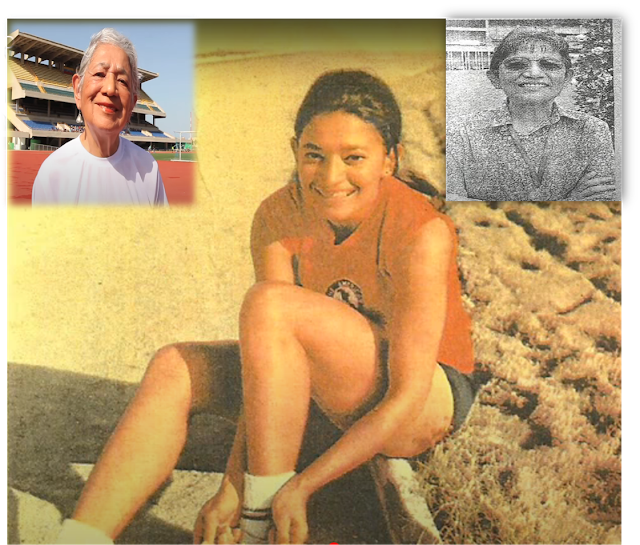 Fuente-Source
He won silver medals for Venezuela in the Pan American Games Sao Paulo (1963) and Winnipeg, (1967) in long jump; and three times the YMCA Award [Young Men's Christian Association, known in some Latin American countries as the Young Men's Christian Association] 1964, 1965 and 1967, as Good Sportsman of Venezuela. In addition, he set a national record of 6.20 meters in the long jump in 1967, a mark that was in force for 32 years. In 1983, she was inducted into the Venezuelan Hall of Fame for sports practices. She is the pioneer of Venezuelan women's athletics. Source

Adriana Carmona
Mujer aguerrida, nació en el estado Anzoátegui, el 3 de diciembre de 1972. Sus categorias de competencia se basaron en los 67 y 70kg. Resultó ser la fémina más premiada en su disciplina a nivel nacional y latinoamericano. Participó en 4 olimpiadas, Barcelona 1992, Sydney 2000, Atenas 2004 y Beijing 2008. Ganó medalla de bronce en Barcelona 92, pero en ese momento el taekwondo era deporte de exhibición; sin embargo, tal hazaña fue repetida en Atenas 2004; convirtiéndose en la primera mujer venezolana en obtener una medalla olímpica, cuando se colgó el bronce en la división de los 67 kilos.Fuente.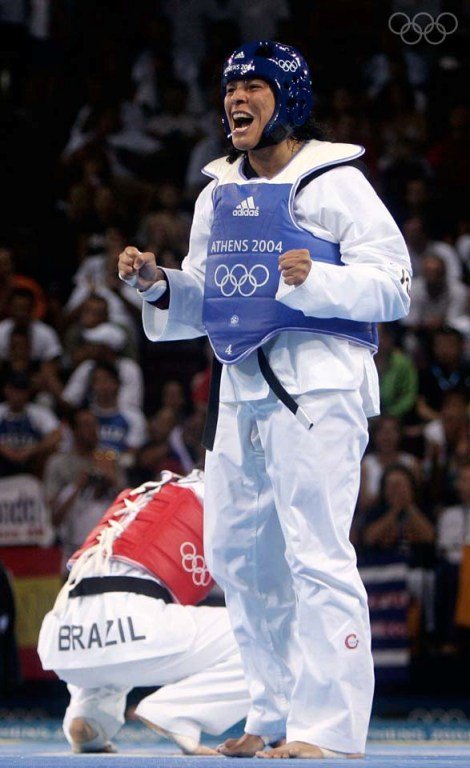 Fuente-Source
A fierce woman, she was born in the state of Anzoátegui, on December 3, 1972. Her competition categories were based on 67 and 70kg. It turned out to be the most awarded female in her discipline at the national and Latin American level. He participated in 4 Olympics, Barcelona 1992, Sydney 2000, Athens 2004 and Beijing 2008. He won a bronze medal at Barcelona 92, but at that time taekwondo was an exhibition sport; however, such a feat was repeated in Athens 2004; becoming the first Venezuelan woman to obtain an Olympic medal, when she took bronze in the 67-kilo division. Source.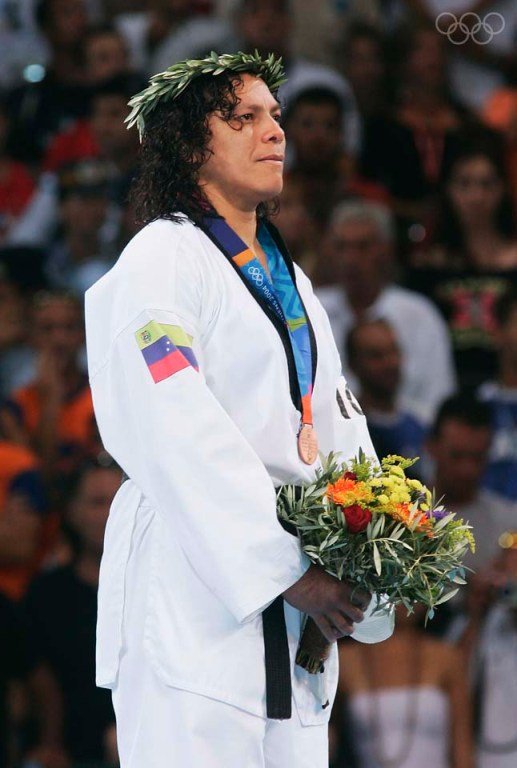 Fuente-Source
Su trayectoria campeonil, incluyen medallas y registros en los Juegos Bolivarianos, Suramericanos, Centroamericanos, Panamericanos y Mundiales, motivos suficientes para que fuera declarada miembro del Salón de la Fama del Comité Olímpico Venezolano; y es el año 2013, cuando es exaltada al Salón de la Fama del Taekwondo mundial (TKDHOF) Fuente. Se hizo justicia. En mayo de 2018, el COI reconoció en su web site las medallas olímpicas de Carmona y Gouveia en el 92', un hecho que se dio 26 años después de aquella hazaña que visibilizó al taekwondo nacional en el mapa mundial y deportivo. Fuente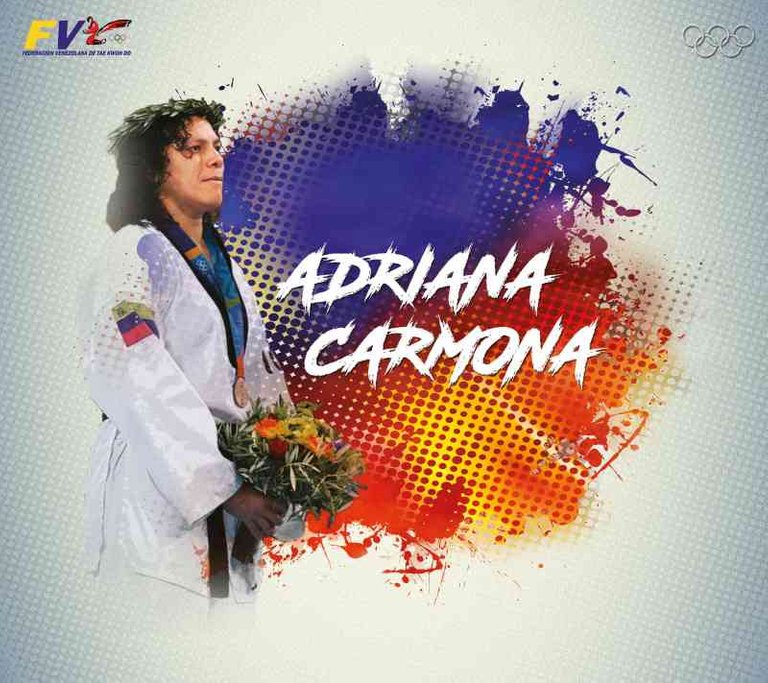 Fuente-Source
Her champion career includes medals and records in the Bolivarian, South American, Central American, Pan American and World Games, sufficient reasons for her to be declared a member of the Venezuelan Olympic Committee's Hall of Fame; and it is the year 2013, when she was inducted into the World Taekwondo Hall of Fame (TKDHOF) Source. Justice has been done. In May 2018, the IOC recognized on its website the Carmona and Gouveia Olympic medals in '92, a fact that occurred 26 years after that feat that made national taekwondo visible on the world and sports map. Source

Milka Beatriz Duno Olivero
Ejemplo de temple y gallardía, Milka Beatriz Duno Olivero nació en Caracas, el 22 de abril de 1972. Sus inicios en el mundo de las carreras, tuvo su origen como piloto en el campeonato GT de Venezuela (1996); además de participar en la Copa Porsche Carrera Venezuela (1998), Barber Dodge Pro Series (1999), Ferrari Challenge Race, American Le Mans Series (2000), 24 Horas de Dayton, 24 horas de Le Mans (2002), Nissan World Serie (2001-2003), Grand-Am Rolex Sports Car Series, IndyCar Series(2007), 500 Millas de Indianápolis (2007) y Series Nascar, entre otros. Fuente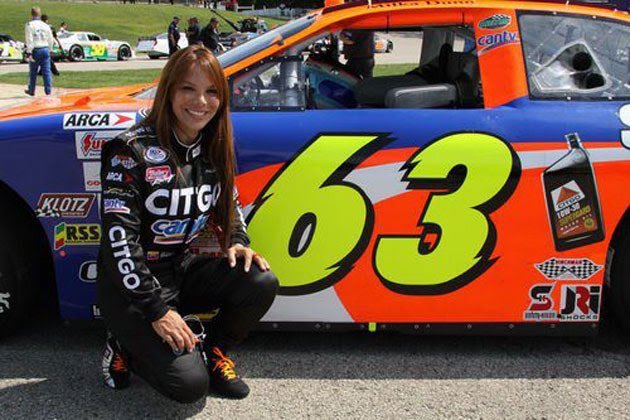 Fuente-Source
An example of mettle and gallantry, Milka Beatriz Duno Olivero was born in Caracas, on April 22, 1972. Her beginnings in the world of racing had her origin as a pilot in the GT championship of Venezuela (1996); in addition to participating in the Porsche Carrera Venezuela Cup (1998), Barber Dodge Pro Series (1999), Ferrari Challenge Race, American Le Mans Series (2000), 24 Hours of Dayton, 24 Hours of Le Mans (2002), Nissan World Series (2001-2003), Grand-Am Rolex Sports Car Series, IndyCar Series (2007), Indianapolis 500 (2007) and Nascar Series, among others. Source

Orgullosamente, ha sido la primera dama en obtener triunfos en la Ferrari Challenge Race en EE.UU., campeona de la monomarca Panoz GT Series, podio en su debut en la American Le Mans Series (2000), primera mujer en obtener puntos en la Nissan World Series (2001-2003), compitió en la Grand-Am Rolex Sports Car Series (200) con la escudería Howard-Bos, y concluyó sexta en el campeonato y ganó dos carreras en Homestead, lo cual la conviertió en la primera mujer en ganar una competición de carácter internacional en Norteamérica, compitió en las 24 Horas de Daytona; obteniendo segundo y siendo la primera mujer que ha llegado más lejos en la historia de esta carrera, debutó en la IndyCar Series (2007) en el Kansas Lottery Indy 300, donde por primera vez tres mujeres compiten en una misma categoría: Duno, Danica Patrick y Sarah Fisher.Fuente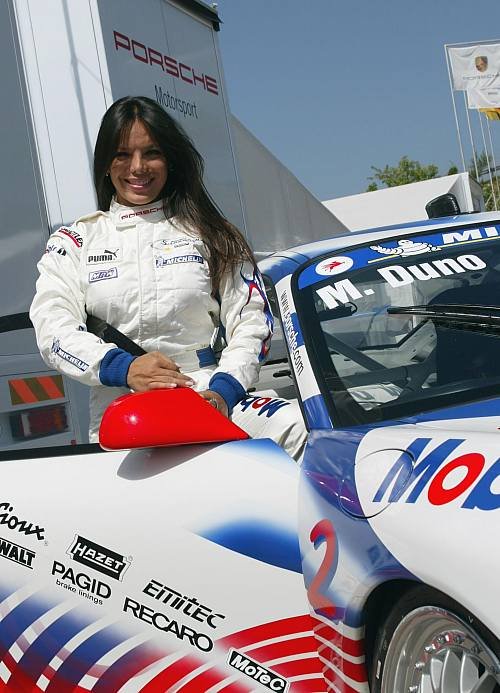 Fuente-Source
Proudly, she was the first lady to win the Ferrari Challenge Race in the USA, champion of the one-make Panoz GT Series, podium in her debut in the American Le Mans Series (2000), first woman to score points in the Nissan World Series (2001-2003), competed in the Grand-Am Rolex Sports Car Series (200) with the Howard-Bos team, and finished sixth in the championship and won two races at Homestead, which made her the first woman in winning an international competition in North America, he competed in the 24 Hours of Daytona; getting second and being the first woman who has gone further in the history of this race, she debuted in the IndyCar Series (2007) at the Kansas Lottery Indy 300, where for the first time three women compete in the same category: Duno, Danica Patrick and Sarah Fisher. Source
En 2008 colaboró con la filmación de la película Speed Racer, de los hermanos Wachowski. En el 2010, cambió para la escudería Dale Coyne Racing. Luego firma un contrato con el equipo RAB Racing que la convertirá en la primera hispana que corre en la categoría Nationwide Series de Nascar en el automovilismo estadounidense. Autora del libro autobiográfico ¡Corre, Milka, Corre!. Actualmente continúa su exitosa carrera en el mundo automovilístico. Fuente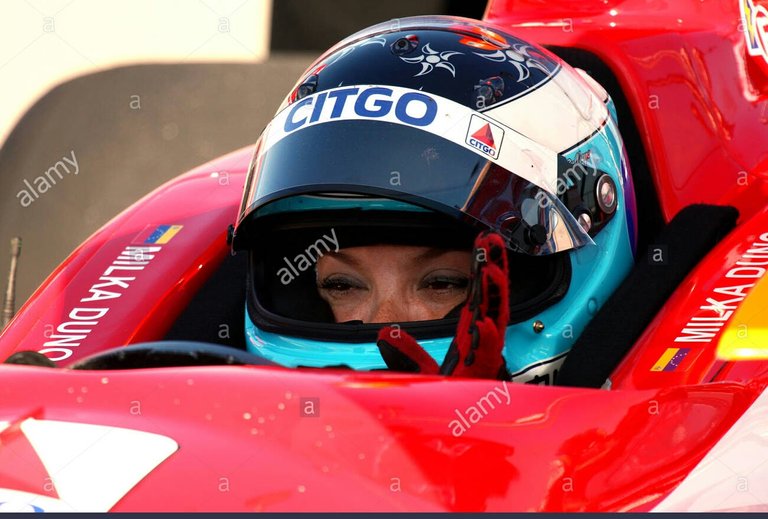 Fuente-Source
In 2008 he collaborated with the filming of the film Speed ​​Racer, by the Wachowski brothers. In 2010, he switched to the Dale Coyne Racing team. She then signs a contract with the RAB Racing team that will make her the first Hispanic to race in the Nascar Nationwide Series category in American motorsports. Author of the autobiographical book ¡Corre, Milka, Corre !. He is currently continuing his successful career in the automotive world. Source

Yulimar Rojas
Con una larga trayectoria aún por recorrer, esta espectacular atleta, ya se considera una gloria femenina del deporte venezolano. Nació en Caracas el 21 de octubre de 1995 y siempre ha tenido una vida activa en el deporte. Con 6 hermanos y una infancia humilde, la atleta venezolana ha vencido las adversidades y su constancia la ha llevado a convertirse en la campeona del mundo en salto triple. Fuente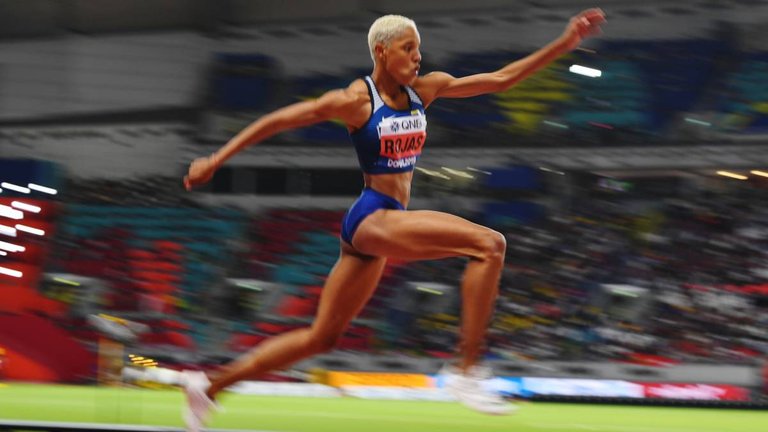 Fuente-Source
With a long career still to go, this spectacular athlete is already considered a female glory of Venezuelan sport. He was born in Caracas on October 21, 1995 and has always had an active life in sports. With 6 siblings and a humble childhood, the Venezuelan athlete has overcome adversity and her perseverance has led her to become the world champion in triple jump. Source
En su trayectoria destaca la medalla de plata en los Juegos Olímpicos de Río, en 2016, donde solo fue superada por la colombiana Catherine Ibargüen. Además, cuenta con cuatro coronas mundiales, dos al aire libre y dos bajo techo. Esta guerrera ganó en Londres 2017 con un estirón de 14,91 metros y repitió en Doha, con 15,37 metros.Fuente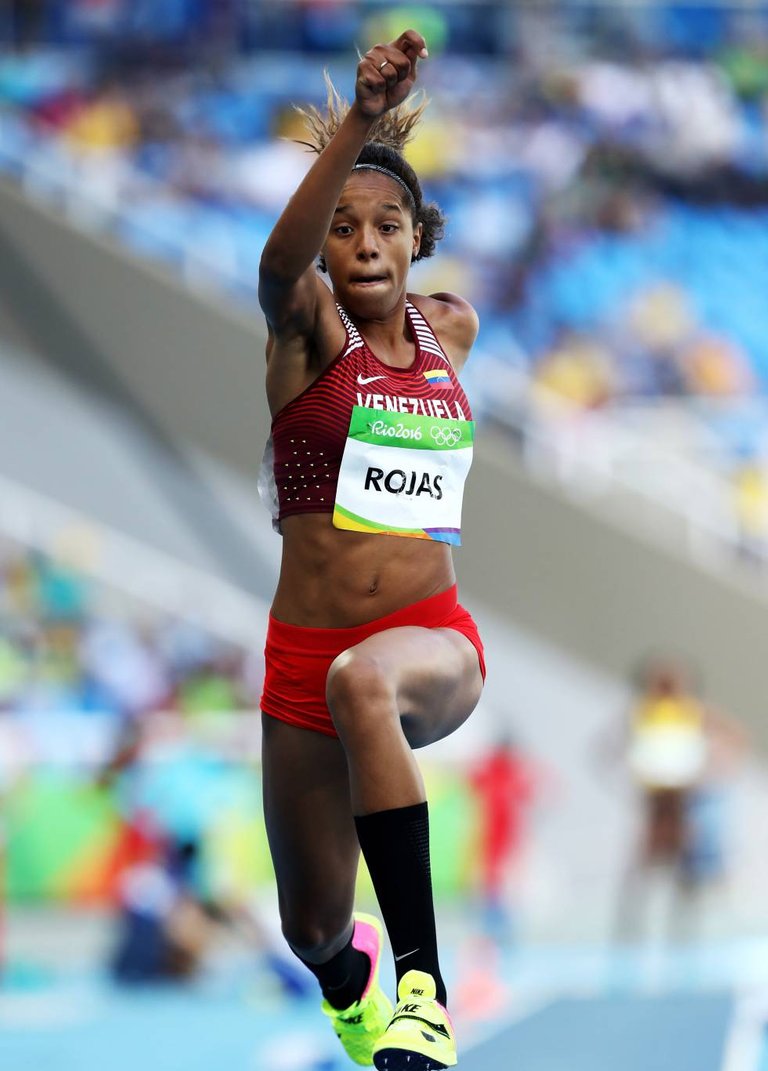 Fuente-Source
In her career, the silver medal at the Rio Olympics in 2016 stands out, where she was only surpassed by the Colombian Catherine Ibargüen. In addition, it has four world crowns, two outdoors and two indoors. This warrior won in London 2017 with a stretch of 14.91 meters and repeated in Doha, with 15.37 meters. Source
Bajo techo brilló en Portland 2016, con 14,41 metros y luego, en Birmingham 2018, con 14,63 metros. El 21 de febrero de 2020 asombró a todos, al imponer el récord mundial para triple salto, bajo techo, con 15,43 metros en Madrid. .Fuente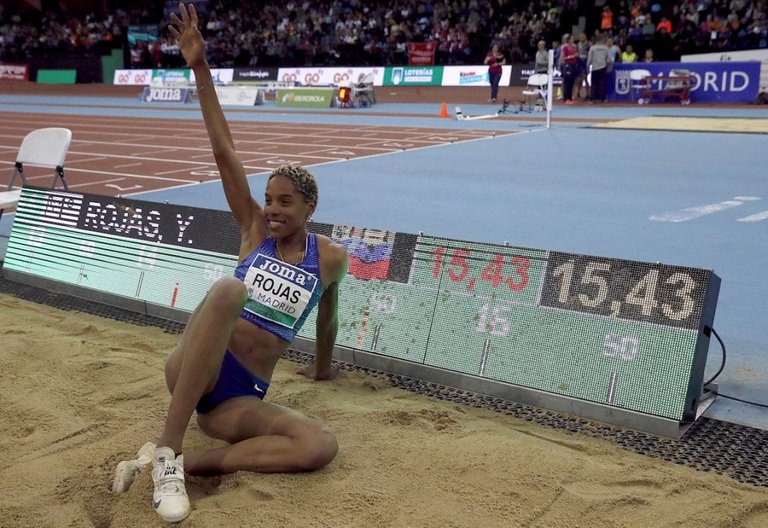 Fuente-Source
Indoors he shone in Portland 2016, with 14.41 meters and then, in Birmingham 2018, with 14.63 meters. On February 21, 2020, he astonished everyone by setting the world record for triple jump, indoors, with 15.43 meters in Madrid. Source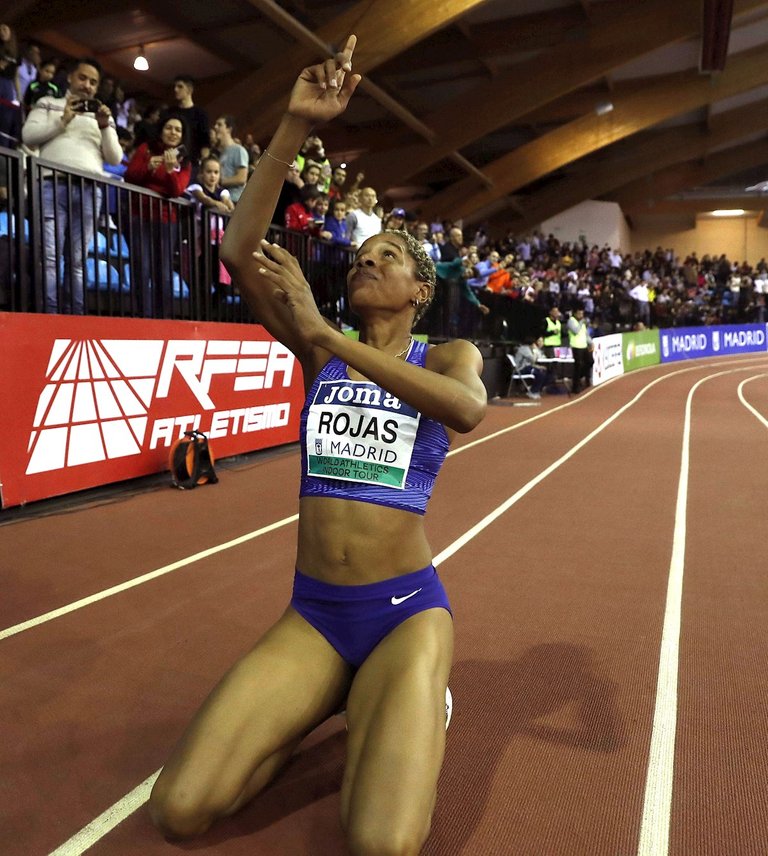 Fuente-Source

Ha sido un verdadero orgullo, presentar para ustedes este espectacular resumen, donde se hace reconocimiento y homenaje a la mujer venezolana, en esta oportunidad a nivel deportivo; sin embargo, todas las damas merecen el respeto y la consideración de todos. Son muchas las féminas que triunfan y han triunfado en todos los espacios y ponen en alto nuestro Tricolor Patrio. Gracias damas, por dar lo mejor para ser grandes.
It has been a true pride to present to you this spectacular summary, where recognition and tribute is made to Venezuelan women, this time at the sports level; however, all ladies deserve everyone's respect and consideration. There are many women who triumph and have triumphed in all spaces and raise our National Tricolor. Thank you ladies, for doing your best to be great.
...Gracias Por Visitar...

...Thanks for visiting...