Rabona - Season 11 Ends Soon

---
I'll let you in on my secret recipe. These players in a 4-2-3-1 formation are doing quite well lately. I hope I won't jinx them :)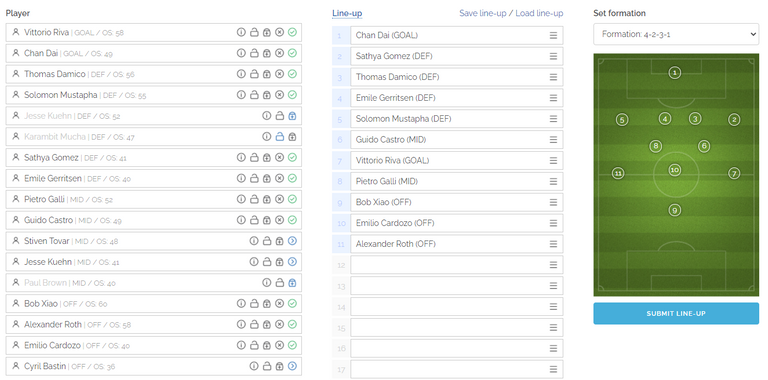 I needed two signings in the middle of the season. Red cards and injuries reduced the team to less than eleven players. It happens.
The last two matches after my post Rabona - Kicking Some Ball In Second League went well too. Surprisingly well.

First, a scoreless draw abroad against my friend @fullcoverbetting's team KRC Genk. Then a home win against the league-leading team FC Rondrana 20 managed by @rondras.
The standings five matches before the end of the season.
Season 11, League 2 / 631 - standings after 25 rounds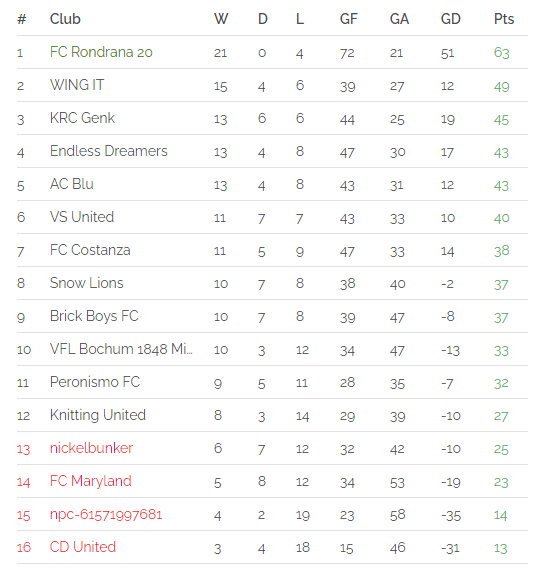 12 points maximum to gain are available. I am happy with the performance so far and I'll be all right even with a lesser placing.
How is your Rabona season* going along?
---
19.12.2020 - Rabona - Season 11 Ends Soon
18.12.2020 - Rabona - Kicking Some Ball In Second League
05.12.2020 - Rabona - Setting Line-Up For First Match
04.12.2020 - Rabona - Before My First Season
29.11.2020 - Rabona, I am in
---
Must read introductions and instructions for the beginners, masterfully prepared by @jelly13:
---
---
Disclaimer
This article shows my actions and ideas. It is not to be taken as financial advice. Do your own research and make your own decisions. Of course, we can help each other.
Links marked with * are affiliate links. If you use one of them to join an offering we can both gain. Again, the decision is yours. Yet, you can trust me that I only promote what I use.
---
Better and better
---
---