[Esp] 100 % Acción... Adelante, Siempre Adelante [Eng] 100% Action... Forward, Always Forward
Saludos a todos mis seguidores de #hive y #fulldeportes. Nuestras puertas siempre están abiertas para quien desee salir de ese estado catatónico de inactividad. Si vienes con nosotros te garantizamos que estarás 100% en acción. Tu cuerpo es una máquina de ejercicios, no necesitas equipos raros y costosos para entrenar. Solo necesitas motivación, ser positivo y ganas de salir adelante. El futuro está en tus manos, todo depende ti nadie más va a ejercitar por ti. Cambia tu vida, fortalece tu cuerpo y tu salud. Has que tu día a día sea un desafío que puedas afrontar y salir airoso. No esperes más y vive de cerca lo que te estoy diciendo. Epa, es contigo vive bien, vive mejor.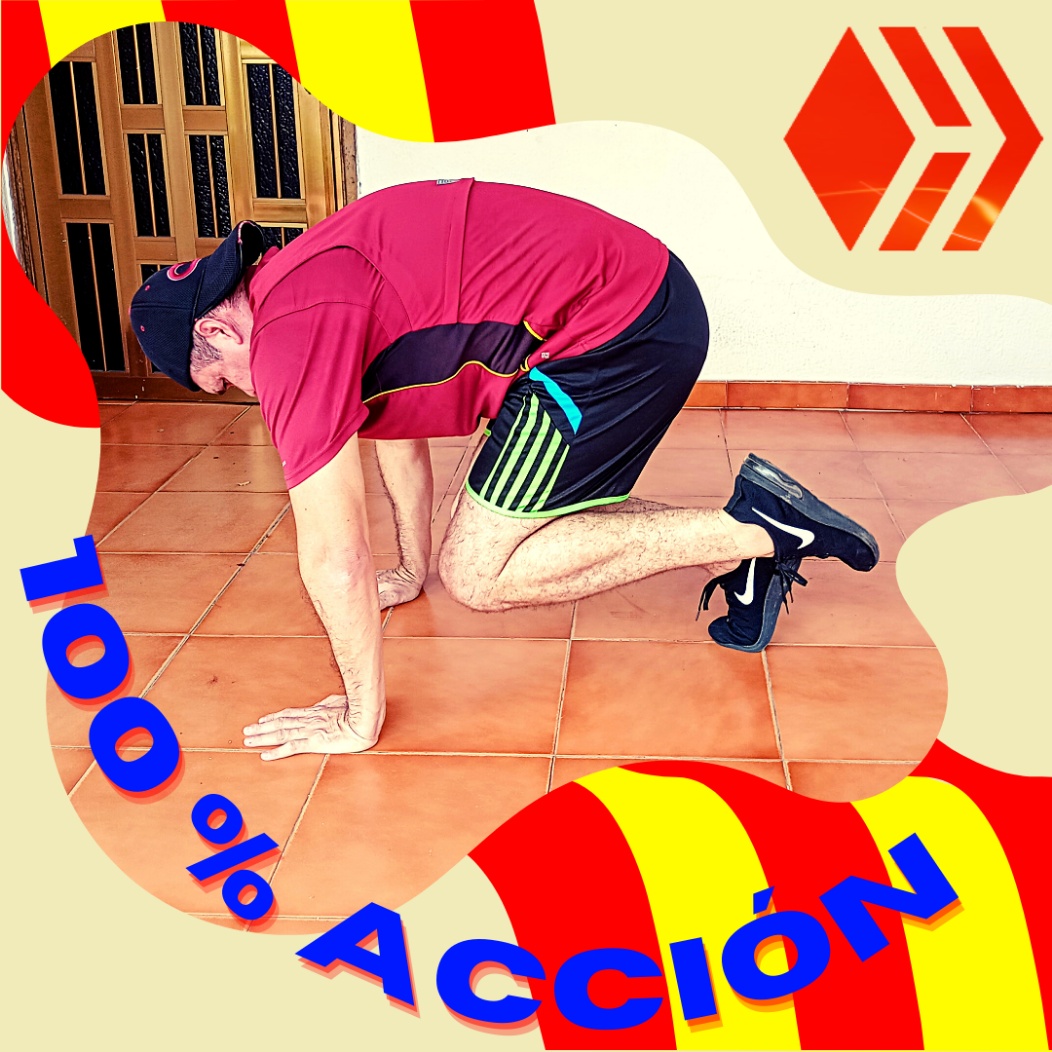 Imagen de mi Autoría Editada por/Image of my Authorship Edited by Canva
Gifs creados en la aplicación/Gifs created in the application HD Video To Gif Converter
Greetings to all my followers of #hive and #fulldeportes. Our doors are always open to anyone who wants to get out of that catatonic state of inactivity. If you come with us we guarantee that you will be 100% in action. Your body is an exercise machine, you don't need rare and expensive equipment to train. You just need motivation, be positive and the desire to get ahead. The future is in your hands, everything depends on you, no one else is going to exercise for you. Change your life, strengthen your body and your health. Make your day to day a challenge that you can face and succeed. Do not wait any longer and live closely what I am telling you. Hey, it's with you, live well, live better.

Calentamiento Corporal
Extensión superior de brazos con manos entrelazadas + elevación de talones.
Trote con brazos extendidos.
Golpe - golpe / Cambio de guardia en salto + rodillazo.
Zancada trasera con protección de rostro / Explota rodillazo + codazo horizontal.
Escalador con una pierna elevada.
Golpes frontales + codazos horizontales.
Relajación Corporal
Body Warming

Upper arm extension with interlocking hands + heel lift.
Trot with arms extended.

Blow - blow / Changing of the guard in jump + knee.
Rear stride with face protection / Explodes knee + horizontal elbow.
Climber with one leg raised.
Front blows + horizontal elbows.

Body Relaxation

Calentar antes de entrenar
Dinámica: En circuito
Trabajo por ejercicio: entre 10 Y 30 (se indica) repeticiones.
Series: 4 por circuito completo.
Descanso entre ejercicios: de 10 a 20 segundos.
Descanso entre series: de 1 a 2 minutos.
Warm up before training
Dynamics: In circuit
Work per exercise: between 10 and 30 (indicated) repetitions.
Series: 4 per complete circuit.
Rest between exercises: 10 to 20 seconds.
Rest between series: 1 to 2 minutes.

Calentamiento Corporal
Comenzamos la acción con los calentamientos. Si el cuerpo no está apto, no haga actividad fuerte. Se lo digo, no lo haga. Una lesión puede ocasionar que usted no pueda ejercitar por mucho tiempo. Así que amigos míos no salte este paso.
Body Warming

We start the action with the warm-ups. If the body is not fit, do not do strenuous activity. I'm telling you, don't. An injury can cause you to be unable to exercise for a long time. So my friends don't skip this step.

Extensión superior de brazos con manos entrelazadas + elevación de talones
De pie, ubicamos los brazos flexionados con manos entrelazadas sobre la cabeza. Ahora, de menos a más sin separar las manos extendemos los brazos hacia arriba, y al mismo tiempo elevamos los talones. Igualmente contraigan abdomen y glúteos. Acción por 3 minutos.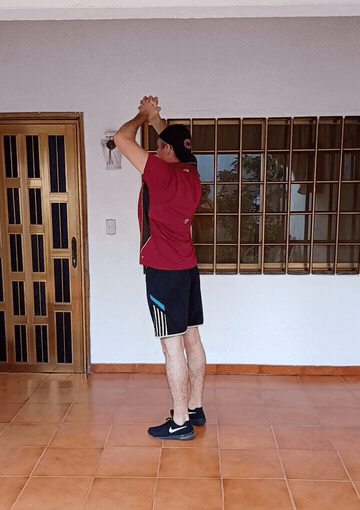 Upper arm extension with clasped hands + heel lift

Standing, we place the bent arms with clasped hands above the head. Now, from less to more without separating the hands we extend the arms upwards, and at the same time we raise the heels. Also contract abdomen and buttocks. Action for 3 minutes.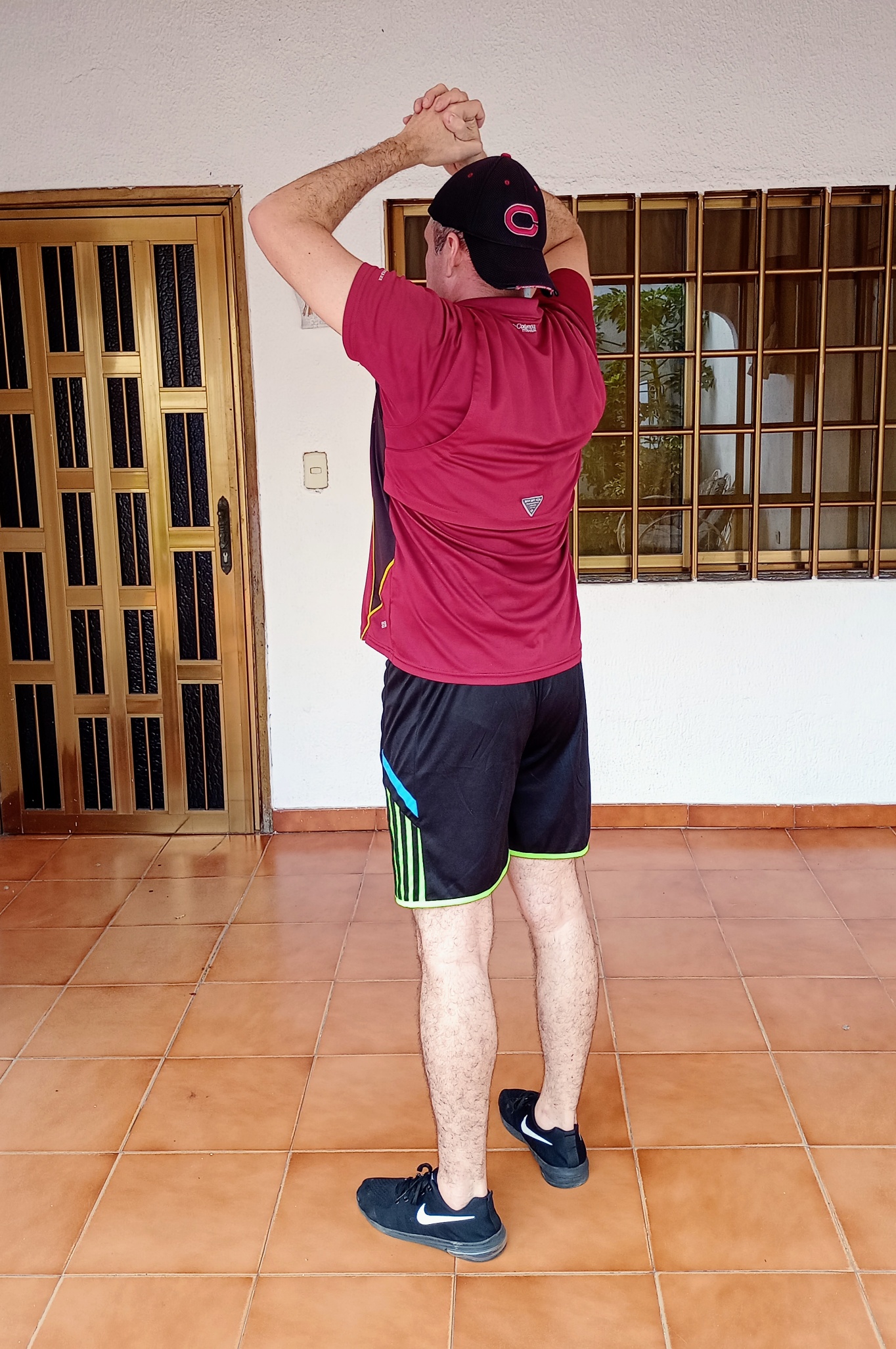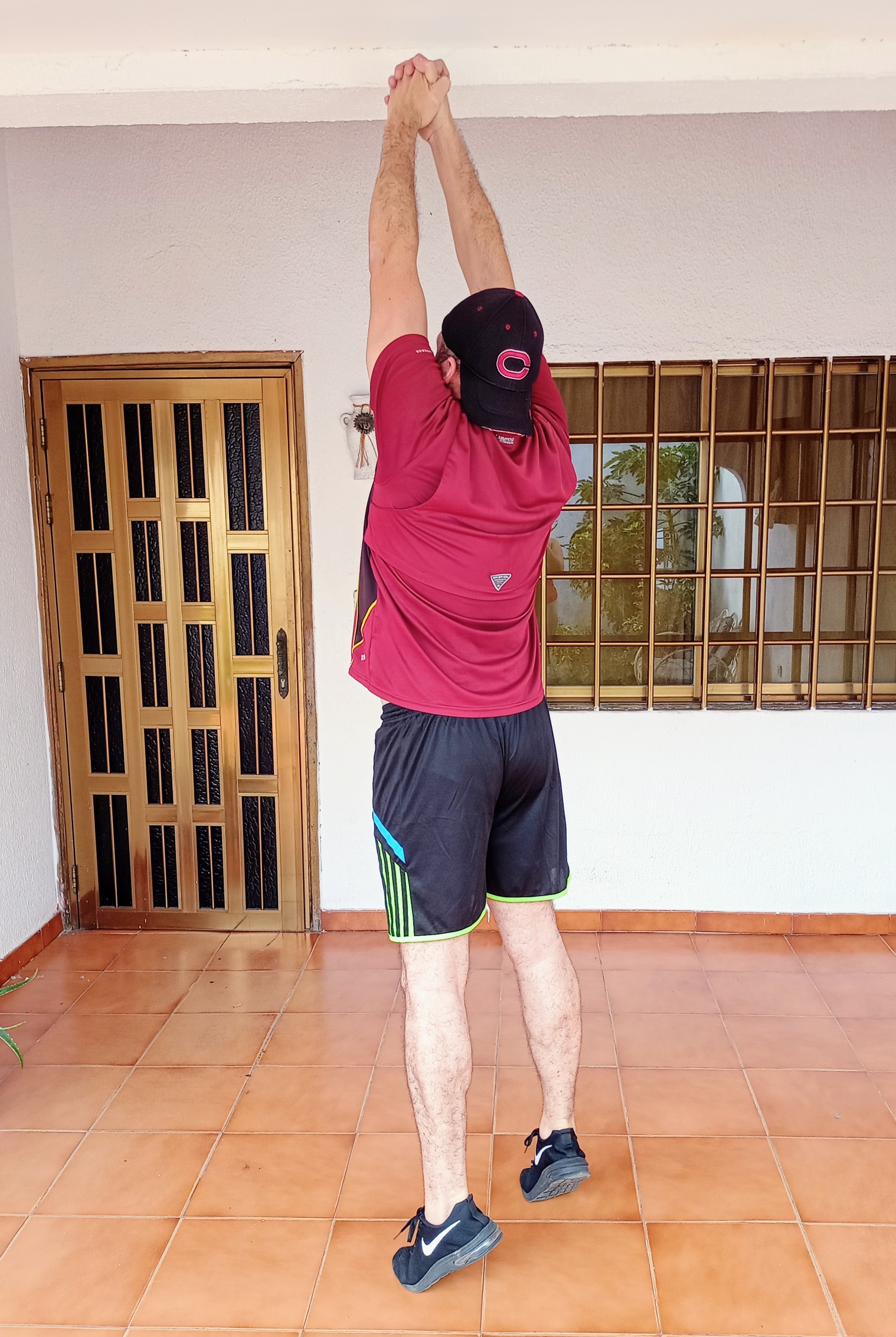 Trote con brazos extendidos
En este ejercicio extendemos ambos brazos al frente. Simplemente, con los brazos en esa posición iniciamos el trote durante 3 minutos.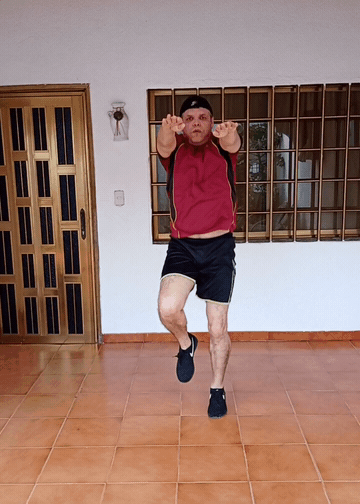 Trot with arms extended

In this exercise we extend both arms in front. Simply, with the arms in that position, we start the trot for 3 minutes.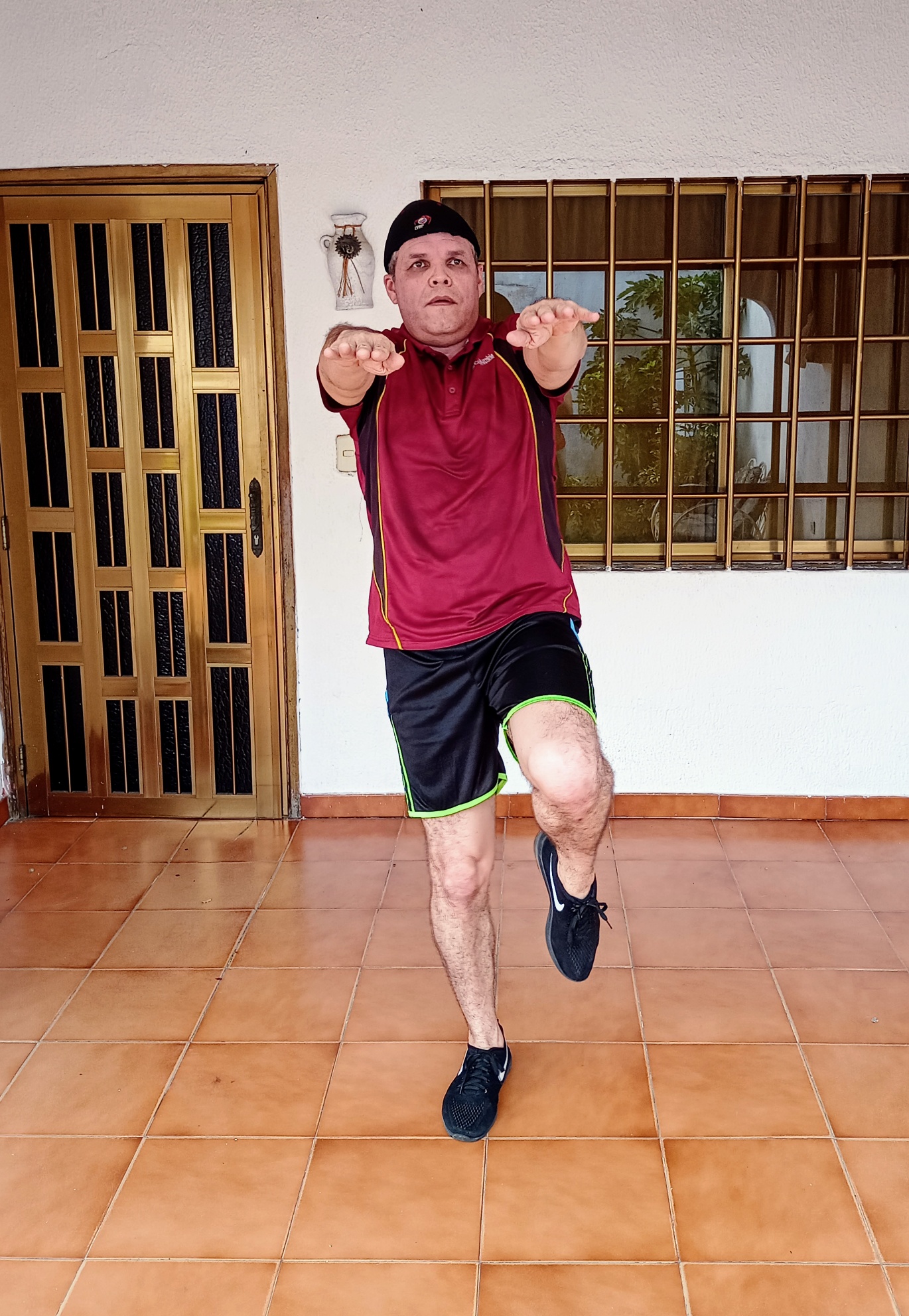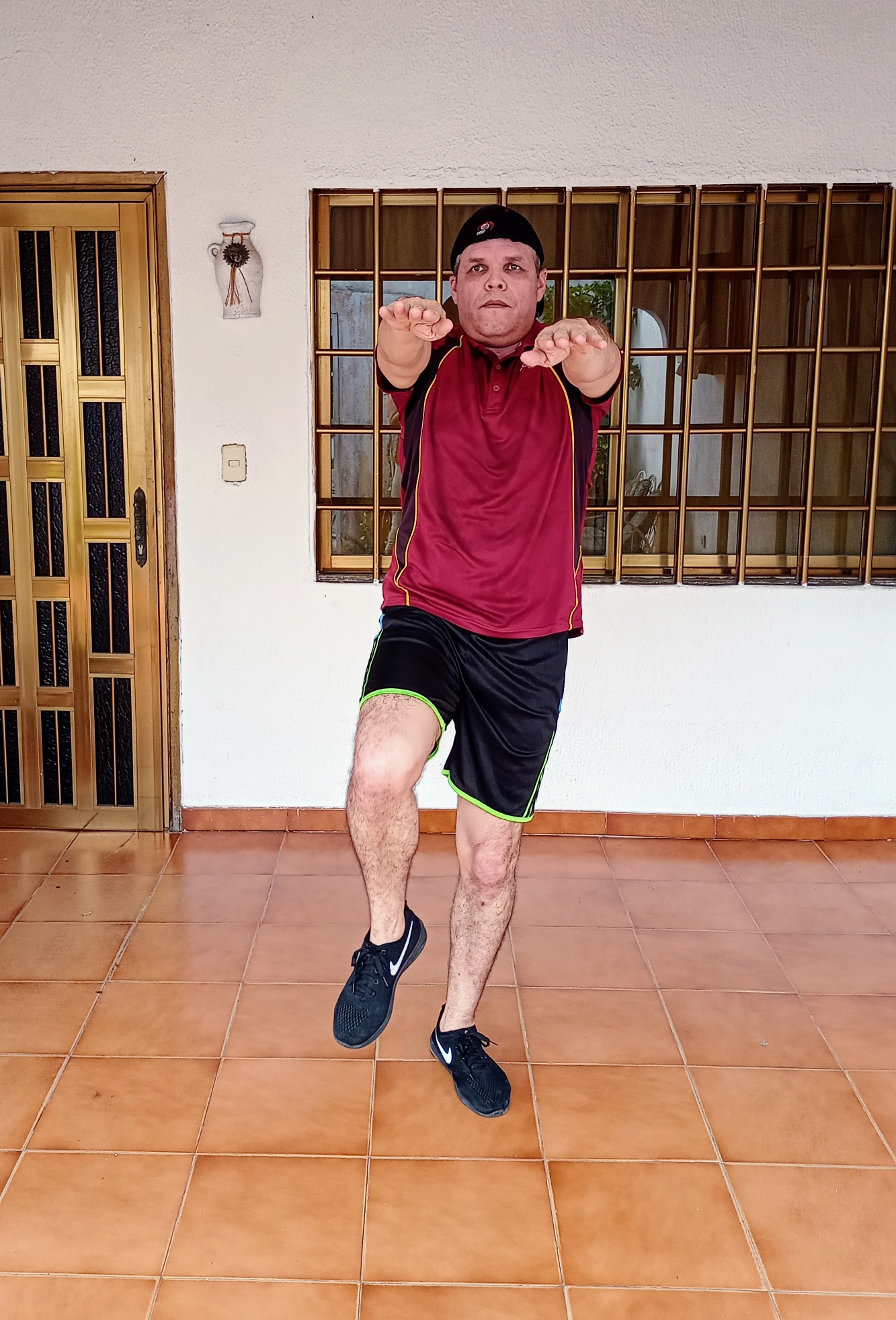 Si creen que no han calentado lo suficiente, pueden incrementar el tiempo de esa fase. Aquí necesitamos que sus músculos estén flexibles, el cuerpo caliente y el ritmo cardíaco un poco acelerado. Cuerpo apto = acción completa. Recuerden descansar entre series e hidratarse.
If they think they have not warmed up enough, they can increase the time of that phase. Here we need your muscles to be flexible, your body warm and your heart rate a bit fast. Fit body = full action. Remember to rest between sets and hydrate.

Golpe - golpe / Cambio de guardia en salto + rodillazo
Esta combinación de golpes, saltos, giros y rodillazos mantiene en tensión contante el cuerpo en su totalidad. En cada ejercicio que hagamos siempre debemos tener el abdomen y glúteos contraídos. Nos ubicamos en posición de combate con una pierna adelante y otra detrás. Rápidamente damos un golpe con el brazo trasero, seguido de otro golpe con el brazo delantero. Luego en velocidad damos un salto girando el cuerpo al lado opuesto, o mejor dicho haciendo el cambio de guardia en salto, para con la misma velocidad y energía dar el rodillazo con la pierna trasera. Luego del rodillazo y quedando en esa guardia viene golpe con brazo trasero y delantero. Saltas de nuevo para el cambio de guardia y pum, rodillazo con pierna trasera. Realizamos 20 repeticiones por cambio de guardia. Todo el ciclo en 4 series.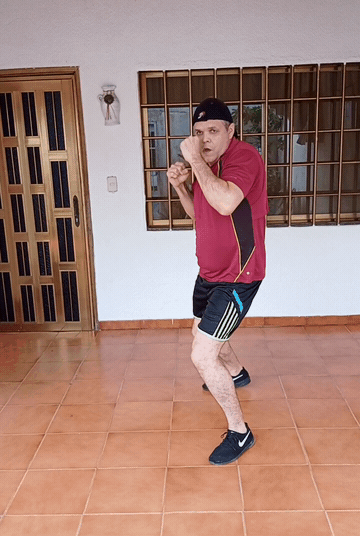 Hit - hit / Changing of the guard in jump + knee

This combination of punches, jumps, twists and knees keeps the entire body in constant tension. In each exercise we do we must always have the abdomen and glutes contracted. We place ourselves in a fighting position with one leg forward and the other behind. We quickly hit with the back arm, followed by another hit with the front arm. Then in speed we jump turning the body to the opposite side, or rather doing the changing of the guard in jump, to with the same speed and energy give the knee with the back leg. After the knee and remaining in that guard comes a blow with the back and front arm. You jump back for the changing of the guard and bang, back leg knee. We perform 20 repetitions per changing of the guard. The whole cycle in 4 series.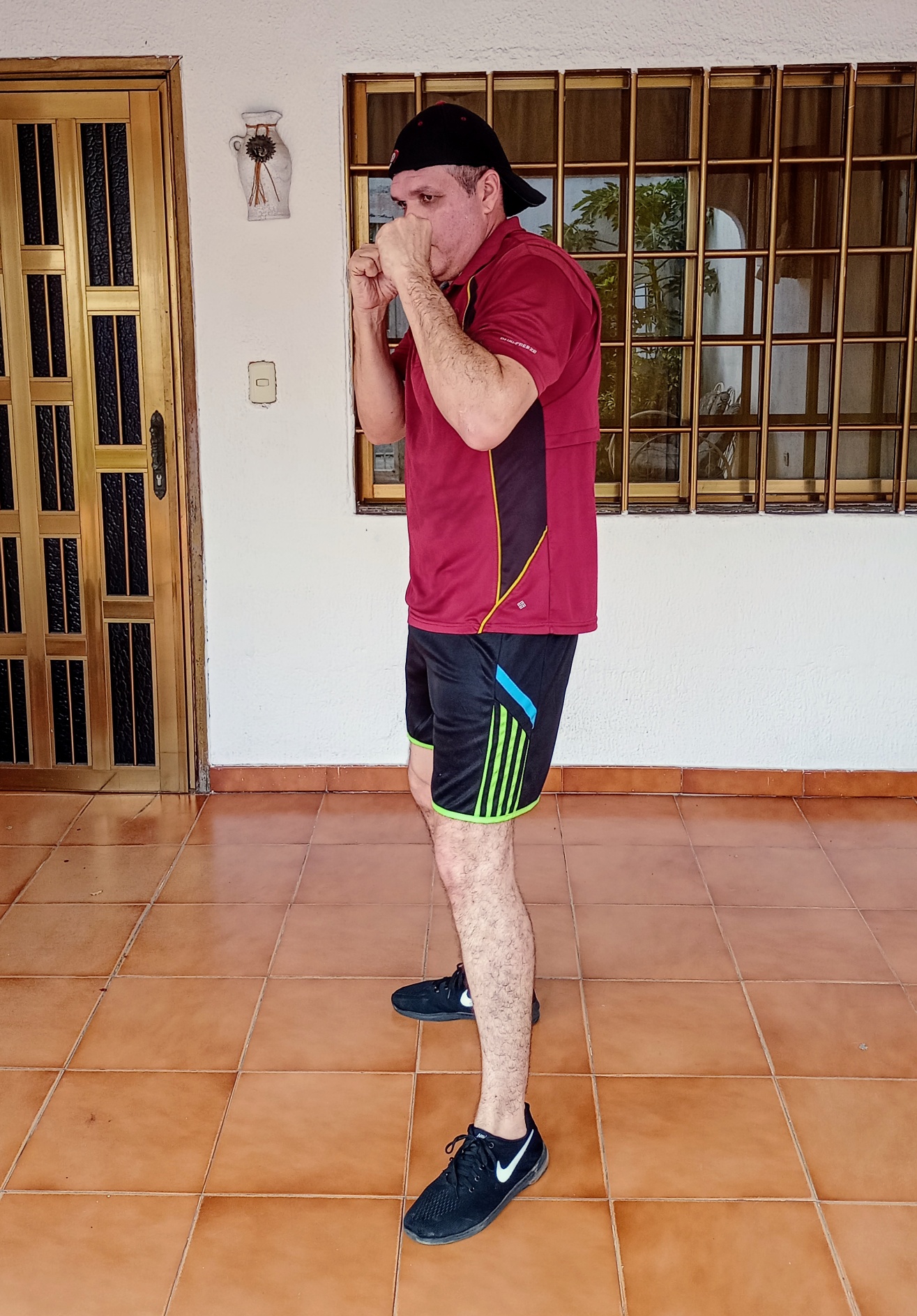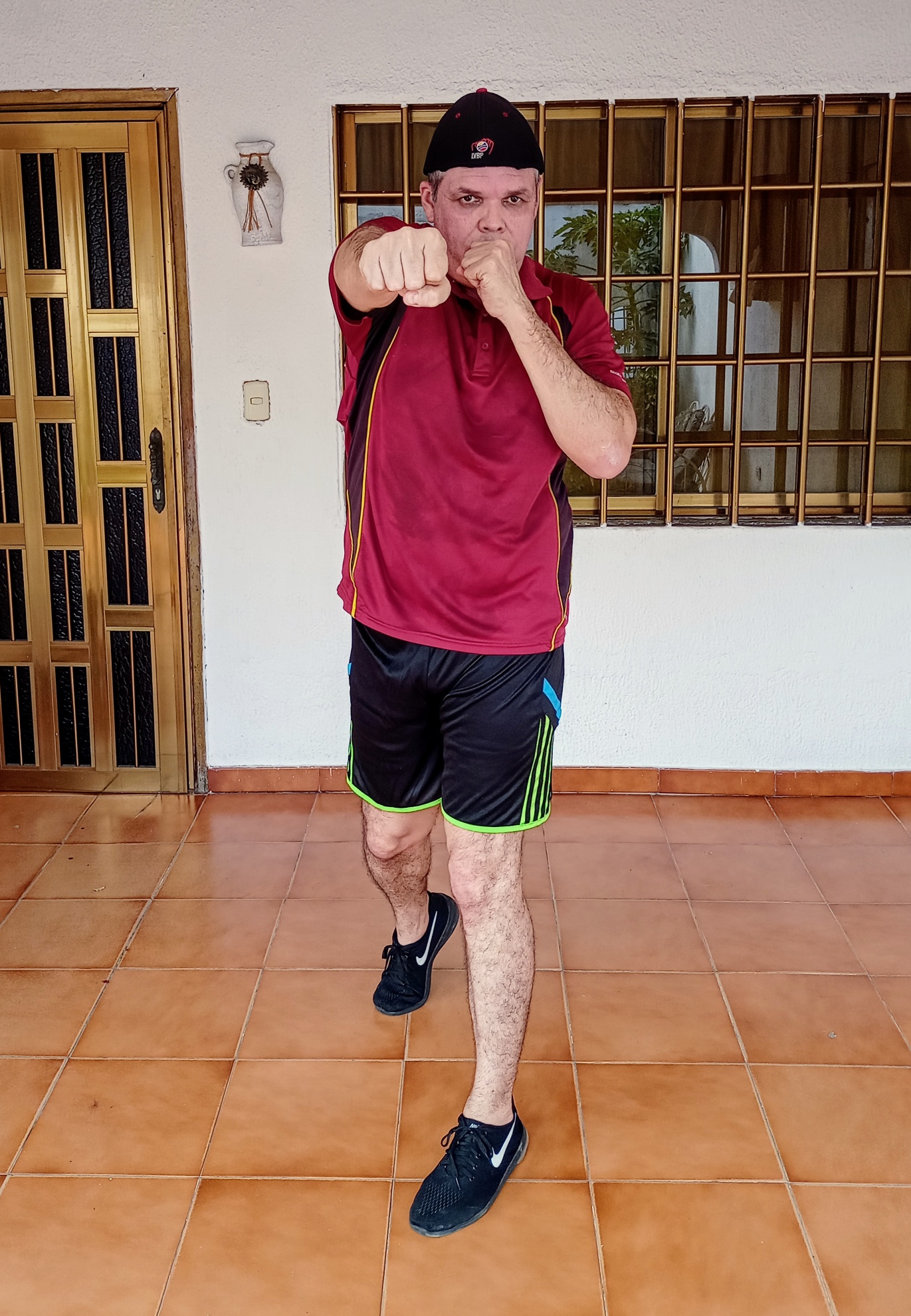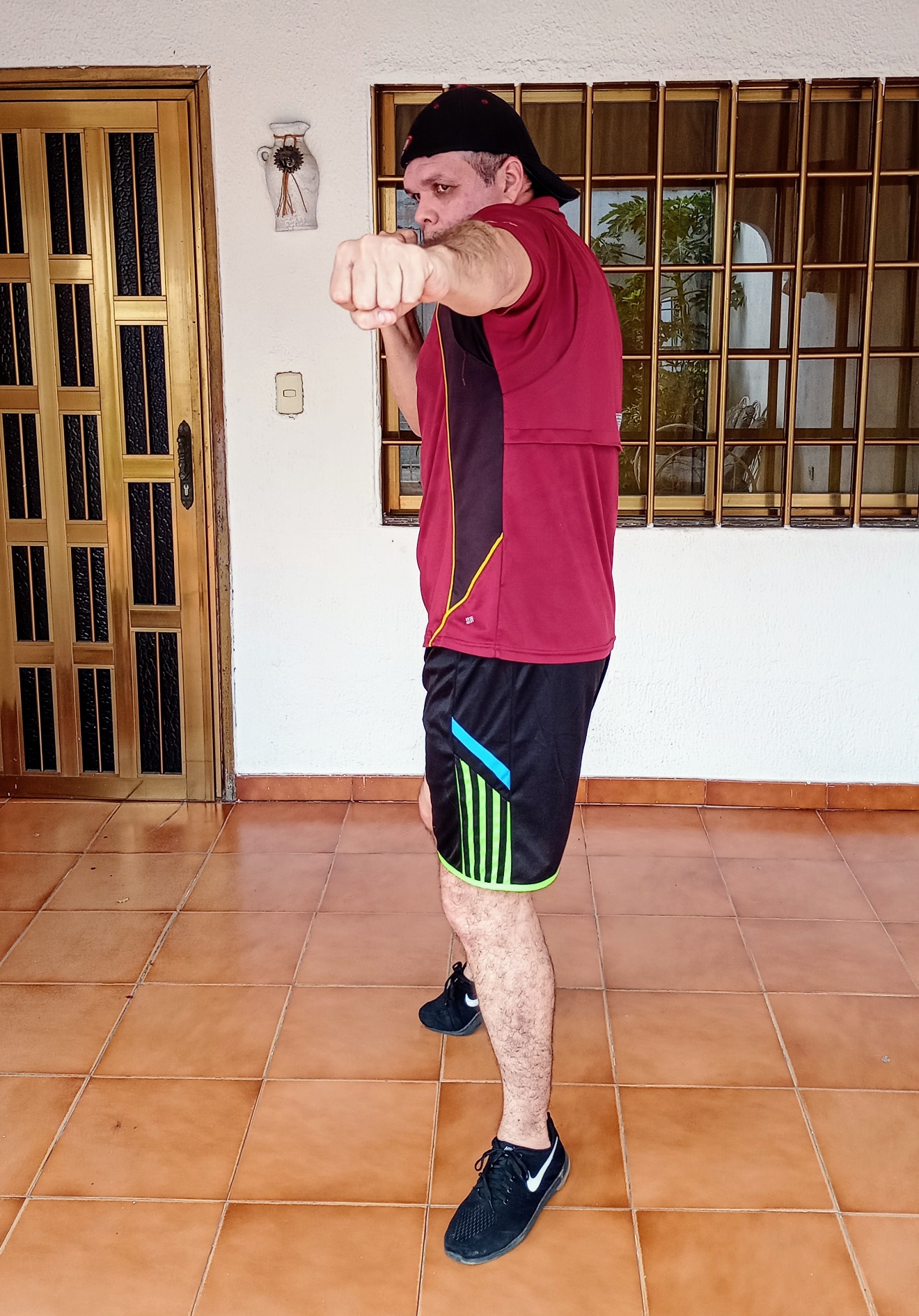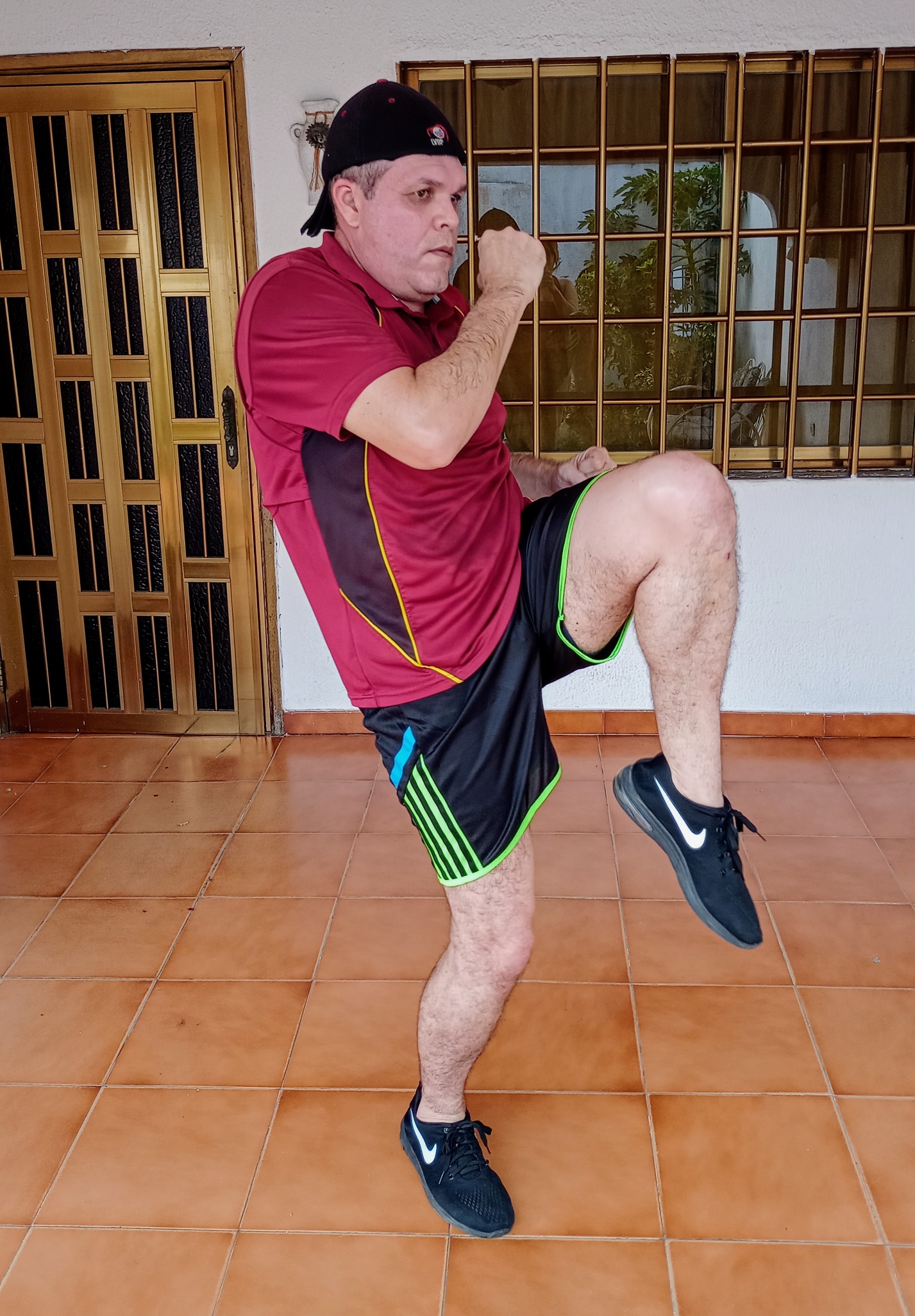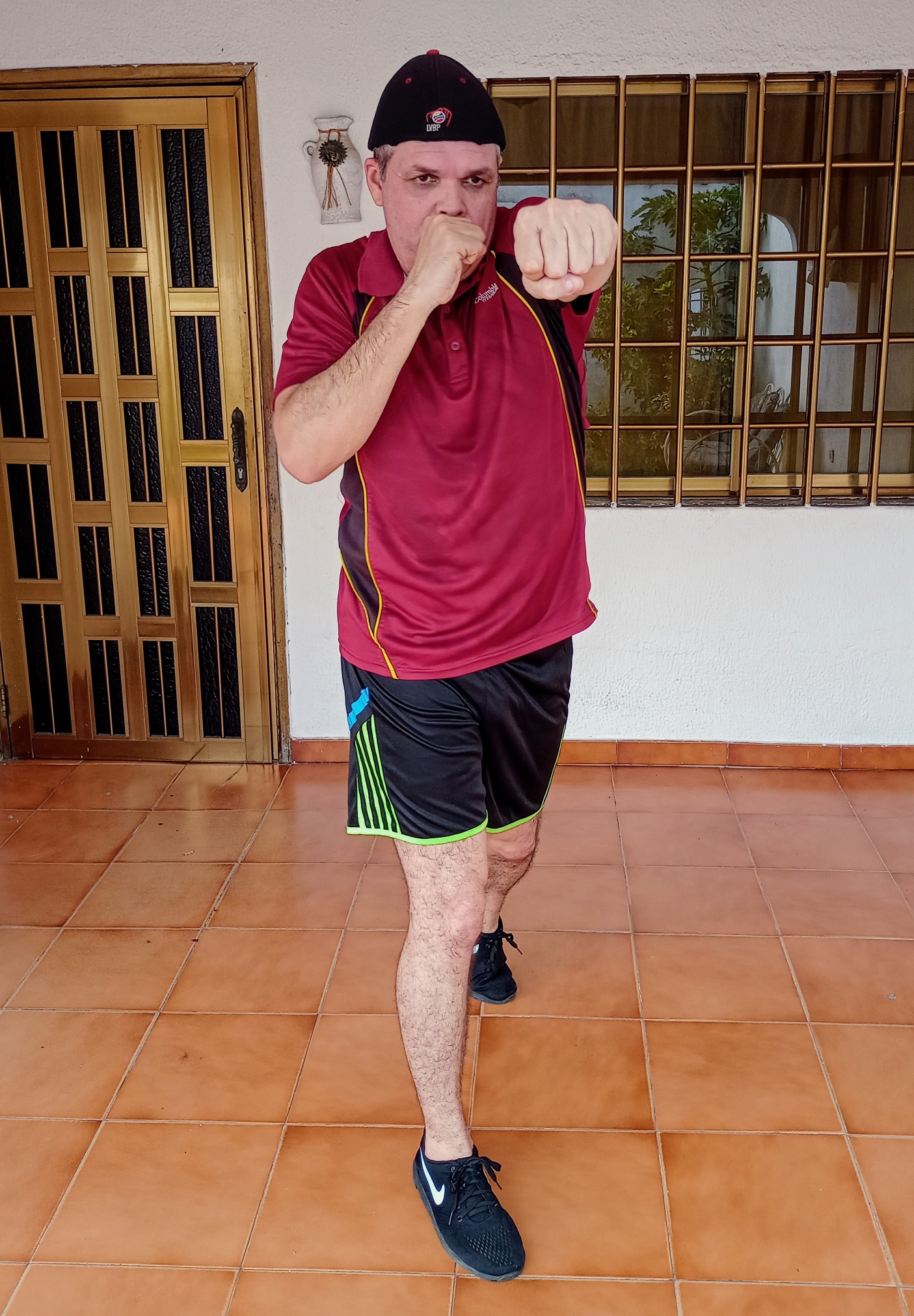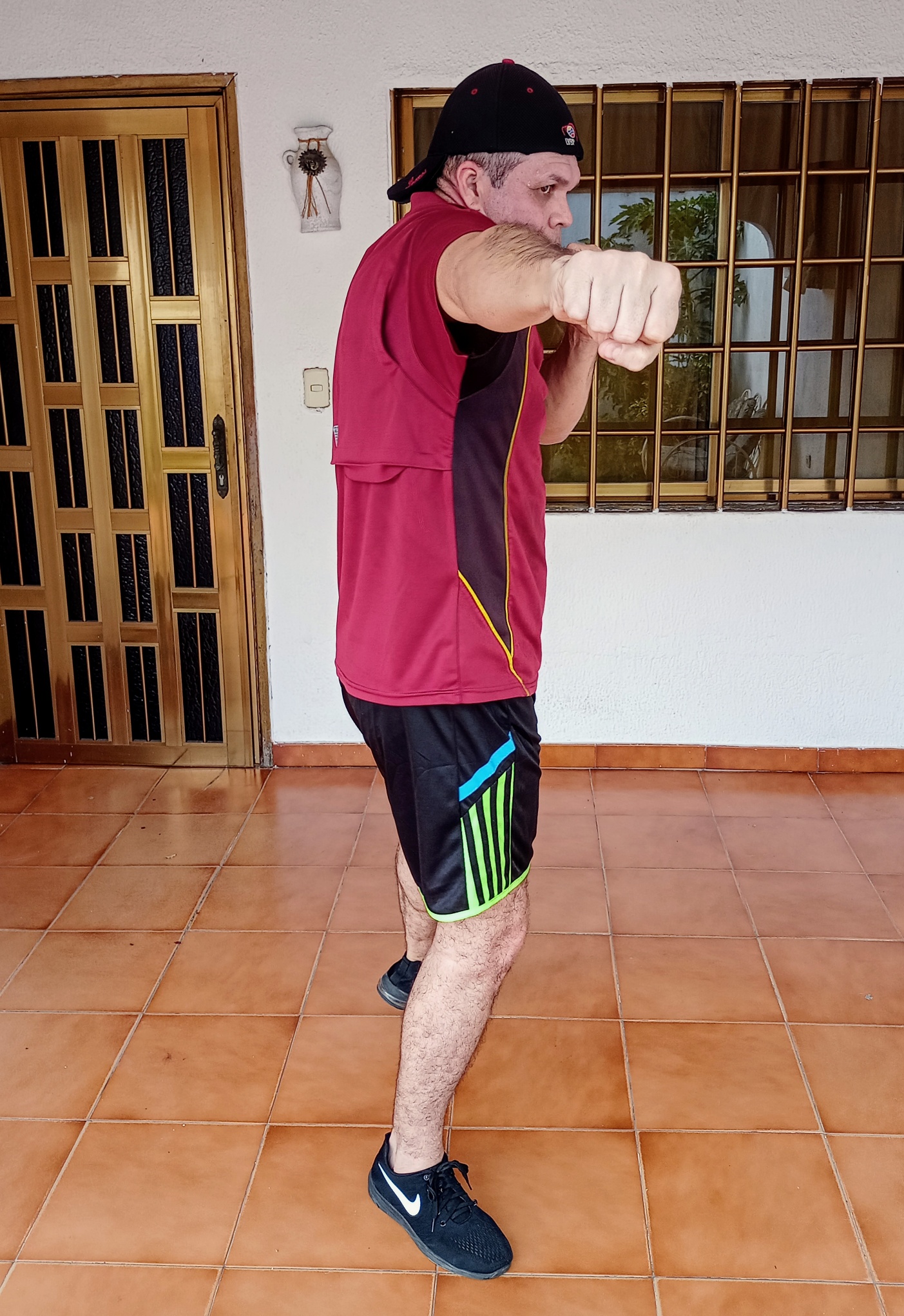 Zancada trasera con protección de rostro / Explota rodillazo + codazo horizontal
Tensión fabulosa para el tren inferior, abdomen y brazos. Nos colocamos en posición frontal de combate. Flexionamos los brazos y con los antebrazos casi juntos nos protegemos el rostro. De inmediato con una pierna ejecutamos la zancada trasera, siempre con los brazos protegiendo el rostro. Rápidamente la misma pierna que hizo la zancada explota hacia arriba y pum, rodillazo. Bajamos la pierna y con el brazo del mismo lado damos un codazo horizontal. Al realizar el codazo no olviden girar el torso. 20 repeticiones de ese lado, por ejemplo usando la pierna derecha. Ahora, nos protegemos el rostro de igual manera, y realizamos la zancada trasera con pierna izquierda. Subimos y viene rodillazo izquierdo. Bajas pierna y codazo horizontal izquierdo. 20 repeticiones más. Todo el ciclo en 4 series.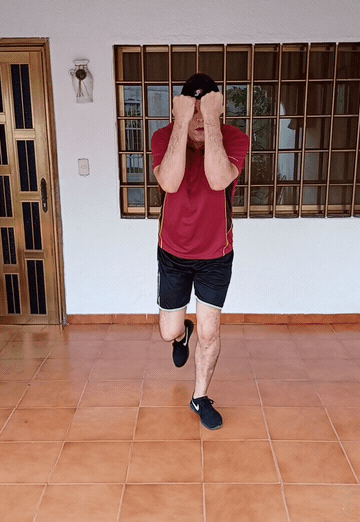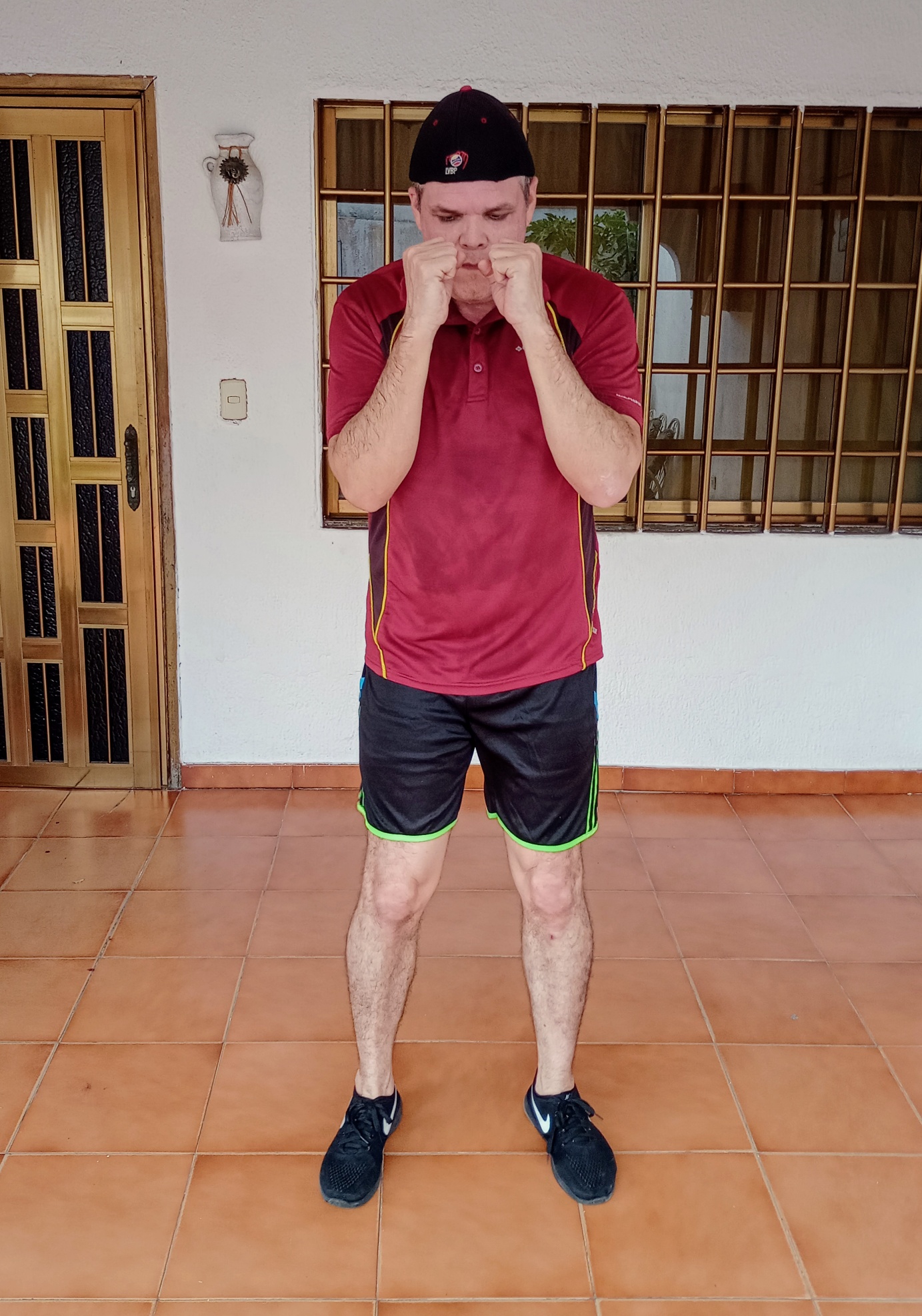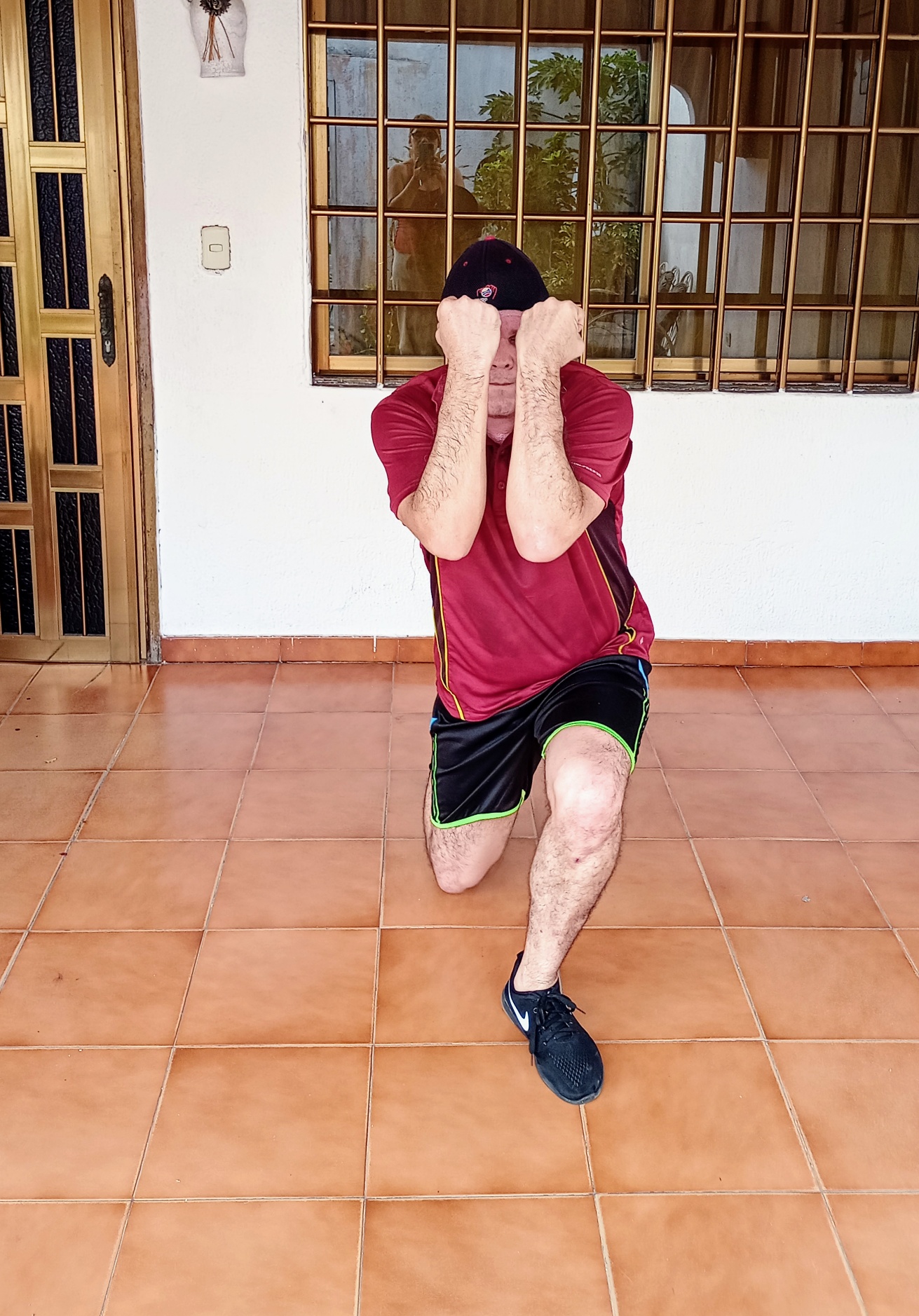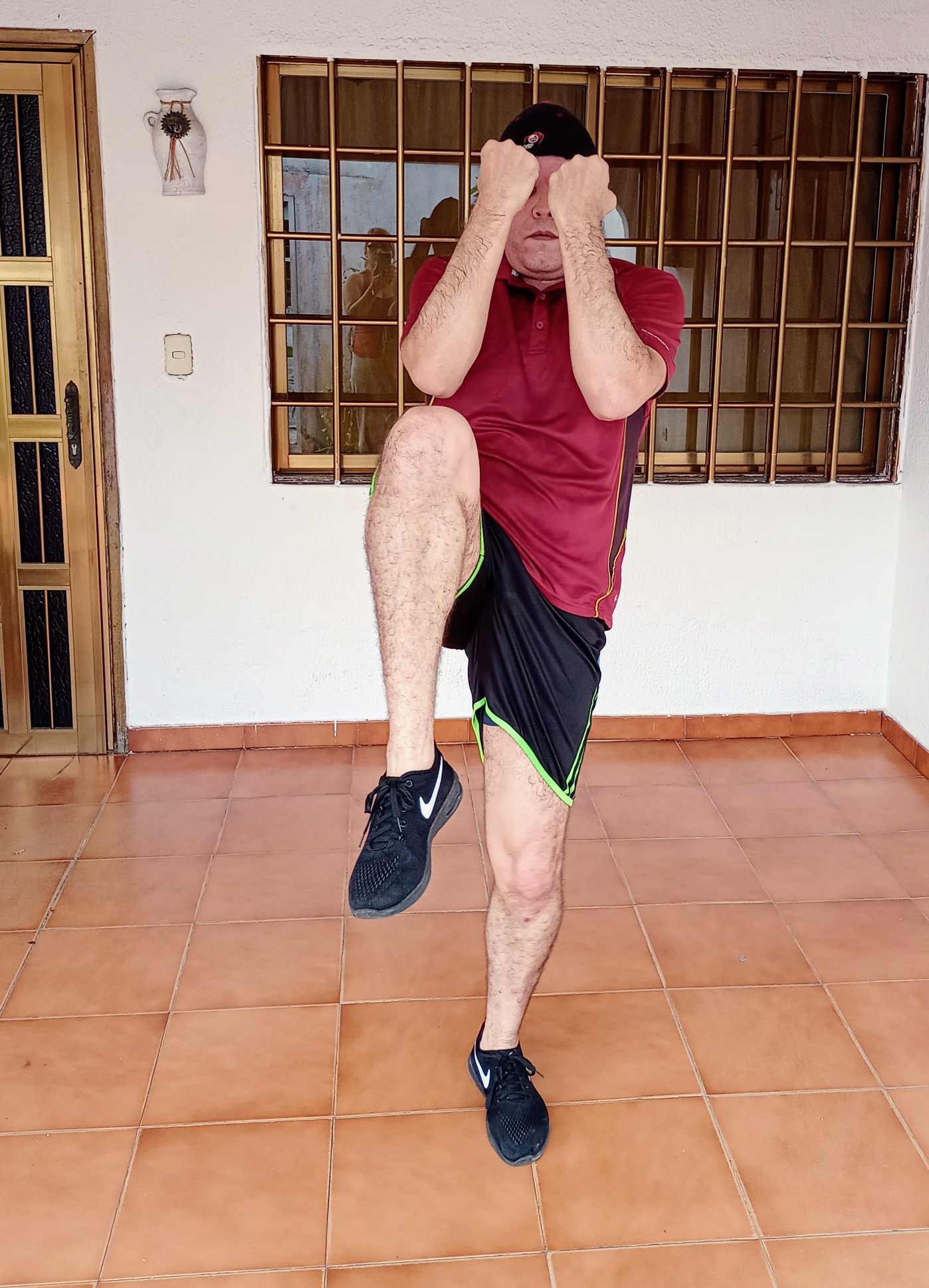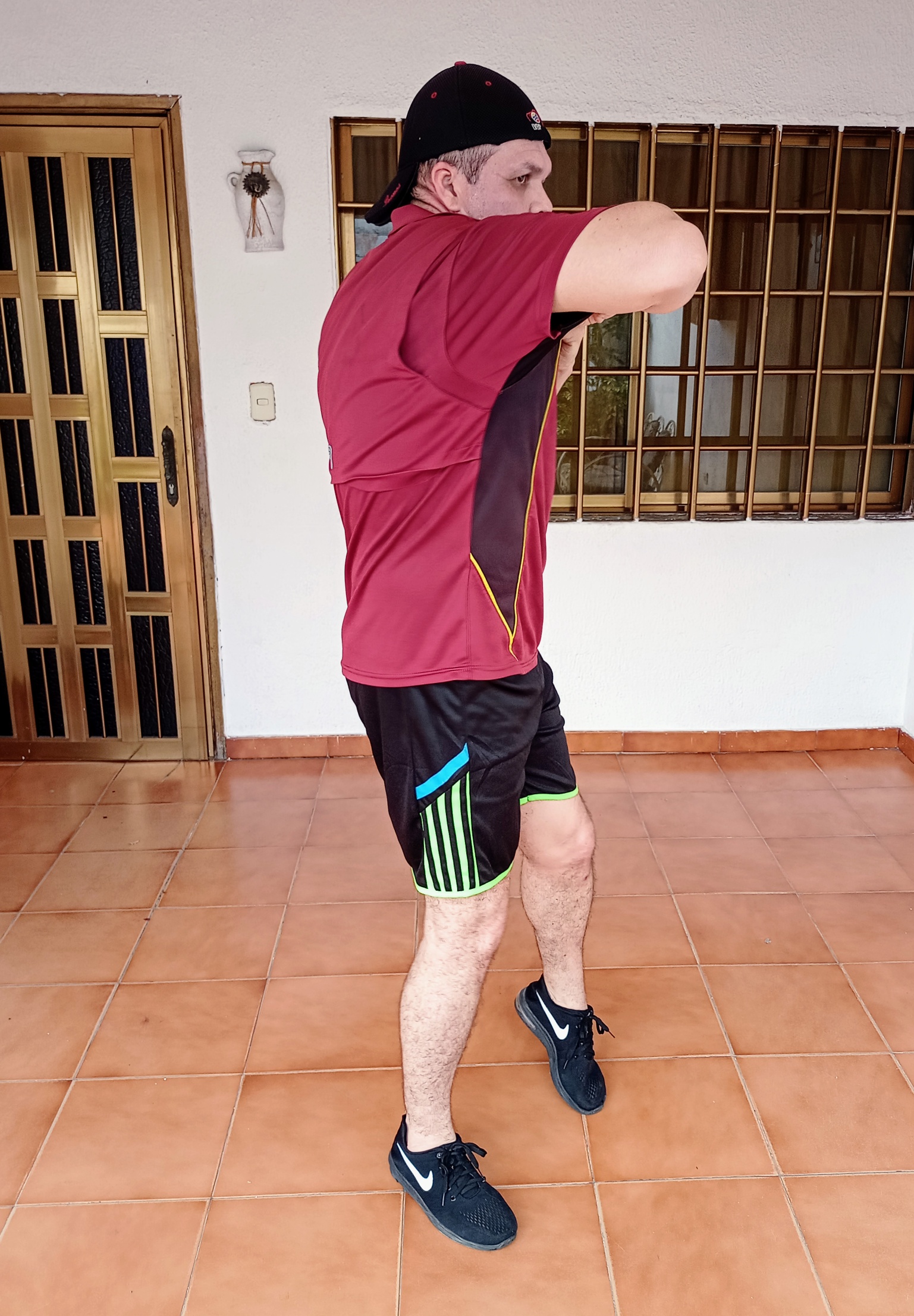 Rear stride with face protection / Explode knee + horizontal elbow

Fabulous tension for the lower body, abdomen and arms. We get into a frontal combat position. We flex our arms and with our forearms almost together we protect our face. Immediately with one leg we execute the rear stride, always with the arms protecting the face. Quickly the same leg that made the stride explodes up and bang, knee. We lower the leg and with the arm on the same side we give a horizontal elbow. When doing the elbow, do not forget to rotate your torso. 20 repetitions on that side, for example using the right leg. Now, we protect our face in the same way, and perform the rear stride with the left leg. We go up and left knee comes. Lower leg and left horizontal elbow. 20 more reps. The whole cycle in 4 series.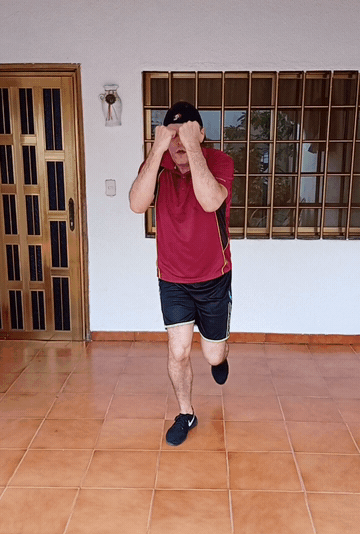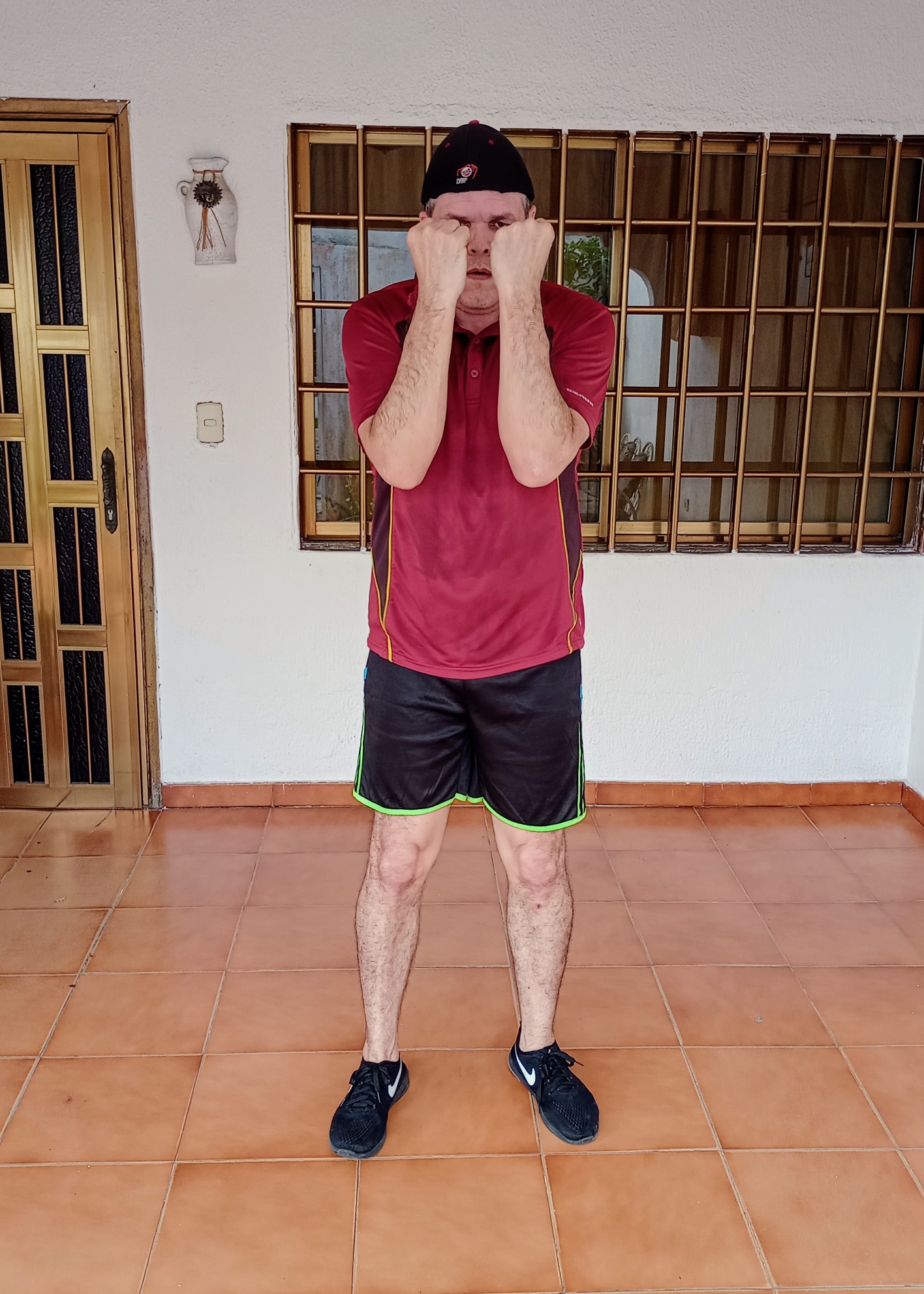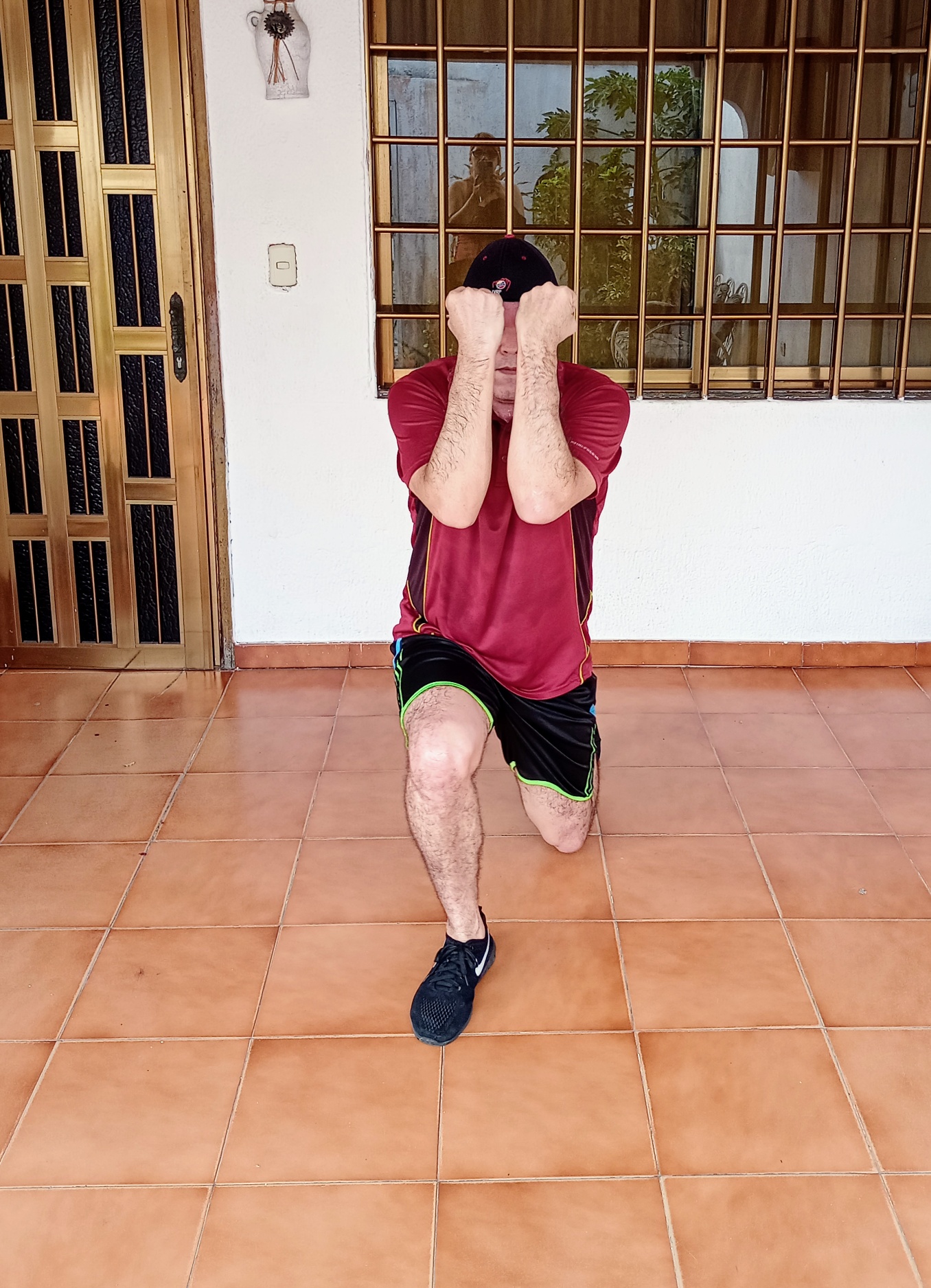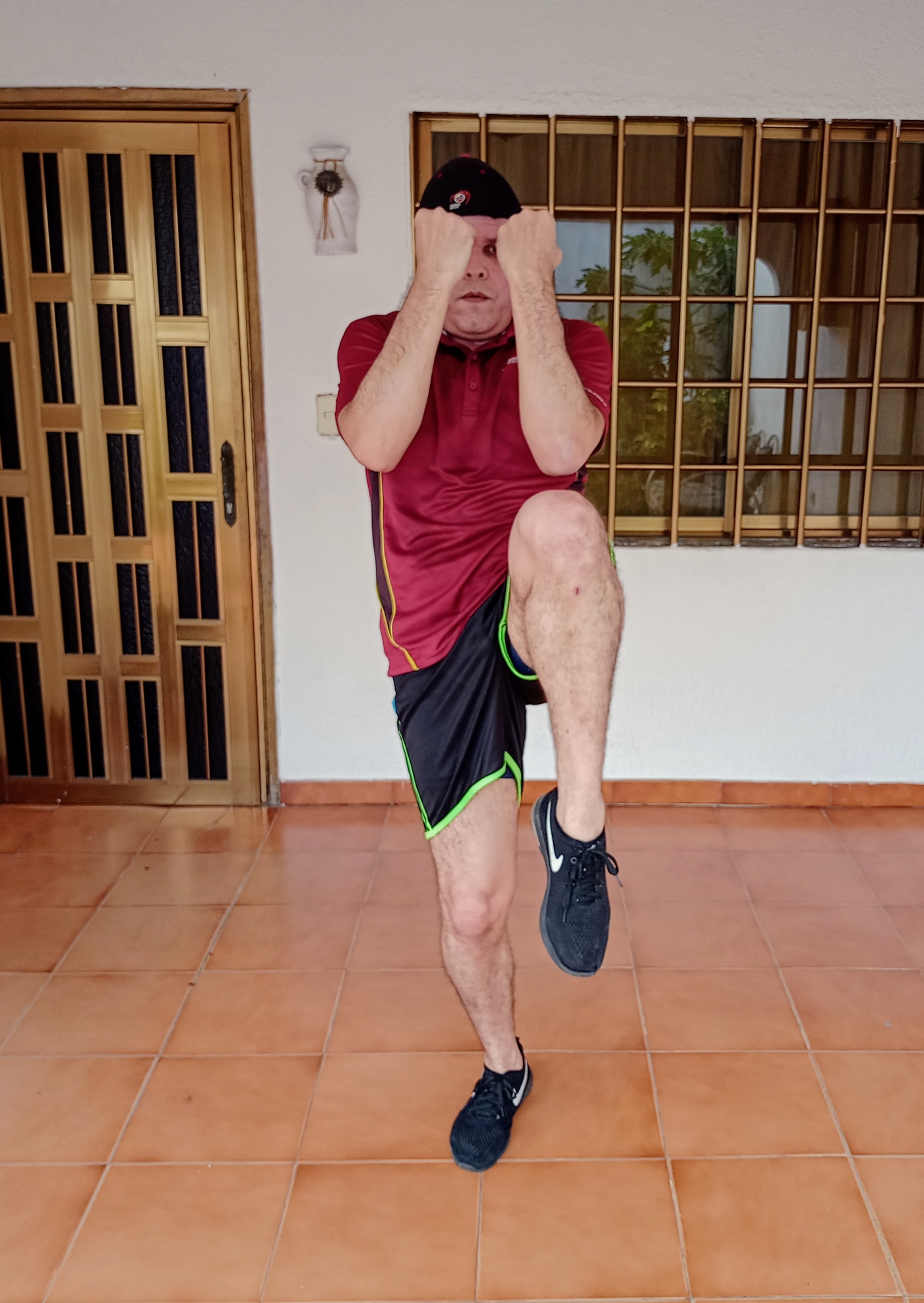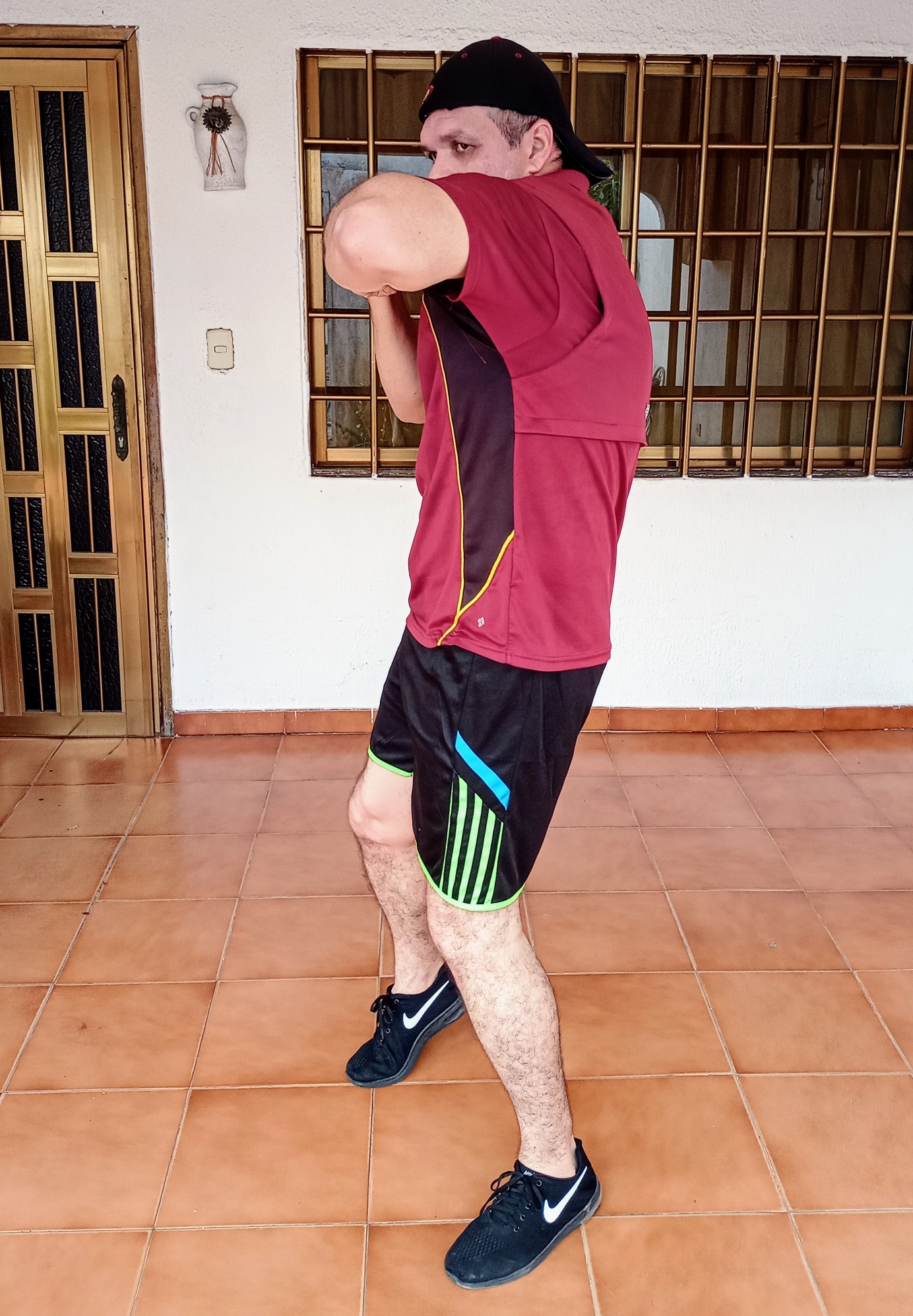 Escalador con una pierna elevada
Otro ejercicio espectacular para activar toda la musculatura. El trabajo del tren inferior es fabuloso. Cadera en movimiento. Adoptamos posición de plancha con una pierna extendida y la otra elevada un poco flexionada. Ahora en movimientos contantes y sin que la pierna elevada toque suelo, damos saltos al frente flexionando ambas piernas. Salto adentro y afuera en 20 repeticiones. Al terminar, repetimos el mismo movimiento en 20 repeticiones más pero intercambiando piernas. Ahora la pierna que elevaste será la que se extiende. 4 series.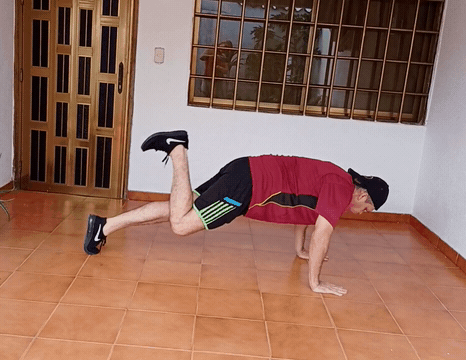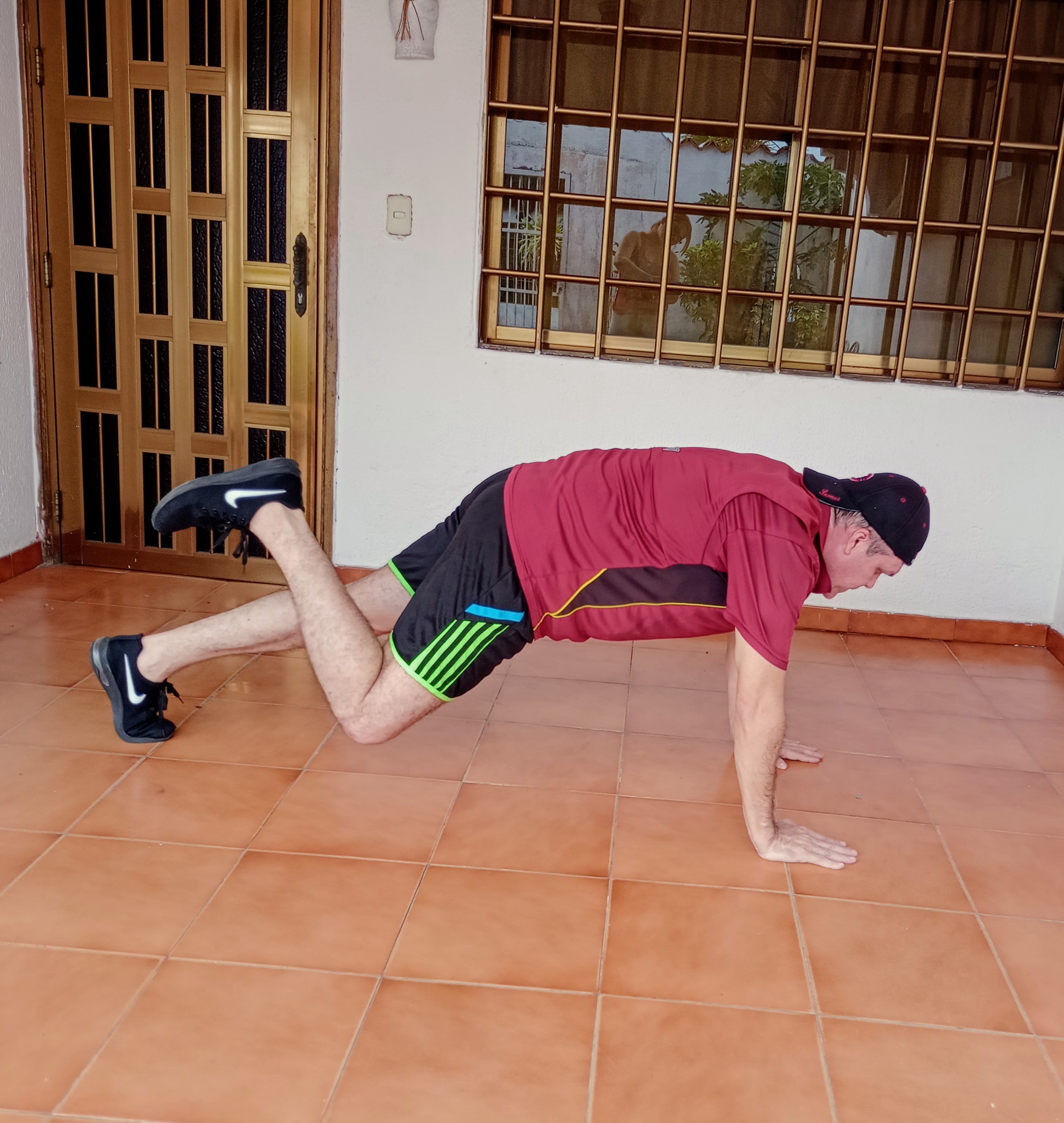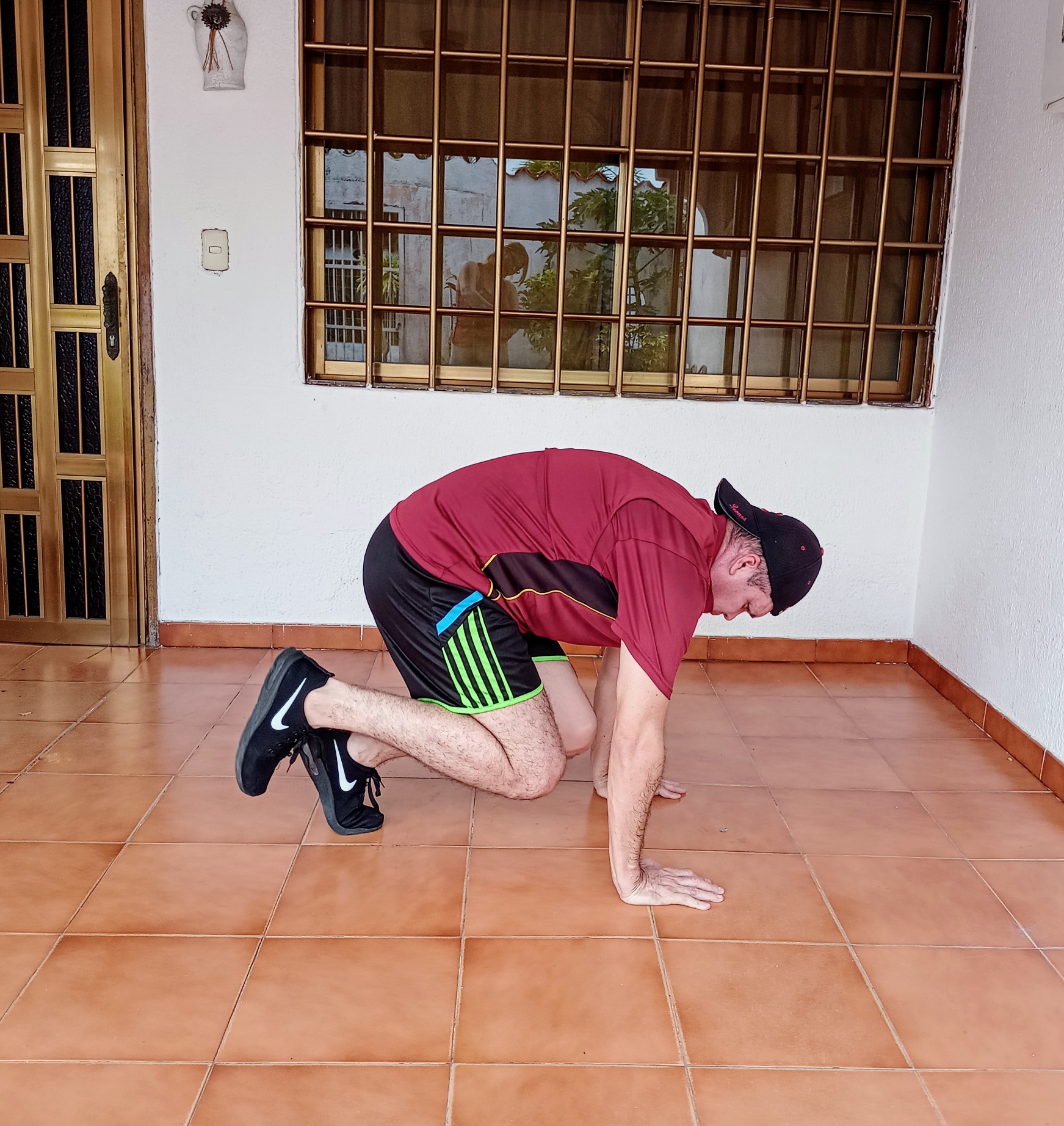 Climber with one leg raised

Another spectacular exercise to activate all the muscles. Lower body work is fabulous. Hip in motion. We adopt a plank position with one leg extended and the other raised slightly bent. Now in constant movements and without the raised leg touching the ground, we jump forward flexing both legs. Jump in and out for 20 reps. When finished, we repeat the same movement for 20 more repetitions but exchanging legs. Now the leg you raised will be the one that is extended. 4 series.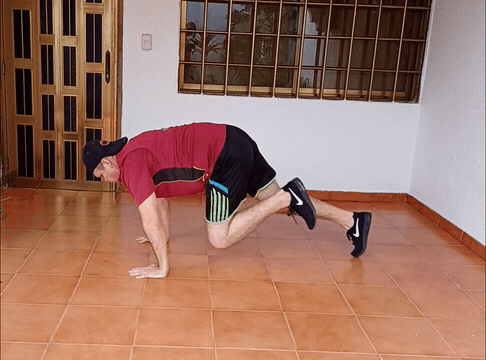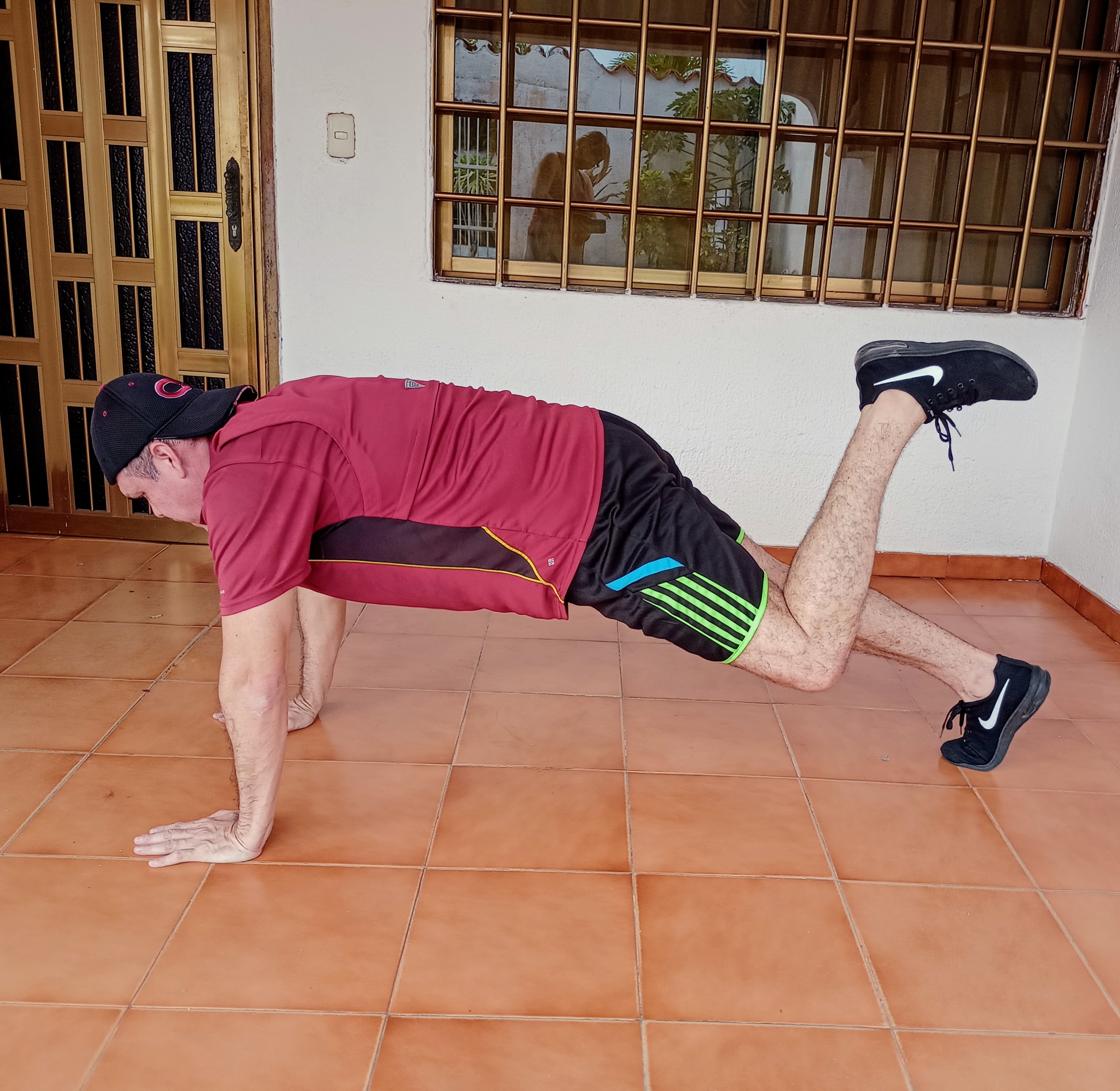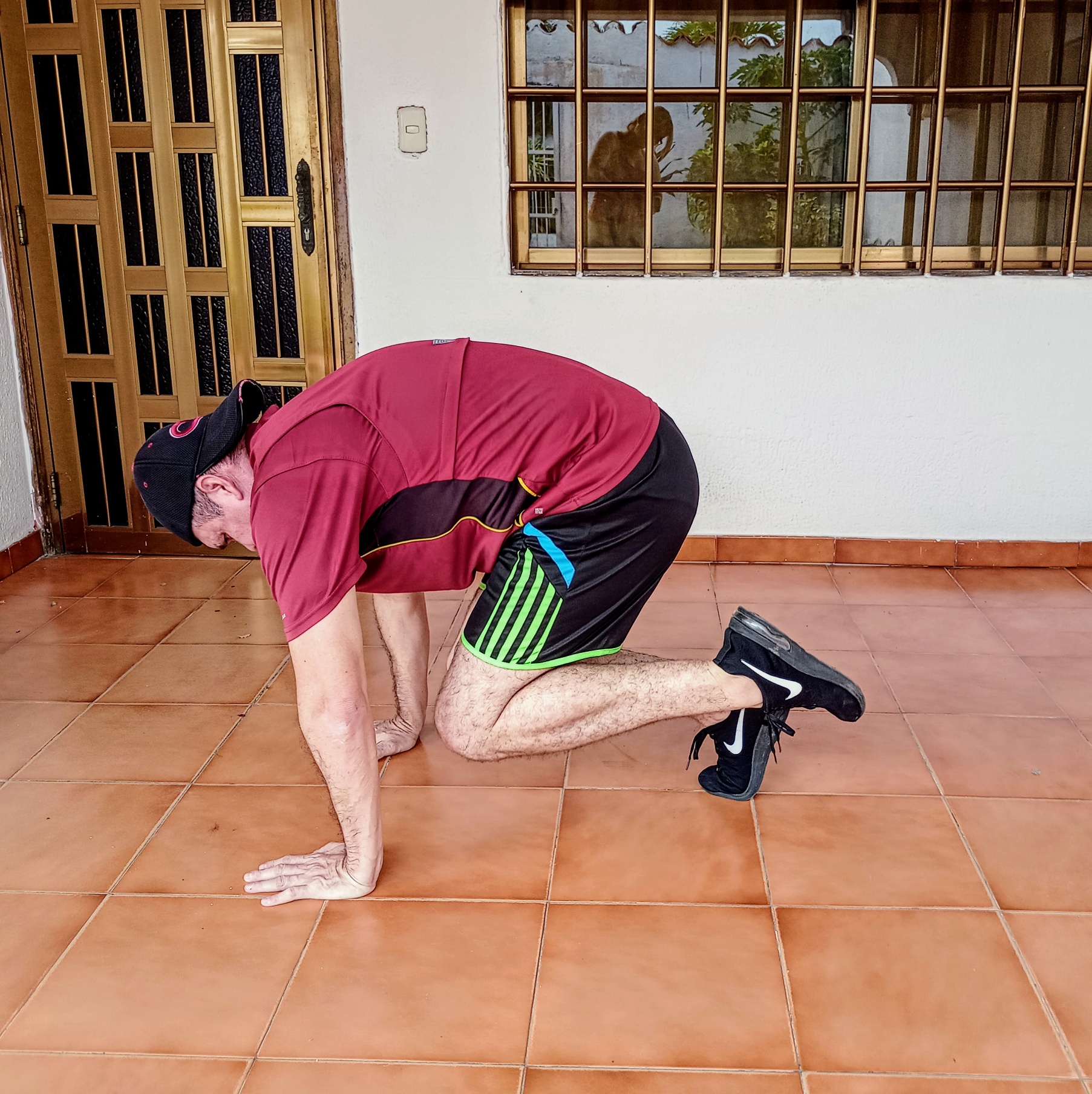 Golpes frontales + codazos horizontales
Cardio perfecto. 100% acción. Posición de combate. Luego, en velocidad y con energía damos un golpe frontal con cada brazo, seguido igualmente de codazos horizontales. 30 repeticiones en 4 series. No olviden girar el torso y piernas en cada golpe.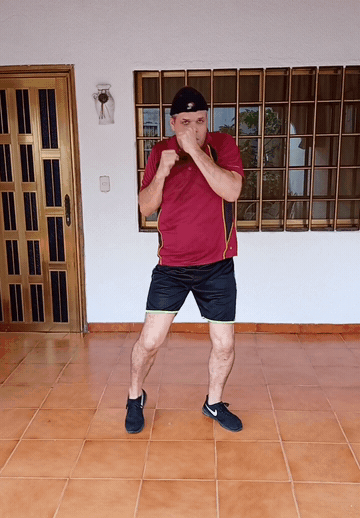 Front strikes + horizontal elbows

Perfect cardio. 100% action. Fighting position. Then, in speed and with energy, we strike a frontal blow with each arm, followed equally by horizontal elbows. 30 repetitions in 4 series. Don't forget to rotate your torso and legs with each stroke.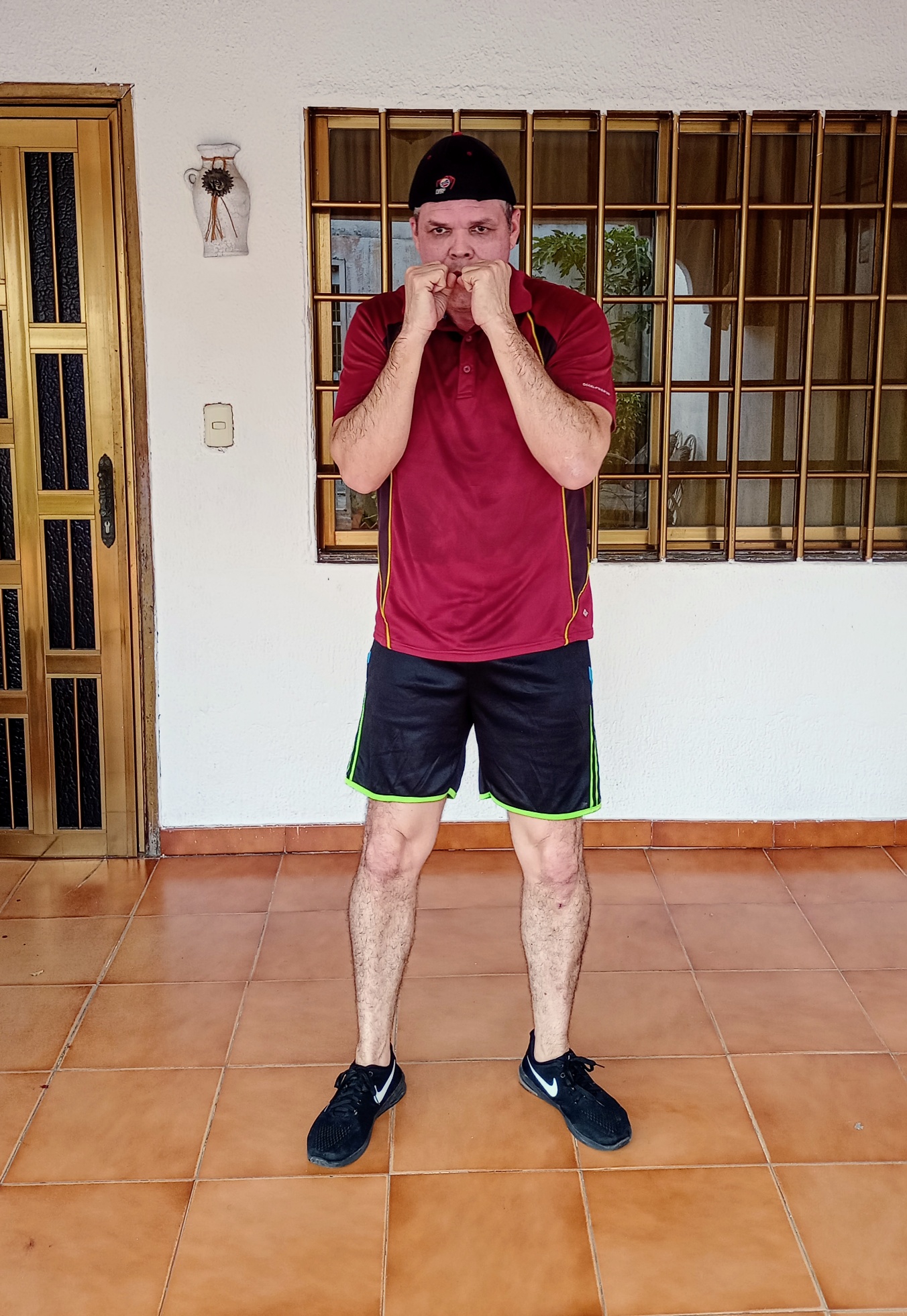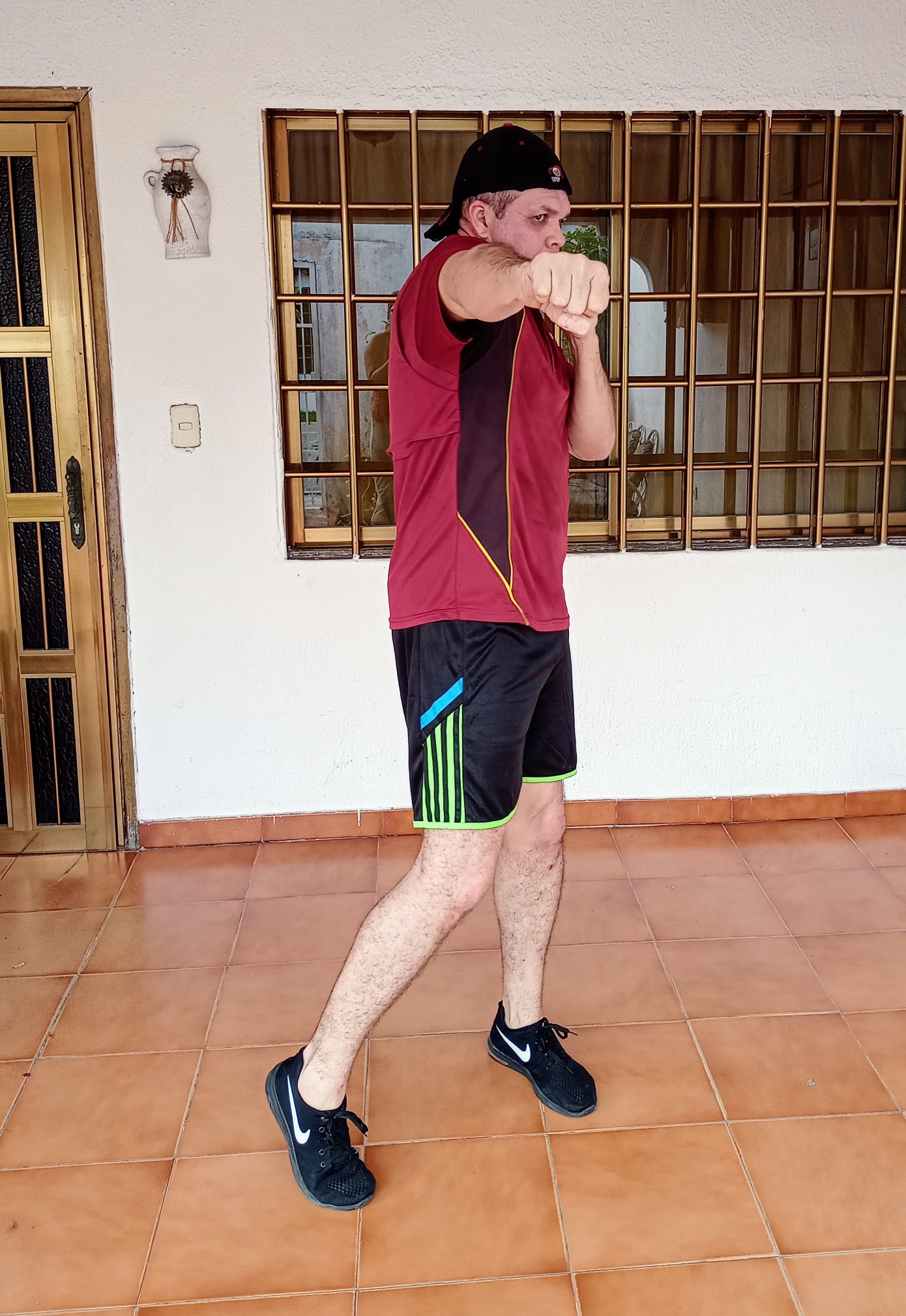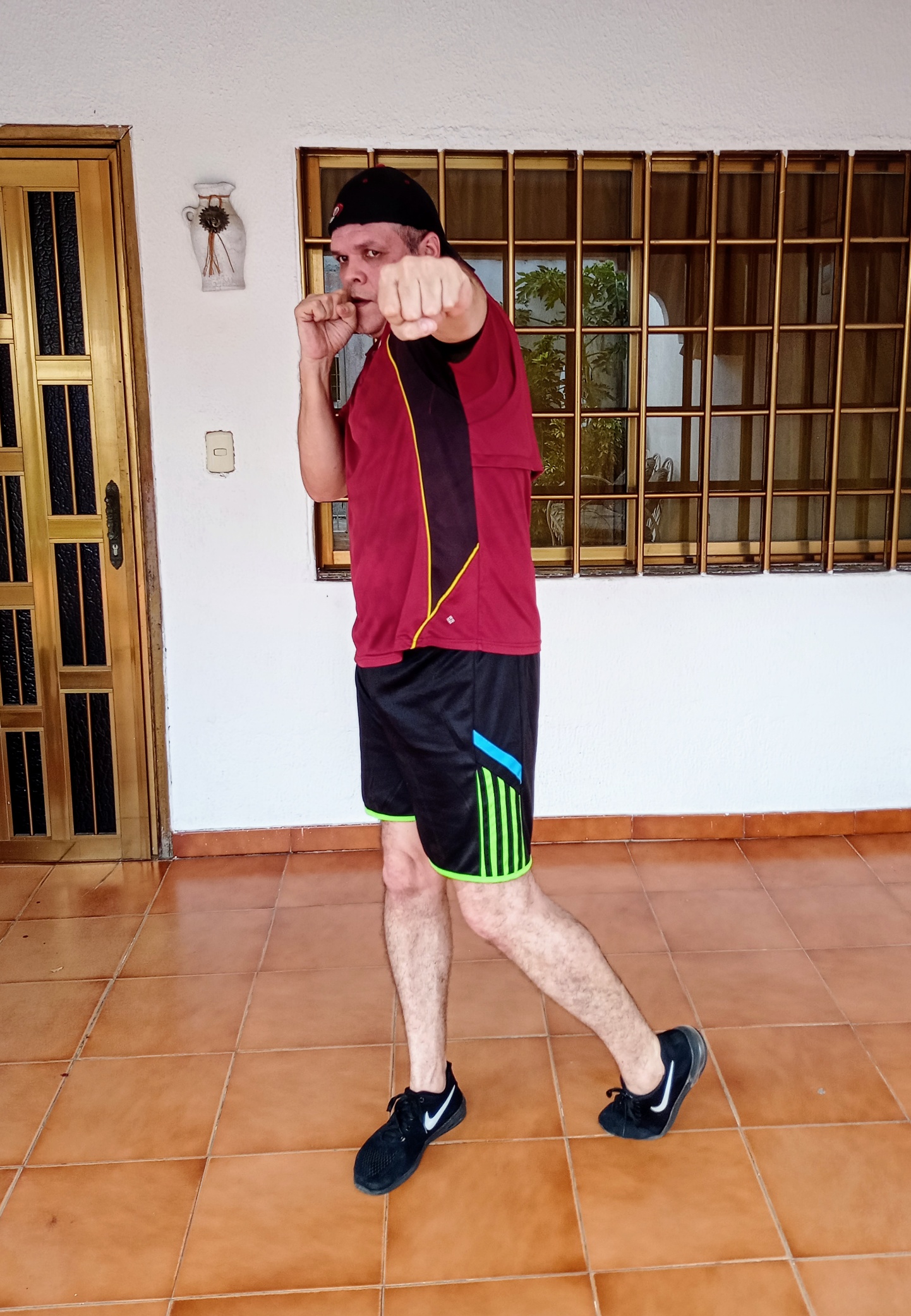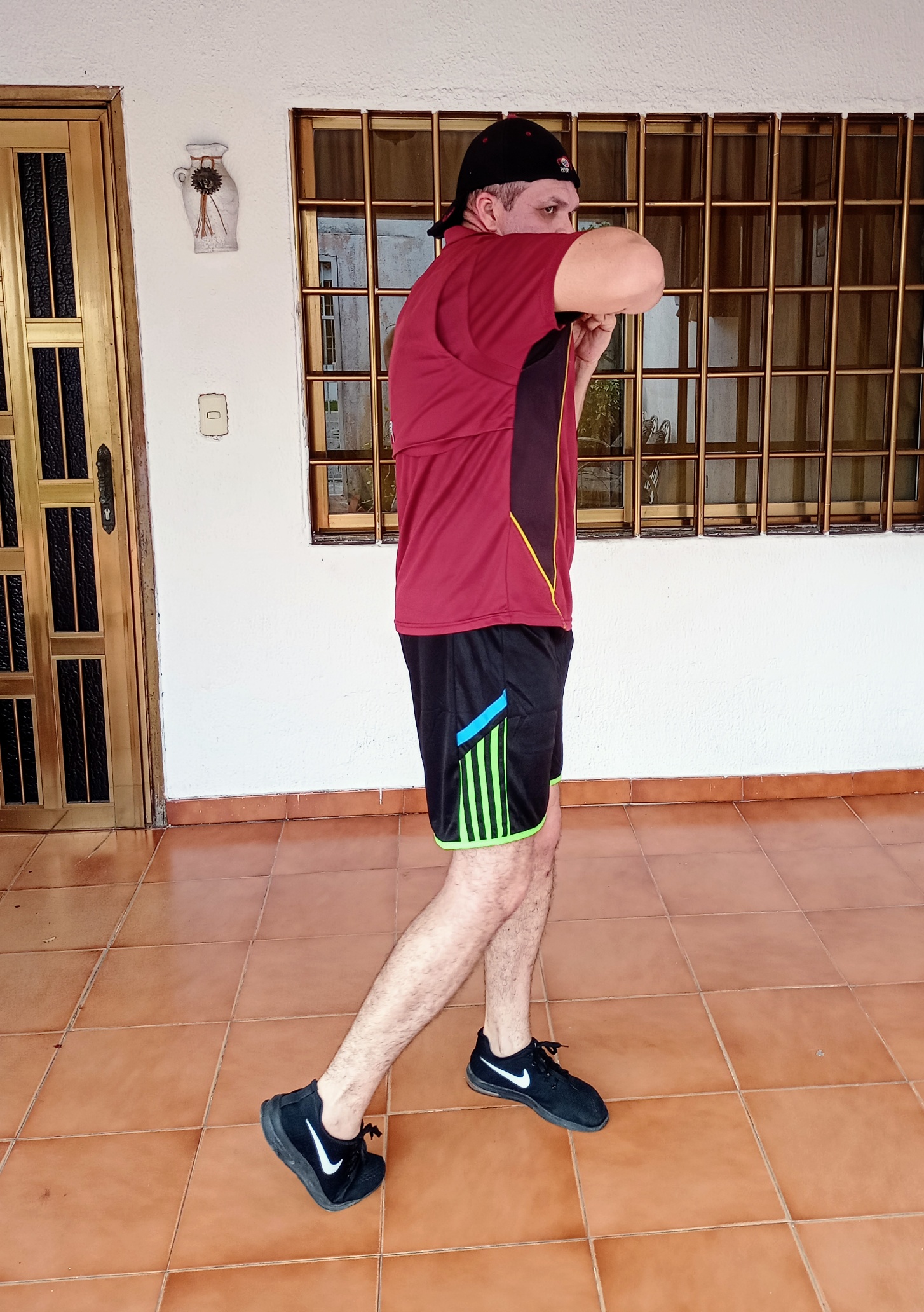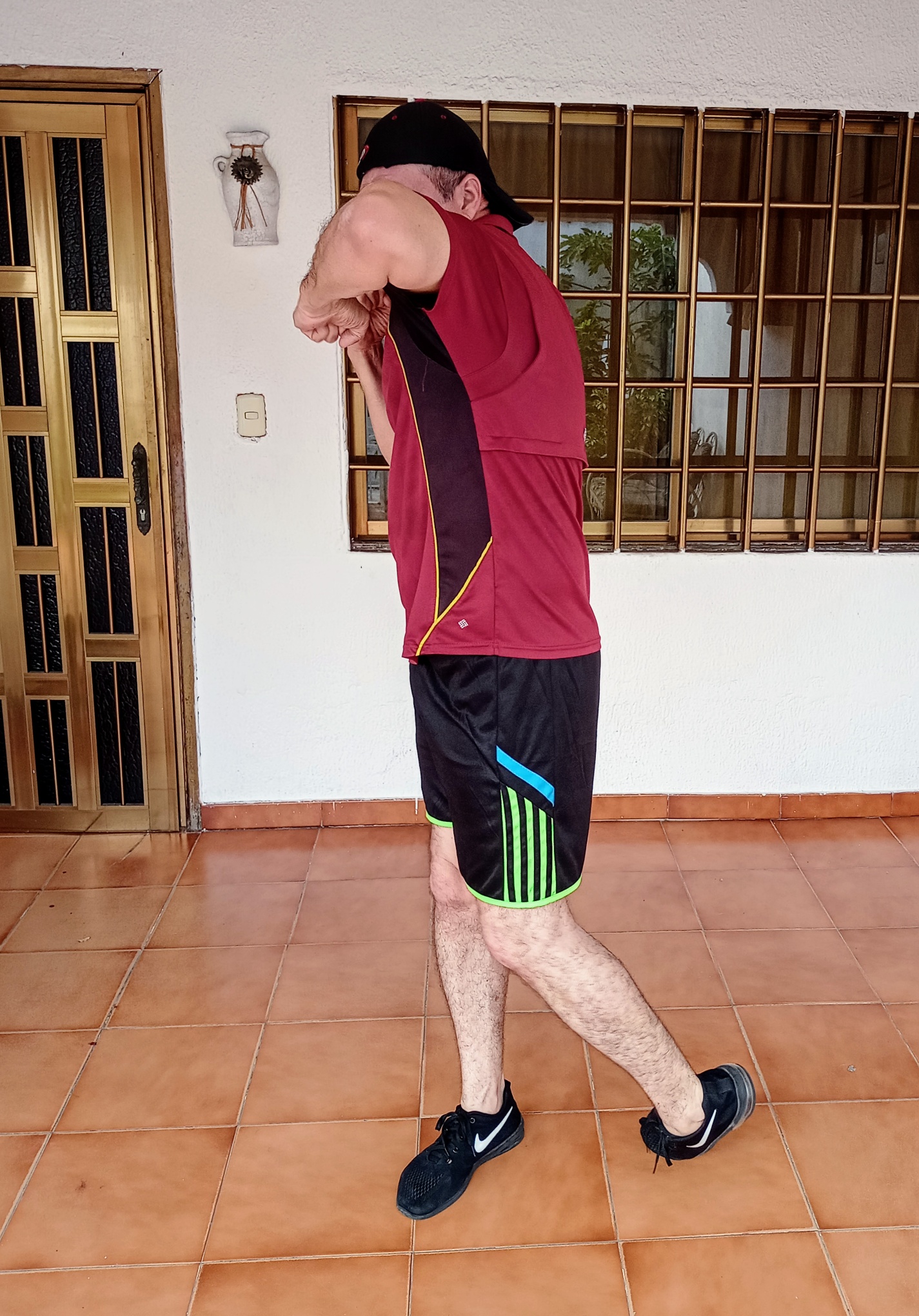 Relajación Corporal
Luego de esta emocionante acción, toca el momento de la relajación. Movimientos suaves.
Body Relaxation

After this exciting action, it's time to relax. Smooth movements.

Hiperextensión
Nos acostamos boca abajo ubicando las manos detrás de la cabeza. Ahora suavemente durante 3 minutos elevamos y bajamos torso. No olviden respirar y exhalar.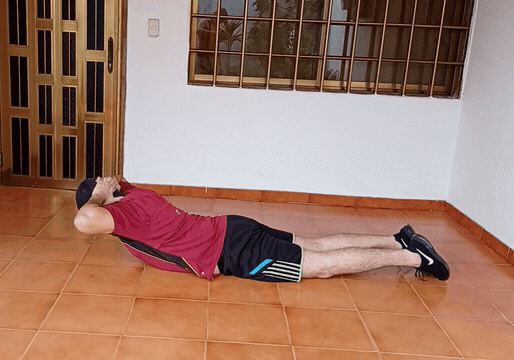 Hyperextension

We lie face down placing the hands behind the head. Now gently for 3 minutes we raise and lower the torso. Don't forget to breathe in and out.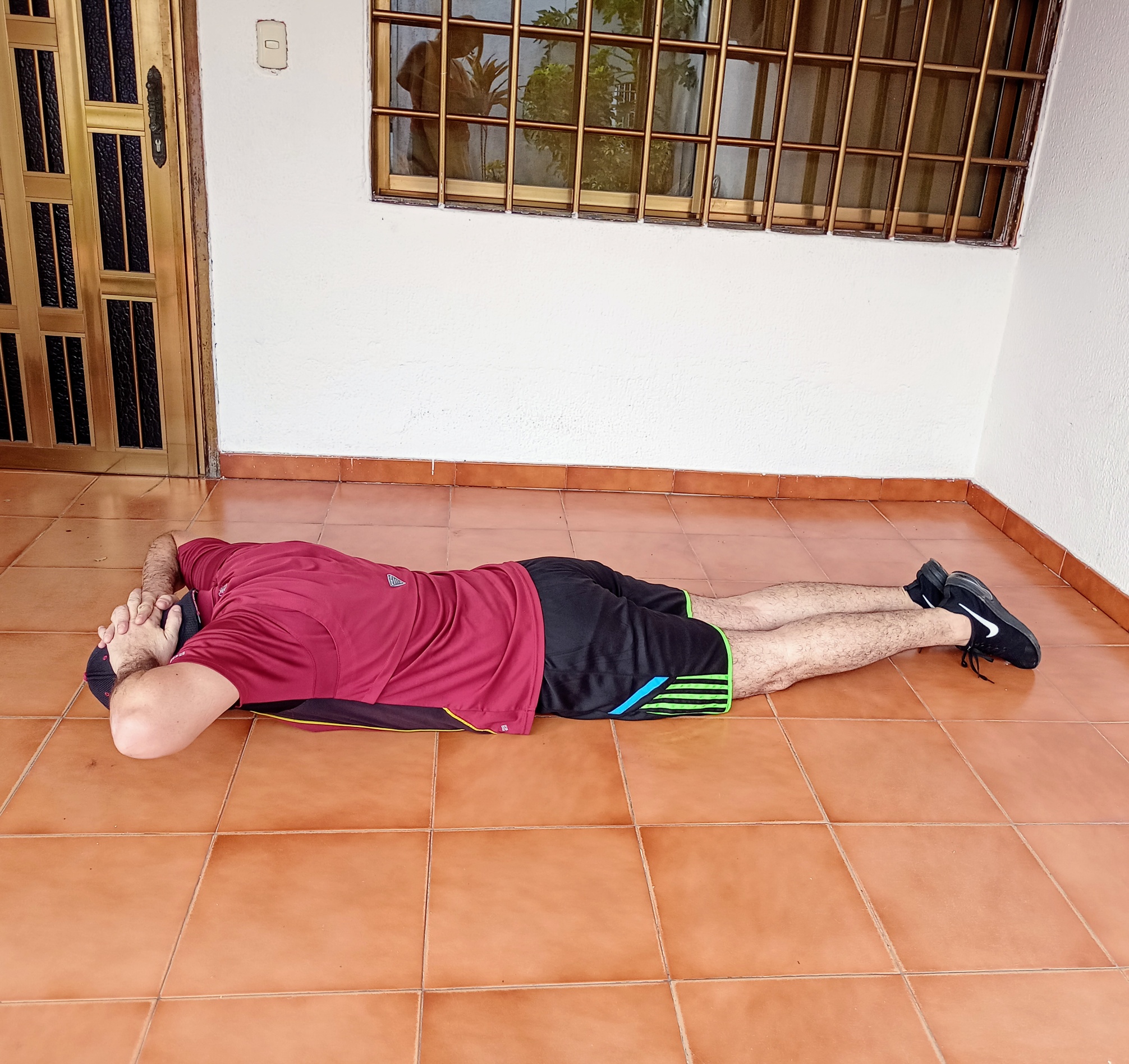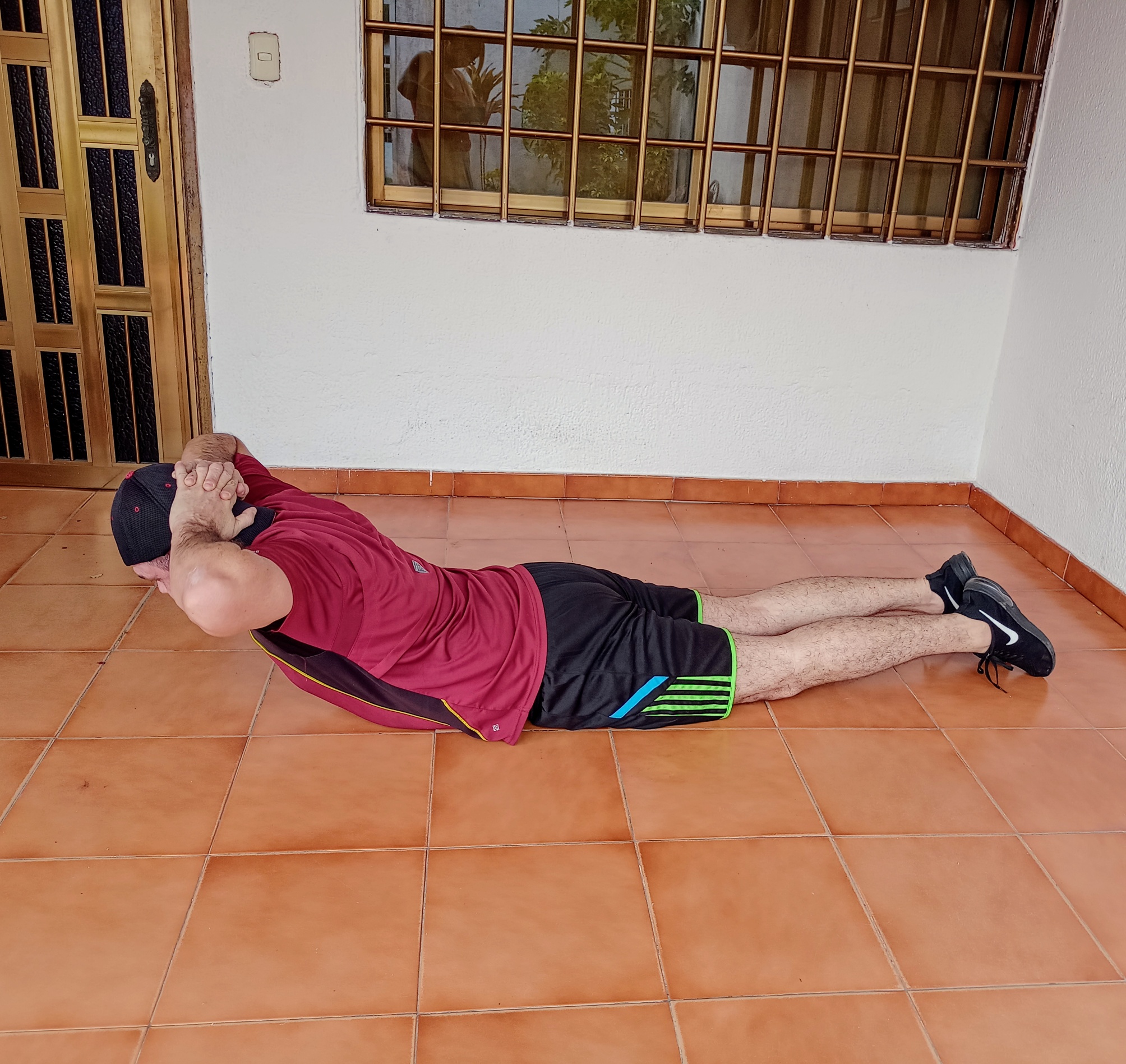 Cada día es un desafío que debemos afrontar y superar. Mientras tengamos full motivación y nos mantengamos positivos, nada será imposible. Debemos entender que ejercitar nos abre un mundo de posibilidades, porque sentirnos bien no tiene precio. Saludos y hasta pronto.
Every day is a challenge that we must face and overcome. As long as we are fully motivated and stay positive, nothing will be impossible. We must understand that exercising opens up a world of possibilities, because feeling good is priceless. Greetings and see you soon.
...Gracias Por Visitar...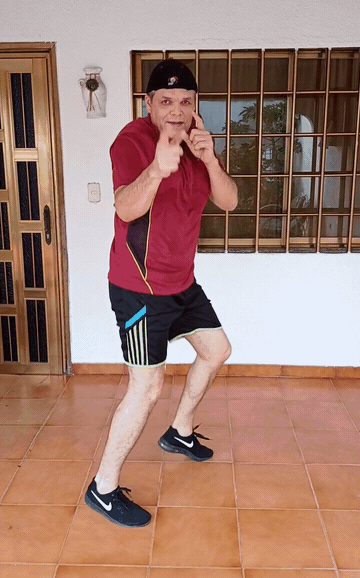 ...Thanks for visiting...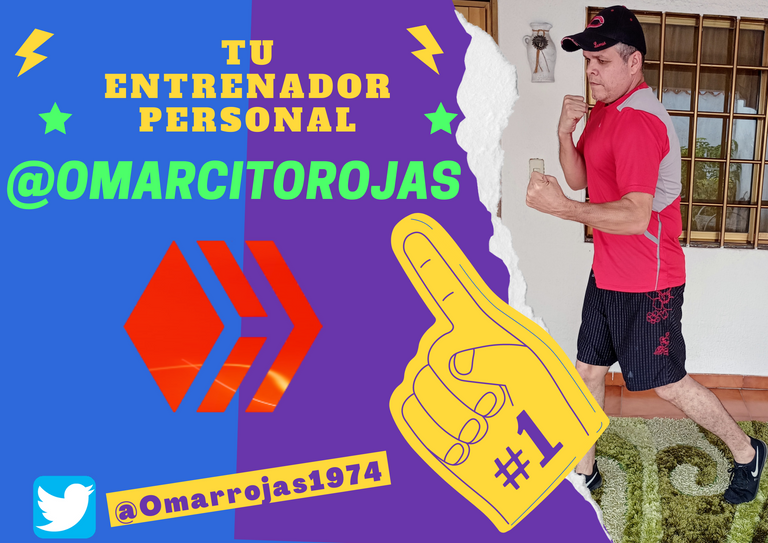 Imágenes Fotográficas, tomadas por mi hijo Miguel Rojas.
Photographic images, taken by my son Miguel Rojas
Sorry. English is not our native language. Therefore, a web translator is used for texts in English. (Spanishdict)
---
---