Obviously you can if you want, but based on previous years I am not the man to follow if you plan to win anything!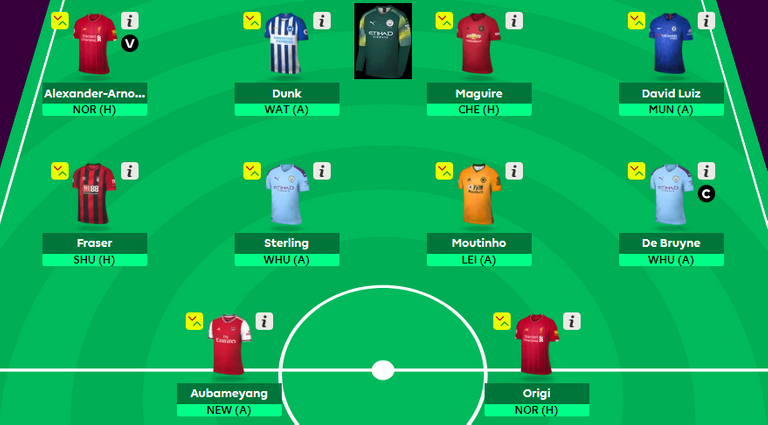 ---
And the prizes on offer this year are pretty epic with no less than 3 leagues to join using the https://fantasy.premierleague.com application.
First up, we have the long standing #sfpl league hosted by @acidyo which has paid out thousands of Steem to participants over the past two years:
https://www.sportstalksocial.com/steem/@acidyo/steem-fantasy-premier-league-3-is-here
This year, the prize pool will also include 1 million SPORTS tokens and entry here should not be missed!
Then there is the SportsTalkSocial League hosted by regular contibutor @blanchy in which another 1 million SPORTS are up for grabs, plus 500 SBI units!:
https://www.sportstalksocial.com/football/@blanchy/sportstalk-social-fantasy-premier-league-500-sbi-and-50-000-sports-tokens-to-be-won
And finally, why not enter your team into @chekohler's 'Footballista' league and go for the treble:
https://www.sportstalksocial.com/sports/@chekohler/join-my-epl-fantasy-league-for-the-2019-20-season
Remember, the first game is tomorrow night and so don't forget to sort your team prior to then - Hungover on Saturday morning will be too late to make those last minute changes!
Also, don't be a douche and register multiple teams for the same league - You can however create 3 teams and register a team for each if you fancy that approach. Personally, I've submitted the same team to all 3 leagues and so the reward will either be huge, or like in previous season, next to nothing as my 'players' fail to perform when I select them.
Visit each link to check the rules and find the league codes.
---
A few weeks ago, I picked a provisional squad just to get some sort of team together. Since that time, players have been swapping clubs, got crocked, and performed like a sack of shite in pre-season and so I've made some changes to my original line-up.
Previous squad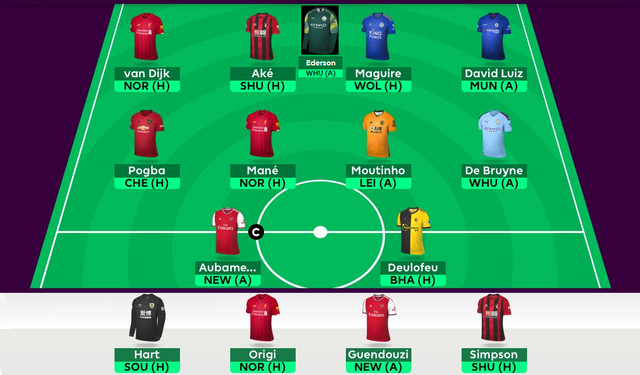 Defence
At the back, Luiz, Maguire, and Ederson keep their places but van Dijk and Ake have been given the boot for Alexander Arnold and (slam) Dunk. Looking into A-A's game time last season, I realised that he'd missed a fair few minutes and if he stays fit, he looks a banker to be the top scoring defender in the League this year. Dunk had a good season last year but has mainly been drafted in to free up half a million to swap A-A in for van Dijk. I have heard rumors that Arsenal are interested in buying the Brighton defender though, and that would be a nice bonus if he made the switch.
Midfield
Two changes in the midfield also as Pogba and Mane are subbed out for Frazer and Sterling. Raheeeeeeem looks set for another cracking year and Frazer could well improve on last years score whilst also being a cheaper option. I do think Pogba and Mane are decent picks, especially the latter, but rumors are that they are unfit to play this weekend and so are out of the squad for now.
Attack
Free scoring (last season when he wasn't in my team at least) Aubameyang keeps his spot but the injury prone Deulofeu is out of the squad as he is likely unfit for the start of the new campaign. Previous sub Origi is brought in as a bit of a gamble and will hopefully be starting tomorrow in place of Mane for Liverpool. I think he will play at some point but if not, Jimenez is sitting on the subs bench waiting for some action and will hopefully put in another good season for Wolves.
Captain fantastic
I've gone with KDB who like A-A, missed a lot of last season through injury. This guy is top class, probably best in class in his position and could have a storming season if he stays fit. A-A is there as vice captain but I hope (for my fantasy team at least) that KDB stays fit, scores 15 and sets 20 up.
---
A final word or two on the Manchester United v Chelsea game on Sunday.
Manchester United V Chelsea was the 2nd game I watch at Old Trafford, and the blues won the day. Since then (1993/4), I've consider Chelsea a bogie team but this season think Man U can get a win. Come on your Reds!
Cheers!
Asher