Esp] Poder Bajo la Lluvia... Entrenamiento indetenible [Eng] Power in the Rain... Unstoppable Training

---
Estamos de nuevo en contacto directo con todos mis fabulosos seguidores, y también con todos aquellos que deseen iniciar un cambio de vida. El día de hoy el entrenamiento es especial porque lo hicimos bajo la lluvia, nada nos detiene y la música de fondo de la que nos deleitamos es el espectacular caer de la lluvia. Si así como leen, porque con constancia, dedicación y ganas de hacer las cosas todo nos sale bien, y si de ejercitar se trata nuestra motivación está a millón. Todo esto lo hacemos por ustedes para que día a día no se pierdan de ningún detalle, porque tu cuerpo es importante, porque tu eres importante y porque tu vida debe ser llevada con total positivismo. Aquí lo que hay es ejercicios, aquí lo que hay es salud y aquí lo que hay es voluntad pura. Vente con nosotros y conviértete en ejemplo para los demás. Vamos a activar el cuerpo completo, con un plus adicional para fortalecer el tren inferior.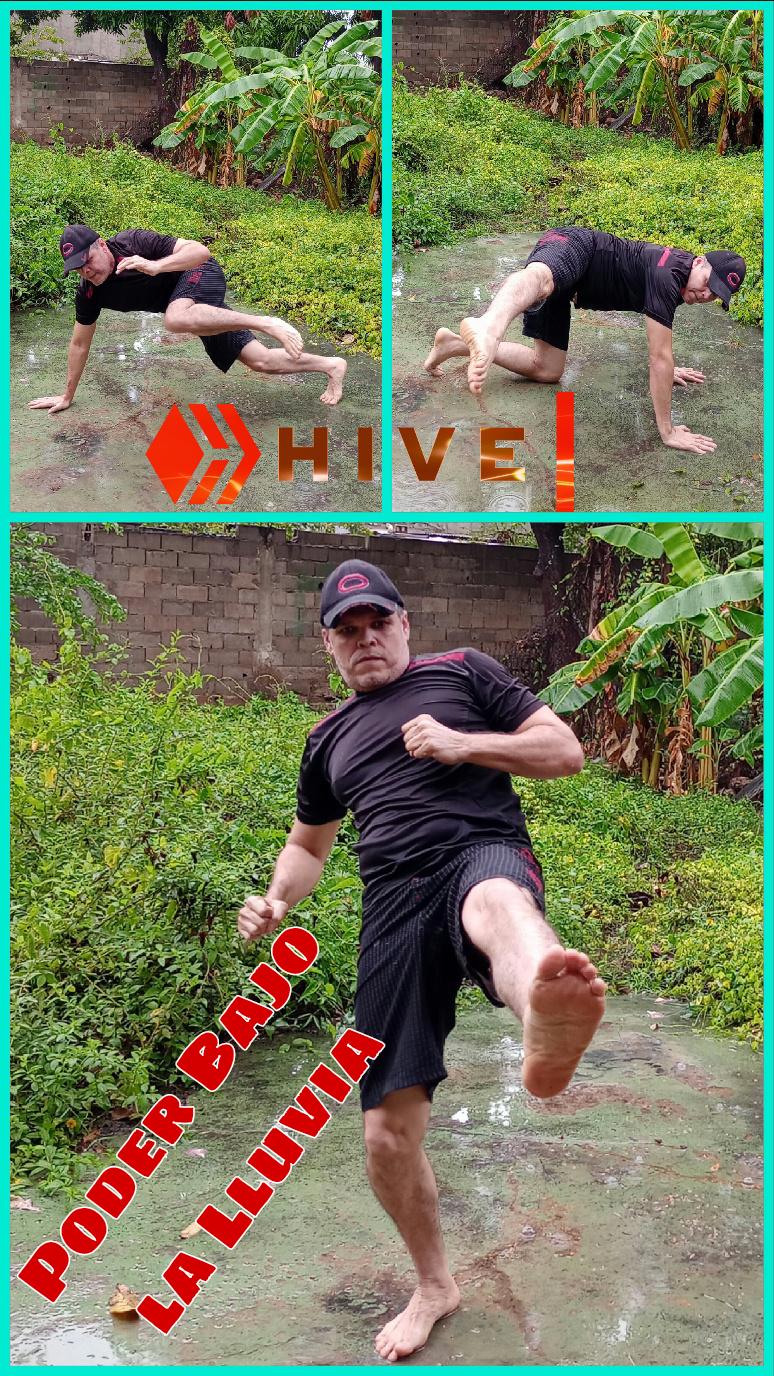 Imagen de mi Autoría Editada por/Image of my Authorship Edited by Photo Estudio
Visita mi canal de/Visit my chanel 3speak
Video editado en la aplicación/In-app edited video Filmora Go
We are again in direct contact with all my fabulous followers, and also with all those who wish to initiate a change of life. Today's training is special because we did it in the rain, nothing stops us and the background music that we delight in is the spectacular fall of the rain. If that's how they read, because with perseverance, dedication and the desire to do things, everything turns out well for us, and if it is about exercising, our motivation is a million. We do all this for you so that every day you do not miss any detail, because your body is important, because you are important and because your life must be led with total positivity. Here what there is is exercises, here what there is health and here what there is is pure will. Come with us and become an example for others. We are going to activate the whole body, with an additional plus to strengthen the lower body.

Calentamiento Corporal
Giro de cuerpo con extensión de brazo.
Saltos de tijeras.
Flexiones con rodillazo + codazo lateral y torción de tronco.
Sentadillas profundas con explosión de patadas.
Plancha con patada lateral.
Rodillazo / Giro + golpe directo.
Relajación Corporal



Body Warming

Body twist with arm extension.
Scissor jumps.


Push-ups with knee + lateral elbow and torso twist.
Deep squats with explosion of kicks.
Plank with side kick.
Knee / Twist + direct hit.


Body Relaxation

Legs to the abdomen.

Calentar antes de entrenar
Dinámica: En circuito
Trabajo por ejercicio: entre 10 Y 20 (se indica) repeticiones.
Series: 4 por circuito completo.
Descanso entre ejercicios: de 10 a 20 segundos.
Descanso entre series: de 1 a 2 minutos.
Warm up before training
Dynamics: In circuit
Work per exercise: between 10 and 20 (indicated) repetitions.
Series: 4 per complete circuit.
Rest between exercises: 10 to 20 seconds.
Rest between series: 1 to 2 minutes.

Calentamiento Corporal
Calentando bajo la lluvia también es posible. Aquí hay una mezcla de sudor y agua, pero igualmente los músculos se acondicionan para la ejercitación futura. Sigamos adelante sin obviar esta etapa.
Body Warming


Warming up in the rain is also possible. There is a mixture of sweat and water here, but the muscles are also conditioned for future exercise. Let's move on without skipping this stage.

Giro de cuerpo con extensión de brazo


Estando de pie giramos el cuerpo de forma diagonal acompañado de la extensión del brazo de su mismo lado. Giro diagonal al lado opuesto y extensión del otro brazo. Movimientos continuos por 3 minutos.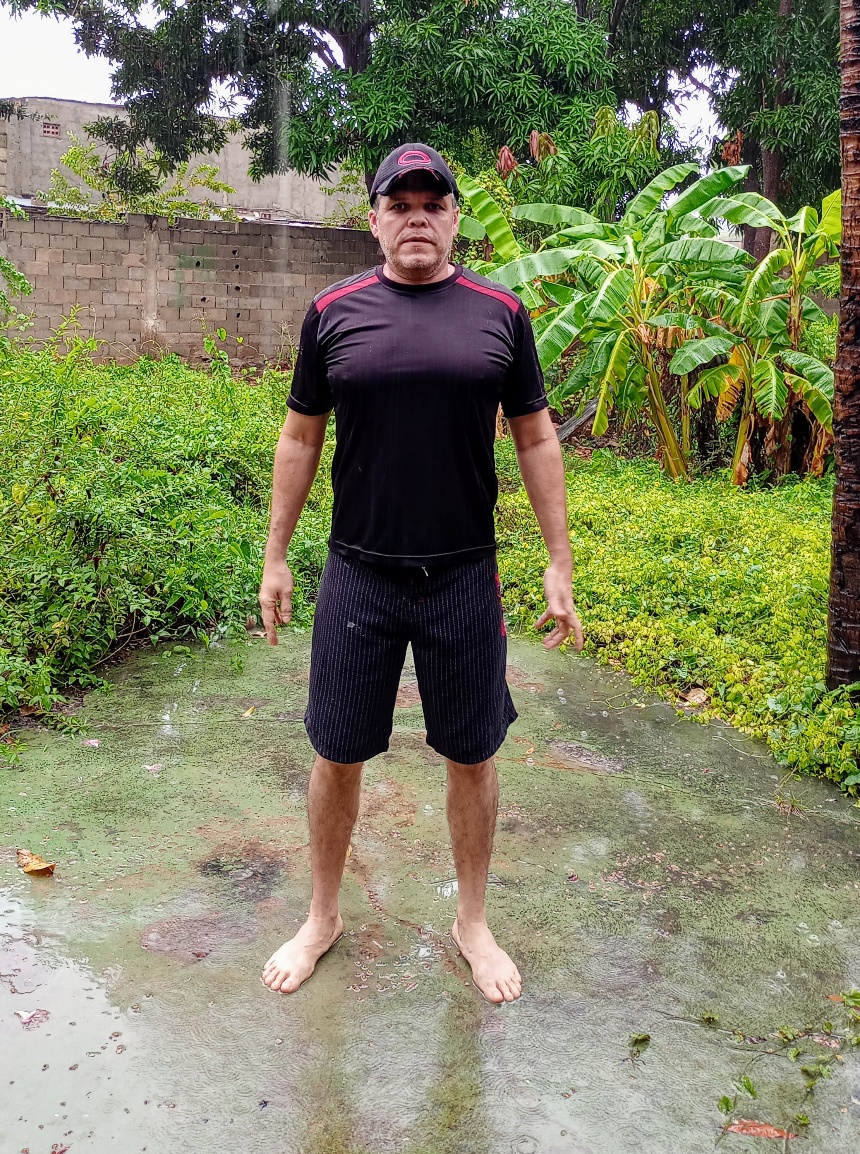 Body twist with arm extension


While standing we turn the body diagonally accompanied by the extension of the arm on the same side. Diagonal turn to the opposite side and extension of the other arm. Continuous movements for 3 minutes.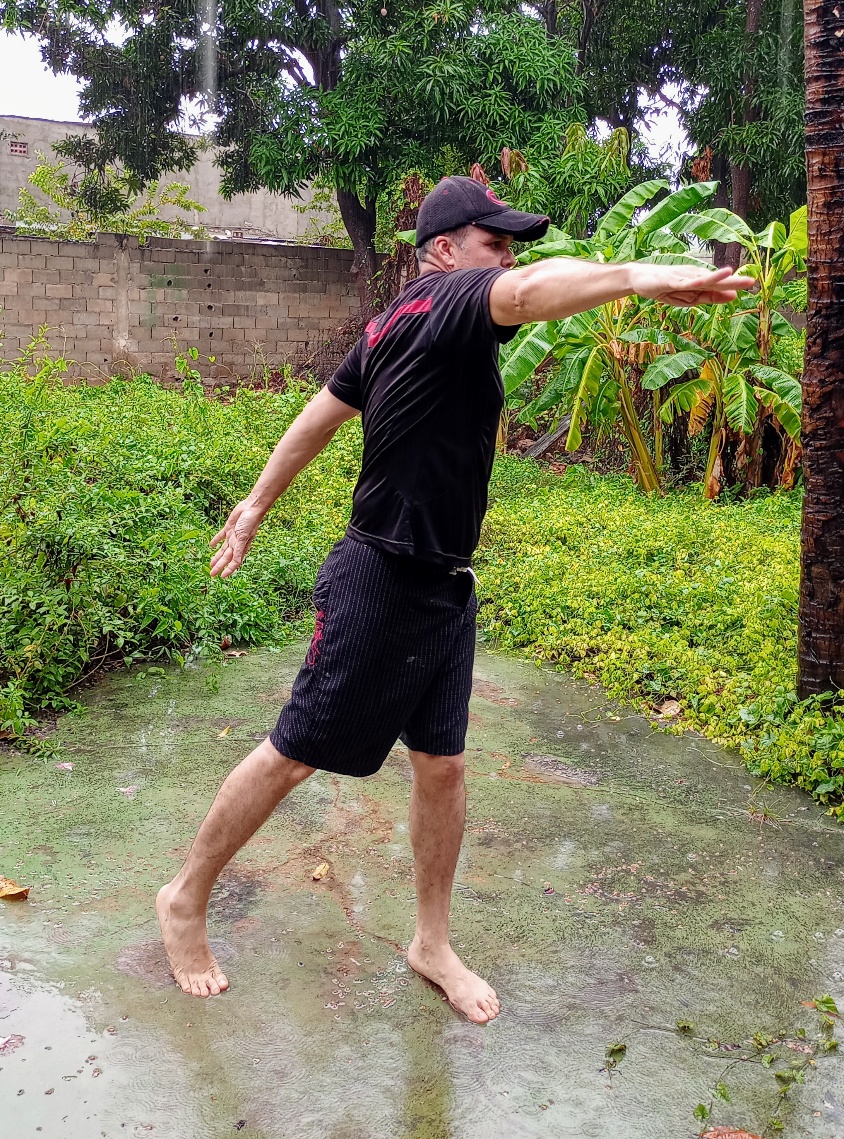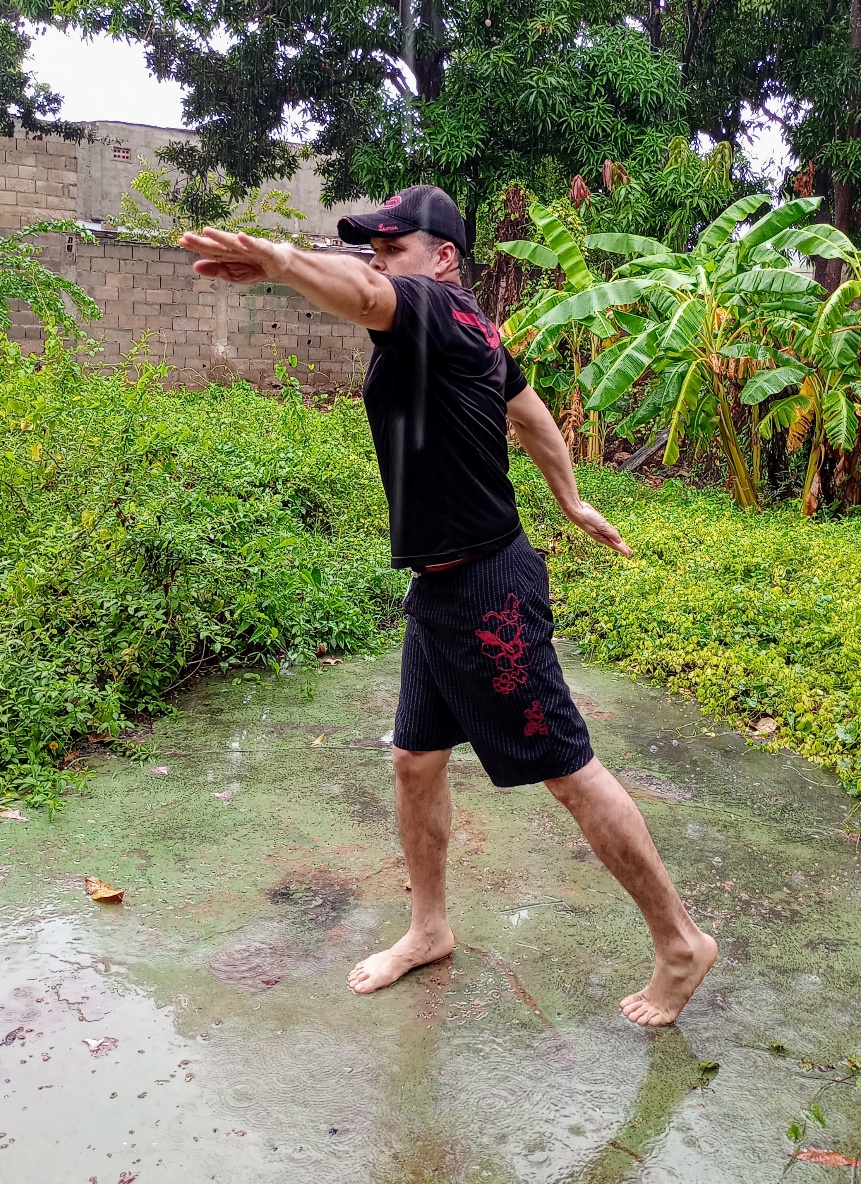 Saltos de tijeras


Piernas juntas con brazos abajo y a los lados. Iniciamos los saltos abriendo y cerrando brazos y piernas al mismo tiempo. 3 minutos de este ejercicio.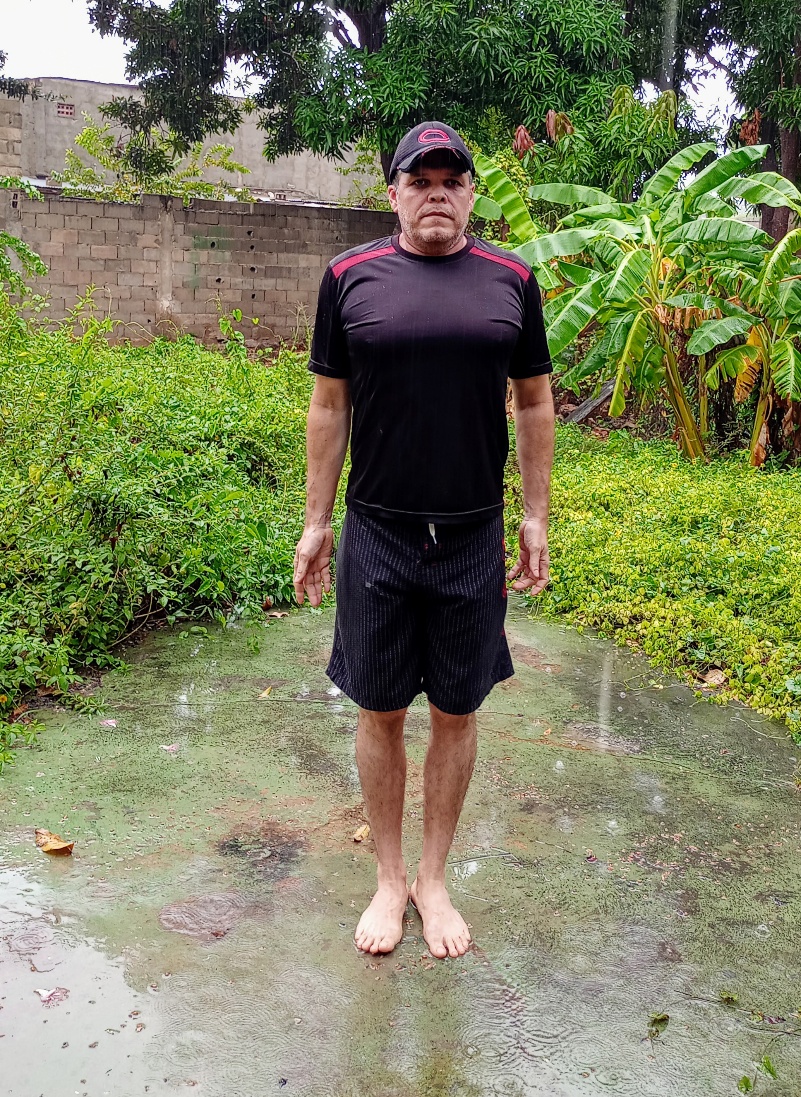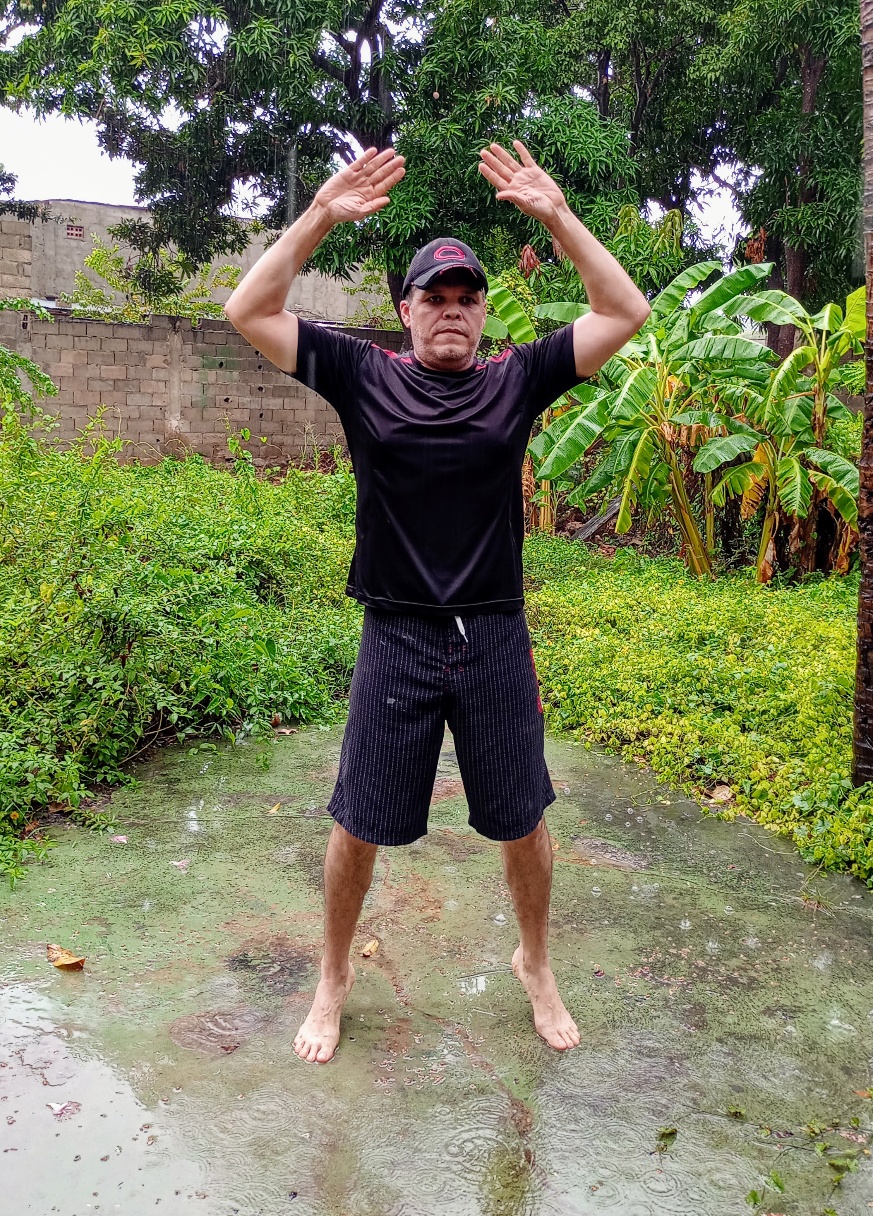 Jumping jacks


Legs together with arms down and at the sides. We start the jumps by opening and closing arms and legs at the same time. 3 minutes of this exercise.

Como es costumbre vamos al desarrollo completo del cuerpo, activando con mayor énfasis el tren inferior. Avanzamos.

As usual we go to the complete development of the body, activating the lower body with greater emphasis. We advance.

Flexiones con rodillazo + codazo lateral y torción de tronco


Posición de flexiones con piernas abiertas a nivel de la cadera. Hacemos la flexiones y al subir con la pierna y brazo del mismo lado, damos un rodillazo lateral y codazo en reversa acompañado de la flexión del torso. Hacemos la otra flexión y al subir ejecutamos el mismo movimiento del lado opuesto. Realizamos 20 repeticiones por cada lado en 4 series.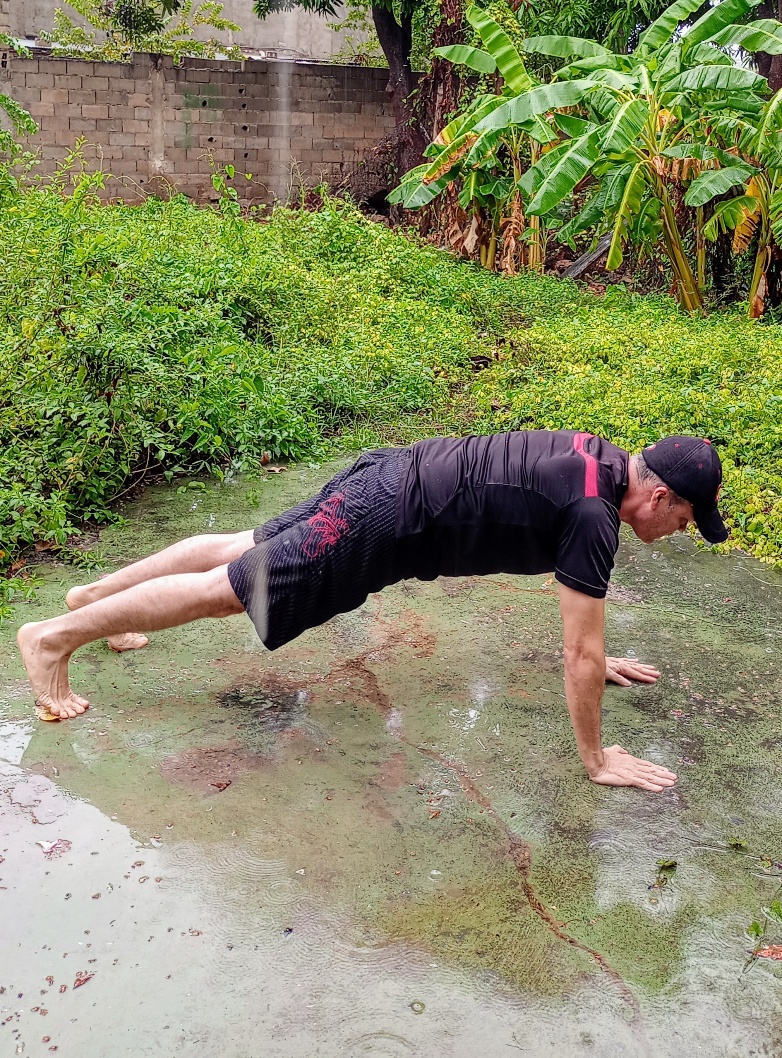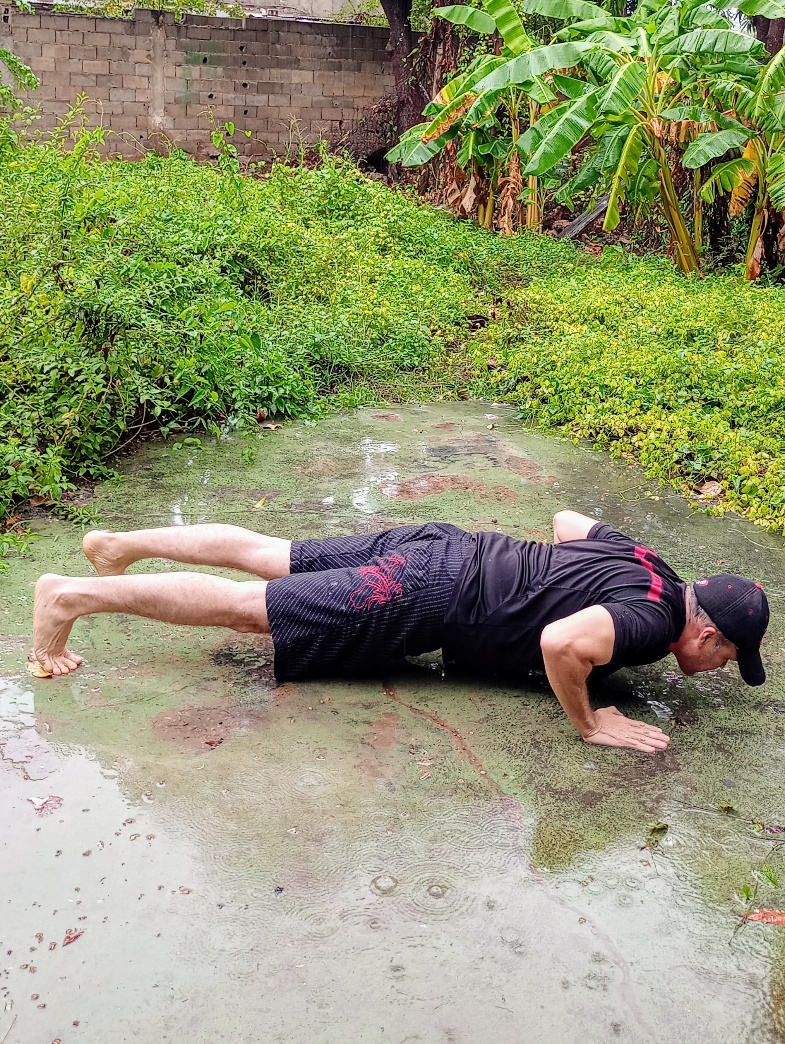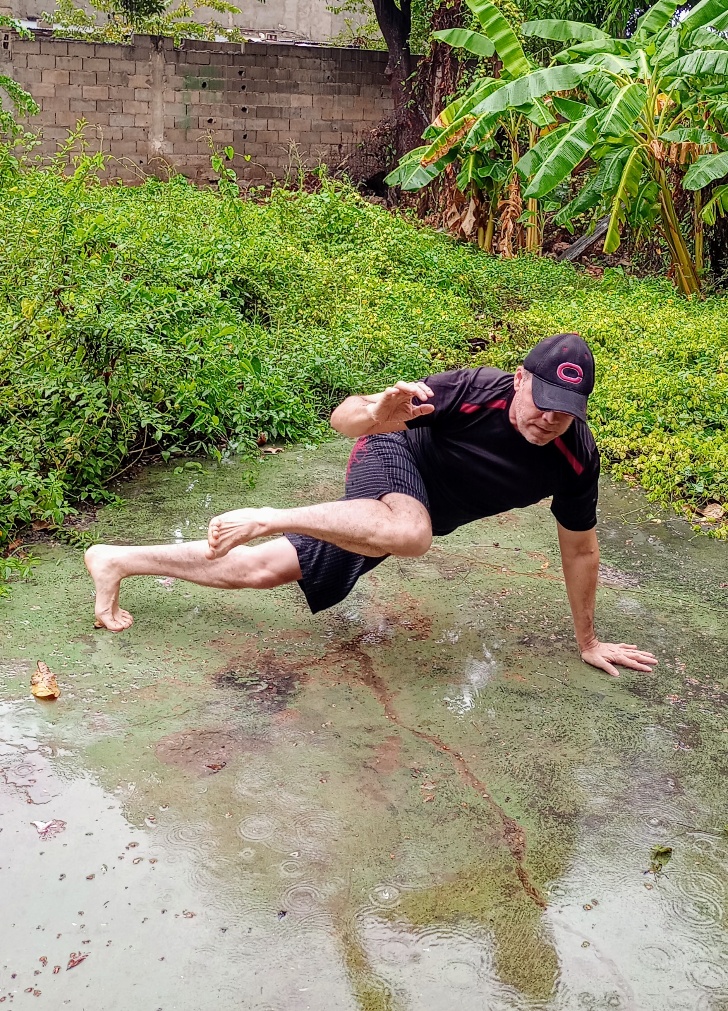 Push-ups with knee + lateral elbow and trunk twist


Push-up position with legs spread at hip level. We do the push-ups and when raising with the leg and arm on the same side, we give a lateral knee and reverse elbow accompanied by the torso flexion. We do the other push-up and when going up we execute the same movement on the opposite side. We do 20 repetitions on each side in 4 series.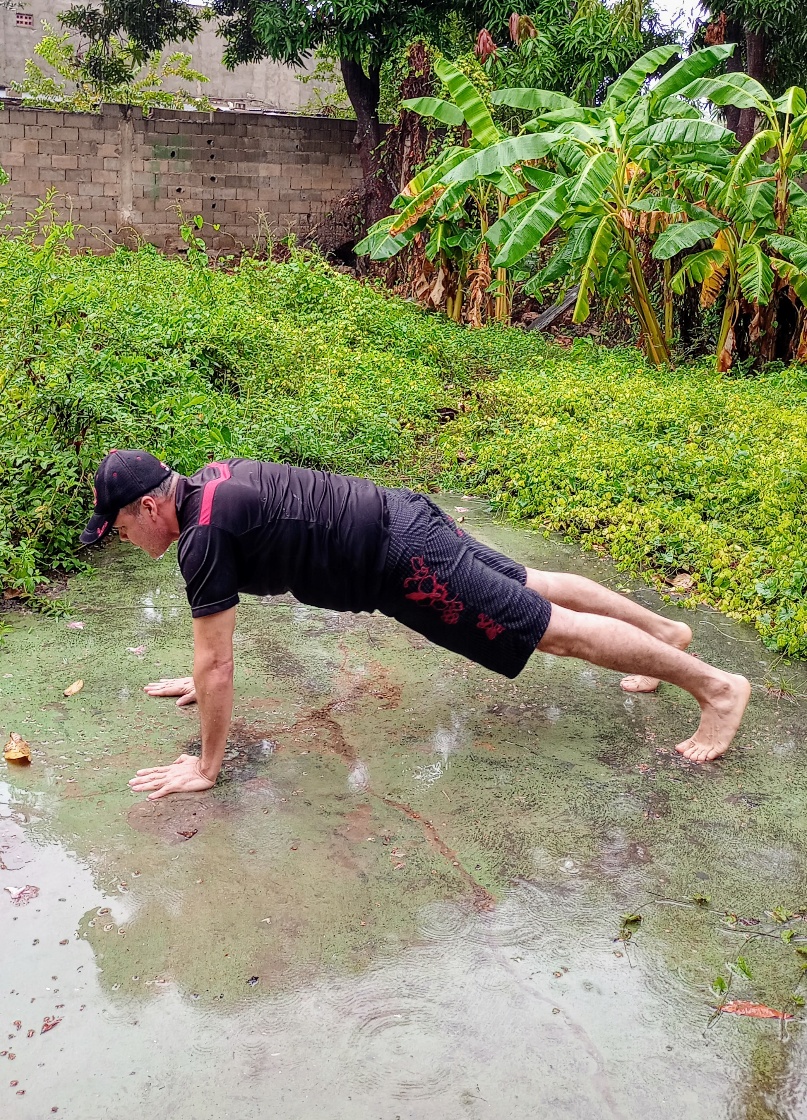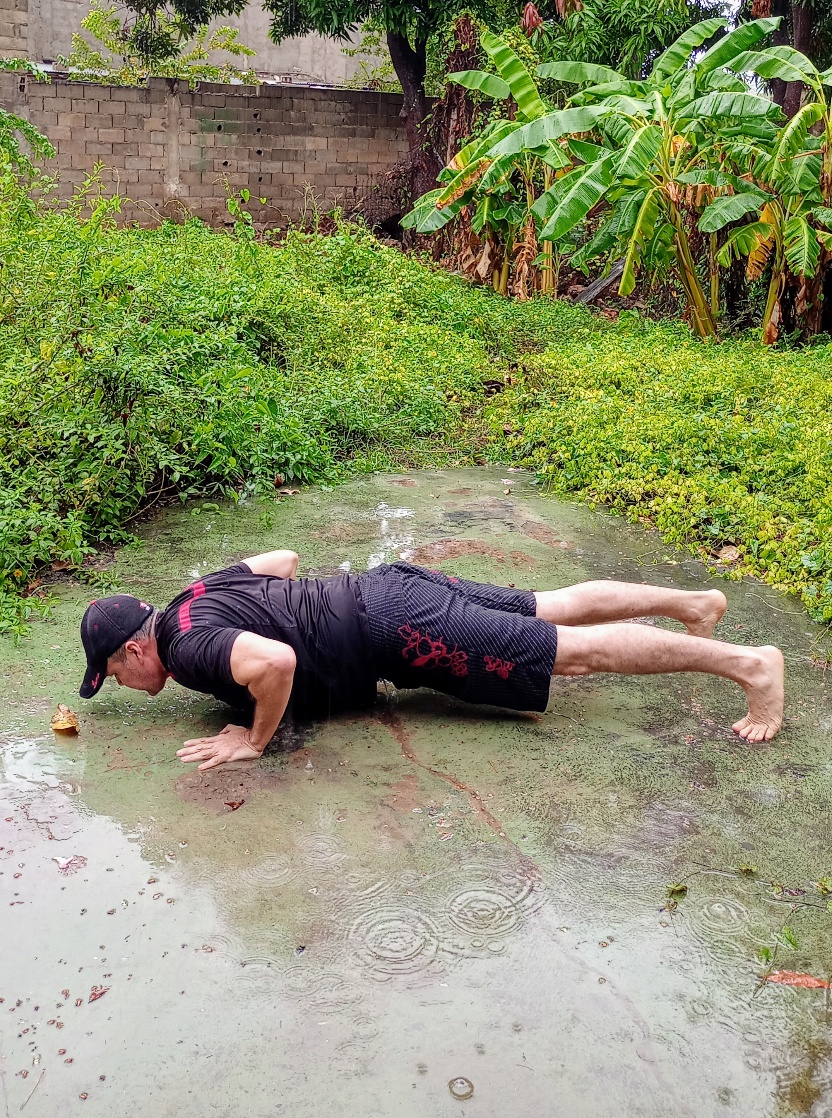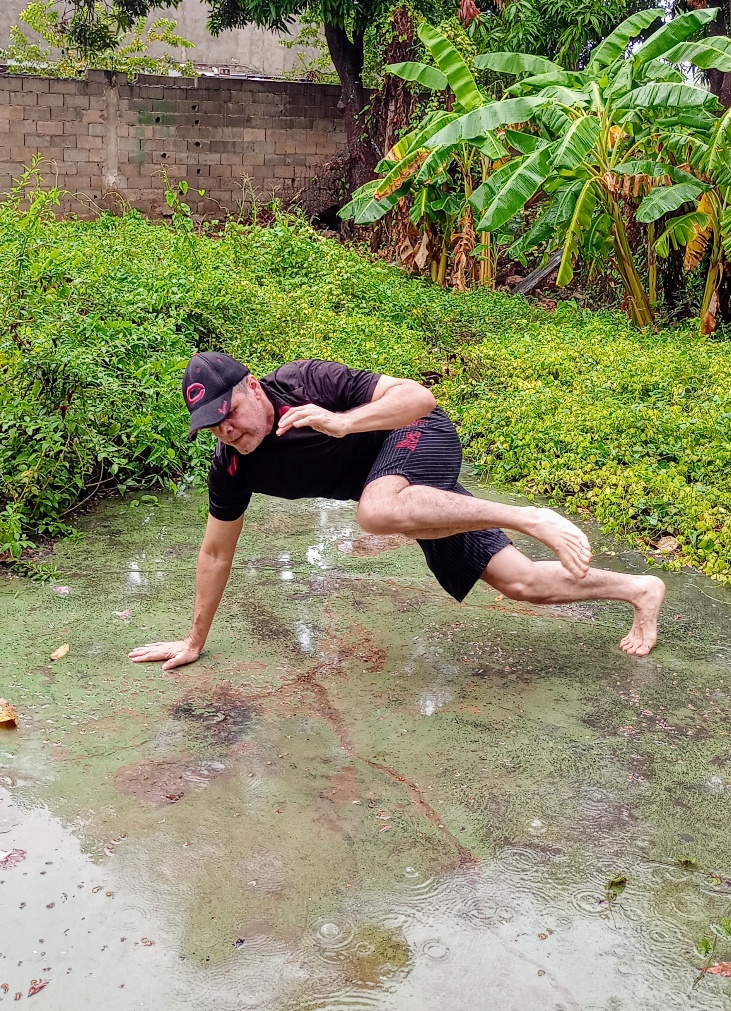 Sentadillas profundas con explosión de patadas


De pie en posoción de combate, con piernas abiertas más allá de los hombros. En velocidad hacemos una sentadilla profunda y explotamos rápidamente con una patada frontal. Viene una nueva sentadilla y explotamos con otra patada en este caso con la pierna opuesta. 20 repeticiones por pierna en 4 series.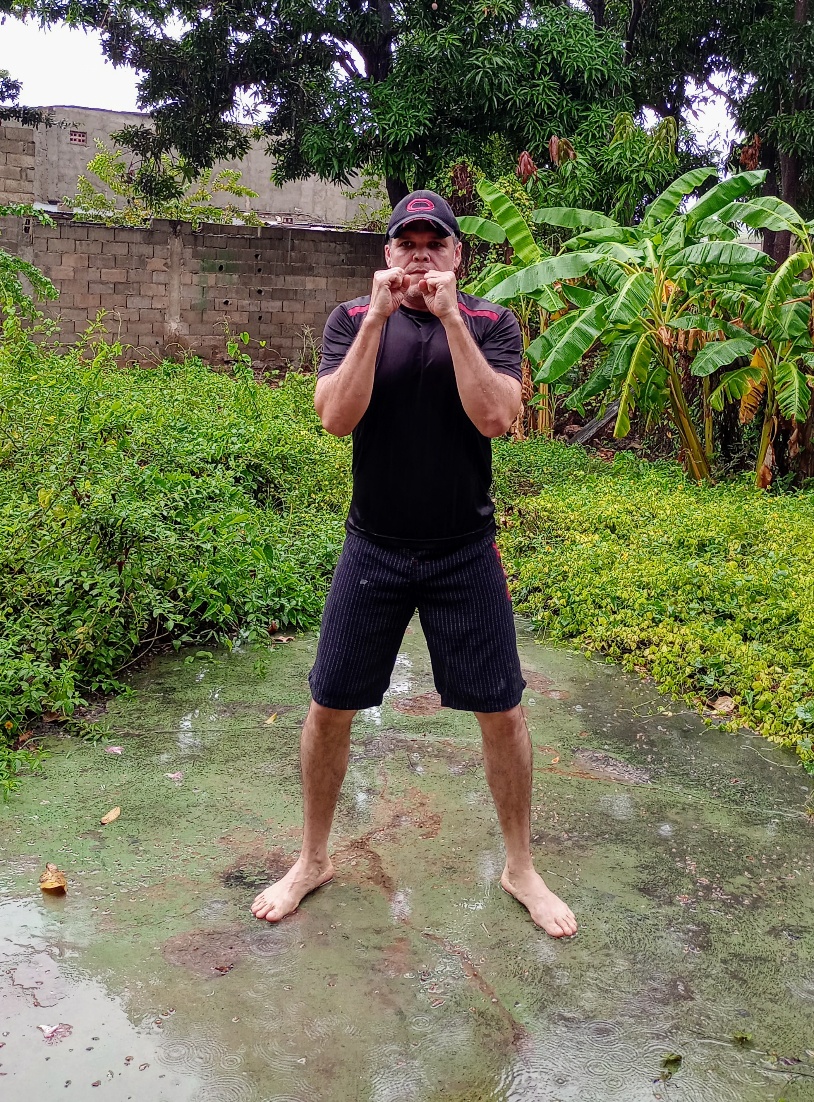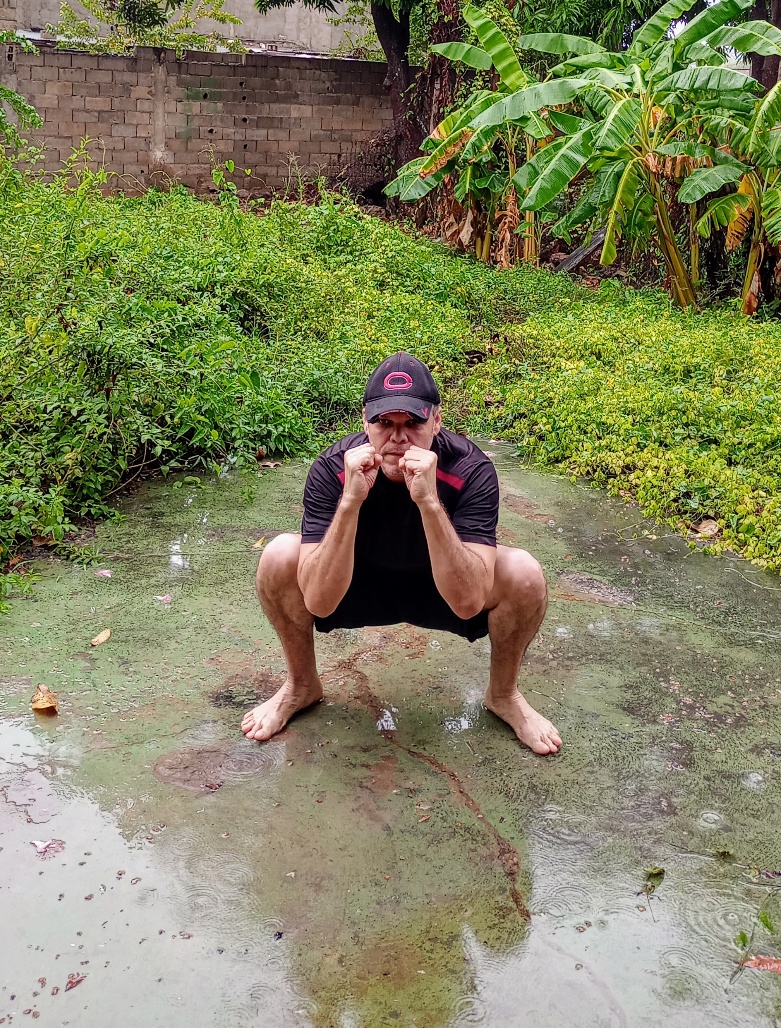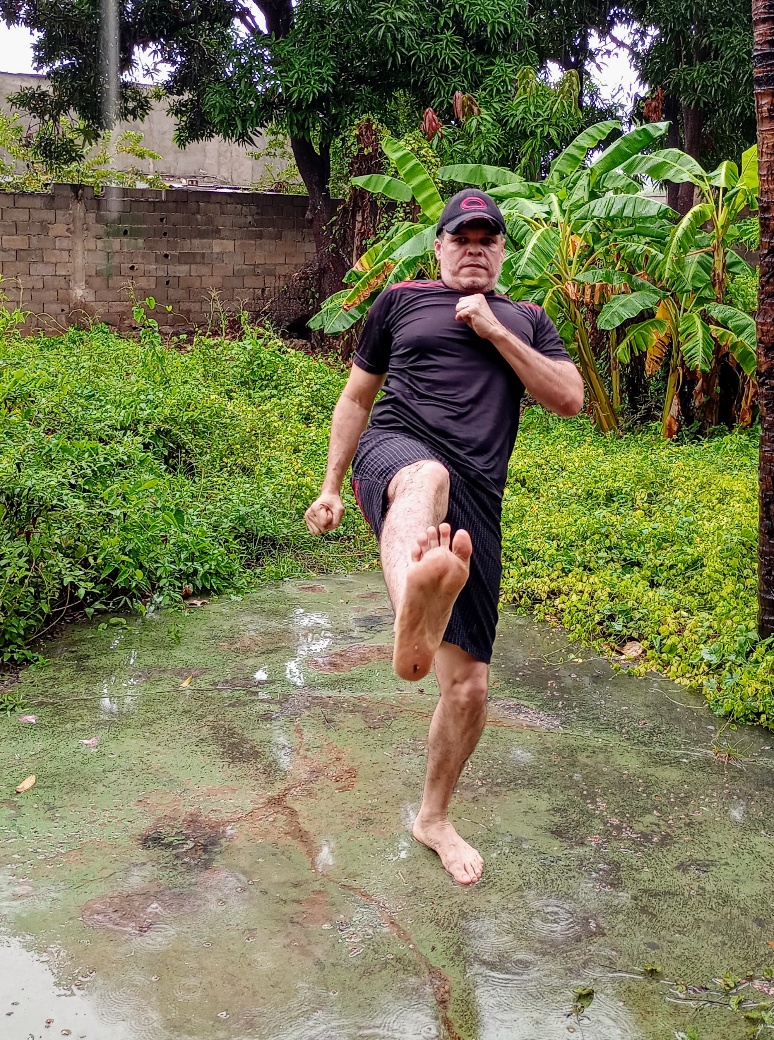 Deep squats with kick explosion


Stand in combat pose, with legs spread beyond the shoulders. In speed we do a deep squat and explode quickly with a front kick. A new squat comes and we explode with another kick in this case with the opposite leg. 20 repetitions per leg in 4 series.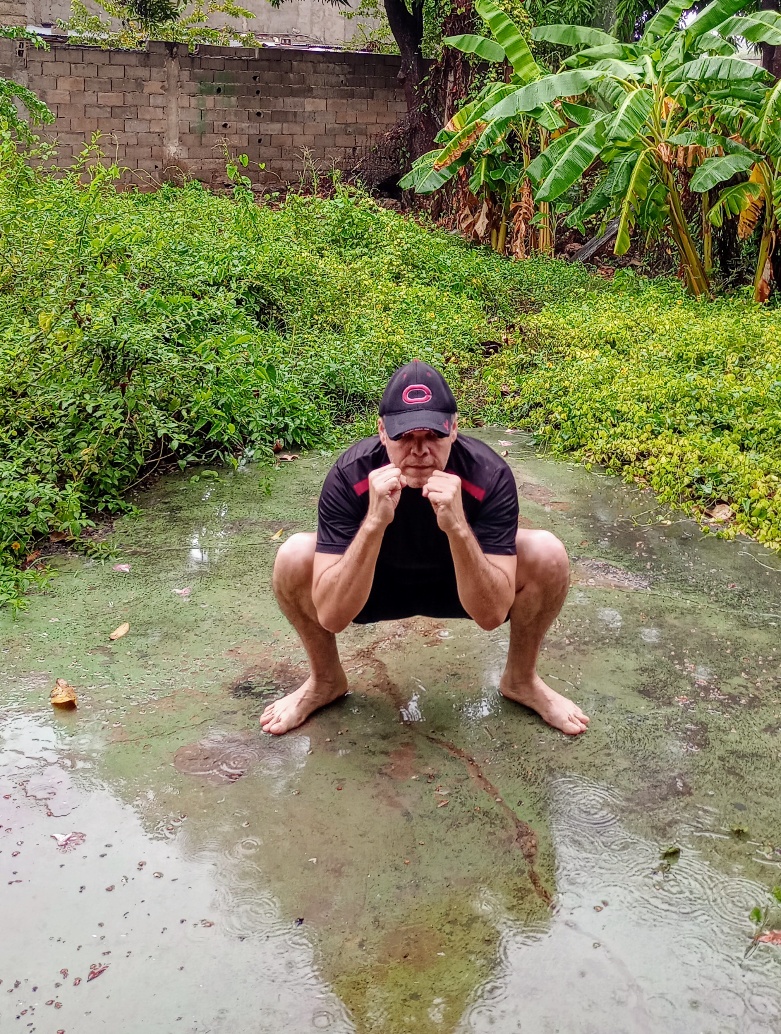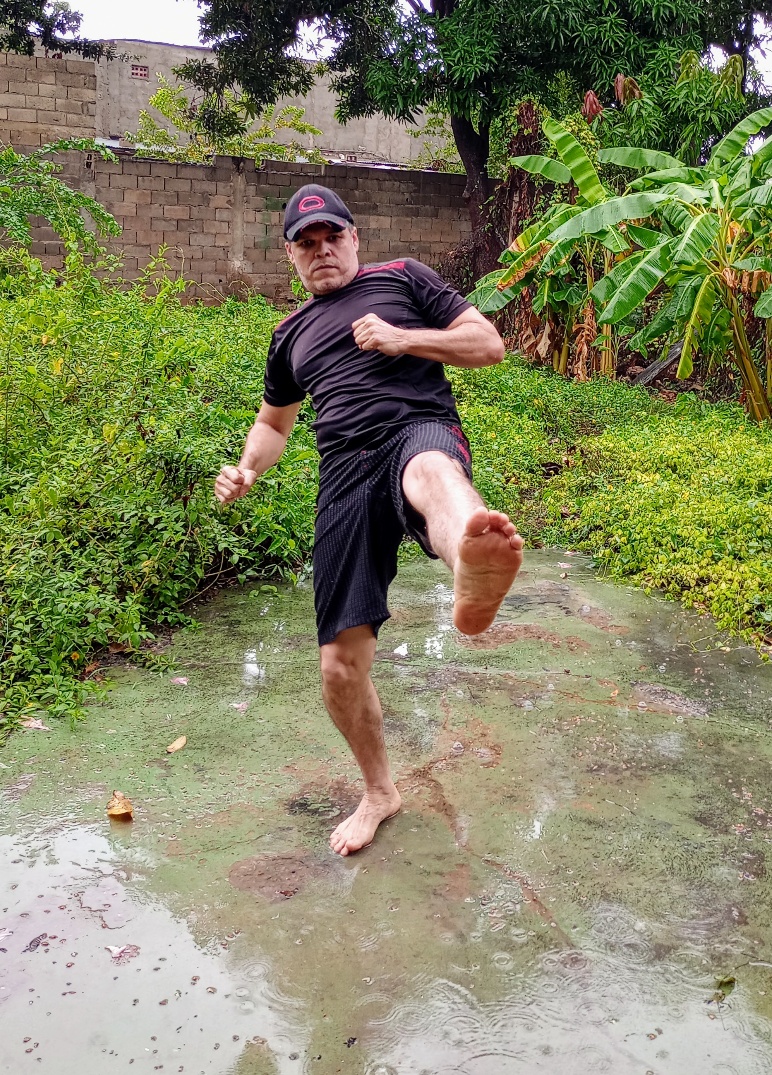 Plancha con patada lateral


Posición de plancha apoyados con una rodilla, estirando hacia atrás la pierna que dará la patada. La pierna estirada debe quedar detrás de la flexionada. De inmediato procedemos a ejecutar una patada, regresas y de nuevo patada. 20 repeticiones de ese lado. Al terminar intercambiamos posición de piernas, y ejecutamos el mismo movimiento de patadas con las pierna opuesta en 20 repeticiones. 4 series.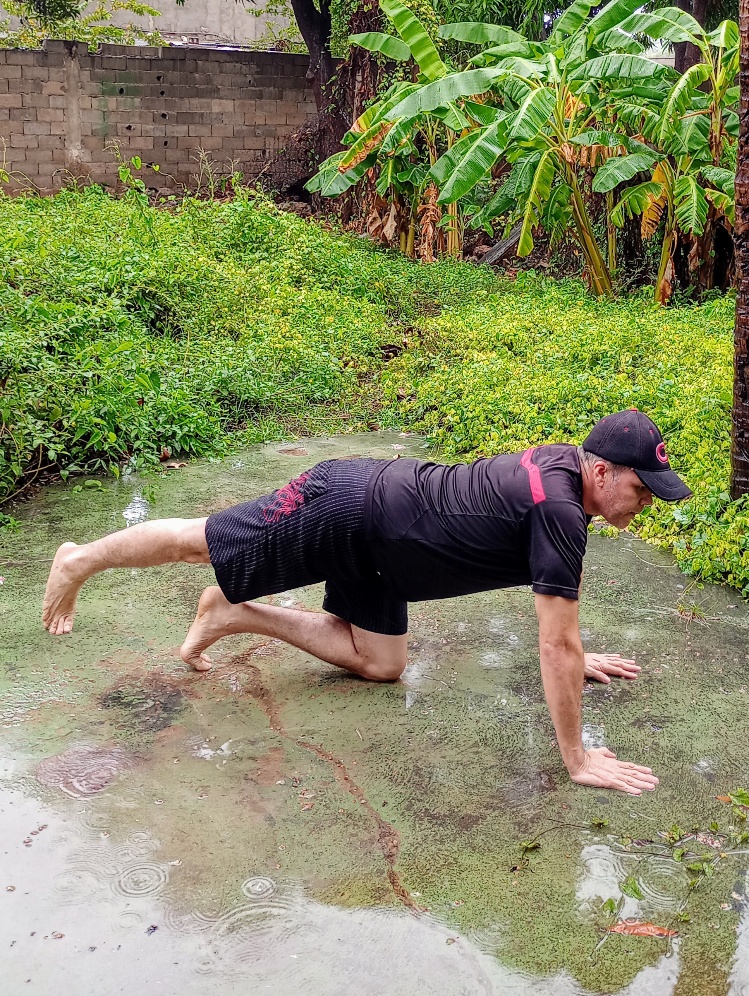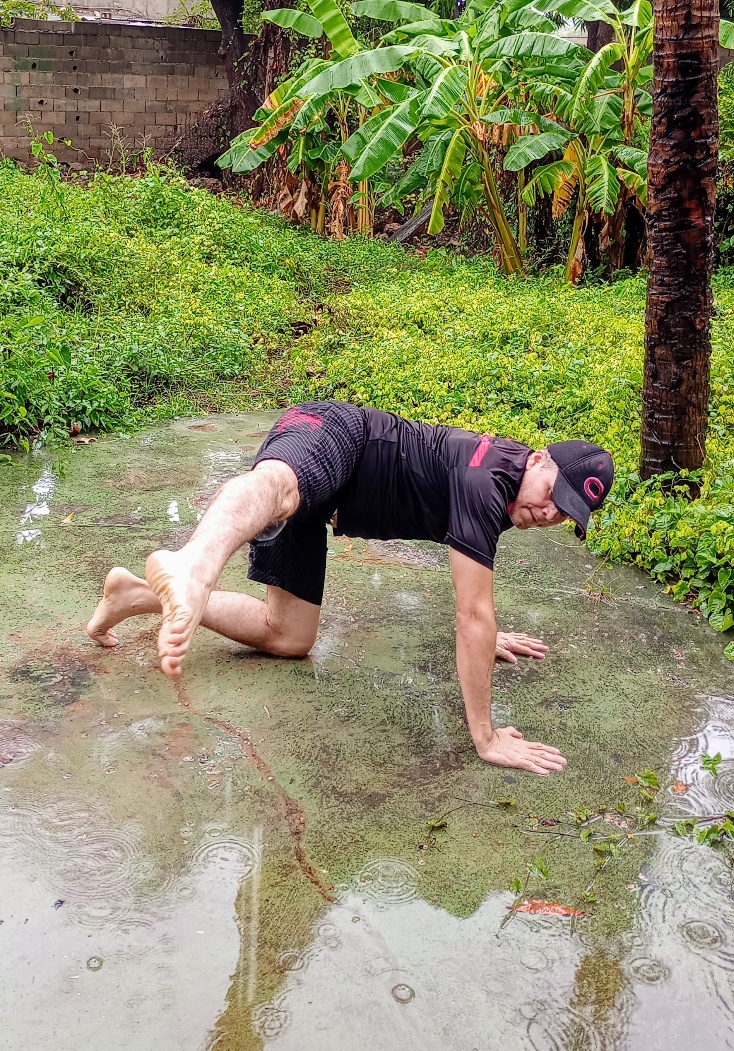 Side kick plank


Plank position supported with one knee, stretching back the leg that will give the kick. The straight leg should be behind the bent leg. We immediately proceed to execute a kick, you return and kick again. 20 reps on that side. At the end we exchange leg position, and execute the same kicking movement with the opposite leg in 20 repetitions. 4 series.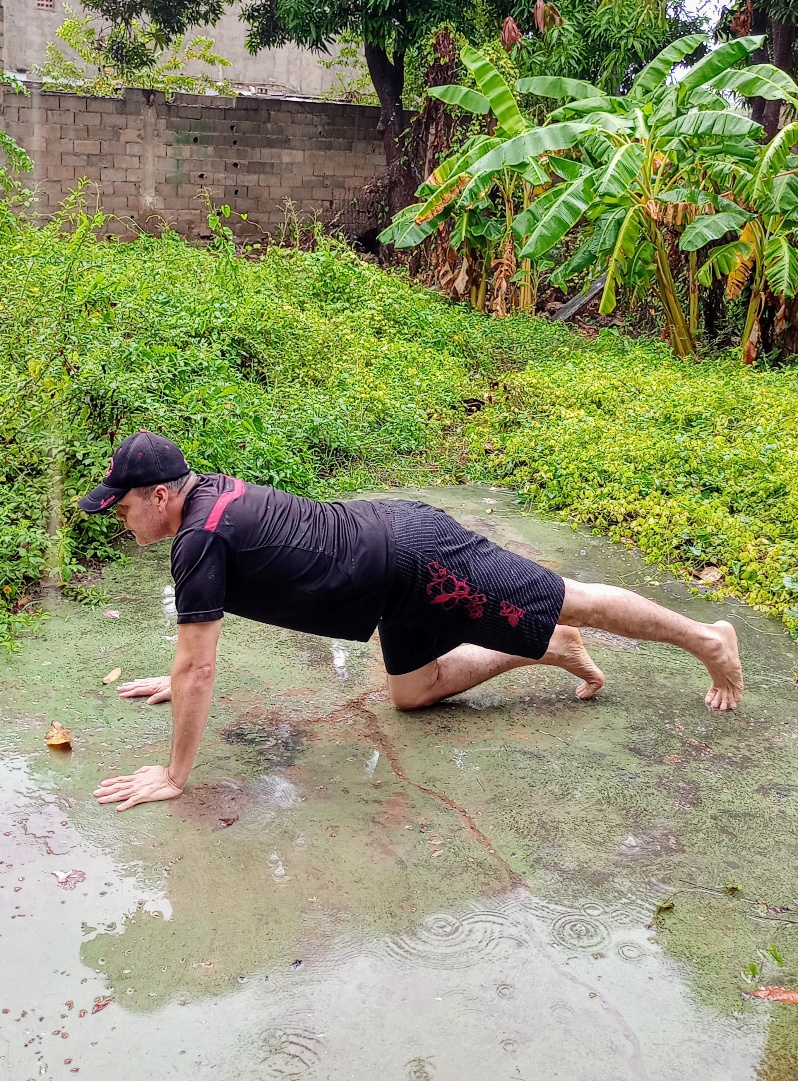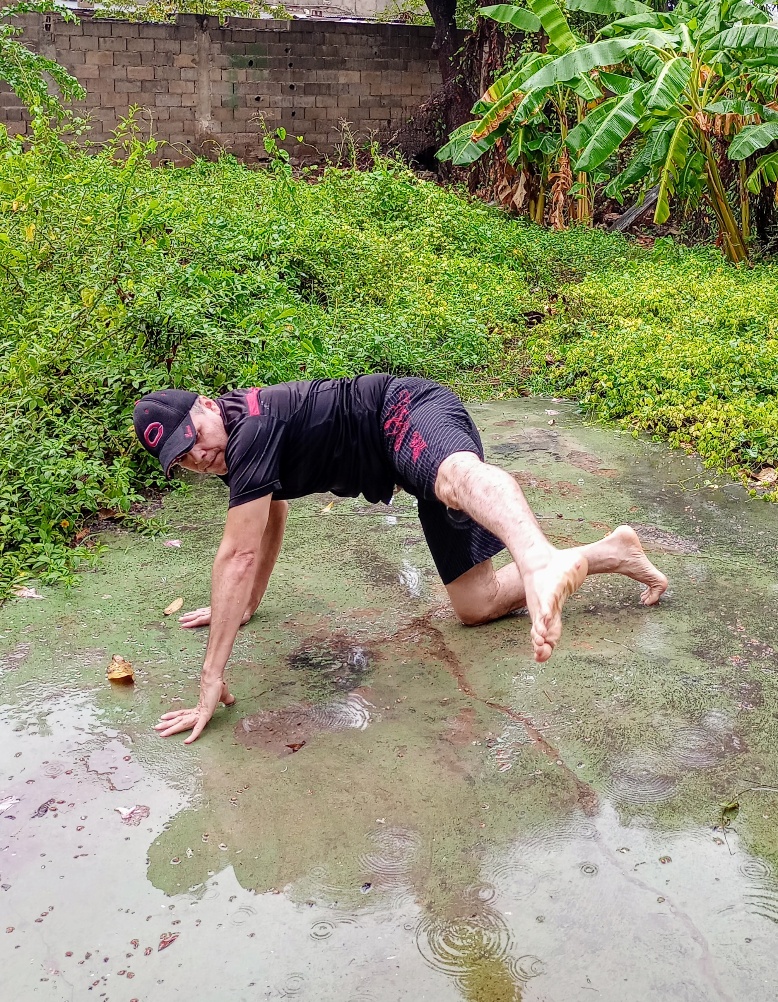 Rodillazo / Giro + golpe directo


Posición frontal de combate. Damos un rodillazo y luego giramos el cuerpo hacia el lado del rodillazo para luego dar un golpe frontal de puño. Ejemplo, rodillazo izquierdo, giramos el cuerpo a la izquierda y damos el golpe directo con el brazo derecho. Ahora rodillazo derecho, giras a la derecha y pum golpe con el brazo izquierdo. 20 repeticiones por cada lado en 4 series.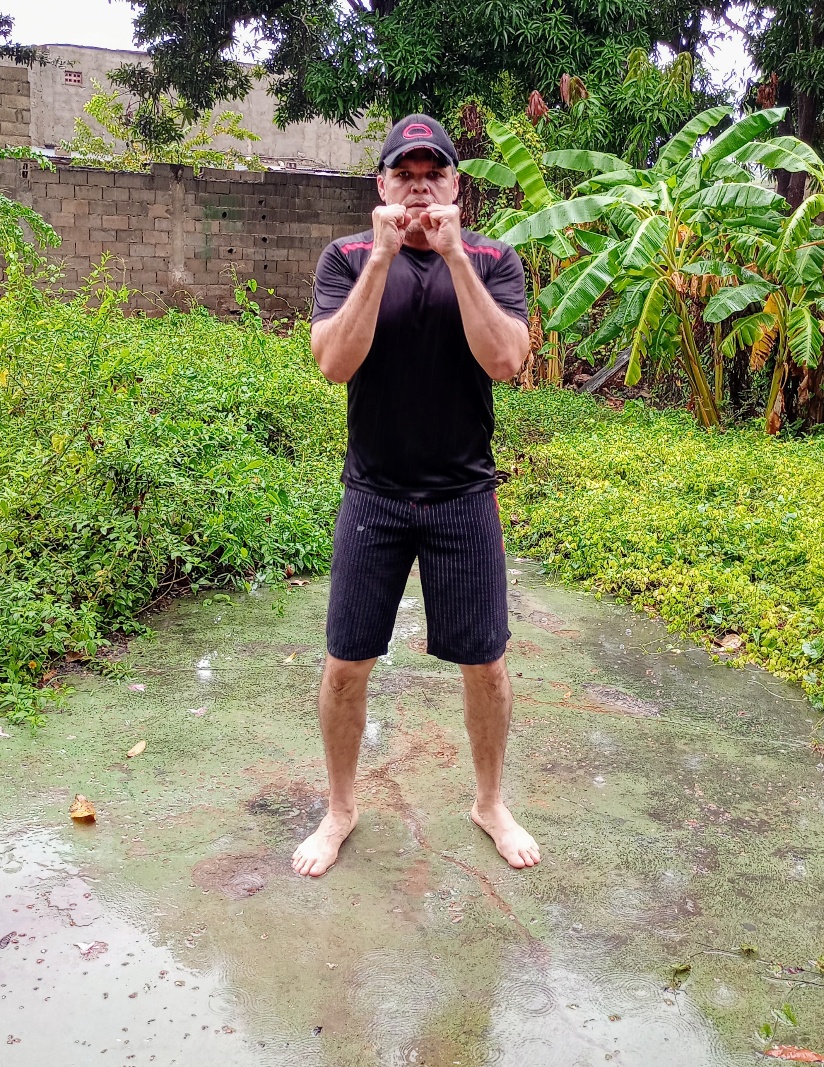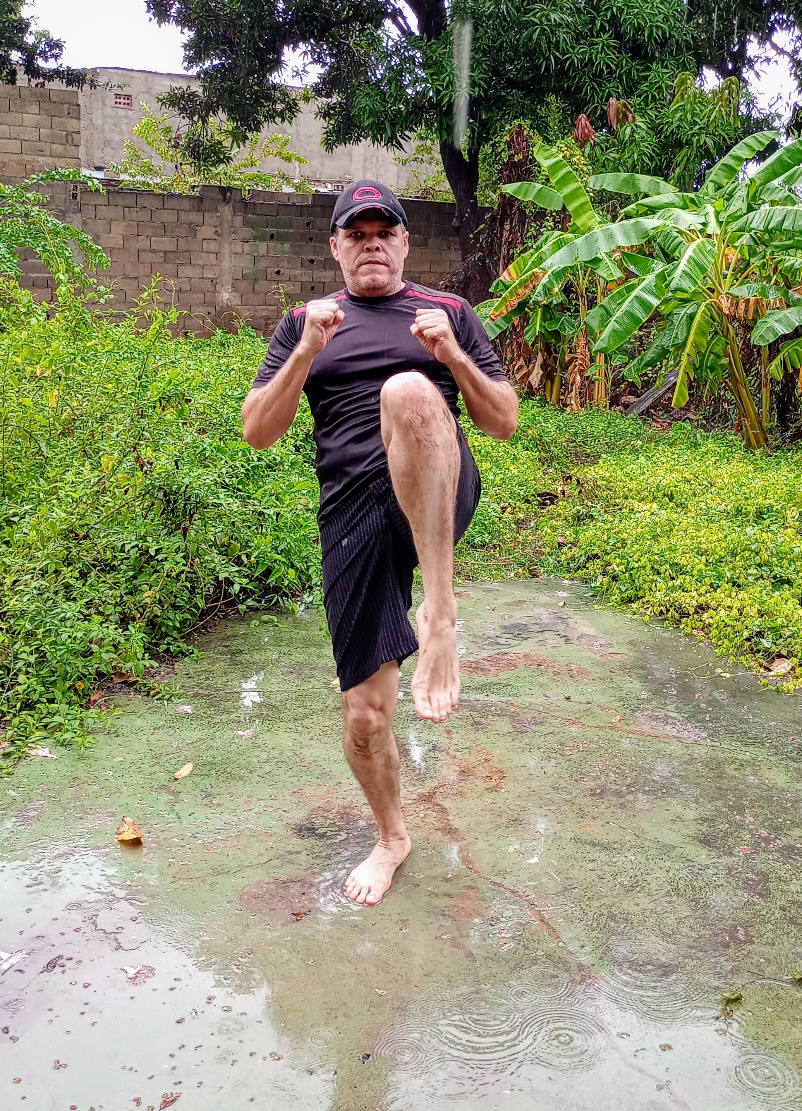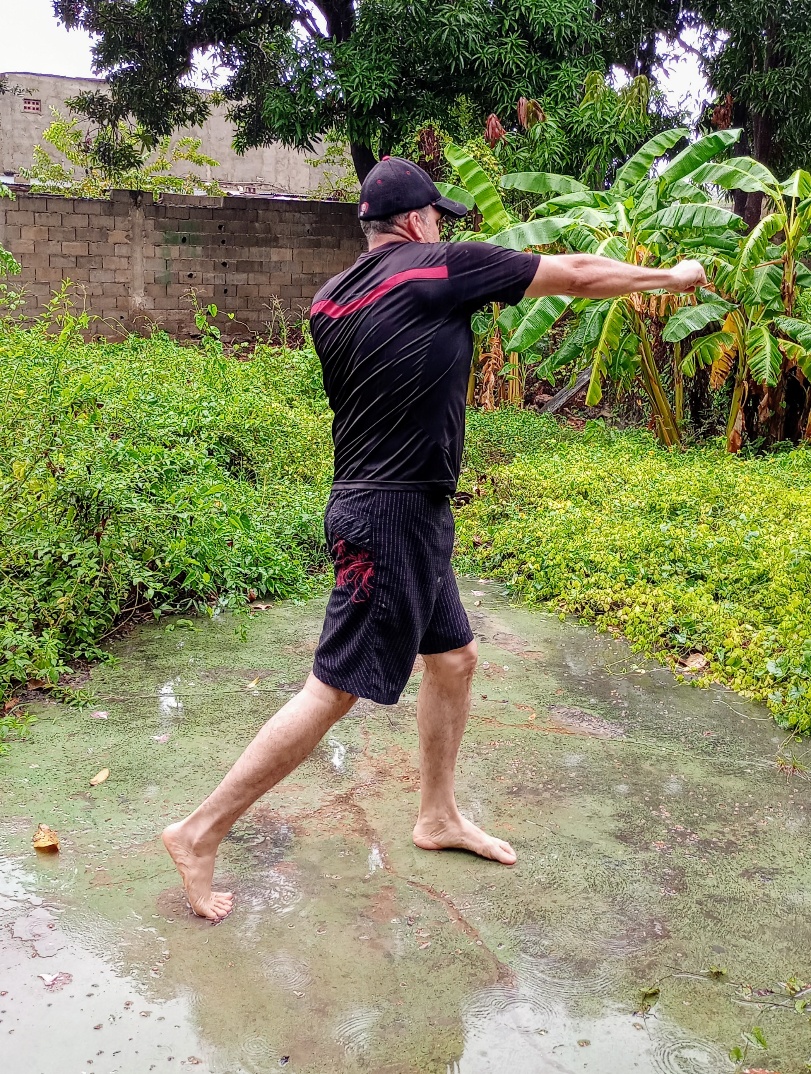 Knee / Twist + direct hit


Front fighting position. We kneel and then turn the body to the side of the knee and then deliver a frontal punch. Example, left knee, we turn the body to the left and give the direct blow with the right arm. Now knee right, turn right and bang with the left arm. 20 repetitions on each side in 4 series.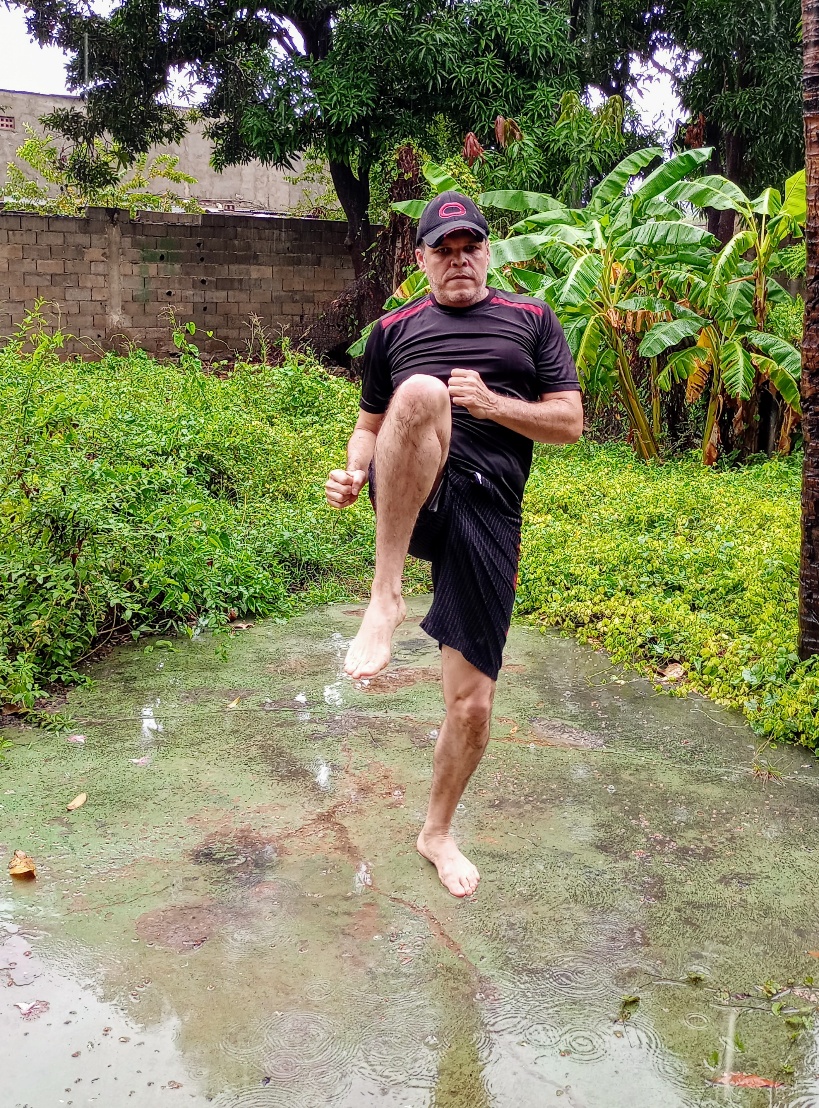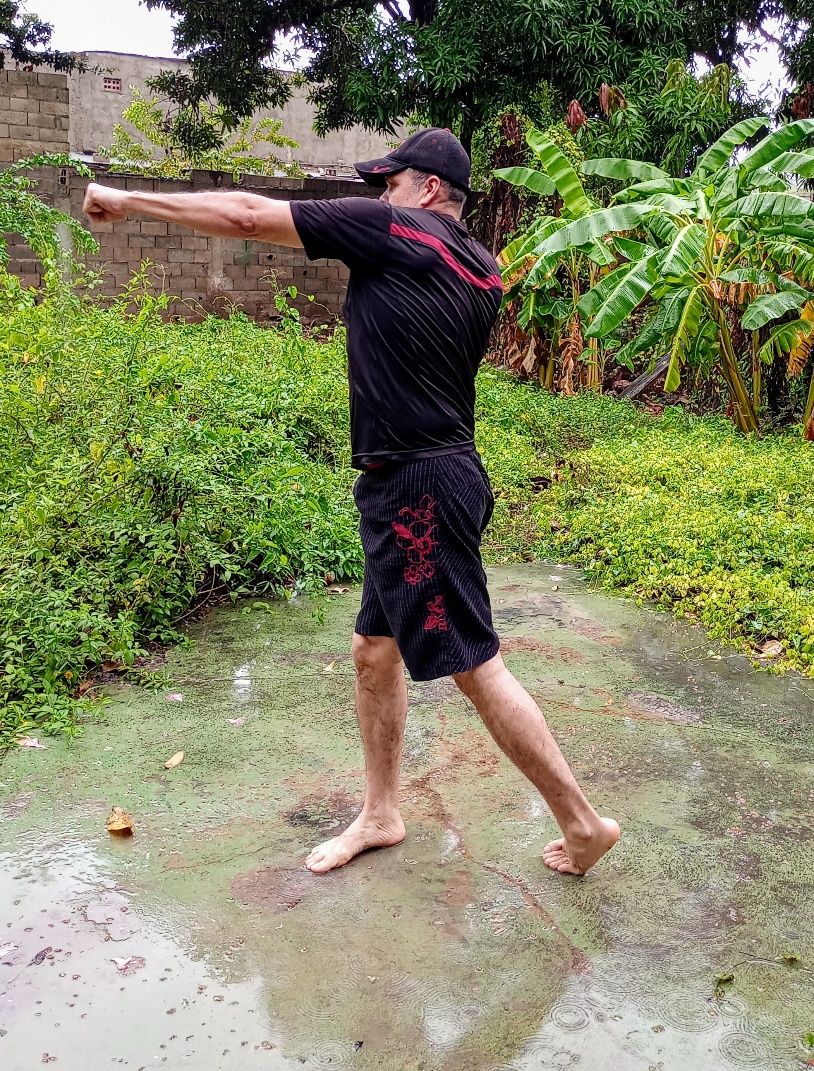 Relajación Corporal
Aun seguimos bajo la lluvia y nos relajamos con más gusto.
Body Relaxation


We are still in the rain and we relax with more pleasure.

Piernas al abdomen


De pie flexionamos una pierna y la llevamos contra el abdomen haciendo presión por 30 segundos. Bajamos y hacemos los mismo con la pierna opuesta, por 30 segundos más. Cumplir el movimiento hasta llegar a los 3 minutos.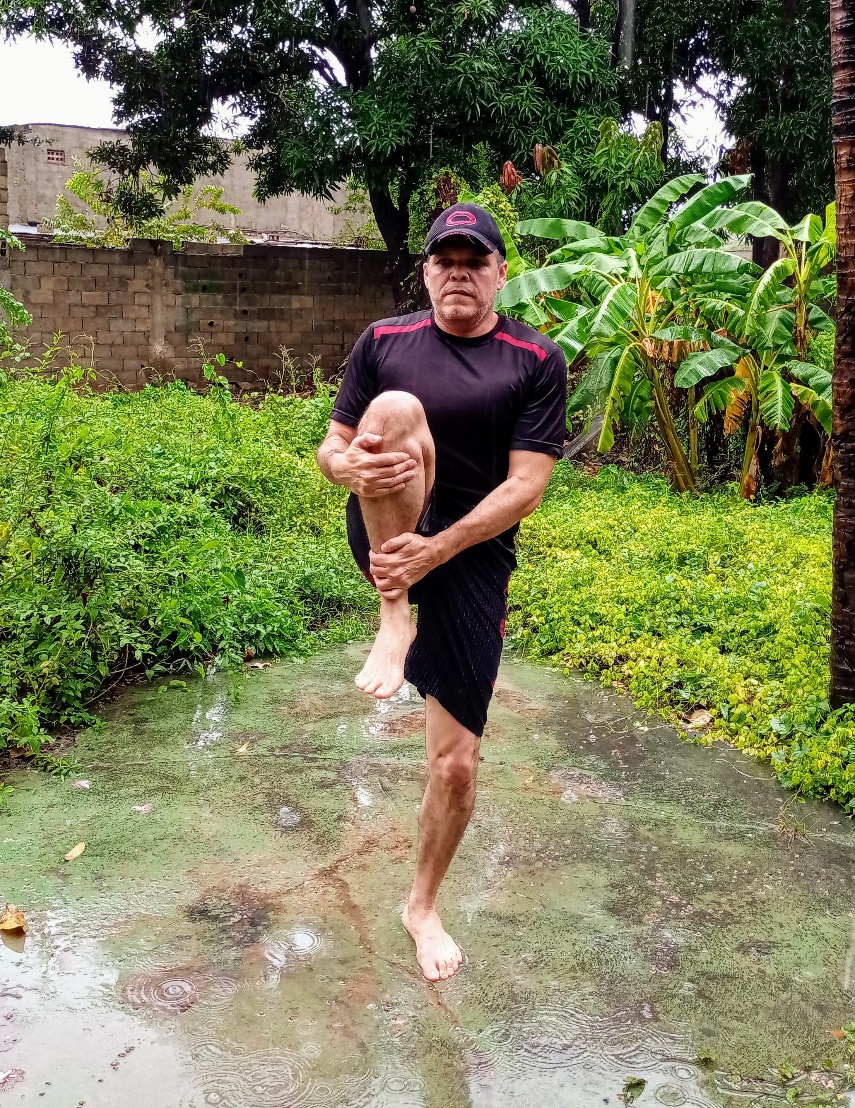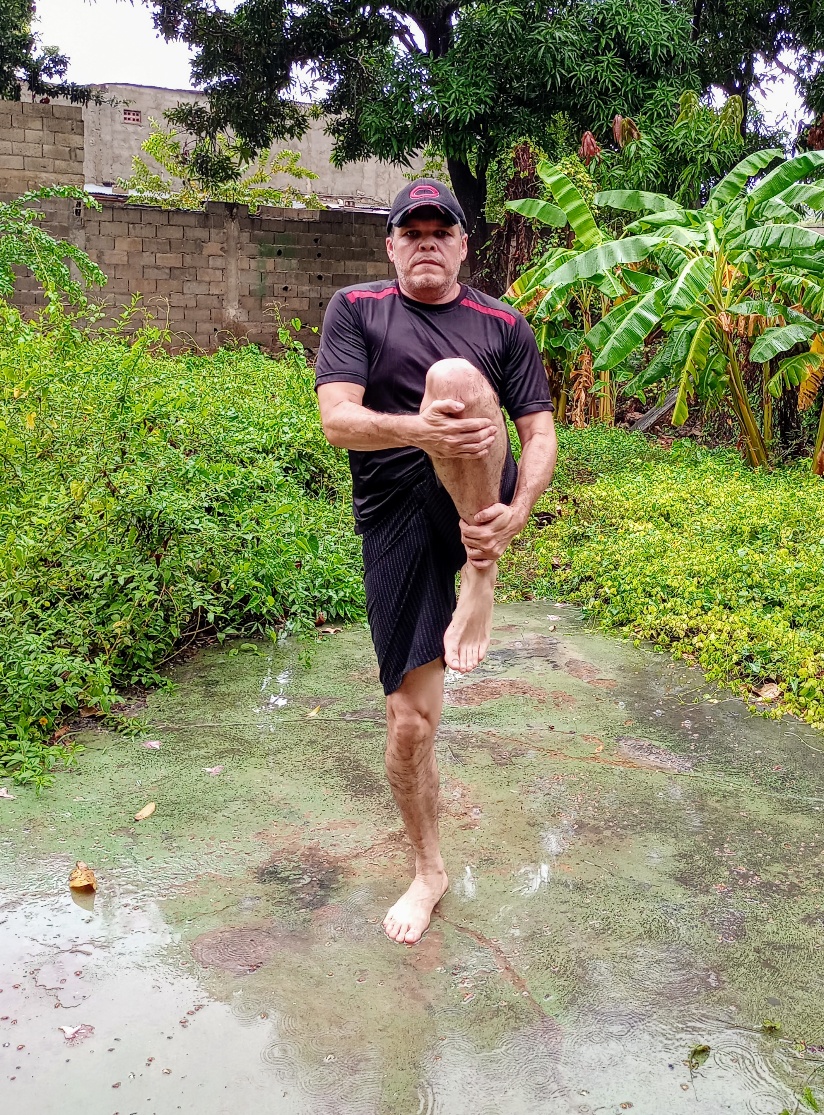 Legs to the abdomen


Standing we flex one leg and bring it against the abdomen pressing for 30 seconds. We go down and do the same with the opposite leg, for 30 more seconds. Complete the movement until 3 minutes.

Ha sido un verdadero placer y satisfacción realizar esta sesión de ejercicios de esta manera. Todo nuestro trabajo transmite pasión, amor, entrega, dedicación y voluntad pura. Porque cuando se quieren hacer las cosas no hay excusas, y se supera cualquier obstáculo. Saludos hermanos y hasta pronto.
It has been a real pleasure and satisfaction to do this workout in this way. All our work transmits passion, love, dedication, dedication and pure will. Because when you want to do things, there are no excuses, and any obstacle is overcome. Greetings brothers and see you soon.
...Gracias Por Visitar...

...Thanks for visiting...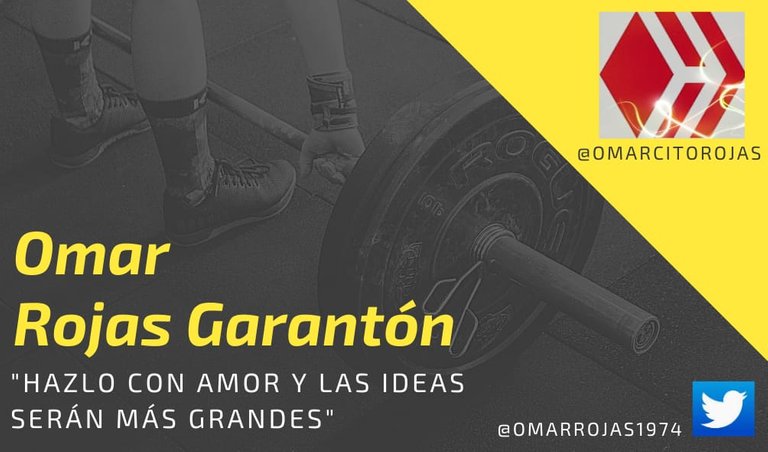 Imágenes Fotográficas, tomadas por mi amor Suhaill Nuñez.
Photographic images, taken by my love Suhaill Nuñez.
Sorry. English is not our native language. Therefore, a web translator is used for texts in English. (Spanishdict)
---
▶️ 3Speak
---
---