Training to circumnavigate a volcano - Week 6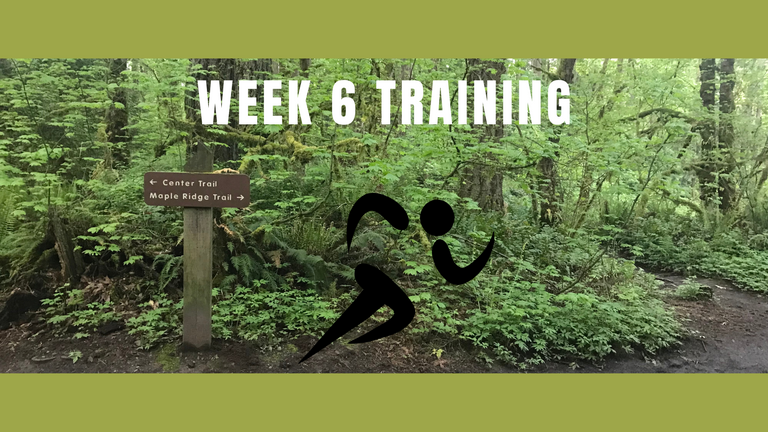 A wrap up of my week six training for an August 50K race

What
Six weeks down, 11 to go! I'm training for a 50K race around Mount St. Helens the first weekend of August. This was a recovery week so the goal was to keep up the intensity, but decrease the duration.
Week Six
| DAY | WORKOUT | DATA |
| --- | --- | --- |
| Tuesday | Easy run | |
| Wednesday | Speed work | |
| Thursday | Easy run | |
| Friday | Stretching and easy recovery | |
| Saturday | Long slow day | |
| Sunday | Stretching and easy Recovery | |

😴 Monday is a planned rest day. I enjoy starting the work week with some extra rest. Additionally I hit up the open gym volleyball on Monday night and appreciate the extra rest.
🏃 It is starting to become a bad habit staying up later for Volleyball Monday night and getting up late leading to a shorter run than planned Tuesday. I have a busy week at work and will not be playing Volleyball Monday night this coming week, but still may have to cut the Tuesday run short as I have to be at work early. I could change this to an evening workout, but I don't like running after work if it can be avoided.
⚡ Quick and to the point this week. I ran to the track to do 4x400 with 200 rest but the track was closed. I ended up turning home and doing 6x30 second intervals all out with 30 seconds rest.
🏃 Good shake out easy run. Nice cool morning and I felt great the whole way.
🧘‍♂️ Felt goods to get a good stretching session in and headed out for a quick jog to get the blood flowing
⛰️ May have been all in my head as it was a recovery week with less scheduled time, but I felt great the entire run. I noted an hour and a half into the run how fresh I was feeling. I blew the recovery a bit in the afternoon as I had family in town and we did a fairly strenuous hike, but it was worth it 😀
☕ This was a walk with the family and was supposed to be a fun game of pickle ball. Unfortunately the courts were full so we just made it a longer walk.

Some Week Five Photos
| | |
| --- | --- |
| Over the creek | Have a seat on the bench or the natural chair |
On to Week Six
Recovery week was great! I feel refreshed and ready to rip off another big week. My only concern going into this week is a full schedule at work that may mentally and physically challenge me on top of the increased mileage.
---
---