Round 2 of Eliminations for Season 6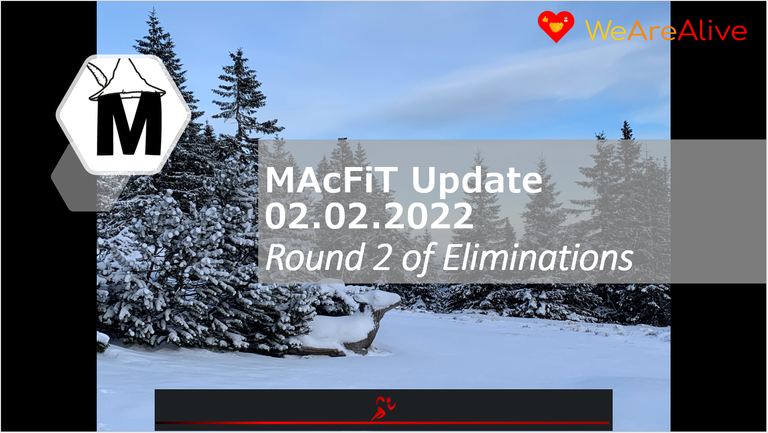 Hello,
Today's update is about the second round of eliminations for Season 6. Before we go there, I'd like to bring up the matter of W/O.
In Round 1 we had a situation in which both players in a pair - @liftslikealady and @griega didn't post their reports, so I have declared a "two-sided W/O". Since @griega had been slightly better in the first leg, she got the slot in Round 2.
Both have contacted me afterwards, citing life/technical difficulties with posting. @liftslikealady has provided a proof of activity ("Activity History" screenshot from @actifit App). @griega has replied that her score was lower and conceded the win to her oponent. I'd like to single out @griega here and applaud for her Fair Play.
As result, @liftslikealady will replace @griega in Round 2 of Consolation Cup qualifiers.
Round 2 of Eliminations
Champions League
P1: (S1) @ptaku vs @davidthompson57 (Q8)
P2: (S2) @ilodz24hd vs @pjansen (Q7)
P3: (S3) @flaxz vs @asia-pl (Q6)
P4: (S4) @cezary-io vs @racibo (Q5)
P5: (S5) @mariya36 vs @ykretz.sports (Q4)
P6: (S6) @venan vs @sk1920 (Q3)
P7: (S7) @practicaleric vs @matthew1 (Q2)
P8: (S8) @pagane vs @ziabutt3836 (Q1)
P9: (S9) @cryptospa vs @dirkzett (WC)
9 Winners + 1 Lucky Loser (highest aggregate score over the 2 matches in Round 2) will advance to the group phase of the Champions League.
8 remaining players will be transferred to Consolation Cup.
Schedule
Leg 1: Friday, Feb 4
Leg 2: Sunday, Feb 6
Consolation Cup
P1: (CL1) @romualdd vs @griega @liftslikealady (CC8)
P2: (CL2) @martusamak vs @notak (CC7)
P3: (CL3) @milabogomila vs @kiel91 (CC6)
P4: (CL4) @homesteadlt vs @mushanov (CC5)
P5: (CL5) @zimnaherbata vs @stefannikolov (CC4)
P6: (CL6) @davidesimoncini vs @markhodge (CC3)
P7: (CL7) @sandraa1 vs @dontcare89 (CC2)
P8: (CL8) @kwsnomzys vs @axel-mccornstack (CC1)
The 8 winners will advance to Consolation Cup main phase. The losing sides will have to wait until Season 7 for their next chance.
Schedule
Leg 1: Saturday, Feb 5
Leg 2: Monday, Feb 7
The best player eliminated in Round 2 of Consolation Cup qualifiers, will receive a special prize sponsored by @aliveprojects - 100 ALIVE. It will be decided by total score across both rounds of qualifiers.
Standings after the fist round: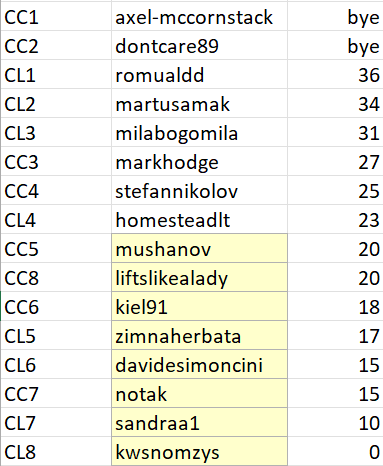 the two players with "bye's" will have their Round 2 score doubled for the sake of deciding the Award.
Players exempted from Eliminations
The following players got directly into group phase of Season 6 Champions League:
@merthin - Defending Champion (DC)
@grecki-bazar-ewy - Consolation Cup Winner (CC)
@bucipuci - @poliac League One Winner (L1)
@manuvert - top ranked (R1)
@masoom - second highest ranked (R2)
@browery - third highest ranked (R3)
They will be placed in Groups in the following way ("serpentine" scheme works here):
Gr. A: DC, Q2, Q3, LL
Gr. B: CC, Q1, Q4, Q9
Gr. C: L1, R3, Q5, Q8
Gr. D: R1, R2, Q6, Q7
where:
Q1..Q9 are 9 winners of Round 2 of Champions League qualifiers, sorted in descending order by their aggregate score in that round (2 matches)
If a player receives W/O in their favor, the score for deciding the seeding will be their actual score as per step count, not "30:0"
LL is the Lucky Loser of Round 2 (ie. player who has the highest aggregate score among those who lost their Round 2 duels)
Lucky Loser goes arbitrarily into Gr. A, so that they have a chance to prove their worth against the Defending Champion :-)
Based on the setup, we can already announce hit matches in the group phase:
@grecki-bazar-ewy (group B) and @merthin (group A) have to wait until qualifiers are complete to learn who their rivals are going to be.
Season 6 Schedule
Round 2 of Eliminations
Friday - Monday, Feb 4-7
Champions League
Leg 1: Friday, Feb 4
Leg 2: Sunday, Feb 6
Consolation Cup
Leg 1: Saturday, Feb 5
Leg 2: Monday, Feb 7
Main Season Kick-off
Friday - Monday, Feb 11-14
Detail schedule to be announced after completion of Eliminations.
---
---