Champions League - Weekend 1, Match Day 1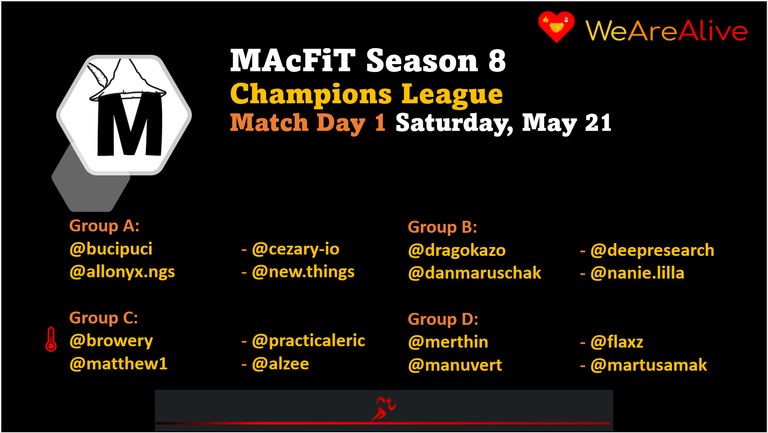 Good Day,
A friendly reminder for Champions League participants to be active TODAY (Saturday) as we start the group phase. See below the schedule for Match Day 1 and next 2 match days.
As Hot Game of the match day, I've selected the duel between @browery and @practicaleric. They topped the @poliac standings of the 8th edition, which finished just a week ago. Let's see if they are in vacation mode or ready to continue at high gear.
Consolation Cup players have their Match Two of Round of 16 today.
Champions League Group Phase
Group A
Schedule
Match Day 1 - Saturday, May 21
1 @bucipuci - @cezary-io
1 @allonyx.ngs - @new.things
Match Day 2 - Sunday, May 22
2 @bucipuci - @new.things
2 @cezary-io - @allonyx.ngs
Match Day 3 - Monday, May 23
3 @bucipuci - @allonyx.ngs
3 @new.things - @cezary-io
The revenge matches will be played in the same order on Thursday, Friday and Saturday next week (May 26-28)
Group B
Schedule
Match Day 1 - Saturday, May 21
1 @dragokazo - @deepresearch
1 @danmaruschak - @nanie.lilla
Match Day 2 - Sunday, May 22
2 @dragokazo - @nanie.lilla
2 @deepresearch - @danmaruschak
Match Day 3 - Monday, May 23
3 @dragokazo - @danmaruschak -
3 @nanie.lilla - @deepresearch
The revenge matches will be played in the same order on Thursday, Friday and Saturday next week (May 26-28)
Group C
Schedule
Match Day 1 - Saturday, May 21
1 @browery - @practicaleric
1 @matthew1 - @alzee
Match Day 2 - Sunday, May 22
2 @browery - @alzee -
2 @practicaleric - @matthew1
Match Day 3 - Monday, May 23
3 @browery - @matthew1 -
3 @alzee - @practicaleric
The revenge matches will be played in the same order on Thursday, Friday and Saturday next week (May 26-28)
Group D
Schedule
Match Day 1 - Saturday, May 21
1 @merthin - @flaxz
1 @manuvert - @martusamak
Match Day 2 - Sunday, May 22
2 @merthin - @martusamak
2 @flaxz - @manuvert
Match Day 3 - Monday, May 23
3 @merthin - @manuvert
3 @martusamak - @flaxz
The revenge matches will be played in the same order on Thursday, Friday and Saturday next week (May 26-28)
Consolation Cup Round of 16
Match One: Friday, May 20
Match Two: Saturday, May 21
@awah vs @mariya36
@asia-pl vs @ilodz24hd
@mushanov vs @sandraa1
@davidesimoncini vs @homesteadlt
@davidthompson57 vs @racibo
@silvertop vs @cryptospa
@stefannikolov vs @ptaku
@assassyn vs @sk1920
---
Beneficiaries
All Season 8 @MAcFiT updates will have Season 7 Winners as beneficiaries:
@bucipuci 6% (Winner of Champions League)
@dragokazo 4% (Winner of Consolation Cup)
---
---