Super League - Weekend Three Results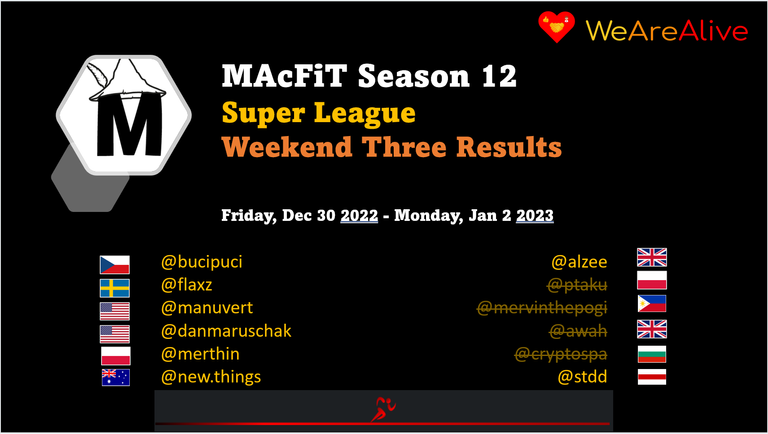 Happy New Year!
We said 'goodbye' to the year 2022 and... to four players in @macfit Super League. 8 players have remained in the competition after Weekend Three.
Weekend Three
Friday, Dec 30 2022 - Monday, Jan 2 2023
Ended their play:
*) Haven't posted their @actifit report cards on the default scoring days.
Remain in the game:
Standings:

You can always view the standings online.
Get ready for the 4th weekend! 8 players remaining and the scores are pretty close. We will compete as usual over 4 days, but only two days will count and the players will be able to pick their best days. One of the two, however, MUST BE Friday, Jan 6.
Schedule
Weekend 1**: Fri-Sat, Dec 16-17
Weekend 2: Fri-Mon, Dec 23-26
Weekend 3: Fri-Mon, Dec 30-Jan 2
Weekend 4: Fri-Mon, Jan 6-9 (Holidays in some regions)
Final Four: Fri-Sat, Jan 13-14
Note: Weekend One and Final Four are played over 2 days (Fri and Sat), whereas Weekends 2-4 are played over 4 days (Fri thru Mon).
---
Beneficiaries
All Season 12 @MAcFiT updates have the following beneficiaries:
In addition:
Total: 15%
85% of the HBD collected via upvotes/tips will make up the Season 12 Award Pool.
---
---