[Esp] Alta Intensidad... Quema grasas y construye tu cuerpo [Eng] High Intensity... Burn Fat and Build Your Body
Juntos de nuevo querida familia #hive y #fulldeportes. Hoy cargados de mucha energía positiva y con la motivación a millón, para llevar a cabo ejercicios de alta intensidad donde como siempre trabajamos en conjunto los principales grupos musculares. Es decir acción continua y poderosa en brazos, pectorales, hombros, abdomen, glúteos y piernas. Aquí vamos a quemar grasas mientras construimos un cuerpo de calidad. Por otra parte, es sumamente reomendado cumplir con los lapsos de descanso, ya que de no hacerlo sería imposible que el cuerpo se recupe del trabajo de mayor intensidad, lo que disminuye la posibilidad de mantener un alto nivel durante toda la sesión. Así que amigos míos vamos con todo a poner a funcionar esas pilas que dudosamente con nosotros lleguen a descargarse, porque de tanta positividad, motivación y dedicación su carga es infinita. Ven y vive la acción con @omarcitorojas.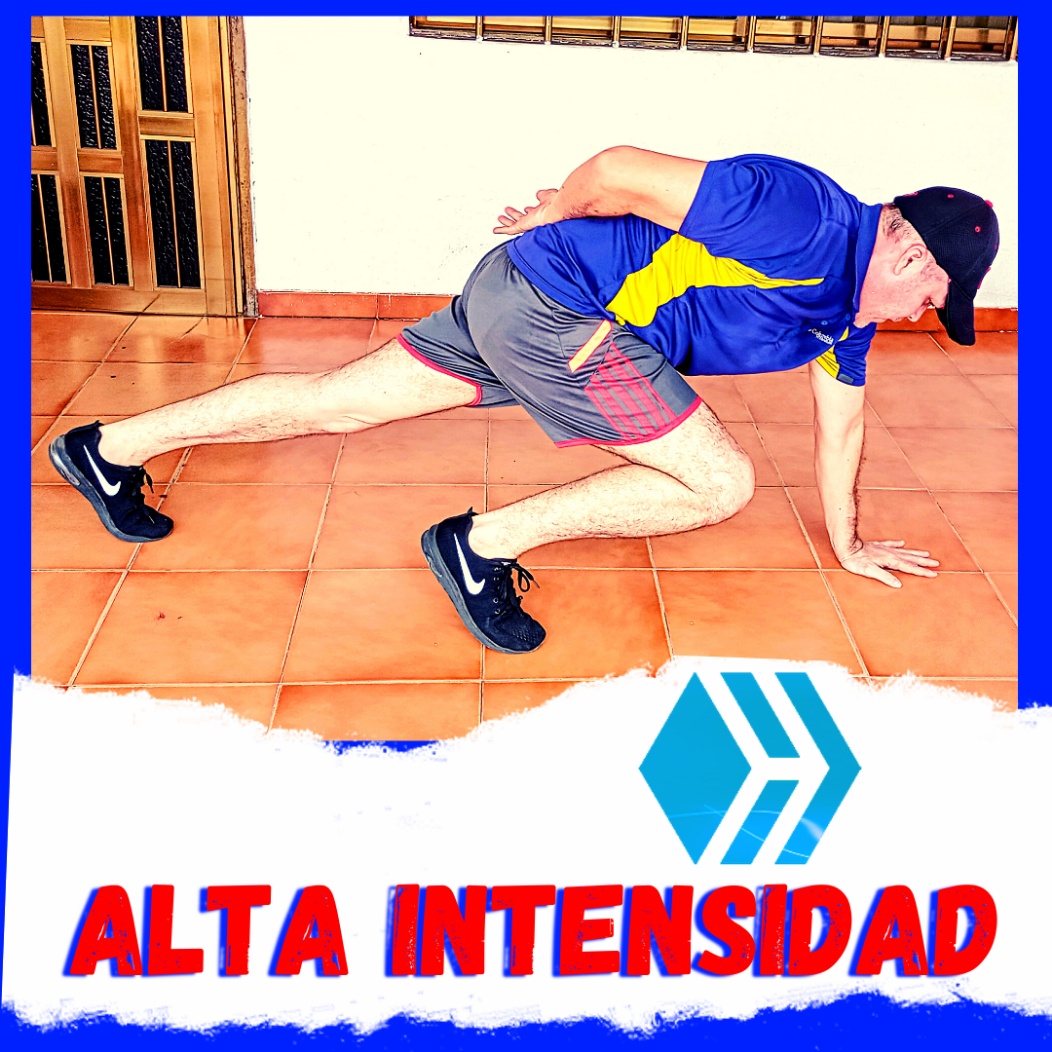 Imagen de mi Autoría Editada por/Image of my Authorship Edited by Canva
Gifs creados en la aplicación/Gifs created in the application HD Video To Gif Converter
Together again dear family #hive and #fulldeportes. Today loaded with a lot of positive energy and with the motivation to a million, to carry out high intensity exercises where as always we work together the main muscle groups. That is to say, continuous and powerful action in arms, pectorals, shoulders, abdomen, buttocks and legs. Here we are going to burn fat while building a quality body. On the other hand, it is highly recommended to comply with rest periods, since otherwise it would be impossible for the body to recover from the higher intensity work, which reduces the possibility of maintaining a high level throughout the session. So, my friends, we are going to put to work those batteries that doubtfully discharge with us, because of so much positivity, motivation and dedication, their load is infinite. Come and experience the action with @omarcitorojas.

Calentamiento Corporal
Esquives laterales.
Saltos laterales con movimiento de brazos.
Jabs + uppercut en velocidad con cambio de guardia en salto.
Escalador intenso con apoyo en dos puntos.
Rodillazos laterales enérgicos con torción.
Vaquero oblicuo.
Relajación Corporal
Extensión de brazos + flexión de piernas.
Body Warming

Side dodges.
Lateral jumps with arm movement.

Jabs + uppercut in speed with changing of the guard in jump.
Intense climber with support in two points.
Energetic lateral knees with twist.
Oblique cowboy.

Body Relaxation

Arm extension + leg flexion.

Calentar antes de entrenar
Dinámica: En circuito
Trabajo por ejercicio: entre 10 Y 20 (se indica) repeticiones.
Series: 4 por circuito completo.
Descanso entre ejercicios: de 10 a 20 segundos.
Descanso entre series: de 1 a 2 minutos.
Warm up before training
Dynamics: In circuit
Work per exercise: between 10 and 20 (indicated) repetitions.
Series: 4 per complete circuit.
Rest between exercises: 10 to 20 seconds.
Rest between series: 1 to 2 minutes.

Calentamiento Corporal
Antes de cualquier acción física sea fuerte o sencilla, se debe someter al cuerpo a una fase de calentamiento corporal que lo adapte a las exigencias propuestas por la acción más fuerte. De esta manera evitamos la ocurrencia de lesiones. Recuerden no iniciar los calentamientos con mucha velocidad. Aquí debemos acondicionar los músculos, por ello vamos de menos a más.
Body Warming

Before any physical action, be it strong or simple, the body must be subjected to a phase of body heating that adapts it to the demands proposed by the strongest action. In this way we avoid the occurrence of injuries. Remember not to start your warm-ups too fast. Here we must condition the muscles, so we go from less to more.

Esquives laterales
Este ejercicio simula la acción que realizan los boxeadores para esquivar golpes. Nos ubicamos en posición de combate con piernas un poco separadas. Ahora nos movemos de lado a lado flexionando las piernas. Nos vamos a un lado, flexionando piernas y luego subimos al llegar a la esquina. Regresamos de la misma forma al lado opuesto. Realzar el ejercicio por 3 minutos.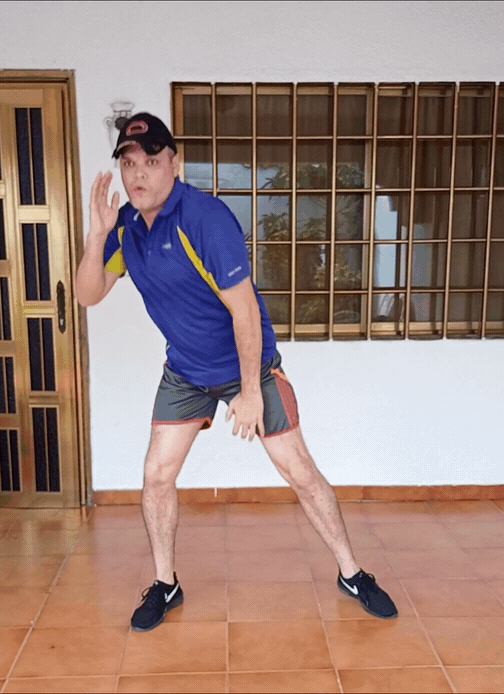 Side dodges

This exercise simulates the action that boxers take to avoid blows. We are in a fighting position with legs slightly apart. Now we move from side to side flexing our legs. We go to the side, flexing our legs and then climb up to the corner. We return in the same way to the opposite side. Enhance the exercise for 3 minutes.

Saltos laterales con movimiento de brazos
De pie con piernas juntas y brazos hacia abajo. Nos vamos con saltos de lado a lado, mientras que movemos arriba y abajo un brazo a la vez. 3 minutos de acción.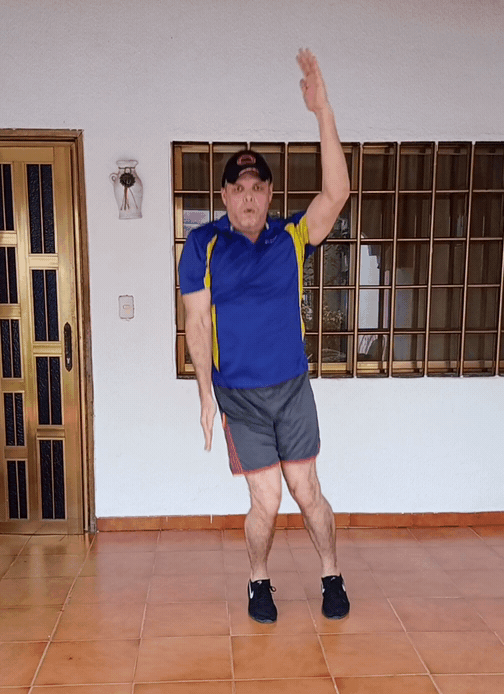 Side jumps with arm movement

Stand with legs together and arms down. We jump from side to side, while moving up and down one arm at a time. 3 minutes of action.

Ahora nos vamos de lleno con la acción más exigente. Inicien esta fase sí y solo sí el cuerpo está apto para ello. Recuerden descansar entre series e hidratarse. En cada movimiento tener abdomen y glúteos contraídos.
Now we go head-to-head with the most demanding action. Initiate this phase if and only if the body is suitable for it. Remember to rest between sets and hydrate. In each movement have a contracted abdomen and glutes.

Con este ejercicio trabajamos el tren inferior, medio y superior. No olviden contraer abdomen y glúteos. Nos colocamos en posición de combate con una pierna adelante y otra detrás. Ahora en velocidad propinamos el #jabs con el brazo delantero y de inmediato el #uppercut con el brazo trasero. No olvidar el movimiento de cadera en cada golpe. Cuando demos ambos golpes, de inmediato y con energía damos un salto girando el cuerpo para el cambio de guardia, caemos y pum, jabs con brazo delantero + uppercut con brazo trasero. Ejecutamos 20 repeticiones por lado en 4 series.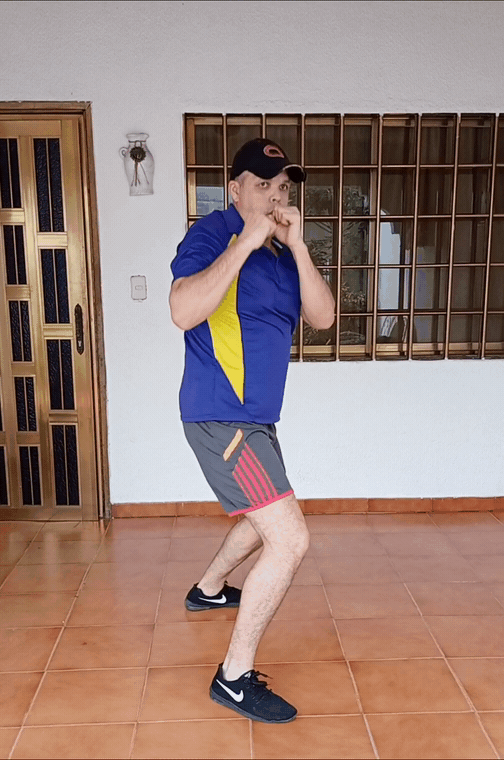 With this exercise we work the lower, middle and upper train. Don't forget to contract your abdomen and glutes. We get into combat position with one leg forward and one behind. Now in speed we hit the #jabs with the front arm and immediately the #uppercut with the rear arm. Do not forget the hip movement in each stroke. When we deliver both blows, immediately and energetically we jump turning the body for the changing of the guard, we fall and bang, jabs with front arm + uppercut with rear arm. We execute 20 repetitions per side in 4 series.

Escalador intenso con apoyo en dos puntos
Aquí vamos a darle fuerza y potencia a todo el cuerpo. El tren superior siente tensión espectacular, al igual que el tren inferior. No dejen nunca de apretar abdomen y glúteos. Esta variante es fabulosa. Nos ubicamos en posición de plancha con la salvedad que solo nos apoyamos del piso con una sola mano. El otro brazo lo ubicamos detrás de la espalda. Ahora en velocidad iniciamos el escalador metiendo y sacando una rodilla a la vez. Si nos apoyamos con la mano derecha, realizamos 20 repeticiones. Al terminar, ahora nos apoyamos con la mano izquierda y pum, 20 repeticiones más de escalador. Todo el ciclo en 4 series.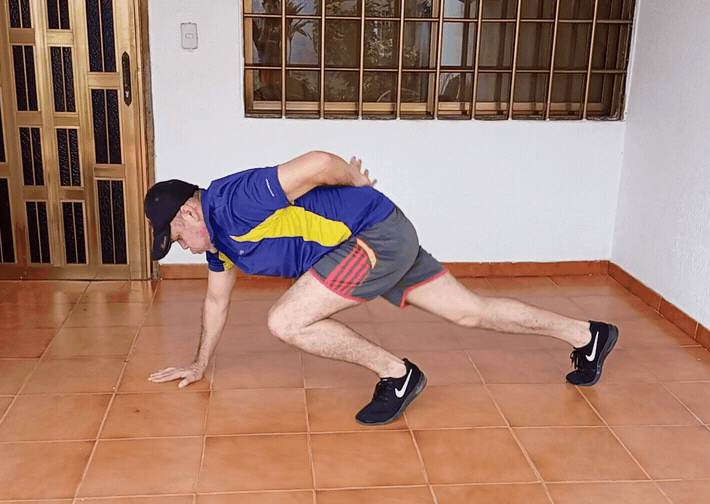 Intense climber supported on two points

Here we are going to give strength and power to the whole body. The upper body feels spectacular tension, as does the lower body. Never stop tightening your abdomen and buttocks. This variant is fabulous. We place ourselves in a plank position with the exception that we only lean on the floor with one hand. We place the other arm behind the back. Now in speed we start the climber putting in and taking out one knee at a time. If we support ourselves with the right hand, we do 20 repetitions. When finished, now we support ourselves with the left hand and bang, 20 more repetitions of climber. The whole cycle in 4 series.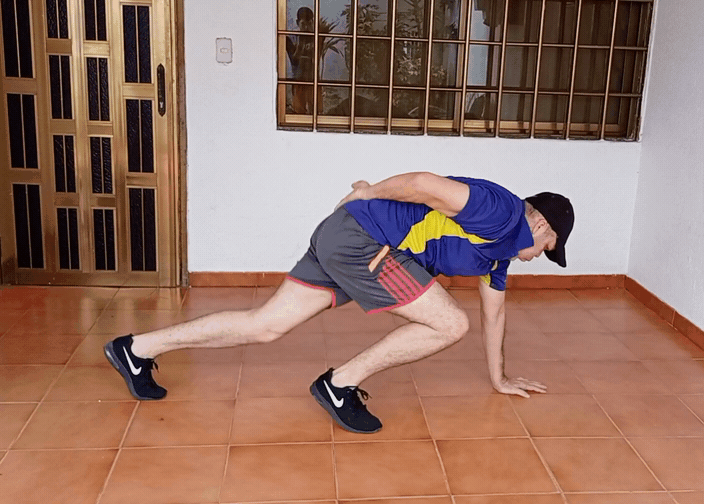 Rodillazos laterales enérgicos con torción
Tren inferior en acción permanente. Los abdominales se activan con mayor tensión en los oblicuos. De pie con piernas separadas y manos detrás de la cabeza. Ahora aplicando fuerza y energía con cada pierna damos un rodillazo lateral hacia arriba, flexionando al mismo tiempo el torso del lado que corresponda. Rodillazo izquierdo, flexión de torso izquierda. Rodillazo derecho, flexión de torso derecha. Todo el ejercicio sin despegar las manos de la nuca. 20 repeticiones por lado en 4 series.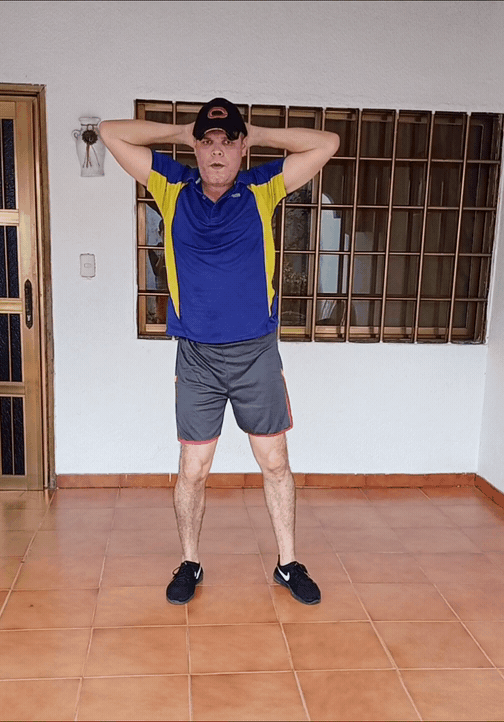 Powerful Side Knees with Twist

Lower body in permanent action. The abdominals are activated with greater tension in the obliques. Stand with your legs apart and your hands behind your head. Now applying force and energy with each leg, we knee up laterally, flexing the torso on the corresponding side at the same time. Left knee, left torso flexion. Right knee, right torso flexion. All the exercise without taking your hands off the back of your neck. 20 repetitions per side in 4 series.

Vaquero oblicuo
Aunque la tensión absoluta la llevan los abdominales oblicuos, también trabajan el resto del abdomen, las piernas y brazos. Glúteos contraídos. Nos acostamos boca arriba. Brazos en posición de combate. Piernas flexionadas con una encima de la otra. Ahora rápidamente, flexionamos al lado torso y tren inferior + golpe con el brazo del mismo lado que se dirige al pie. Si flexionamos a la derecha, golpeamos el pie con el brazo derecho. 20 repeticiones por lado en 4 series.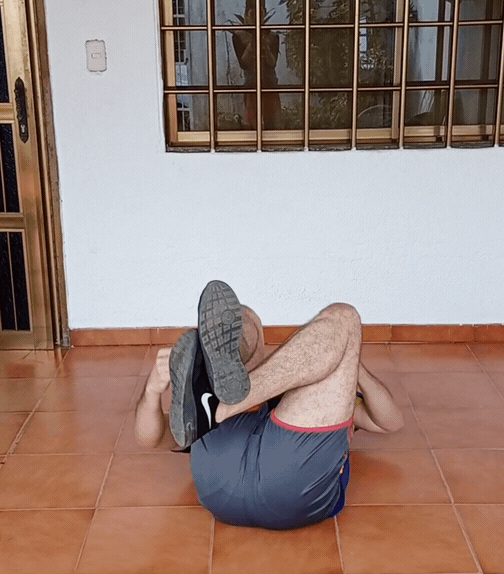 Oblique jean

Although the absolute tension is carried by the oblique abs, the rest of the abdomen, legs and arms also work. Buttocks contracted. We lie on our back. Arms in combat position. Legs bent with one on top of the other. Now quickly, we flex to the side torso and lower body + strike with the arm on the same side that goes to the foot. If we flex to the right, we strike the foot with the right arm. 20 repetitions per side in 4 series.

Relajación Corporal
Luego de la acción fuerte nos relajamos con movimientos suaves.
Body Relaxation

After the strong action we relax with gentle movements.

Extensión de brazos + flexión de piernas
Nos colocamos de pie con manos flexionadas a nivel del pecho. Ahora durante 3 minutos extendemos suavemente los brazos al frente, mientras flexionamos las piernas.
Arm extension + leg curl

We stand with hands flexed at chest level. Now for 3 minutes we gently extend our arms in front, while flexing our legs.

El día de hoy escalamos nuevos peldaños que nos llevan a la cima del bienestar corporal. Siempre positivos y motivados. Elementos esenciales para avanzar en la vida. Saludos y hasta pronto.
Today we climb new steps that take us to the top of body wellness. Always positive and motivated. Essential elements to advance in life. Greetings and see you soon.
...Gracias Por Visitar...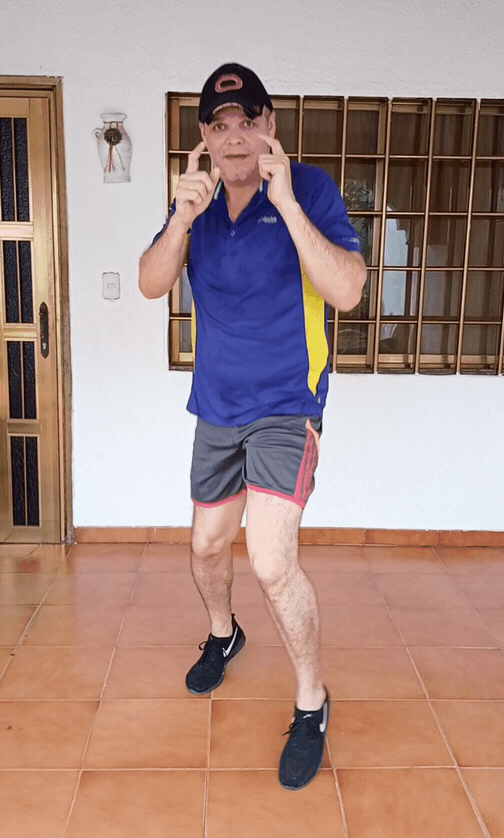 ...Thanks for visiting...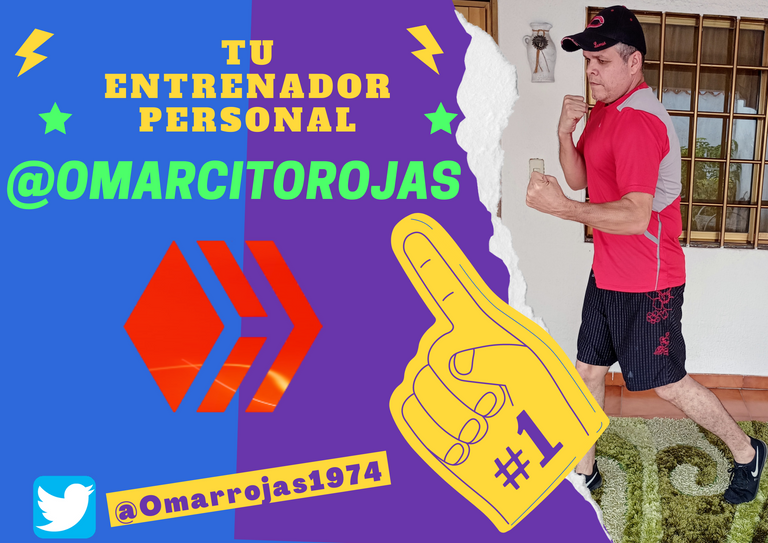 Imágenes Fotográficas, tomadas por mi hijo Miguel Rojas.
Photographic images, taken by my son Miguel Rojas
Sorry. English is not our native language. Therefore, a web translator is used for texts in English. (Spanishdict)
---
---