[Esp] Fuerza y Resistencia... Aplica todo tu poder y sé un vencedor [Eng] Strength and Resistance... Apply all your power and be a winner
Activos, activos, activos gente bonita de #hive y #fulldeportes. Que esperas para incorporarte a la única familia que te brinda lo mejor en #deportes y entrenamientos físicos de altura. Hoy con una rutina de fuerza y resistencia, ¿por qué?, bueno, porque fortalecer tus músculos implica, que puedes realizar tus actividades cotidianas sin mucho esfuerzo, además que unos músculos fuertes te protegen de lesiones; sin contar que permiten aumentar tu nivel metabólico lo que infiere que tus calorías se queman aunque el cuerpo esté inactivo. Ojo, esto no quiere decir que al estar sedentario estás quemando calorías, sino que tu actividad física permanente permite que el cuerpo siga activo internamente. Entonces, fuerza y resistencia permite que se fortalezcan huesos, músculos, tendones y ligamentos. Disminuye el riesgo de lesiones, aumenta tu masa muscular, quemas calorías, y lo mas importante llevaras una mejor calidad de vida. Quieres más, bueno vente y compruébalo por ti mismo.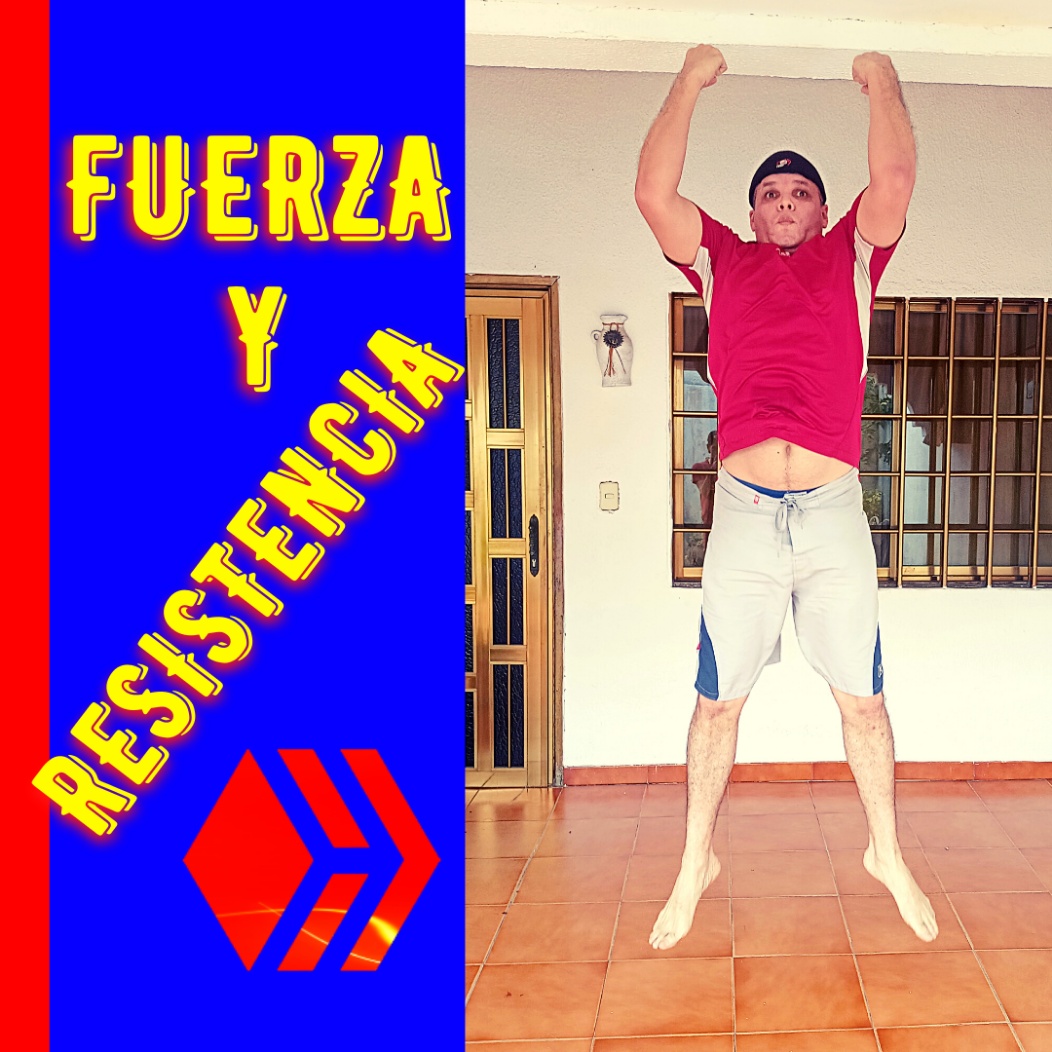 Imagen de mi Autoría Editada por/Image of my Authorship Edited by Canva
Gifs creados en la aplicación/Gifs created in the application HD Video To Gif Converter
Active, active, active beautiful people from #hive and #fulldeportes. What are you waiting for to join the only family that offers you the best in #sports and high-altitude physical training. Today with a routine of strength and resistance, why? Well, because strengthening your muscles implies that you can carry out your daily activities without much effort, in addition to that strong muscles protect you from injuries; not to mention that they allow you to increase your metabolic level, which implies that your calories are burned even if the body is inactive. Be careful, this does not mean that by being sedentary you are burning calories, but that your permanent physical activity allows the body to remain internally active. So, strength and endurance allows bones, muscles, tendons, and ligaments to be strengthened. Decrease the risk of injury, increase your muscle mass, burn calories, and most importantly, you will lead a better quality of life. You want more, well come and see for yourself.

Calentamiento Corporal
Giro de brazos adelante y atrás.
Salto de cuerda.
Escalador en salto + gancho.
Flexiones con movimientos laterales de pierna elevada.
Sentadillas + explote doble uppercut en salto.
Flexiones tigre + doble toque de hombros.
Relajación Corporal
Body Warming

Swinging the arms forward and backward.
Jump rope.

Climber in jump + hook.
Push-ups with lateral raised leg movements.
Squats + double jump uppercut explode.
Tiger push-ups + double touch of shoulders.

Body Relaxation

Calentar antes de entrenar
Dinámica: En circuito
Trabajo por ejercicio: entre 10 Y 20 (se indica) repeticiones.
Series: 4 por circuito completo.
Descanso entre ejercicios: de 10 a 20 segundos.
Descanso entre series: de 1 a 2 minutos.
Warm up before training
Dynamics: In circuit
Work per exercise: between 10 and 20 (indicated) repetitions.
Series: 4 per complete circuit.
Rest between exercises: 10 to 20 seconds.
Rest between series: 1 to 2 minutes.

Calentamiento Corporal
Iniciamos la quema de grasa y la adquisición de fuerza, potencia y resistencia corporal, con los ejercicios de calentamiento mi gente.
Body Warming

We began burning fat and acquiring strength, power and body resistance, with the warm-up exercises my people.

Giro de brazos adelante y atrás
Esto es parecido a un nadador, pero con ambos brazos al mismo tiempo. Las piernas un poco flexionadas con brazos extendidos al frente. Durante 3 minutos iniciamos con los giros de brazos adelante y atrás.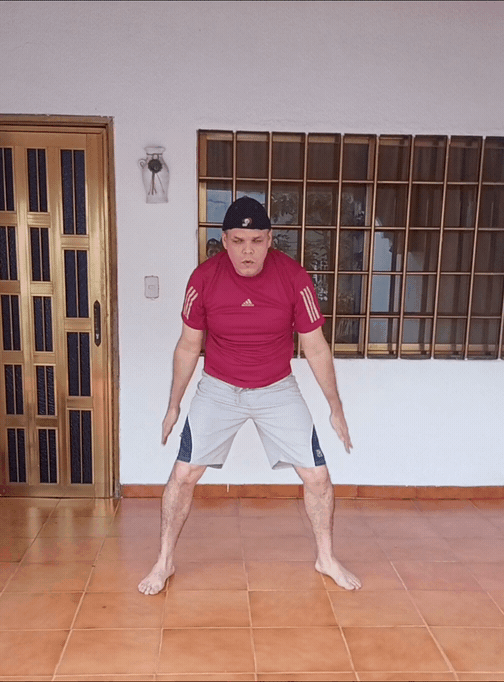 Arms back and forth

This is similar to a swimmer, but with both arms at the same time. Legs slightly bent with arms extended in front. For 3 minutes we start with the forward and backward arm twists.

Saltos de cuerda
Piernas un poco separadas con brazos a los lados y manos empuñadas. Simplemente durante 3 minutos, giramos las muñecas mientras con pequeños saltos llevamos las piernas adelante y atrás, una a la vez.
Jump rope

Legs slightly apart with arms at the sides and clenched hands. For just 3 minutes, we rotate our wrists while with small jumps we bring our legs back and forth, one at a time.

Aja gente activa, comenzamos de lleno con los ejercicios centrales para ir logrando poco a poco alcanzar el objetivo propuesto; fuera esa grasa, bienvenida la tonificación y fortalecimiento corporal. Avancemos.
Aja active people, we began fully with the core exercises to gradually achieve the proposed objective; Out of that fat, welcome the toning and strengthening of the body. Let's keep going.

Escalador en salto + gancho
Ejercicio poderoso para todo el cuerpo. Cadera activa. Sencillamente nos ubicamos en posición de plancha. Ahora con fuerza damos un rodillazo interno, es decir, flexiona una pierna hacia adentro por ejemplo la derecha. De inmediato despegamos el brazo derecho, y damos un golpe de gancho. Luego, con otro salto la pierna derecha regresa, mientras damos el rodillazo con pierna izquierda + gancho con brazo izquierdo. 20 repeticiones por gancho en 4 series.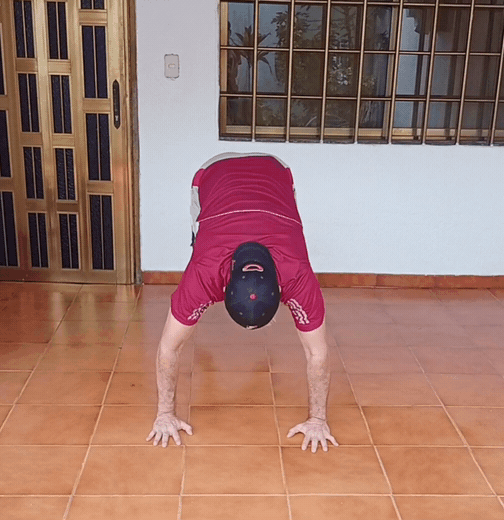 Jump climber + hook

Powerful exercise for the whole body. Active hip. We simply place ourselves in a plank position. Now with force we give an internal knee, that is, flex one leg inwards, for example the right. Immediately we take off the right arm, and we give a hook blow. Then, with another jump, the right leg returns, while we knee with the left leg + hook with the left arm. 20 repetitions per hook in 4 series.

Flexiones con movimientos laterales de pierna elevada
Además de fortalecer el tren superior en toda su extensión, con la variante de pierna elevada las mismas tienen acción doble. El abdomen trabaja y sufre excelente tensión. Uy la cadera se fortalece. Se mantiene tensión igualmente en los glúteos. Adoptamos posición de flexiones con manos separadas un poco más allá del ancho de hombros. Elevamos por ejemplo la pierna derecha y la flexionamos, se observa el pie hacia arriba. Ahora ejecutamos la flexión llevando la pierna a la izquierda hasta que el pie toque suelo. Observen que el cuerpo se inclina a la izquierda cuando hacemos la flexión. Realizamos 20 repeticiones. Al terminar elevamos ahora la pierna izquierda, la cual se mueve a la derecha al momento de ejecutar la flexión. Igualmente el pie toca suelo derecho, y el cuerpo se inclina al mismo lado. Realizar 20 repeticiones. Todo el ciclo en 4 series.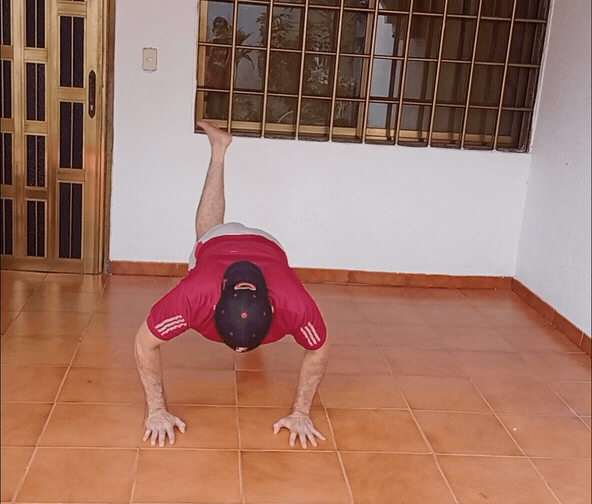 Push-ups with lateral raised leg movements

In addition to strengthening the upper body in all its extension, with the raised leg variant they have double action. The abdomen works and suffers excellent tension. Oops the hip gets stronger. Tension is also maintained in the buttocks. We adopt push-up position with hands spread a little beyond shoulder width. For example, we raise the right leg and flex it, the foot is observed upwards. Now we execute the push-up taking the leg to the left until the foot touches the ground. Notice that the body leans to the left when we do the push-up. We do 20 repetitions. When we finish, we now raise the left leg, which moves to the right when executing the push-up. Likewise, the foot touches the right ground, and the body leans to the same side. Perform 20 repetitions. The whole cycle in 4 series.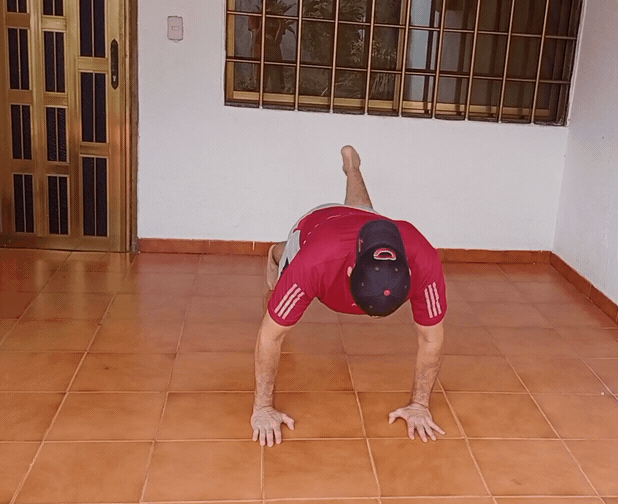 Sentadillas + explote doble uppercut en salto
Aunque el tren inferior se activa enormemente. Al momento de realizar el salto el abdomen se fortalece. Igualmente el tren superior trabaja con este movimiento. Piernas separadas con brazos flexionados a los lados de la cintura. Manos empuñadas para golpear. Ahora rápidamente hacemos la sentadilla y explotamos hacia arriba con salto, despegando del suelo y dando con ambos brazos el golpe de uppercut. En la caída ejecutamos nuevamente la sentadilla y repetimos todo el movimiento 20 veces en 4 series.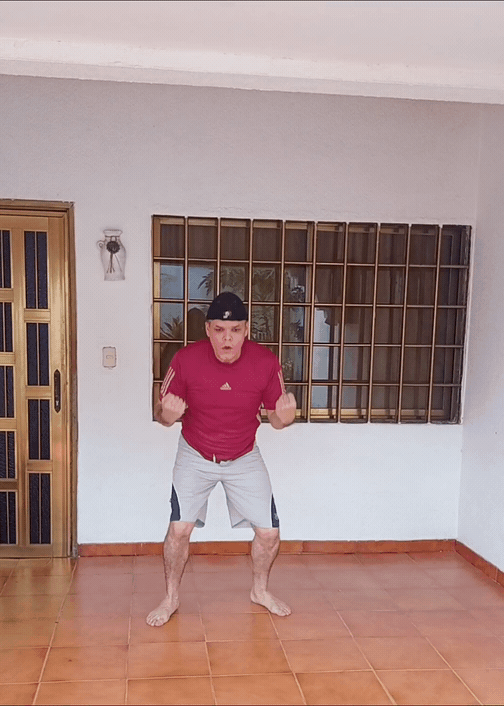 Squats + double jump uppercut explode

Although the lower body is greatly activated. At the moment of performing the jump, the abdomen is strengthened. Likewise, the upper body works with this movement. Legs apart with arms bent at the sides of the waist. Hands clenched to strike. Now we quickly do the squat and explode upwards with a jump, taking off from the ground and giving the uppercut with both arms. In the fall we perform the squat again and repeat the entire movement 20 times in 4 series.

Flexiones tigre + doble toque de hombros
Normalmente las flexiones fortalecen y tonifican el cuerpo entero. Aquí con la variante tigre se activan los antebrazos y tríceps. Mantener abdomen y glúteos apretaditos. Posición de flexiones apoyados con las manos abiertas y antebrazos. Ahora con la fuerza de los antebrazos extendemos los brazos. Observen que se realizan pequeños Arcos en los codos. Estando arriba, con cada mano a la vez tocamos el hombro contrario. Volvemos a posición inicial, y ejecutamos el ejercicio en 20 repeticiones por 4 series.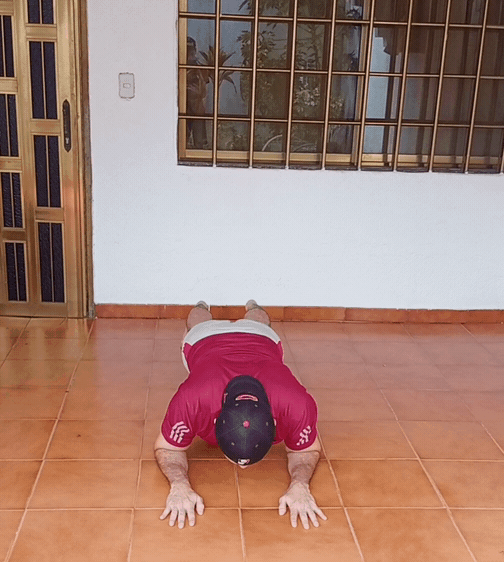 Tiger push-ups + double tap of shoulders

Push-ups usually strengthen and tone the entire body. Here with the tiger variant the forearms and triceps are activated. Keep abdomen and buttocks tight. Push-up position supported with open hands and forearms. Now with the strength of the forearms we extend the arms. Notice that small arches are made in the elbows. Being up, with each hand at the same time we touch the opposite shoulder. We return to the starting position, and execute the exercise in 20 repetitions for 4 series.

Relajación Corporal
Poco a poco y sin apuro, relajamos los músculos realizando los movimientos suavemente. Con calma amigos, ya hicieron la rutina exitosamente.
Body Relaxation

Little by little and without haste, we relax the muscles performing the movements gently. With calm friends, you have already done the routine successfully.

Estiramiento de tríceps
Simplemente extendemos un brazo al lado opuesto, ejemplo el brazo derecho, y con la mano izquierda hacemos presión sobre el tríceps. Mantener posición por 30 segundos. Ahora el brazo izquierdo se extiende a la derecha y presionamos el tríceps con la mano derecha. 30 segundos más hasta cumplir 2 minutos.
Triceps stretch

We simply extend an arm to the opposite side, for example the right arm, and with the left hand we press on the triceps. Hold position for 30 seconds. Now the left arm is extended to the right and we press the triceps with the right hand. 30 more seconds until 2 minutes.

Como siempre llegamos al final de otra fabulosa rutina que ha activado todo nuestro cuerpo. Seguimos adelante indetenibles con fe, confianza, motivación y dedicación absoluta. Fuerza de voluntad es lo que nos sobra. Más aún cuando sabemos que nuestra pasión, está ayudando a muchos de nuestros hermanos para llevar una vida más feliz. Saludos y hasta pronto.
As always we come to the end of another fabulous routine that has activated our entire body. We carry on unstoppably with faith, confidence, motivation and absolute dedication. Willpower is what we have left over. Even more so when we know that our passion is helping many of our brothers to lead a happier life. Greetings and see you soon.
...Gracias Por Visitar...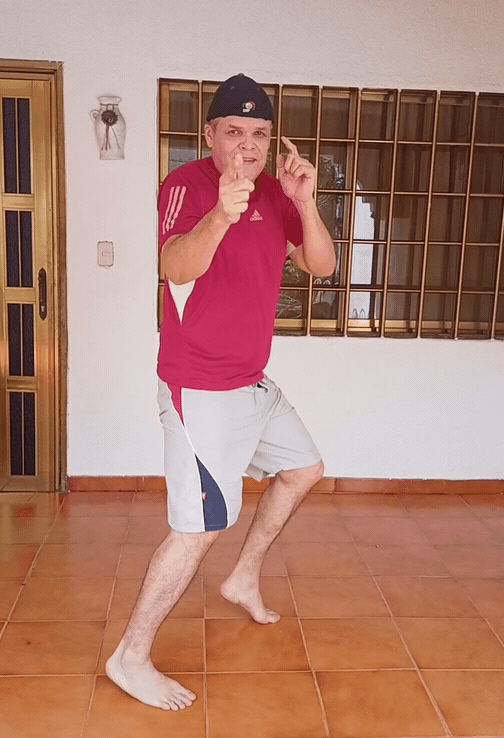 ...Thanks for visiting...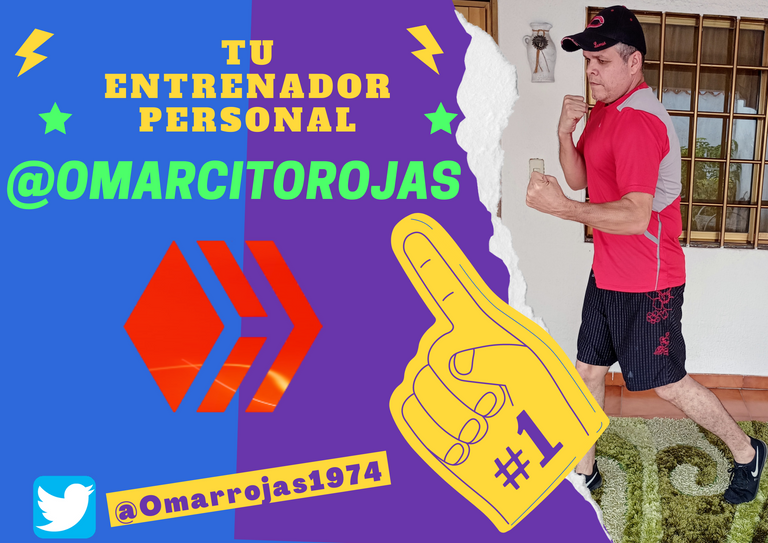 Imágenes Fotográficas, tomadas por mi hijo Miguel Rojas.
Photographic images, taken by my son Miguel Rojas
Sorry. English is not our native language. Therefore, a web translator is used for texts in English. (Spanishdict)
---
---